Square-bills excel at calling bass out of shallow cover of many types. Learn how to maximize production with these outstanding bass lures.
The square-bill is a work of art when properly presented. Fat and wobbly on a steady retrieve and rolling off any cover it hits, it's visually appealing to the angler if visible in clear water. More importantly, it is visually appealing to bass of all sizes in clear, stained or muddy water.
Perhaps in the early days of angling with artificial lures, someone carved a bait that resembled a square-bill crankbait. It presumably would've had a metal lip attached.
Fred Young created what became the Big O crankbait in the 1960s at his home in East Tennessee. That famous hand-carved balsa wood bait was light, buoyant and had a unique wiggle-wobble anglers and fish loved. Young's creations spawned generations of bass anglers and a new method of fishing. Crankbaits were already popular, but Young's bait, manufactured from plastic by Cotton Cordell, gave new life for anglers fishing around shallow wood and rock cover.
Fast forward to the 2004 Bassmaster Classic in North Carolina, when Takahiro Omori hooked giant bass from a treetop to clinch the championship. That was in August, the hottest part of summer, and Omori's late surge, immortalized on film, helped boost the return of square-bills to anglers' tackleboxes. Instead of picking and poking at thick cover with a plastic worm or jig, Omori used an old tactic to mimic a fat bluegill bebopping irresistibly around a treetop.
Since then, we've seen replicas of old baits, updated models, baits with bills made from thick polycarbonate or thin circuit-board material, new colors and sizes, and baits with flat sides that give a different movement.
Examples of modern square-bill crankbaits include the BOOYAH XCS, Bandit Rack-It, Cordell Big O, Norman Fat Boy and Bomber Square A. These differ in body shape, wobble and various features, but all stay shallow and feature a lip with square or semi-square edges to deflect cover. Whether you're attempting to mimic crayfish, bluegills, crappie, perch or some other species targeted by largemouth, smallmouth and spotted bass, chances are good that you can find what you want.
Why Fish Square-Bills?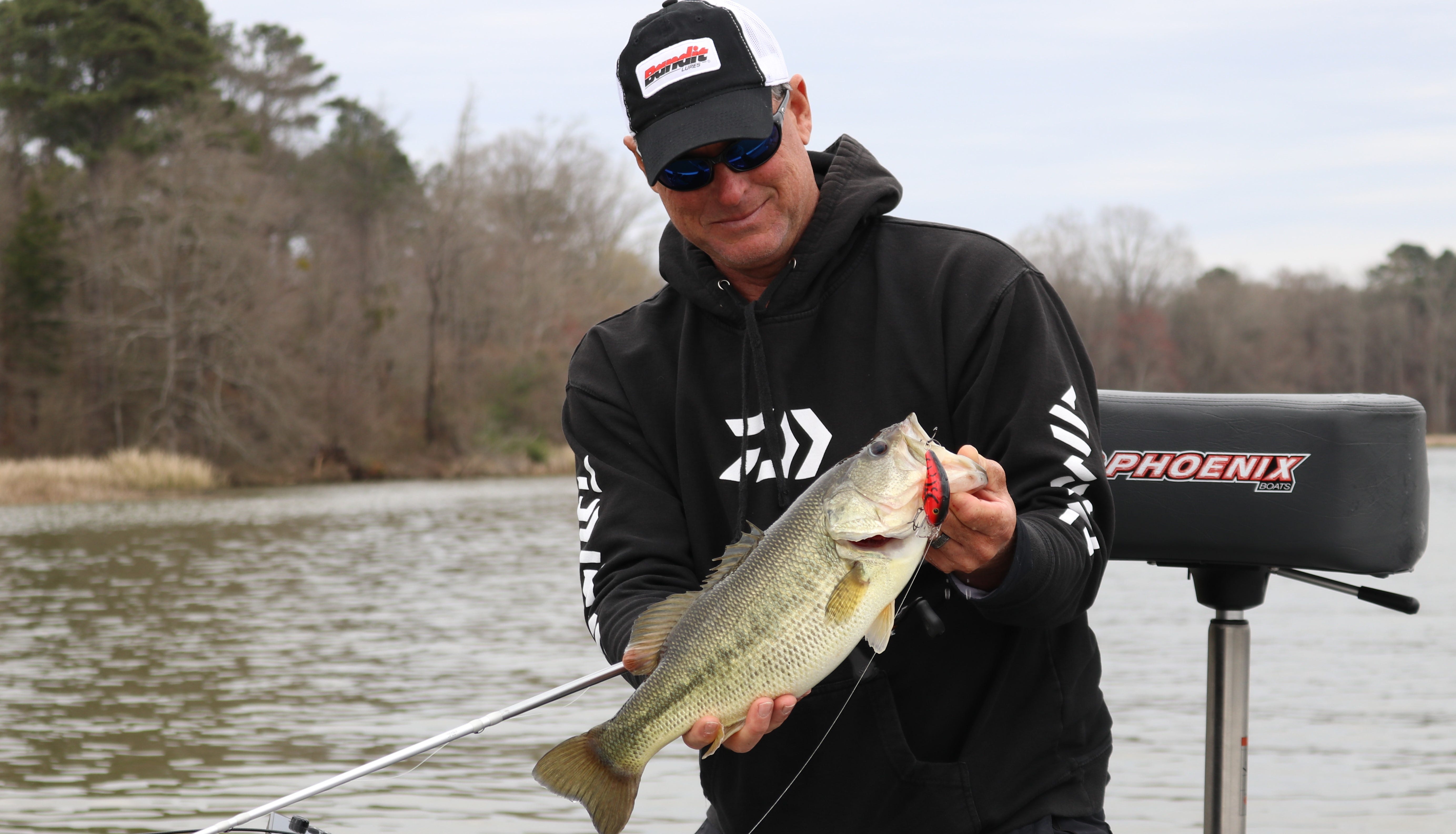 "Square-bill crankbaits are a great shallow-running bait that offers good reflection or visual appeal while also deflecting well off of wood, rock or grass," said Lake Guntersville veteran fishing guide Tim Chandler of Alabama. Chandler is on the water virtually year-round for bass and typically has a square-bill crankbait on his boat deck.
"These baits have good buoyancy and float well. When you stop them, depending on your line size, they will hang there for a moment before rising slowly. If you need to stop the retrieve to let it float over something, it will. It's just a good, all-around crankbait that can be fished almost all year long here on Guntersville and a lot of other lakes."
A square bill is an easy bait for novices to use and find success. However, learning a few tricks and refining techniques can make the square-bill crankbait truly deadly around shallow and mid-depth cover.
For instance, when you cast to the edge of a treetop and feel a tick or bump, instincts say to set the hook – often into a limb. Experience teaches you to discern and when feel the tick of wood, to pause briefly, let the bait rise over the limb and then gently poke and bump the limbs to spark a bite. It's a similar process with rocks, vertical cover, boat houses or docks, submerged grasslines and stumps.
Chandler said anglers can manipulate the line size should they want a shallower retrieve (with heavier line) or deeper (on light light). He is most comfortable with Seaguar 16-pound test fluorocarbon during the roughly nine months he throws square-bills.
"Most of the time I think anglers are looking at 3 to 6 feet of water for fishing these baits, and the average depth on Guntersville where we catch the most bass is probably 5 to 6 feet or a little more," he said. "I prefer 16-pound-test line because I don't want the bait to go deeper than that. With all the vegetation we have here, just about every cast you're going to get some kind of grass on the bait. Light line will break. That's one reason I prefer the heavier fluorocarbon, along with having a strong line to handle big bass."
Kinds of Cover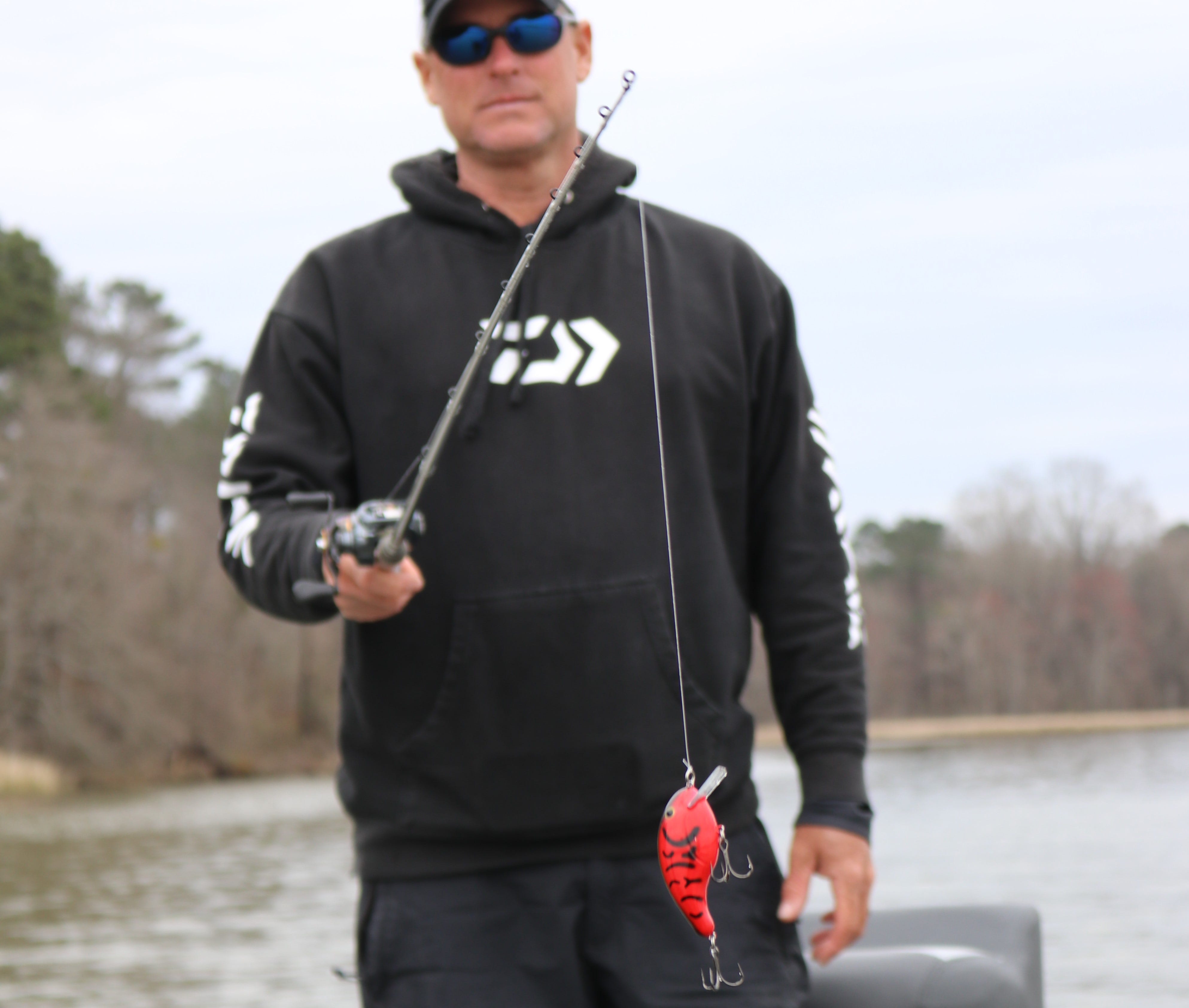 Lake Guntersville is part of the Tennessee River system. At about 69,000 acres and 75 miles long it has a variety of natural and man-made targets. Among the types of submerged and emergent vegetation are hydrilla, milfoil, coontail, eelgrass, primrose, lily pads and "gator weed." It has largemouth, smallmouth and spotted bass. Square-bill crankbaits work on all this cover for these species, just as these baits will work in other lakes throughout the country with similar cover and structure characteristics.
Conventional wisdom says square-bill crankbaits are primarily for late spring and early summer. The pre-spawn, spawn and post-spawn periods see bass moving around shallow cover to feed, breed and guard fry. All true, but that is not the only time they're found in treetops, flooded bushes and vegetation.
"I'll throw these baits in January and February," Chandler said. "Fishing square-bill crankbaits around grass on Guntersville is about whether the grass will allow you to throw it. In the fall it's at its peak, and in January you'll get it about three-quarters knocked back by the cold weather, duck hunters in their boats and the current. Some of it, like milfoil and hydrilla, goes dormant, breaks off and washes away, and the old stalks near the bottom along with new grass growing can be great for fishing with crankbaits. These are areas where later in spring and summer you might not be able to fish a crankbait as deep or as well, due to the grass being thicker there at that time. But in late winter and early spring these are good areas."
Square-bill crankbaits can be fished around the edges and downstream of eelgrass. They also can be good around scattered lily pads. Tributaries that feed into a main river, winding along through flats and with cover such as rocks, stumps, channel bends, sunken brushpiles, also are great targets for square-bill crankbaits. Each of these targets can be dissected from different angles, depending on depth and current.
Colors and Rod Selection
Chandler has guided on Lake Guntersville for about 20 years. He fished recreationally and was successful in tournaments for years before going into the guide business. He's seen just about everything, tried many things and in the end he pretty much does one thing: he keeps things simple.
Staying simple helps him in that he's not covered up with the latest fads or "must try" techniques. It helps his guide clients because he knows the methods and techniques are successful. That's not to say he won't try new things. But as with square-bill crankbaits, he knows what works best for him, and that's what he sticks with. A glance into his tackleboxes will reveal crankbaits in three colors.
"Red, something with chartreuse like chartreuse-and-black, and shad colors that could be white, pearl or citrus," he said. "For some reason, the bass on Guntersville seem to like the citrus-type colors pretty well. Chartreuse-blue also is a good one. But to boil it down it's red, chartreuse and shad."
Red- and chartreuse-dominant patterns work best for Chandler during the colder months, with red being a longtime traditional favorite at Guntersville for late winter. As the water warms, the shad begin moving around more and then spawning in late spring, and the shad patterns produce better.
Chandler throws his crankbaits on a 7-foot, 3-inch medium-heavy rod he calls "an all-around rod you can throw a crankbait or worm on swimbait on." With the 16-pound test fluorocarbon, he prefers the setup over fiberglass or composite rods.
"I think the setup is about as good as it gets," he said. "Sometimes a crankbait ticking the grass will get snagged and you need to pop it out, like we've done for years with lipless crankbaits. It's a quick snap or pop to get the bait free. So, you want a rod with a little stiffness or backbone to it, and not a lot of flexibility. But you also don't want a rod that's too stiff. I think this length and action works great."
Follow these recommendations on your lakes with square-bill crankbaits and modify as needed to fit your situation. Don't be afraid to try these bass-catching lures almost any time of the year and around different cover situations. If the bass are there, chances are good they'll make your line tight.
To learn square-bill techniques from a pro and experience the bass fishing on legendary Lake Guntersville, visit Tim Chandler Pro Guide Service.
Please visit Lurenet.com to stock up on square-bill crankbaits and other lures and for more great fishing content.