Learn about Oklahoma pro Jason Christie's success formula and about his winning spinnerbait, which is part of a series he designed.
Doing a job well begins with using the right tools, and for bass fishermen, lures are the critical tools. For Jason Christie, the exact tool for winning the Bassmaster Elite event at the Sabine River April 8-11 was a BOOYAH 1/2-ounce Chartreuse/White/Blue Tandem Colorado Covert Series Spinnerbait with a YUM Watermelon/Pearl Laminate Swim'N Dinger as a trailer.
Sticking with a bold plan, but making key adjustments was also critical for Christie, whose four-day catch totaled of 43 pounds, 15 ounces and gave him his sixth Bassmaster victory.
Christie posted his best effort on Day 1 with a second-place limit of 15-1. He took over the top spot on Day 2 by adding 13-14 and held that position on Day 3 with a limit of 6-12. He closed the deal with a Championship Sunday limit that weighed 8-4.
All four days, Christie committed most of his time to a narrow creek about two hours upriver from takeoff, working cover with his Covert Series Spinnerbait.
Spinnerbait Selection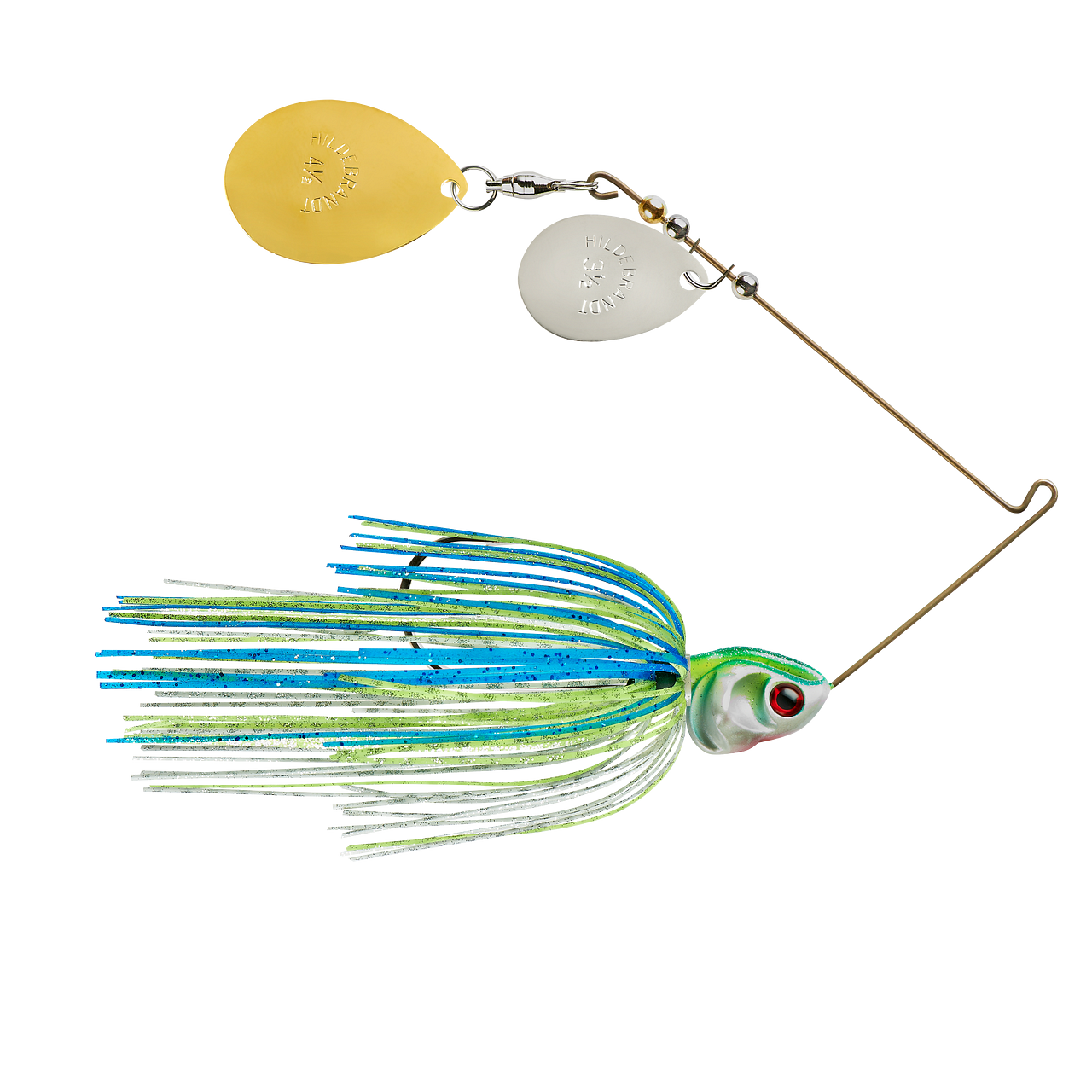 Christie, who is considered by some as the top spinnerbait angler on tour, designed the Covert Series based on years of bait tinkering and on the water experimentation. Every element, including the head design, Hildebrandt blades and skirt configuration, is based on his specifications, as are all available blade configurations and colors for specific situations.
Christie chose a Tandem Colorado Covert Series Spinnerbait based primarily on water temperatures of 64-65 degrees and water that was stained to muddy.
Christie's Covert spinnerbait provided equal appeal to the creek's largemouth and spotted bass. "With the largemouth, you had to lay it on the bank. It's almost like their backs would be out of the water," Christie said. "The spotted bass would be in the current around the eddies."
Jason Christie on Choosing Spinnerbaits
Winning Strategy
Christie found the winning area in practice and recognized its mix of shallow wood and cut banks as prime bass habitat. The distant run discouraged all but one competitor from fishing the area.
"There's a lot of backwaters downriver from this area, but then there's like a 20-mile stretch where there's nothing until you get to this spot," Christie said. "The first two days of the event it was super treacherous to run. There were logs, sandbars, stuff like that. That's what kept people from going up there."
After two strong days of skillfully picking apart the visible cover, Christie returned to his spot on Day 3 to find it 6 to 7 feet deeper. Increased water releases from Toledo Bend Dam swelled the upper Sabine and inundated his creek.
"Before the water came up, there were isolated targets and it wasn't hard," Christie said. "But once it came up, it was almost impossible. That's why today I ran as far up that thing as I could.
"The further you get, the banks get higher and there wasn't as much back flow coming from the river. That was my goal today — to get to where I could keep the fish between the bank and me."
While Christie's 21-foot XPress aluminum boat was ideal for the shallow habitat he fished, fuel management was essential for ensuring he could make the return trip. After a strong Day 1 performance, he had to allow for the weight of a cameraperson and gear.
Removing approximately 150 pounds of tackle and 14 of his usual 20 rods helped, but Christie noted that the higher water of Days 3 and 4 slightly reduced his fuel consumption by allowing him to safely run a straighter course through the Sabine's many turns. Carefully calculating his fuel plan and running time, Christie allowed himself a generous return window each day.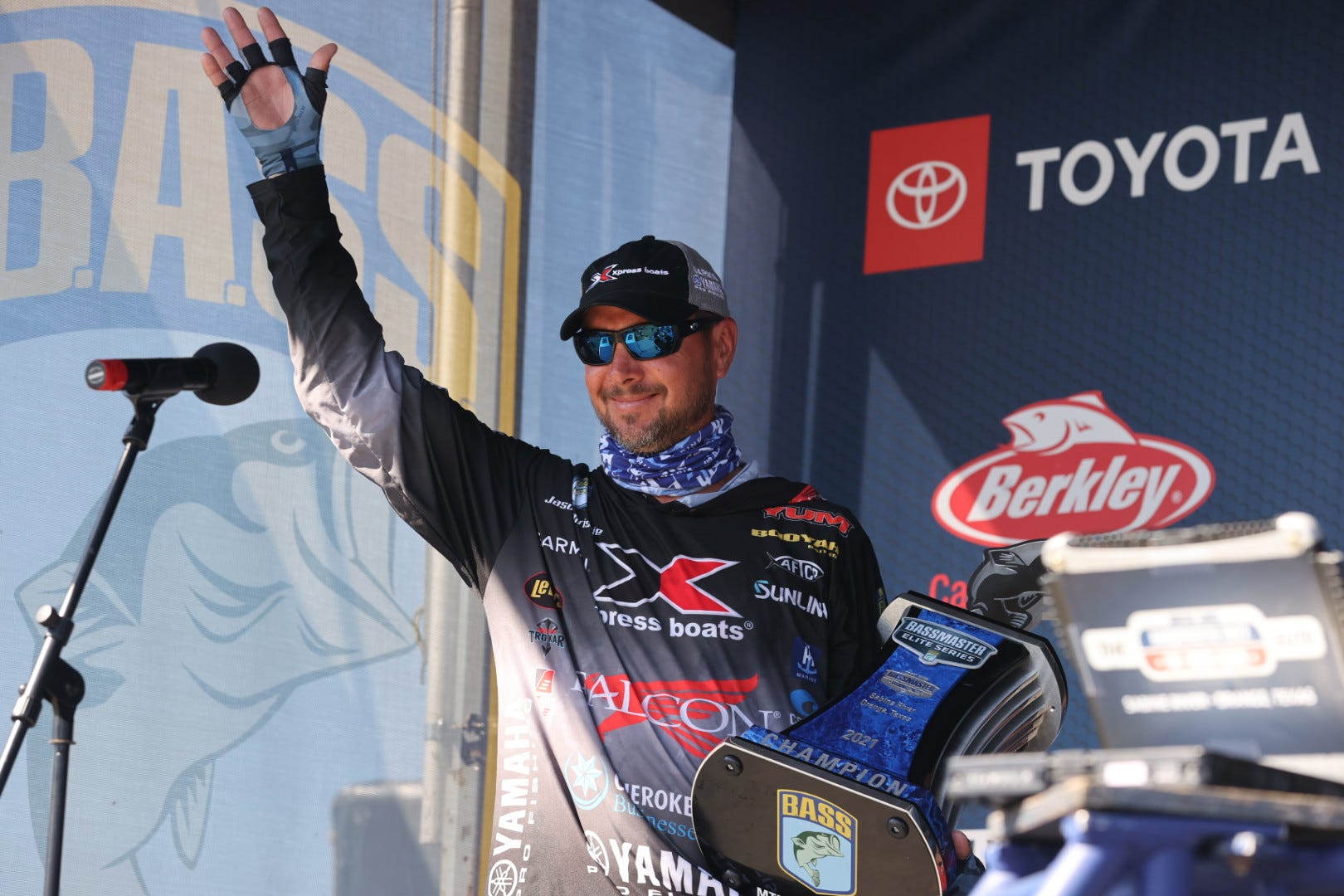 BOOYAH Covert Series Heat Map
Picking the perfect spinnerbait is intuitive to Jason Christie because of a lifelong study and extensive experience fishing spinnerbaits in such a wide range of situations. That's less true for most anglers, which is why BOOYAH tapped Christie's expertise to create the Covert Series Heat Map.
With the Heat Map, which was built fully from Christie's recommendations and is specific to Covert Spinnerbait configurations, you can cross reference water temperature and water color, which are the two biggest factors for spinnerbait selection, and learn Jason Christie's ideal choice for that situation.
Taking the guesswork out allows you to pick the right tool for the job, which is important whether you're wanting to catch more bass for an afternoon of fun or competing in national tournament!