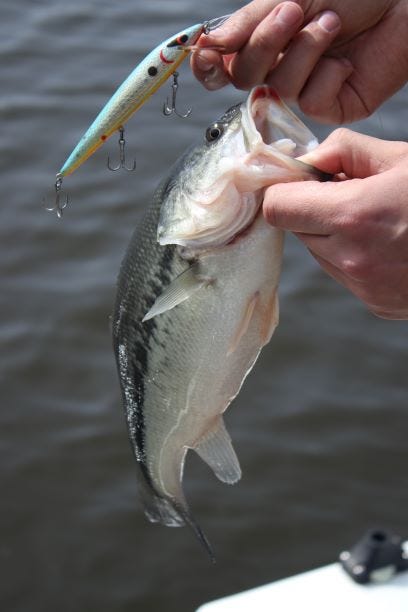 The choice
Choosing the right suspending jerk bait can be daunting because there are so many factors to consider such as water clarity, temperature, and forage base. These three give us a good formula to complete the equation on the right choice for where you fish.
Water clarity – Water Clarity is always the first area to look when choosing a suspending jerk bait for the pre-spawn. This simply relates to how clear or muddy the water is you are fishing. Typically, clearer water tends to be the best for jerk bait fishing in cold water, but it can also work well in dingy with certain colors and lures. If you're faced with a clear water scenario it's best to choose a lure with sharper movements such as the Smithwick Suspending Rattlin' Rogue, but if the water is stained you can move to a slightly larger lure such as the Elite 8 model. Finally, if the water is muddy, I always reach for the Perfect 10 model because it pushes more water as its being worked. The water clarity generally decides which lure to choose and can also determine color choice. The color choice for water clarity is pretty simple. You want to throw colors that match the level of clarity such as gin clear water requires a translucent model such as "Juice" in the Rogue but if you get into dirty water you need a color such as "Fire Tiger". This is because darker colors throw off more of a bright shadow and can be seen by bass in dirty water; while translucent colors are stealthier.
Temperature – Water temperature is huge this time of year! It can totally determine the overall mood of bass and dictate what type of action they want by just a few degrees. The range for pre-spawn typically ranges from 40-55, and I go by the 5-degree mark to make my choices for action during these periods. With water in the 40-45-mark bass are typically quite lethargic so I like to stick with something that runs deep and has a faint action, such as the Smithwick Deep Running Rattlin' Rogue on light line like 8 lb. test. This allows the bait to get extra deep. For the 50-55 degree mark I like to reach for the Elite 8 or Perfect 10 models because they reach a deep depth but also have a little more aggressive action. Then finally for the last degree mark before the spawn gets into full swing is 50-55 degrees and this is the pattern where I try to use the most aggressive model the Super Rogue. I choose this one because it has a hard-slashing action that appeals to bass moving up shallow to spawn.
The third factor in choosing a jerk bait that I like to look at is the forage base, and this typically picks out what color lure you need for your fishery. Luckily in Smithwick there is a color to fit any forage base out there. Finding out what baitfish are in your lake is just identifying what the bass are feeding on. This could be anywhere from bait like threadfin shad, golden shiner, smelt, or larger species such as perch. Once you have identified this you can pick through a whole host of colors to perfectly match up.
Putting it to use
This is the good stuff here, when you actually hit the water on a foggy cold morning and unclip your Rogue to make the first cast!
But, where do you start once you get to the water?
This might seem like the good time to say that I hope you are ready for a workout, because jerking a Rogue all day will leave your forearms pretty sore. And, this a good point with where to start because to get the most out of a day of jerk bait fishing, you need to cast as many times as possible to ensure the slow moving lure has passed by as many bass as possible. I start every jerk bait trip out exactly the same and that is by identifying cover adjacent to creek channels. This could be as simple as finding steep banks beside a channel or series of points. Once I find my starting point, I drop the trolling motor down and start casting. A great tip I like to offer is throw your jerk baits on spinning equipment because it makes them so much easier to cast and work, but I understand you won't look nearly as cool. Work the lure with slow pops and pauses up to 15 seconds long so the bait is in the strike zone as long as possible. Begin casting one cast from the bank and back off as you can to try and identify any fish out suspending off the bank or over cover. This proves to be a slow process but treat it that way because you are certainly finessing the bass with this legendary technique. The jerk baiting technique can be tough on you, but it often time catches some above average bass.
Other than channel swings, submerged cover is always a great place to toss a jerk bait around. Deeper brush piles work the best but don't be afraid to attack shallow cover with a jerk bait as well. Bass in the pre-spawn will be in many different zones from out deep all the way to inches deep near cover.
As Lake Ouachita guide Chris Elder says, "if you don't have a Rogue tied on in February, you're wrong!" I grew up hearing this statement and it has become ever truer as each pre-spawn season has rolled by and my best bass were landed on a Rogue. You might not catch the most and your wrist will hurt at the end of the day but it's almost a guarantee that you will have some good fish to show for it!
You can find all of the lures mentioned in today's blog on www.lurenet.com