Reports of Mayfly success are coming from every direction. Learn how anglers in different areas are finding great crappie action with Bobby Garland's newest bait.
"I don't know if you guys just got lucky or did an outstanding job on your homework, but the Mayfly is a remarkable imitation of the "Hex," and that has me really excited," said Doug Sikora.
For those who know the Indiana crappie pro well, many call Sikora the "professor" because he studies the science behind everything relating to his passion for crappie fishing, and no topics are off limits – from how sonar works to how natural lakes were formed by glaciers to what crappie eat.
I know Doug from our common Bobby Garland relationships, and therefore I expected to get a mini biology course on the insect when I called to follow up on the Mayfly samples I had sent him a few weeks earlier. He didn't disappoint!
All I had to ask was, "How'd you like the Mayfly?" His quote above began his response, and then he continued for at least 10 minutes in full explanation of the lifecycle of Hexogenia limbata (mayflies, to us), or "Hex" as he intimately referred to them, and how this particular insect is a huge part of the aquatic ecosystem and a crappie's diet where he fishes most. So, to paraphrase his answer: "He likes the new Mayfly, a lot!"
And, just to set the record straight before proceeding: Yes, we did do our homework, studying the actual insect from larval stage to adult before designing the Mayfly lure. That's how we do things at Bobby Garland to ensure anglers catch more crappie.
Most Versatile Bait Ever
Sikora got almost giddy in describing how the Mayfly has a profile that fits so many crappie fishing scenarios, representing everything from insects to minnows. "It just looks like the things crappie eat, and I think that makes it the most versatile design in the Bobby Garland lineup – and that's saying a lot," Sikora said.
So far, Sikora has been either fishing the Mayfly vertically near structure, or shooting it bow-and-arrow style around docks.
Docks are insect magnets because of being hard structures on the water. You'll find all kinds of bugs crawling and/or flying around them. Add a light or two to the equation, and things get a whole lot buggier. Of course, all the insect activity attracts panfish, including crappie.
"Black crappie are predominantly insect eaters," the professor explained, "So anywhere you have good populations of black crappie, you can't go wrong in presenting an insect imitation to catch them. But, as I pointed out earlier, the Mayfly also has a minnow-like profile, so you're getting the best of both options in a single design with this bait. Minnows and shad use docks for feeding and cover, too, so docks are always a good place to try for crappie."
When fishing docks, Sikora likes the Cajun Cricket color. When he's fishing what he calls "shad lakes," and especially waters with greater populations of white crappie, he prefers to go with colors that more closely resemble baitfish, like the Garland color called Mayfly, plus Blue Ice, Monkey Milk and Mo' Glo Green Lantern.
In his vertical fishing presentations, Sikora's having success rigging the Mayfly on Crappie Pro jigheads ranging from 1/24- to 1/16-ounce. And, like most anglers who have state-of-the-art electronics on their boats, Sikora makes the most of lessons learned from the observations.
"One thing I just can't stress enough is 'don't overwork your bait.' I love to take first-time anglers crappie fishing, and the natural tendency for a novice fishing a jig is to, well, jig it. Don't! I spend a lot of time, probably way too much time, staring at my LiveScope to watch how crappie react to baits. I'm telling you, applying little or no action to a bait gets a lot more bites than over-working a jig."
Sikora noted that while he's enjoying good crappie-catching action right now in Indiana waters, he's chomping at the bit for winter and ice fishing opportunities to get here. "I can't wait to drop the Mayfly through the ice to crappie and jumbo perch because it's going to be deadly on them."
Bug Bites on Beaver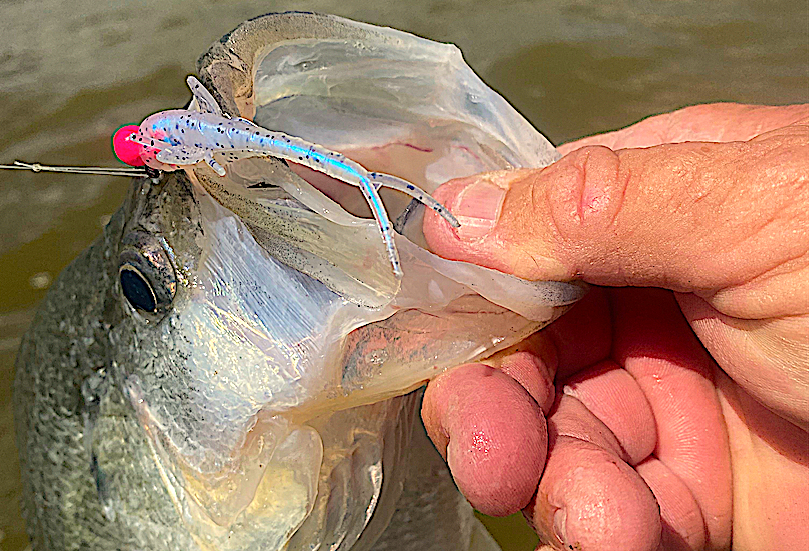 "Our fish are feeding on bugs right now," said Beaver Lake, Arkansas crappie guide Payton Usrey. "I'm not really sure exactly what kind of insects I'm looking at in stomach contents, but they are tiny bits of something and a rather nasty mix. For whatever the reason, shad aren't much of a factor at this time. I know our crappie are liking the Mayfly, though, and especially in Cajun Cricket color. To me, that color just looks buggy."
Usrey said he's employing two different techniques, one for white crappie and the other for black crappie, for consistent catches right now.
He's finding white crappie suspended on pole timber in main-lake areas with water depths of 30 to 60 feet, but notes the crappie are hanging at around 18 feet on the wood. For them, he's finding the morning bite to be best and says the Mayfly "is the ticket" for triggering strikes.
Usrey is rigging the lure on a 1/16-ounce jighead and also crimping a #4 split shot about 8 inches up the line. He explained the additional weight helps to get the bait down faster and to make it easier to see on his LiveScope.
"When there's crappie on a pole, there's typically somewhere between four to 12 of them there. The majority are in the 10- to 12-inch range, with an occasional solitary fish on a limb typically being the biggest. When there's just a single fish or two, the bite seems to come faster and be a more aggressive thump. Otherwise, I'm finessing the Mayfly around them, and the bite is more subtle.
For catching black crappie, Usrey is fishing docks. He's focusing on docks along main-lake shorelines between major creeks – keying on those that have good depth underneath.
"Our docks load up with black crappie this time of year and there's no doubt it's a bug thing they have going on. I'm finding them mostly schooled at around 10 to 20 feet deep and in the darkest spots – areas having the most shade. Dark water is really a key factor in locating their hangouts."
Sometimes he's shooting his jig into the dark spots, and other times he's pitching the lure into boat stalls. For both techniques, he's using 6-pound test and a 1/16-ounce jighead rigged with a Mayfly. His colors of choice are Cajun Cricket and Monkey Milk.
He said he usually starts his dock fishing by letting his jig slow fall into the depths, feeding it a "couple pulls of line" so it's dropping straight down but also "feeling" the lure throughout the descent because that's when a lot of the strikes happen.
His next option is to use a slow-reeling retrieve once his lure hits the desired depth, pointing out that the horizontal movement gives crappie a different look at a bait and sometimes it ends up being the preferred presentation.
His third approach is to let the jig go all the way to the bottom and then slow-reel it back up. He said it's not uncommon for the vertical retrieve to be the best bite trigger.
"I'll vary my retrieves on the same dock before I ever leave one, and I'm convinced doing so results in a lot more catches from a single stop."
The Maine Event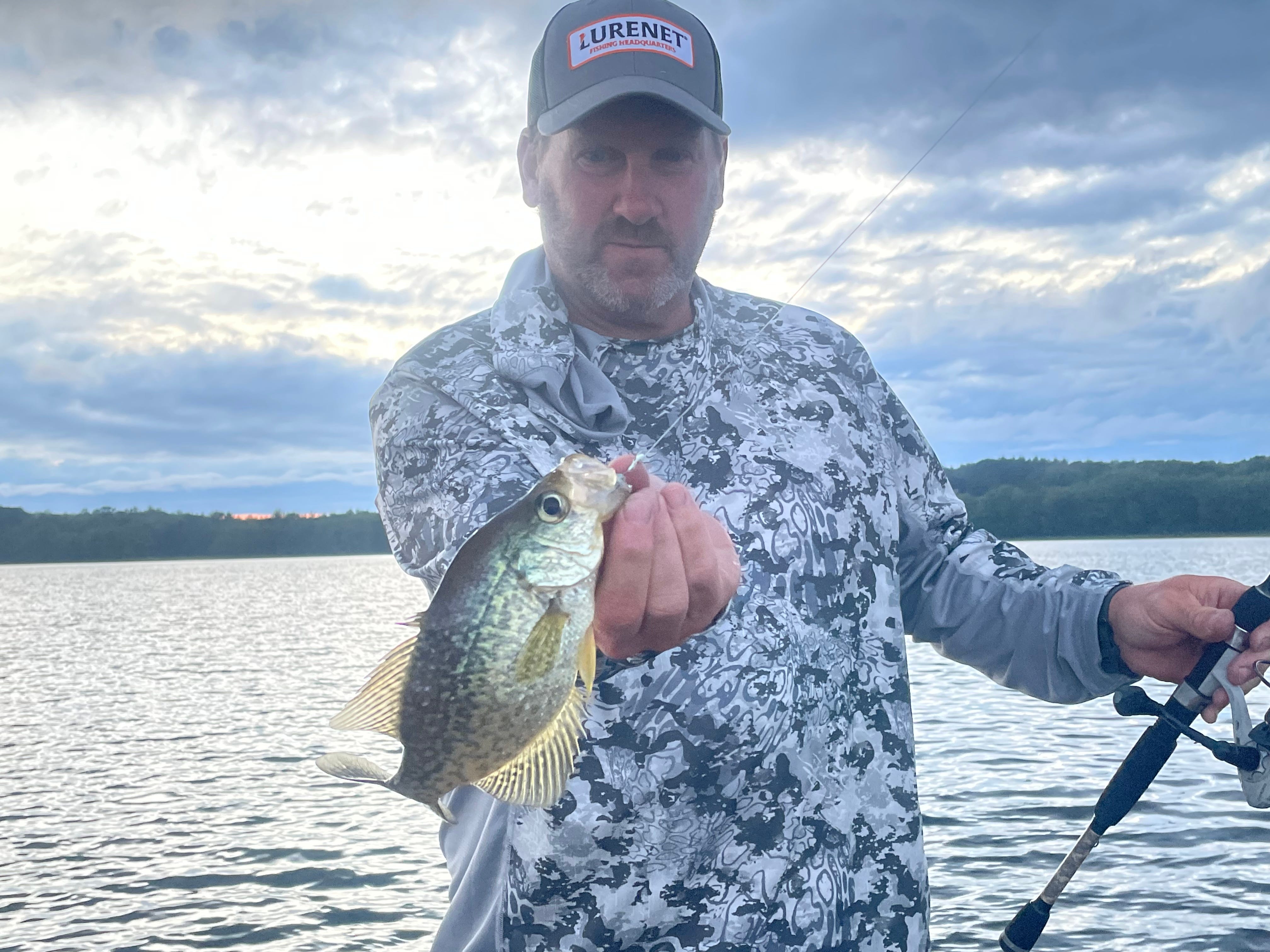 When Lurenet content specialist Jeff Samsel made a summer visit to Maine for some Penobscot River smallmouth fishing with Doug Teel of Northridge Outfitters, stormy weather on day 1 caused them to seek calmer alternatives in local smaller waters. Teel told Samsel crappie weren't his expertise, but he'd heard good reports of the species biting nearby.
By Teel's suggestion – having known such an opportunity could come up – Samsel had brought along a small box of crappie baits – Mayflies and Bobby Garland Itty Bit Slab Hunt'Rs, and the jigheads for both. The duo double rigged one of each bait on their respective lines and hit upon a crappie bonanza. Crappie are not native species to Maine, but rather an introduced fish that seems to have responded well to the Northwoods environment.
"The fish weren't seemingly relating to any breaklines or cover, but more so hanging near the bottom at very specific depths – in 13 to 14 feet of water – and were scattered across a huge area that made it possible to catch them almost everywhere within it," Samsel explained.
He noted that the tandem rigs were more of an exploratory option to start with as they began their search for the species, allowing them to serve up two choices of drastically different baits between the 2.25-inch Mayfly and the 1.25-inch Itty Bit Slab Hunt'R, with the hopes of "catching something."
Samsel said once they hit the magical depth scenario, the preference was first for the Mayfly bait. So much so, that they begin putting the same lure on both jigheads and would catch them on either the high bait or the low one, and sometimes would double up.
Best colors for the Mayfly bait, were Mayfly, Neon Nymph and Mo' Glo Green Lantern. Their success on the Itty Bit Slab Hunt'R came on Glacier, Bone White/Chartreuse and Monkey Milk.
Based on their wonderful first day of crappie fishing, the two didn't hesitate to return when more storms shortened a bass outing on the river. They found the results on the small lake to be the same, cooperative crappie providing lots of catching fun.
"Doug told me during our first outing that he'd never intentionally caught crappie before, but he was thrilled with the experience and now has experience with the species on some excellent fishing spots just a few minutes from his home. I know he's hooked and will return. That's the beauty of crappie: they live just about everywhere, in waters from small to large. Always be prepared for them when you travel," Samsel said.
Key Tips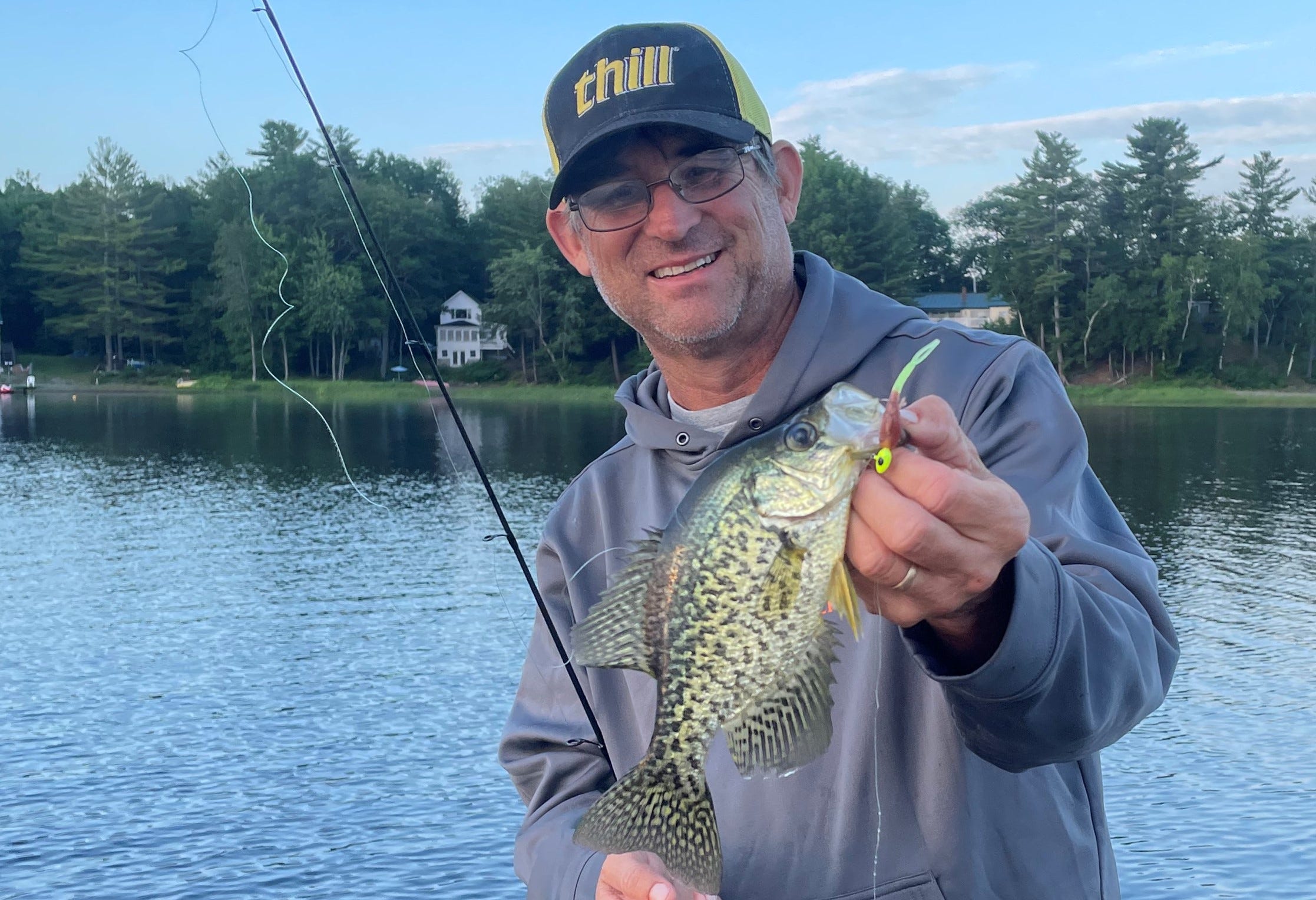 Sikora: Always tie your jighead to your line using a loop knot. Doing so affords a more natural presentation of the bait. And don't overwork your jig. Subtle entices crappie strikes!
Usrey: Adding a small split shot a few inches above your line is usually a better option than upsizing your jighead when more weight is needed for fishing the depths or in wind. I've found it also makes it easier to see and keep track of your bait rig when watching it on sonar.
Samsel: Fishing a tandem rig can be a great way to explore new waters. The two-bait system allows you to try different colors and/or body styles at the same time so crappie can tell you their preference. Listen to them!