Learn the secrets of a lifelong Jacksonville angler and veteran guide and how he uses minnow-imitating lures for redfish, spotted seatrout, snook, striped bass and more.
Every successful angler I have had the pleasure of fishing with seems to have a niche – something that angler is exceptionally good at doing. Some have multiple niches. From what I have witnessed, it is usually working a particular lure or style of lure in a specific manner. It's often a relatively simple technique, once mastered, but it often involves some very fine details, and those details make the angler stand out from others.
Much of my fishing success and success I have enjoyed guiding clients on inshore waters in Jacksonville, Florida occurs while fishing shallow-running minnow-imitating lures. Keys for me include keeping lures in the right depths, retrieving them properly and presenting them with the right tackle.
Over the years I have found a variety of different shallow runners that get the job done for me. Probably 60 percent of my fishing success is with shallow-water crankbaits, and I use them extensively for spotted seatrout, redfish, striped bass, largemouth bass, snook and more.
The Tackle Setup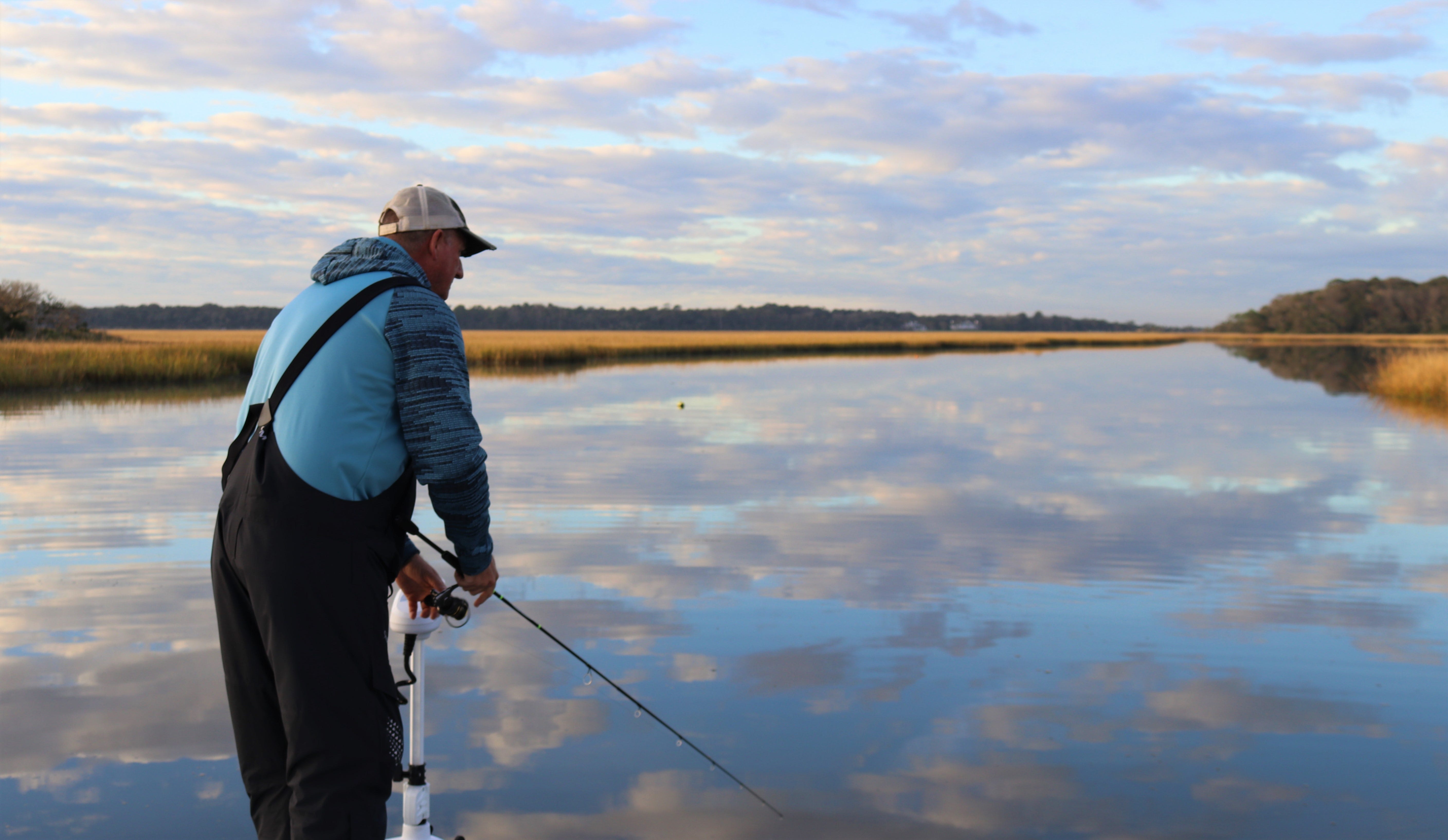 Long casts are best, and I have found a lightweight 7 1/2-foot spinning rod with a fast tip and a small 2500-size spinning reel spooled with 10-pound-test braided line works best for me and my charter customers. I also like to use a 20- to 25-inch 15- to 25-pound fluorocarbon leader. With some lures I remove the front split ring and connect the lure with a small loop knot. The lighter line and leader allow the lure to be cranked down to its maximum capacity, and the light leader keeps the lures action as natural as possible.
I prefer 15-pound leader for black bass and spotted seatrout, 20-pound leader for redfish and striped bass and 25-pound leader for snook and small tarpon. For the most part, I compromise, using 20-pound leader when I am targeting multiple species, which commonly is the case. The lighter the leader, the better the lure's action, but some fish have abrasive mouths, and sometimes I fish tight to abrasive cover.
The Retrieve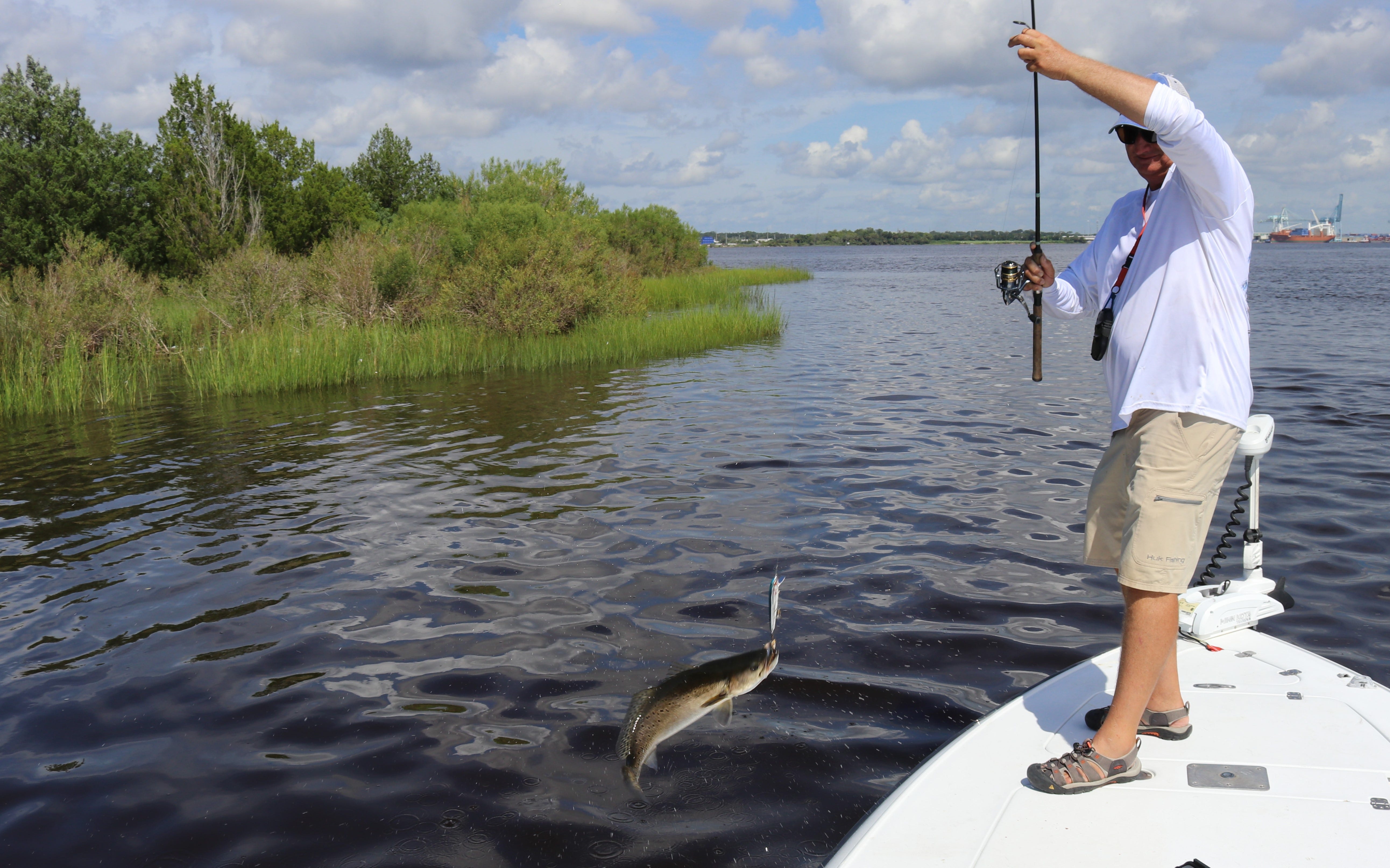 Some anglers are more skilled than others. As a 20-plus-year charter captain, I have learned that. My most successful clients develop the knack to crank the bait down to maximum depth, pause the lure, and then make it suspend longer by holding the rod tip close to the water. The fish strike while that lure is paused and suspending.
Follow a strike with a very light hookset. If the fish doesn't get hooked on the initial strike, crank the lure down again and hold it for another long pause. Fish will often make another attempt to catch the lure. Anglers with light hooksets and those who fight the fish with a loose drag will have the best landing rates.
Anglers fishing the same lure with shorter rods, heavier main lines and/or leaders and those who don't get the right rhythm with their retrieve won't have nearly as much success.
The Target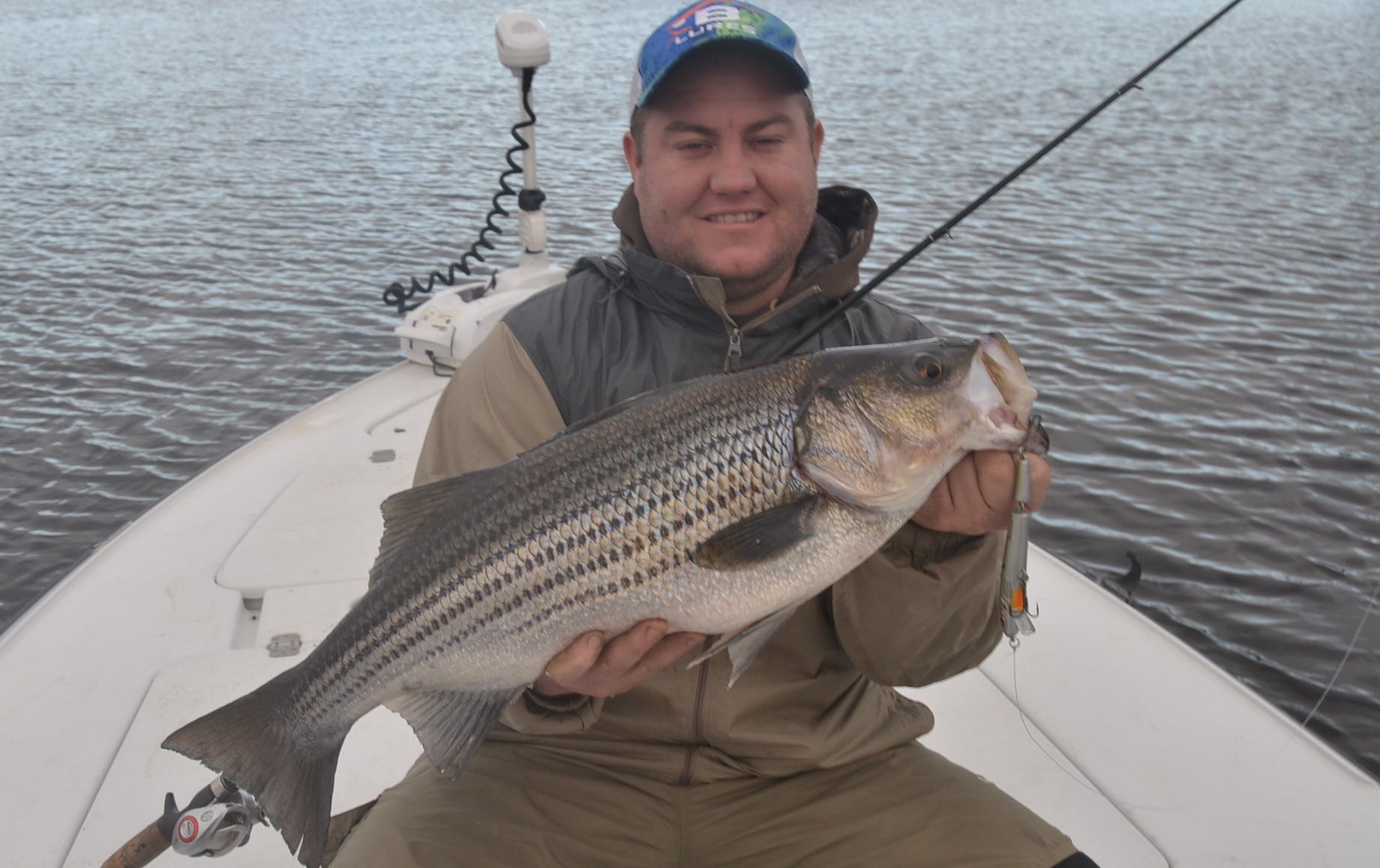 I have my great success fishing in roughly 4 feet – at least that's where most of my strikes occur. I cast into the shallows, possibly against a high tide spartina shoreline, retrieve the lure across ledges, and usually get struck when the lure crosses 3 to 4 feet near the ledge, just before it drops to 7 feet. Sometimes I fish parallel to the 4- to-7-foot drop. My strikes usually come in 4 feet of water. Of course, there are exceptions, such as when I am bringing the lure by an ambush point, such as a dock piling, parallel to a bulkhead, next to a bridge piling, on the edge of a brush pile, or just past a spartina marsh point.
I also have great success fishing tide rips or eddies, where the tide is going two different directions right next to each other or where the current is flowing in a circular pattern. These places make great strike-zones, and they are easy to identify by looking at the surface. They usually occur at creek mouths or where points break the current along a shoreline.
My Favorite Lures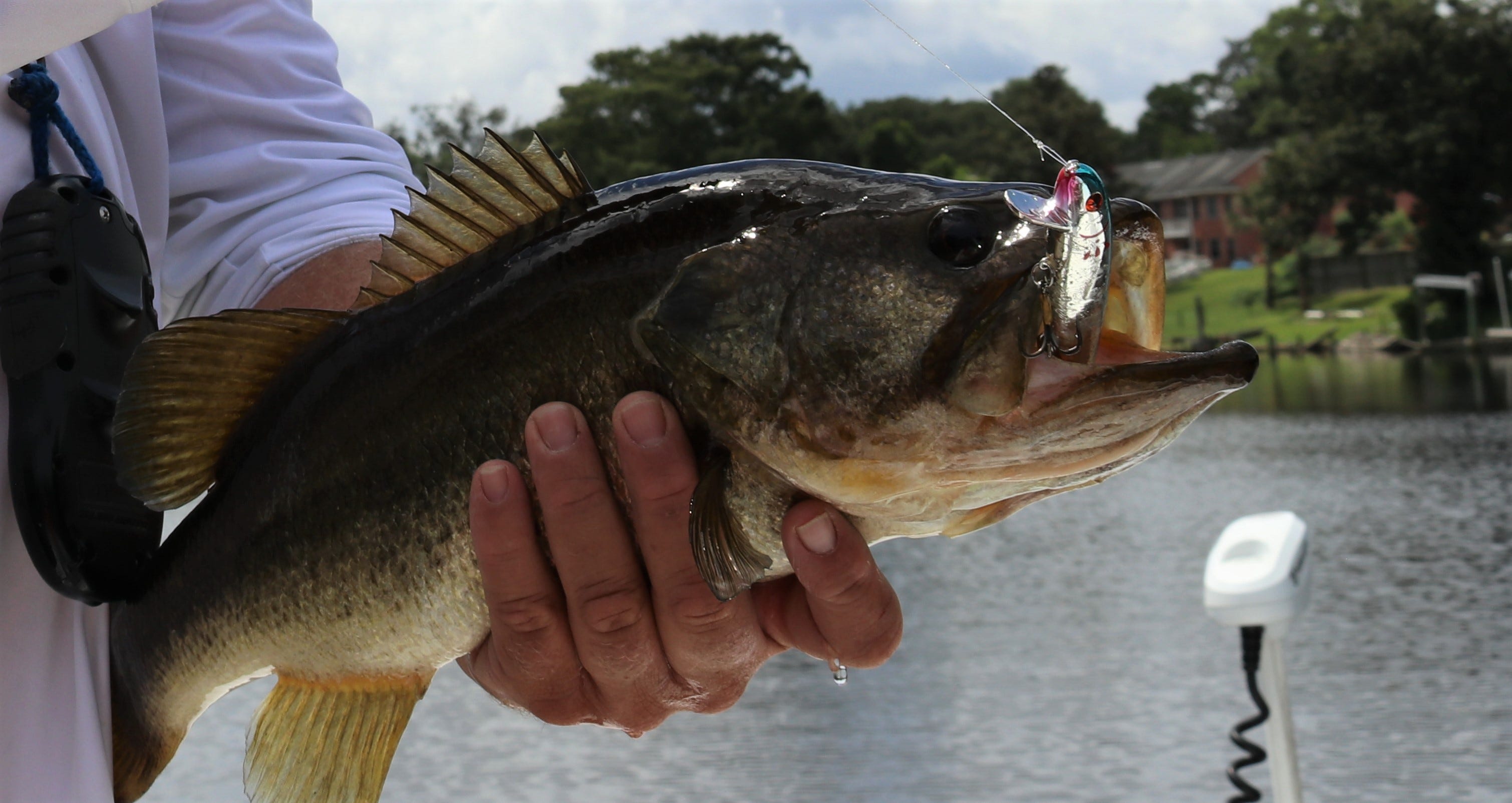 Species mix, depth and color all impact decisions about specific lures, and certain lures demand slightly different presentations. We'll go lure by lure though the crankbaits that produce best for me and my clients.
Cotton Cordell Red Fin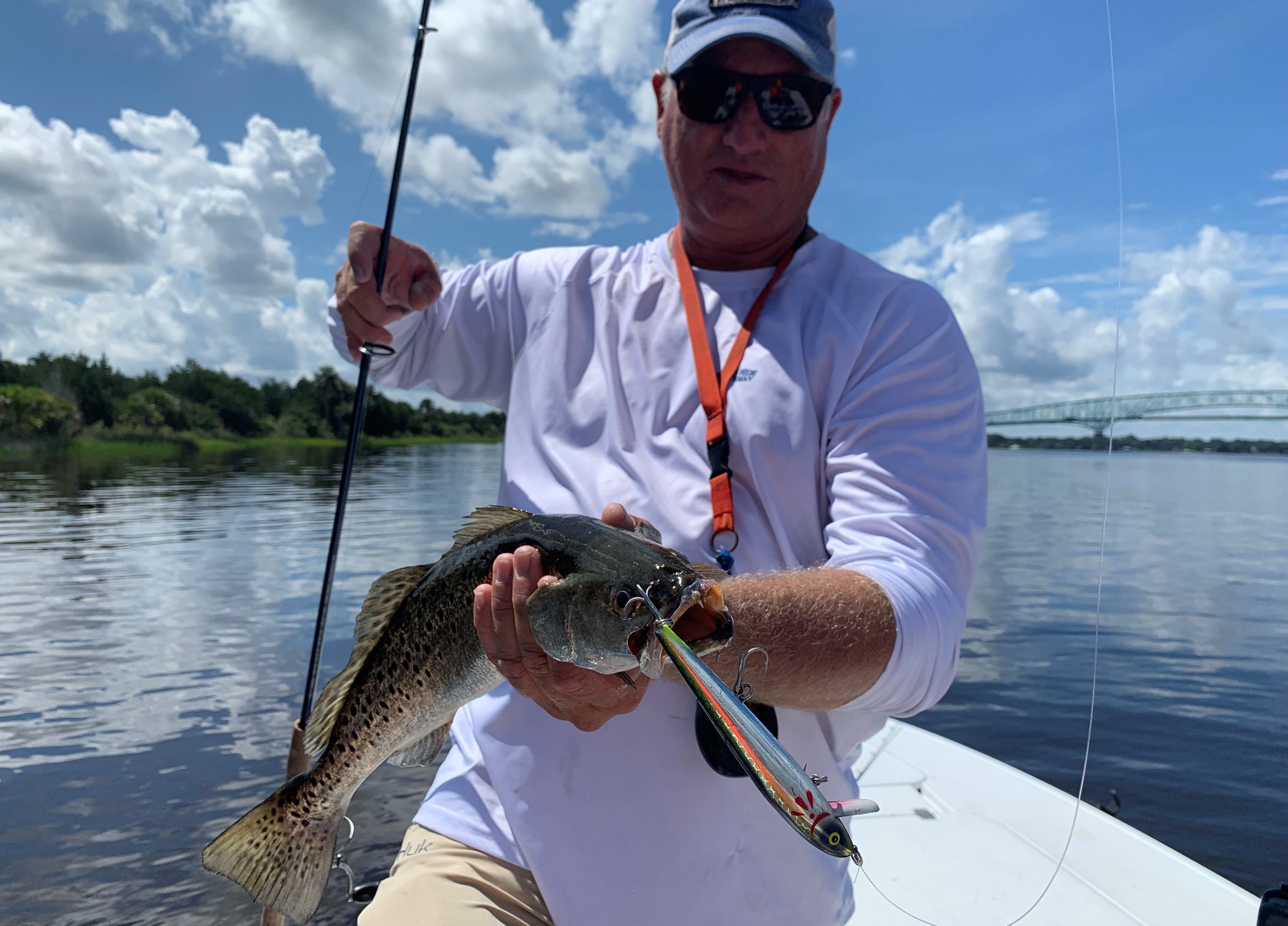 I guide in Florida waters, where finger mullet are among the most important forage fish. The chrome- and gold-sided Cotton Cordell Red Fins are perfect for matching the hatch, and these lures swim at the same depths as bait-sized mullet – within 1 to 3 feet of surface.
When I need heavier leaders, such as 20- and 25-pound fluorocarbon, I often remove the front split ring and connect the lure with a small loop knot. The bulkier knot you generally get with heavier leaders can interfere with the action of the lure. Loop knots are less bulky. and they allow the lure to swim freely, matching the action they get with the split ring and lighter leaders.
The traditional Red Fin, Ripplin' Red Fin, Suspending Ripplin' Red Fin and Jointed Red Fin are all great mullet/shiner imitators. The suspending lure works better in cold-water conditions, when fish are more lethargic, and the jointed version works best in shallower water because it doesn't dig into the bottom. With the Jointed Red Fin, the retrieve is slightly different. You want to work the lure as slowly as possible, allowing it to barely dive beneath the surface. I prefer this lure when the tide is at a point where oyster mounds are close to the surface.
Bomber Jointed Wake Minnow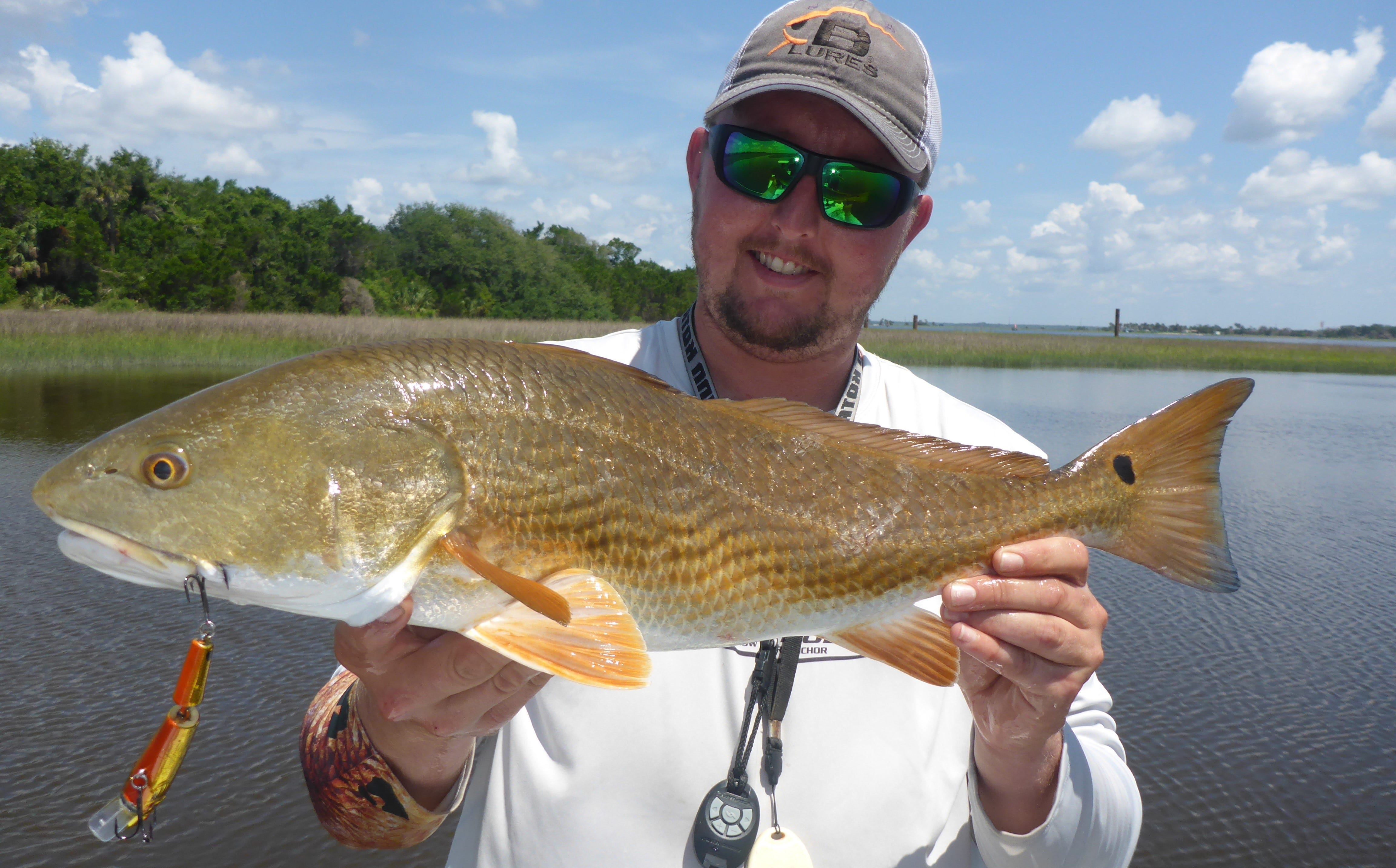 The Bomber Jointed Wake Minnow is one of the newest jointed minnow lures on the market. It is like the Cotton Cordell Jointed Red Fin but is even easier to wake. In my opinion it's the most balanced wake bait on the market, and I really like the black nickel hooks it comes equipped with. In addition, you can cast it a mile, and it comes in a variety of awesome color patterns. It's great for snook, tarpon, striped bass, black bass and bluefish, and it's my favorite jointed lure for redfish.
For fishing wake baits, I prefer baitcasting reels and monofilament line. Using wake baits with spinning tackle, my less experienced clients often have trouble with getting the front hook tangled with the lure. I don't find this to be a problem for those that are skilled with baitcasting reels. The lure can be successfully cast with spinning reels. The key is to follow through on the cast.
I like to wake Red Fins or Bomber Wake Minnows over shell mounds. Which redfish really like holding near when the tide is fairly low and moving. Waking jointed minnow baits allows me to fish a crankbait in extra shallow water without it diving down too far and getting hung. You can also wake these baits in super shallow creeks on mudflats on the lower stages of the tide, where traditional crankbaits would dive too deep.
Heddon Swim'n Image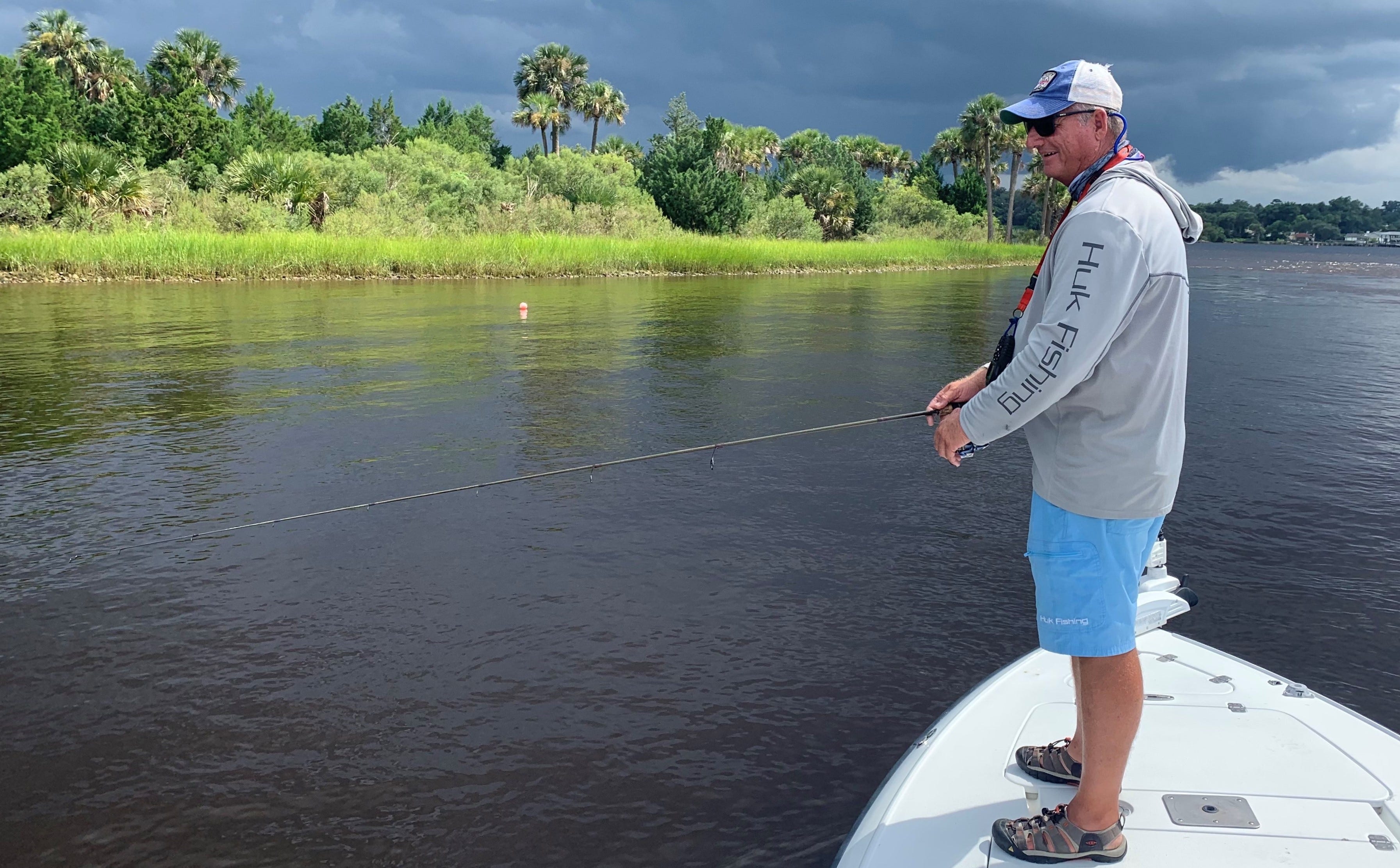 Another prevalent baitfish in Florida waters is the menhaden. Locals here in Jacksonville call them pogies. In northern states, they are better known as bunker, and they look very similar to freshwater shad and another saltwater baitfish known as a greenie. The Heddon Swim'n Image imitates these baitfish well.
This lure is well balanced and casts extremely well. I feel like it dives a few centimeters deeper than the Cotton Cordell Red Fin. At times, when fish are short striking on the Red Fin, I will switch to a Swim'n Image. Those slight difference in diving range seems to make a difference with less aggressive fish. I also like this lure when I am seeing more menhaden than mullet in an area.
Smithwick Rattlin' Rogue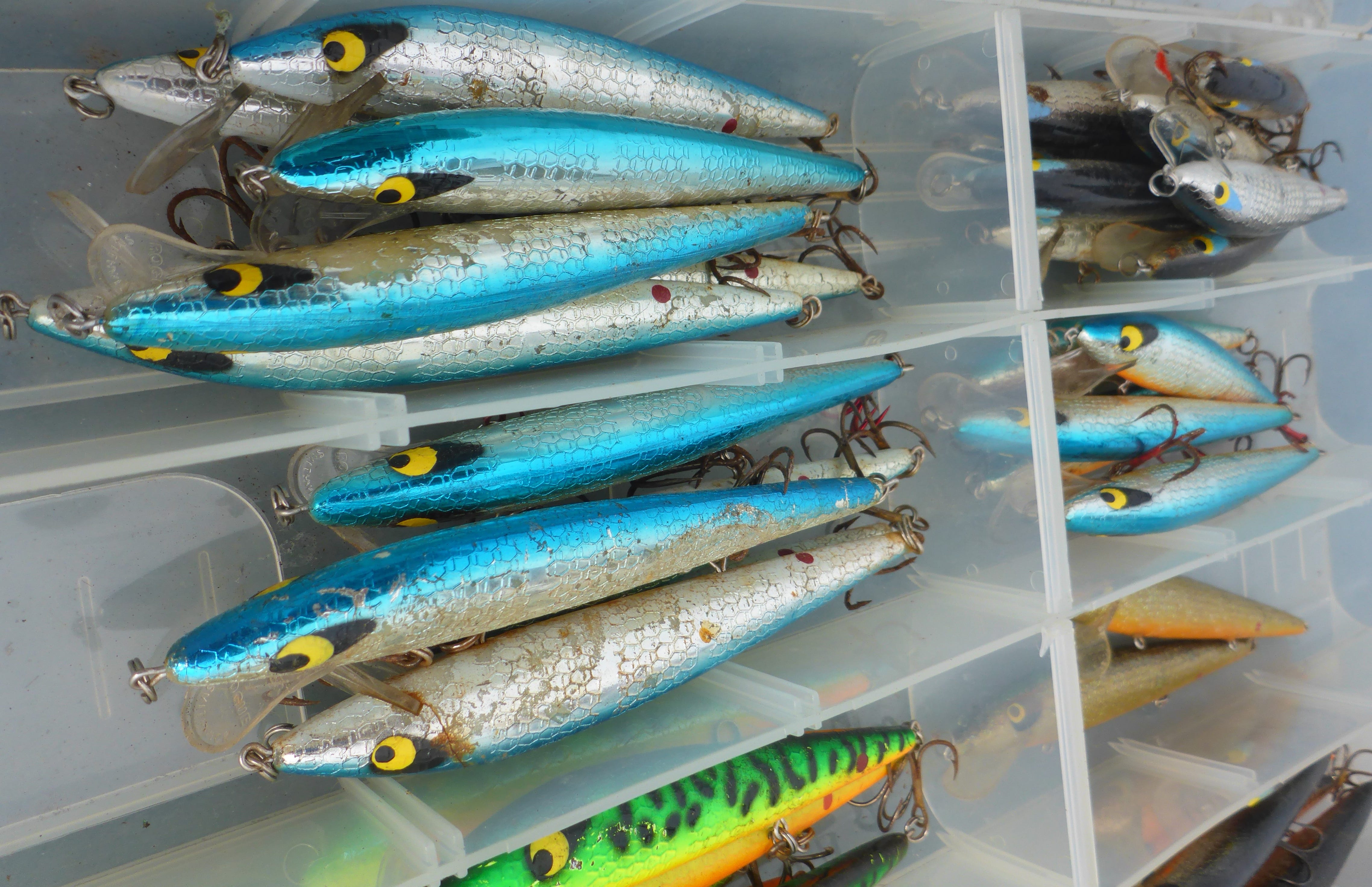 The Smithwick Rattlin' Rogue was my dad's favorite lure for spotted seatrout. It has tiny rattles that attract fish through the lateral line and is deadly for spotted seatrout and redfish. I think this lure is one of the best shiner imitators on the market.
Growing up, I remember my dad catching tons of spotted seatrout on his favorite Rogues with the old Shakespeare Ugly Stik rods that bent from the tip of rod all the way to the handle. Dad used to fish this lure with straight braided line.
There are several varieties Smithwick Rogues. One of my favorite Roges is the RB1200, which is a shallow runner. I particularly like this lure for black bass. One of the keys to success with this lure is to use light tackle, light line and a very limber rod. A stiff rod will over-power the lure and deaden its natural action.
The Perfect 10 Rogue is another great lure when fished properly. I didn't have much luck or confidence with this lure at first, but my nephew, Nathan Johnson, showed me its capabilities one afternoon when we were striper fishing underneath a bridge on the Nassau River in Yulee, Florida.
The Perfect 10 is shaped like a typical shallow diver, but it has a longer, wider lip, and it suspends. When you crank the lure, it runs much deeper. It's an extra special lure for lethargic spotted seatrout in colder water or for striped bass that are suspended in the water column.
Bomber Suspending Pro Long A
Since I fish mostly brackish and saltwater, I prefer the Bomber Suspending Pro Long A over a traditional 15A largely because of its hooks. The black nickel hooks are stronger and more resistant to corrosion and better suited for fighting striped bass and redfish.
The Suspending Pro Long A will stay suspended more easily on the pause that is part of my normal minnow-bait presentation. It also suspends about 6 to 8 inches deeper than most other baits we've discussed. Suspending lures work best for less aggressive fish. Often these are fish that aren't feeding aggressively because of water temperatures. This lure is one of the best baits for winter-time spotted seatrout that are in shock or almost in shock due to cold temperatures. I also like this lure during spring for fishing swift St. Johns River ledges, where spawning spotted seatrout are coming off deeper drops to feed in the shallows.
Bomber Wind-Cheater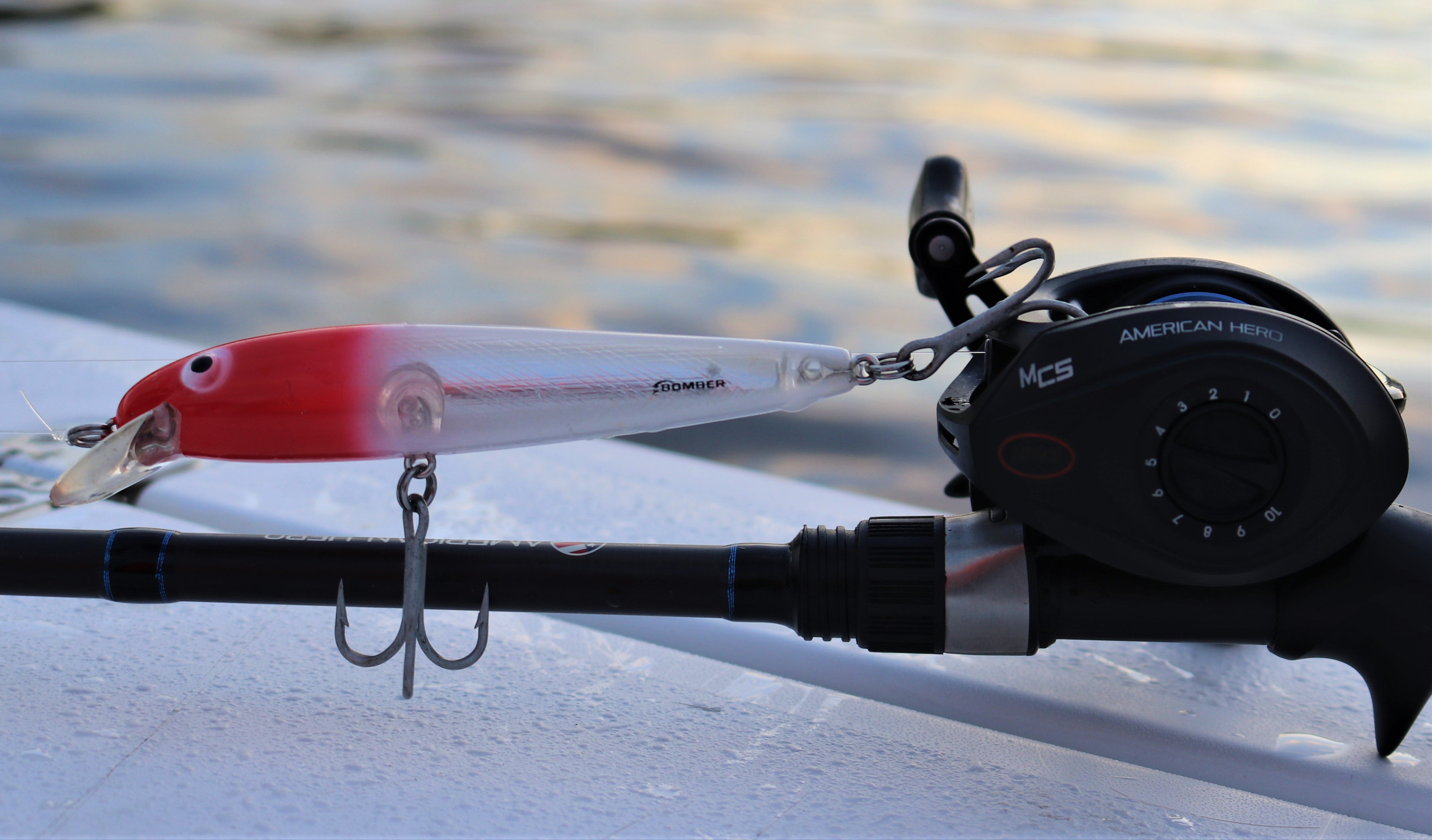 Tarpon, large striped bass, bull redfish and over-slot snook will crush most any shallow running crankbait, but if you are going to have to horse them in, you will want a more durable lure. You can make a lure so durable that you can build the action right out of it if you aren't careful. That's not the case with the Bomber Wind-Cheater, which is awesome mullet imitator.
In Northeast Florida we have both sliver mullet and striped mullet that large gamefish feed on. Some of the larger gamefish feed on mullet that are larger than fingerling size baits. The Bomber Wind-Cheater best imitates these larger forage fish. Most anything big enough to take a Windcheater is going to be a trophy catch.
More Saltwater Stories from Lurenet.com
Floats & Live Bait for Spotted Seatrout
Stock Your Box!