Learn the secrets of three highly successful anglers who are especially adept and catching crappie and other panfish through the ice.
Although hundreds of miles separate the favored hard-water fishing haunts of avid anglers Nicole Stone, Doug Sikora and Ryan Suffron, it seems the geography is the only distinguishing difference among the three's passion for catching crappie and other panfish through the ice.
Stone lives in northern Minnesota, a state known for its ample ice fishing opportunities and the one that usually edges out Wisconsin for having the most ice fishers in the United States.
Sikora resides north of Indianapolis, and while admitting "Indiana isn't the ice-fishing capitol of the world," says he "lives for ice season crappie time" in the state.
Suffron is right at home in Manitoba, one of many provinces famous for its ice-fishing in Canada, a country where the sport ranks up near the top alongside hockey and snowmobiling in popularity.
All three ice-fishing afficionados agree 2022 is off to a fast start in this being a quality ice-fishing season, and each has volunteered their personal insights for success so you can benefit from their knowledge, as well.
Nicole Stone – Northern Minnesota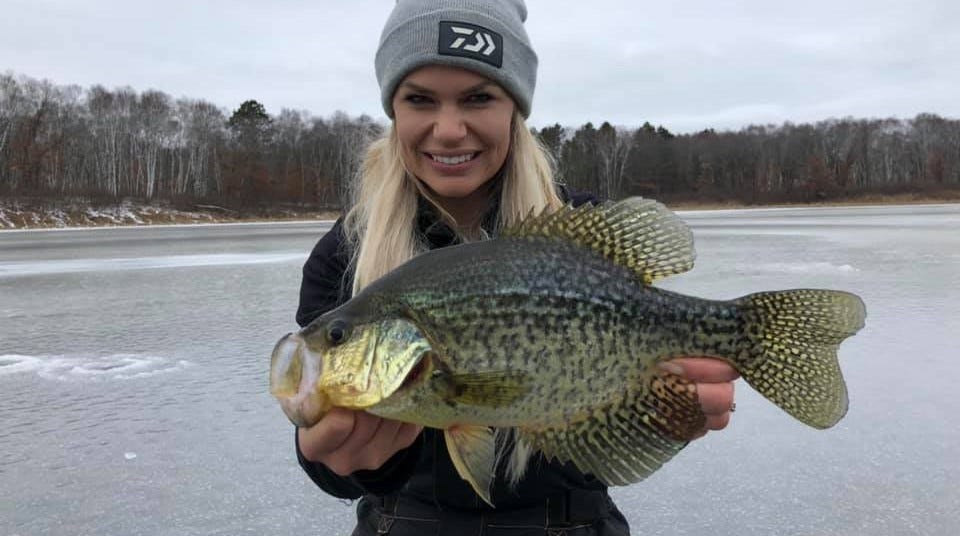 Nicole Stone has been hooked on fishing since age 6 and now makes her living in the outdoors. Her website nicolestoneoutdoors.com has a lot of great fishing how-to info for a variety of species and techniques, but it is especially loaded with many great tips on catching crappie through the ice.
Nicole says …
Favorite Spots: Smaller waters, especially those having good depth. If you don't know where to go, research your state game and fish department's website for best crappie lakes, and also review any fish survey information for the species.
Favorite Period: My absolute favorite time for winter crappie is February into early April. This is when our crappie are really loaded up in deep basins, and that makes for an especially hot bite and lots of catching.
Current conditions: At this time, we have lots of snow on the ice, more so right now than in comparison to the last five or 10 years. More snow requires more gear for getting around. It also hampers frequency of movement, so you just need to take that into consideration.
Top Tips:
I always have two rod presentations available so I can react quickly to every situation
One is always rigged with soft plastics – among my favorites are the Baby Shad, Baby Shad Swim'R, Itty Bit Slab Hunt'R and Scent Wiggl'R – and for several reasons:

No mess, no fuss in comparison to live bait
I can unhook a fish quickly and get the lure back into the water fast for multiple catches from schools
Allows easy changing of lure size, colors and profiles
You're in control of the lure's action – speed it up, slow it down, move it directionally, stop it

Use jigheads that present your baits in a natural, horizontal position. Crappie Pro Mo' Glo Jigheads are balanced, plus they have a longer hook shank than most heads. My go-to sizes are 1/24- and 1/16-ounce.
For any ice period, but especially for late season ice when the bite is really on, pre-drill lots of holes so you can move around quickly to find and/or stay on schools of crappie
Don't get lost in the clutter below. If you're seeing lots of zooplankton or baitfish activity on your electronics, go with a bigger soft plastic bait to stand out from the crowd
Doug Sikora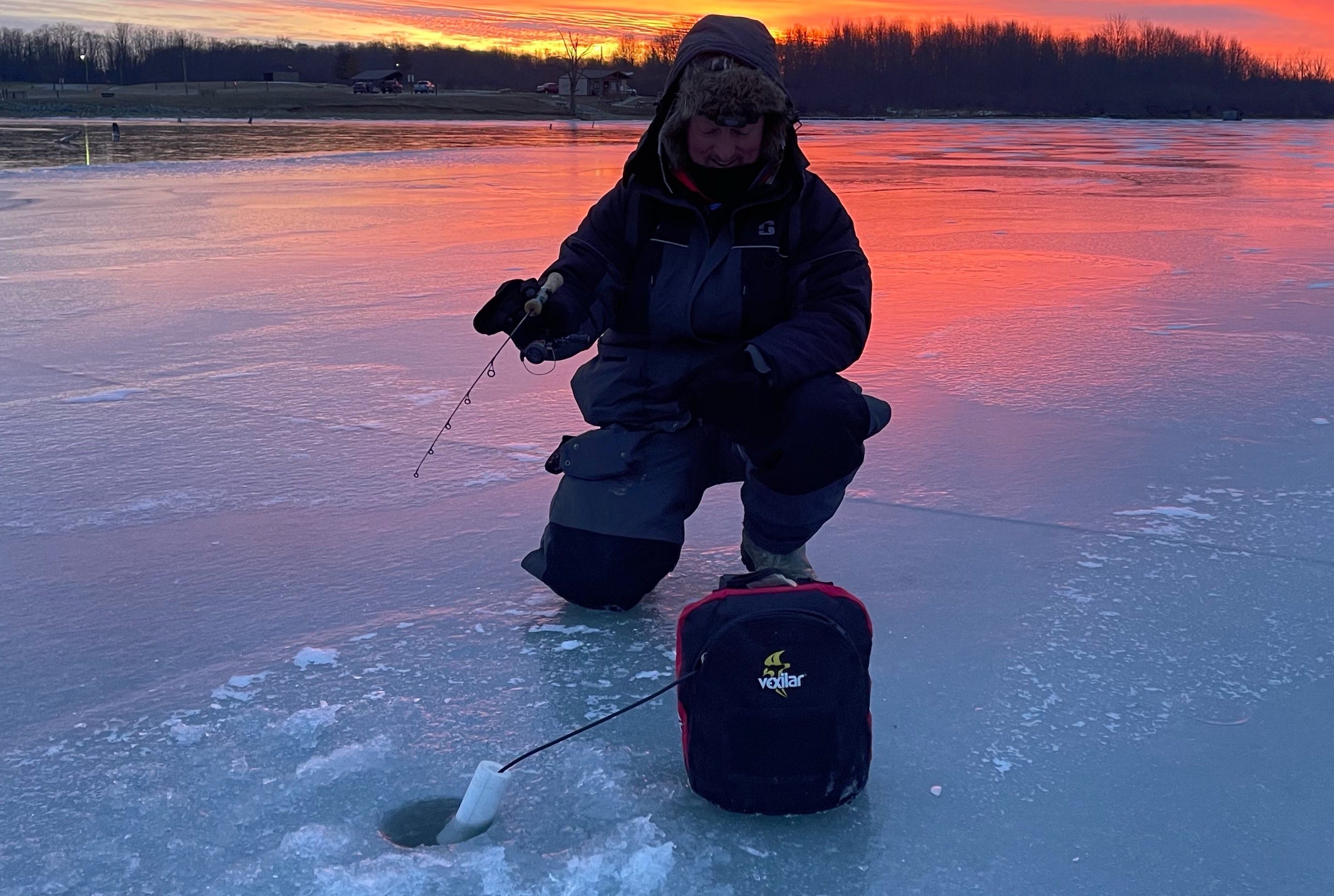 Doug Sikora has enjoyed years of success along the national crappie tournament trails, but relishes every crappie fishing outing – competitive or recreational – as another learning experience. He's constantly sharing that knowledge at seminars, clinics and Crappie University courses.
Doug says …
I classify our Indiana crappie lakes into two types: shad waters (larger, more southern) and insect waters (our natural glacier lakes to the north):
Shad Waters
Baitfish are larger this time of year in these lakes so I go with bigger soft plastics, like the Baby Shad, Baby Shad Swim'R, Minnow Mind'R and Scent Wiggl'R. For lure colors, a couple of my go-to favorites are Glitter Critter and Mo' Glo Sunset. During early season ice, I'm looking for "gray water," what I call the area where clear and muddy waters meet. This is where crappie "seem to eat throughout the day."
"Bug" Waters
These numerous little natural lakes are deep and clear, and where our big black crappie prevail. I use more insect-sized soft-plastic baits like the 1.25" Itty Bit Slab Hunt'R in Black Cricket and Cajun Cricket colors. Or, sometimes, I'll downsize a Scent Wiggl'R to just the tail piece. I concentrate most on the main lake basins.
I have the Navionics app on my phone and use it along with quality electronics to pick spots to check for fish.
Favorite Spots: I have a lot in Indiana, including Mississinewa, Salamonie, Morse, Prairie Creek and Summit, but also get a kick out of fishing our small natural lakes for a chance at a big black crappie.
Favorite Period: Anytime I can go, but I do enjoy ice fishing a lot because ice provides access to entire bodies of water that you might not be able to cover otherwise.
Current conditions: We've recently been getting the cold extremes necessary to start forming some ice. I'm thinking we'll be hitting safe ice fishing conditions here pretty quick and I'm excited.
Top Tips:
Always use a loop knot to affix your jig. The loop knot allows your lure to hang in a natural orientation
Go with light line of 4-pound test or less. I literally use .005 nylon micro sewing thread because it doesn't get "freeze memory" that can prevent you feeling super light bites
Don't overwork your bait. Keep it above the fish and keep movements subtle, working the entire hole … not just where you vertically dropped the lure
I'm a big fan of glow products, so I use Crappie Pro Mo' Glo Jigheads (mostly 1/32- and 1/24-ounce). And I put Mo' Glo Slab Jam scent gel on everything … lures and heads
First and foremost, be safe! Never ice fish alone, and don't forget your ice safety picks
Ryan Suffron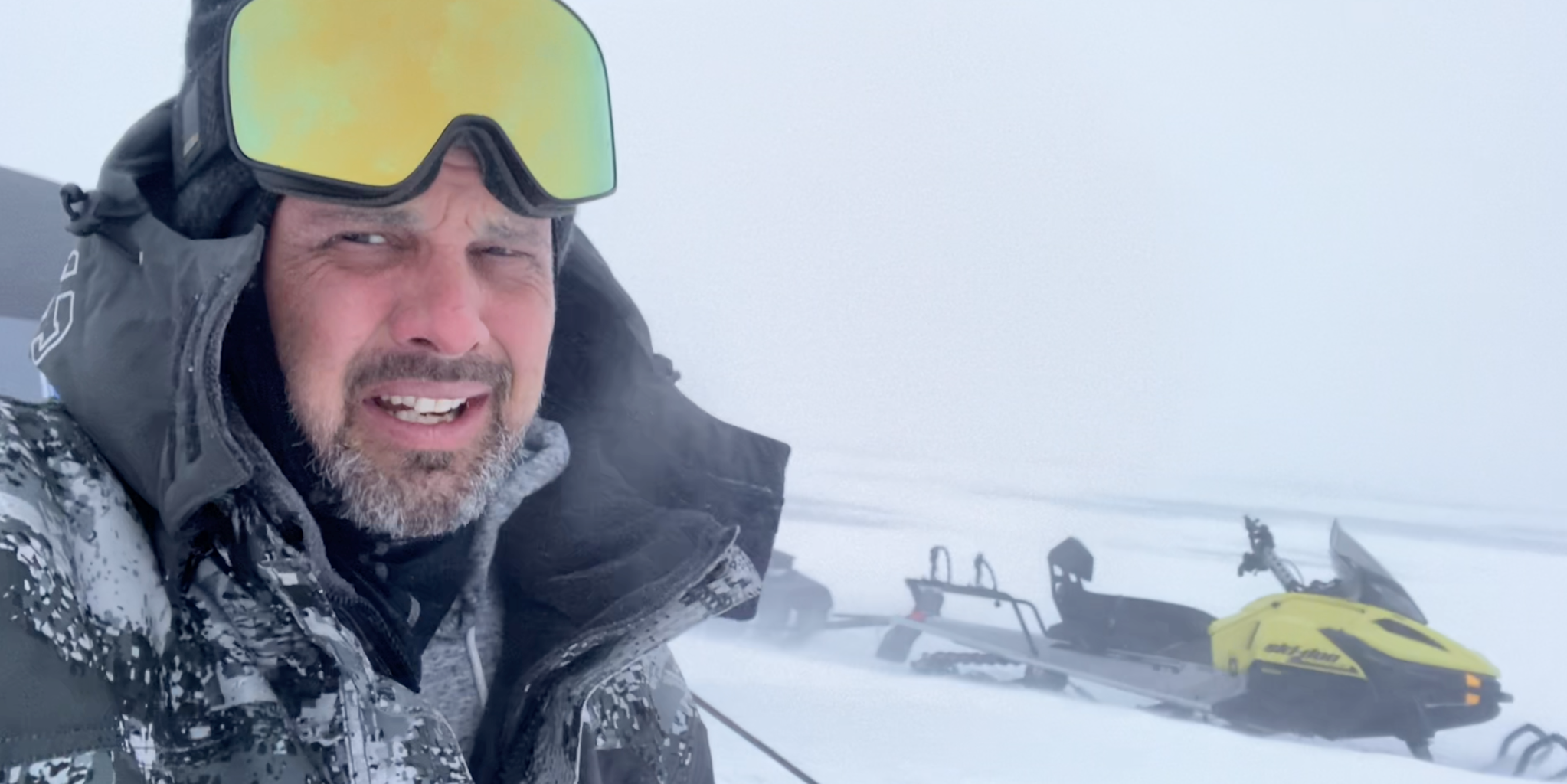 Ryan Suffron is a career marketer in the outdoors industry. He enjoys most outside activities, but really gets fired up when big yellow perch are biting like they are right now on his home-water Lake Manitoba.
"We're catching some really big perch, up to 13 1/2 inches, and those are special fish on Manitoba. The perch bite is always fun here, but adding a few big ones to the mix is a genuine bonus for me."
Suffron keys on two things for ice fishing success: baitfish and transition areas (mostly rock to sand). And, while many others are "thinking small" for their panfish baits, he's opting for the 2" Baby Shad.
"The Original Baby Shad matches the size of shiners and dace our perch are eating, so it's perfect. And its tail is magical – long and straight with a subtle, natural quiver. Yellow perch, and walleyes love it!"
Favorite Spot: It's Lake Manitoba, and one of the reasons is because of this yellow perch bite.
Favorite Period: We're in one of my favorites right now … ice fishing season!
Current conditions: It's cold here at this time, really, really cold. So, obviously, we have good and thick ice.
Top Tips
Location, location, location. So, I do rely heavily on AquaView cameras and Humminbird Helix electronics in flasher mode to help find baitfish and rock/sand transitions
Go with a single Crappie Pro Overbite Sickle Jighead, 1/16-ounce, pink or orange color. The sickle-style hook has a shorter shank length but a wider-hook gap, an ideal combo for solid yellow perch hook-ups
For the Baby Shad color, go with Monkey Milk. It's an ideal match to our spottail shiners and other minnows in the lake. Deadly!
Although fishing only about 8 to 12-feet deep most of the time, I use braid with 4-pound test fluorocarbon leader because the braid helps control a tight line on the fall
Pick a run of stable weather with some cloudy days for the more consistent all-day bite. Use a dead-stick presentation, employing a steady descent from the top down. Stop the bait at the top of the cover. But, of course, go anytime you can.