Have you ever wondered why Bomber Lures makes so many different crankbaits or wondered which is right for a day's task. We'll help answer both questions!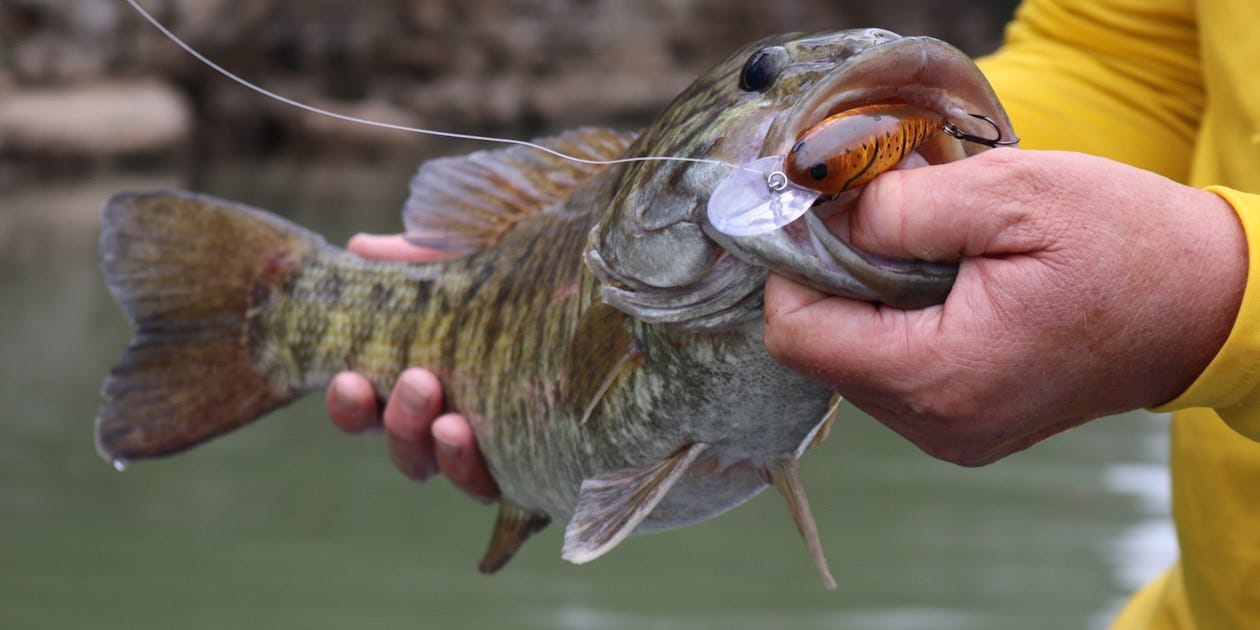 Bomber Lures crankbaits have gotten a tremendous amount of attention over the past couple of years with the unveiling of Bomber Next Generation lures in iconic models at an astoundingly low price of $3.99.
Advancements in manufacturing opened the door for Bomber to makes this shift, proving anglers with the same top-quality crankbaits Bomber has produced for decades, but at a far greater value. No quality or features were sacrificed in the Next Generation Bombers. In fact, every model includes spectacular new colors (along with the most popular classic colors), and a couple of the baits have a substantial upgrade, which we'll discuss more in a moment!
Any emphasis Bomber crankbaits also brings questions about why there are so many models, what makes each series within the Bomber line-up distinctive, and the best model to use for various situations. With so much attention on the Next Generation of Bomber Lures, it seemed like a fitting time to break down the entire crankbait line.
Flat A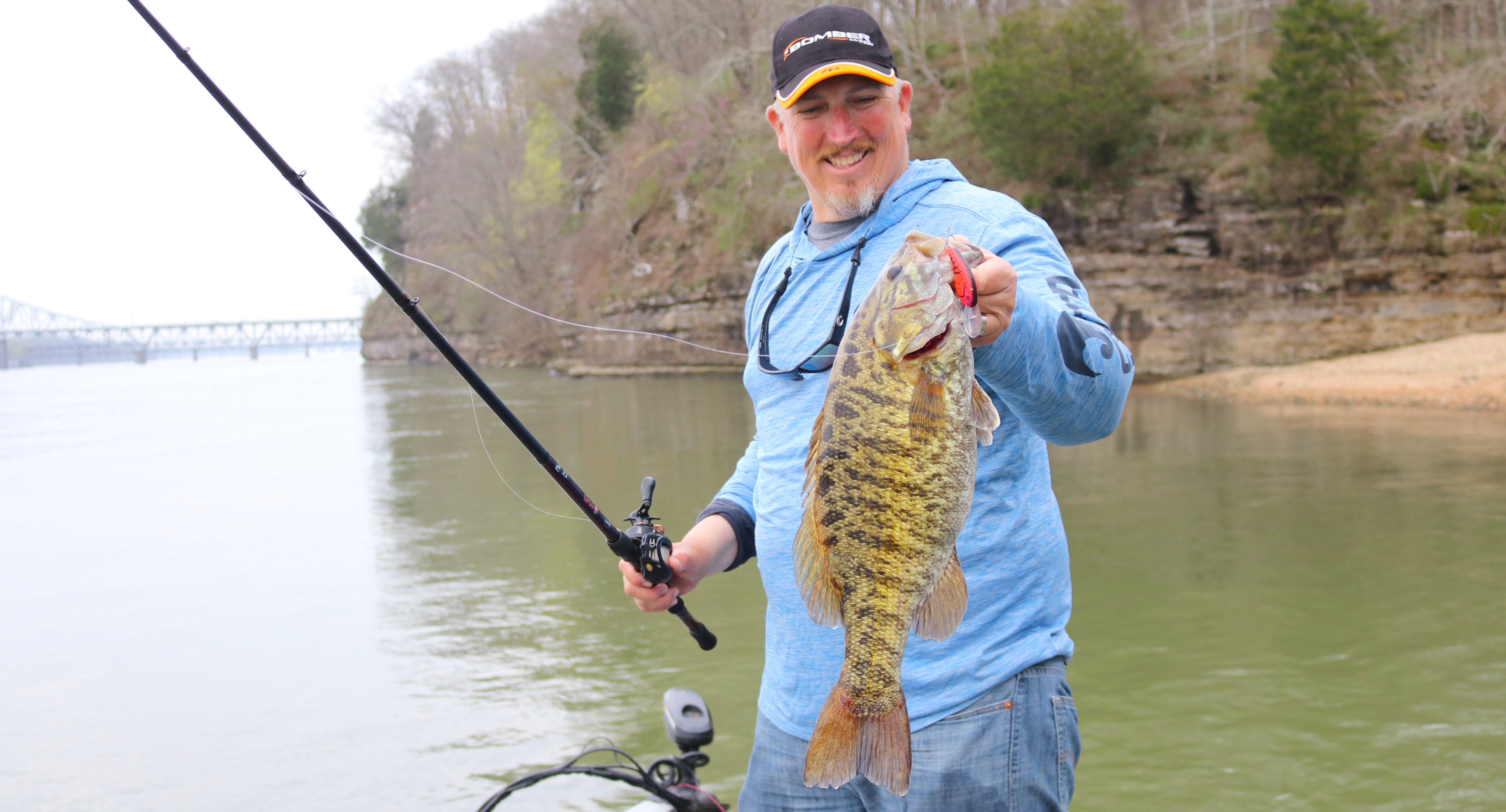 The Flat A and Deep Flat A are the two baits that got a substantial upgrade in the Next Generation models. The ONLY popular criticism of this iconic flat-sided bait has been that it was difficult to cast with any headwind or crosswind. "Was" is the key word. Bomber added a weight-transfer system to the Next Generation Flat A baits that make them cast extremely well, even on baitcasting tackle, and even in the wind!
As the name suggests, the Flat A and Deep Flat A have flat sides to create a narrow profile, and they run with a very tight wiggle. The shape and action mimic winter-chilled baitfish and suggest an easy meal to bass that are likewise chilled. The Deep Flat A is the long time go-to crankbait of North Alabama guide and tournament angler Jimmy Mason for cranking bluffs, 45-degree rock banks and gravel slopes.
The Flat A and Deep Flat A are 2 1/2 inches long and weigh 3/8 ounce and have the same body shape. The key difference is the diving lip. The Flat A dives 3-5 feet when cast and cranked. The Deep Flat A dives 5-8 feet, which Mason considers a key winter cranking zone.
Fat A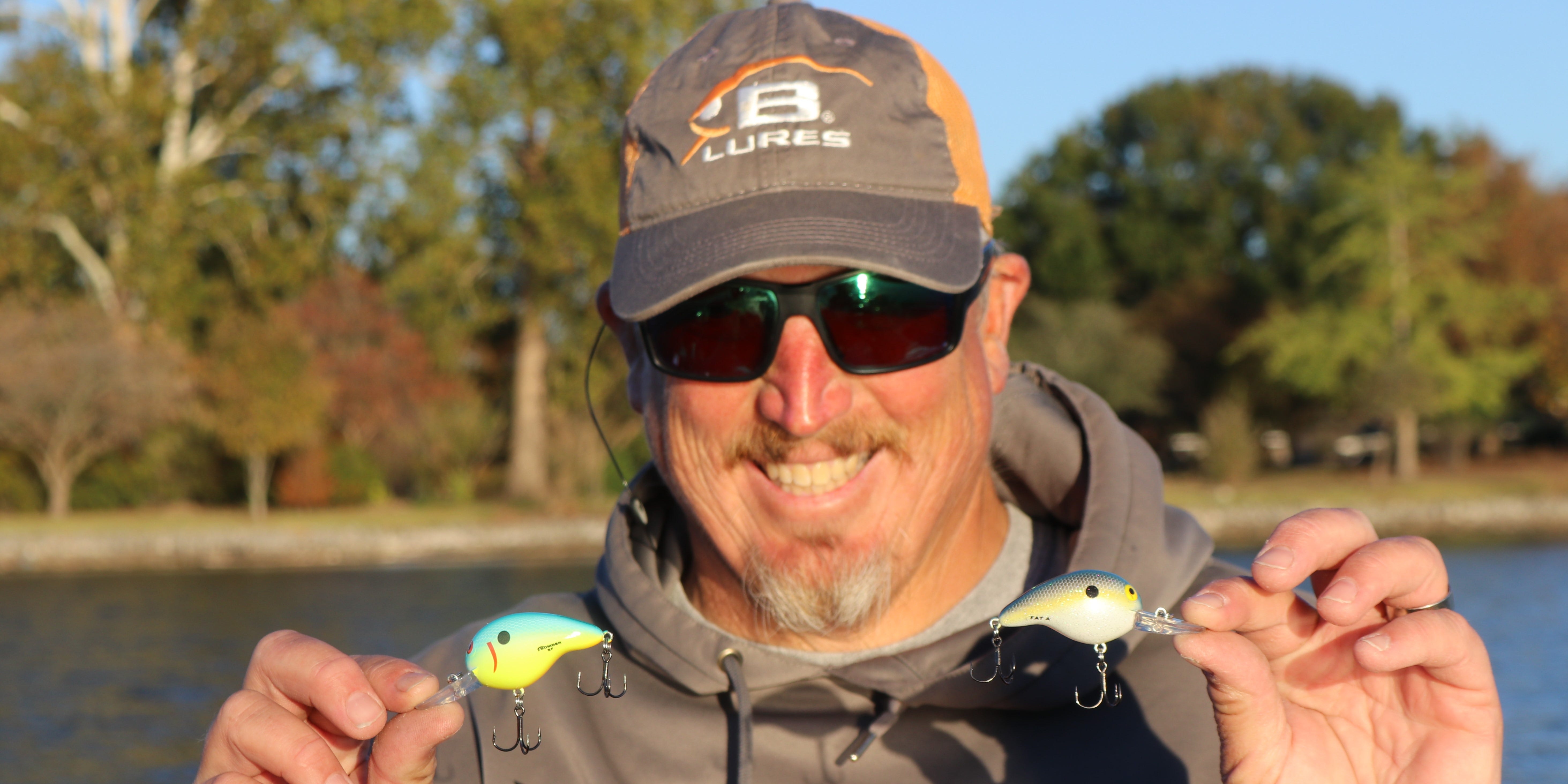 Moving from flat to fat, the Bomber Fat A has opposite appeals and attractions from those offered by the Flat A. The Fat A is indeed fat, with a rounded body and a wider than average wobble.
The wide wobble and round sides deflect help this bait deflect rocks, instead of getting wedged, and even sheds vegetation if it isn't cranked down hard into the grass. The fat body also adds buoyancy, again making this bait easier than many to roll across cover. Unlike squarebills that are used to crash shallow cover and kick erratically, the Fat A is a medium diver that gets down a little farther and deflects just enough to feather it across the top of cover that might be 8 or 10 feet beneath the surface.
The Fat A comes in two sizes, each available in a dozen colors in the Next Generation series. The 5F is 2 inches long, weighs 3/8 ounce and dives 6-8 feet. The 6F is 2 1/4 inches, weighs 5/8 ounce and dives 8-10 feet.
Square A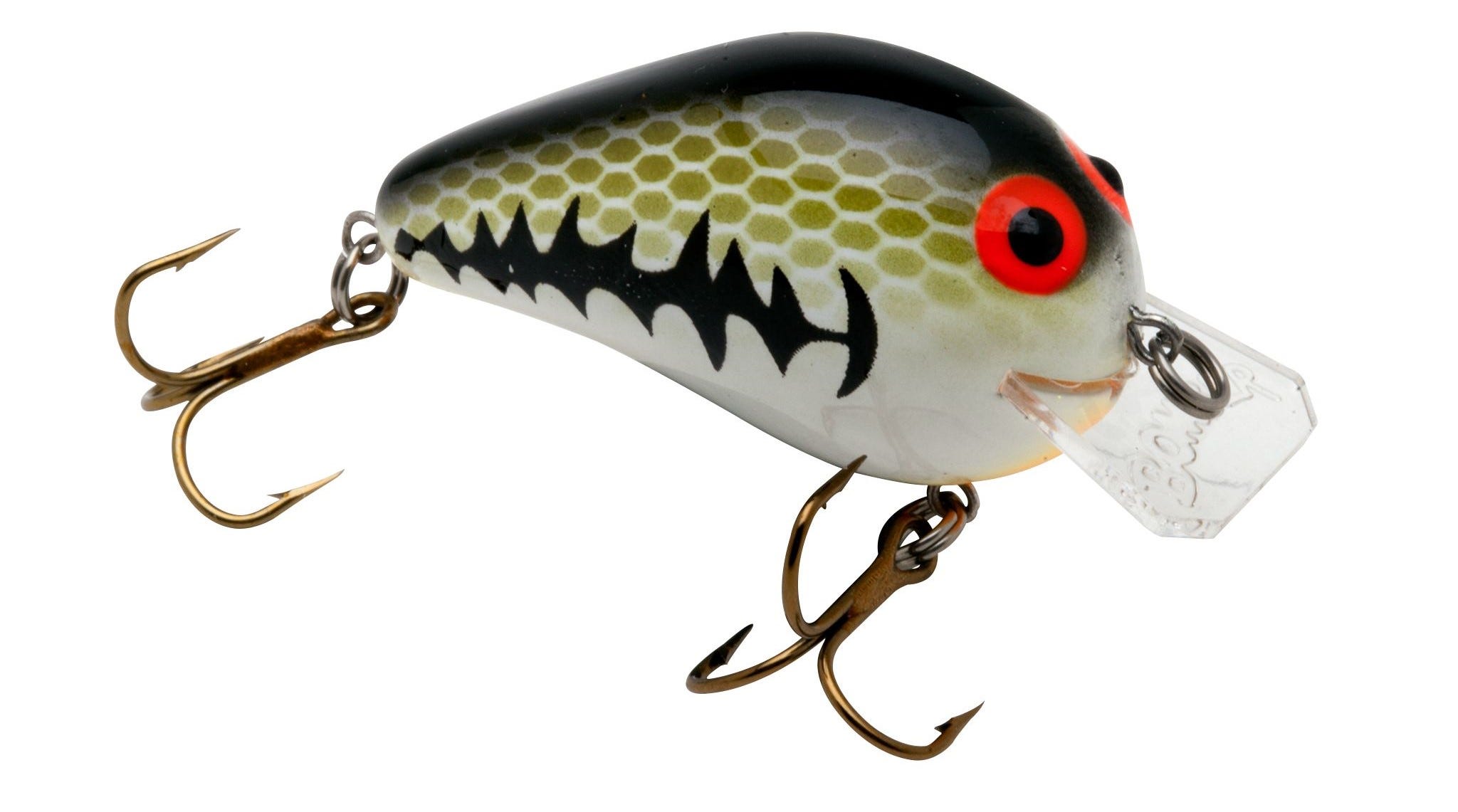 The Square A is even plumper and rounder than the Fat A and is therefore extra buoyant for rolling over cover. It has a coffin stye bill, which is a modified squarebill with extra edges to help it deflect craggy rocks and kick of brush and stumps and other wood. It is a true shallow runner, with two sizes that both max out at about 3 feet.
The smaller of the two Square A models, the 4SL is truly pint-sized at 1 5/8 inches and 1/4 ounce. It works wonderfully for kicking over shoals in creeks, casting to pond banks and fishing around shallow cover anywhere the bass are relating to small forage. It's a finesse crankbait for an approach that's often associated with heavier tackle.
The 5SL is 2 inches long and weighs 3/8 ounce, putting it in a more in the size range of popular square-bill crankbaits, although still at the small end of that range, again allowing you to work shallow cover or kick the top of submerged vegetation but with a bit of finesse.
Both sizes are available in a dozen colors, which include a mix of new Next Generation colors and classic Bomber crankbait colors.
Shallow A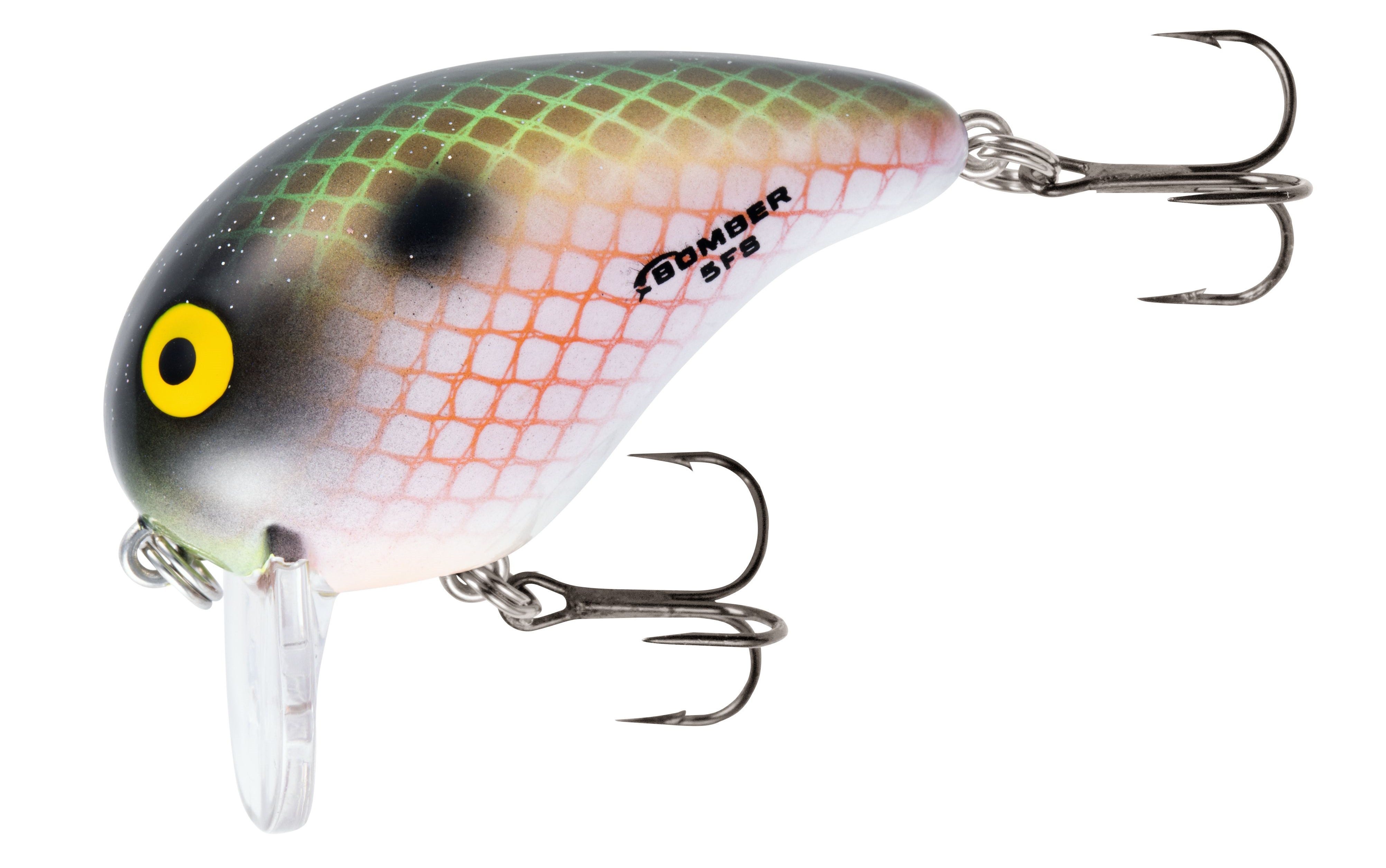 The Shallow A takes shallow to an extreme. Max depth, if you keep the rod tip low and crank steadily, is about a foot. More frequently, this bait fished as a wake bait – at the top but not quite on top and pushing out a V-wake as it wobbles along.
Cranked beneath the surface, the Shallow A is outstanding for swimming over vegetation, gravel bars in rivers, and other cover that doesn't quite reach the surface.
The waking approach provides the perfect answer when fish are looking up to feed but won't quite commit to a splashy topwater lure. Some lures can be forced to wake with a high rod position and very slow retrieve, but the Shallow A was designed to wake and stays in the ideal sone with a moderate retrieve.
The Shallow A is fairly small at 2 inches and 3/8 ounce. It's available in 12 colors in the Next Generation series.
Fat Free Shad
The Fat Free Shad burst onto the bass fishing scene in 1995 when it was one of two lures Mark Davis used to win the Bassmaster Classic. Its namesake flattened sides and distinctive lip shape allow for easy deep cranking and allow it to dig surprisingly deep for its size. The lip shape also deflects cover, such as brush planted on ledges, far better than most deep divers.
The Classic win and distinctive features made the Fat Free Shad an immediate hit, and nearly three decades later it remains the deep diver of choice for many anglers. The success of the original Fat Free Shad led to quick expansion of the series, with smaller sized Fat Free baits that use the same design principles and mimic the original's profile and tight swimming action but that do not run as deep.
Current models include the original Fat Free Shad, which is 3 inches long and dives to 16 feet, and the Fat Free Shad Jr, Fat Free Fingerling, Fat Free Fry and Fat Free Guppy. The Fry is the smallest at 2 inches. The Guppy is the same size as the Fingering (2 3/8 inches) but has a shorter lip and does not dive as deep.
Model A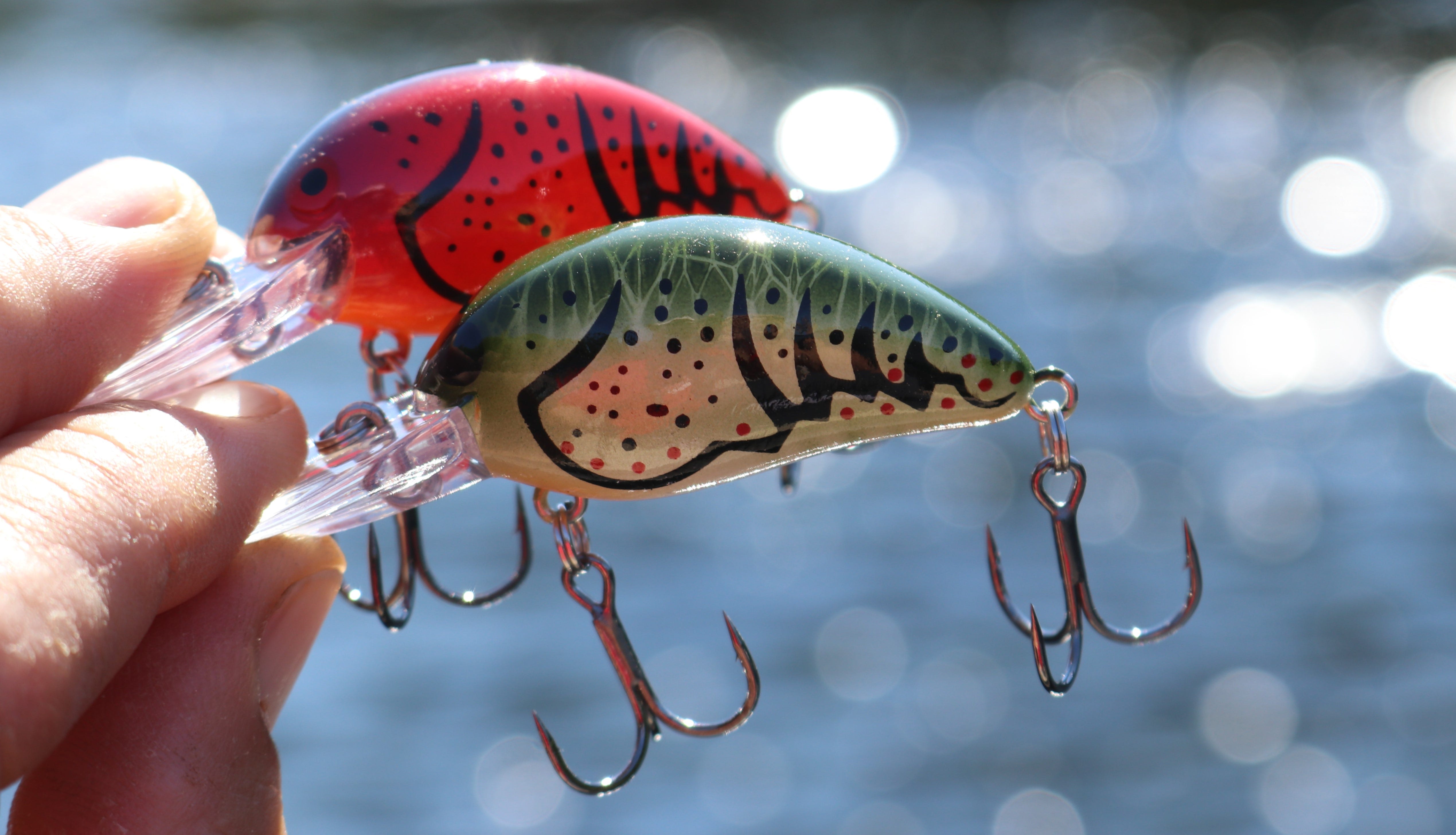 Last but certainly not least, the Model A is Bomber's most longstanding lure series, having been in production since the 1970s. Unlike other crankbaits discussed, most Model A crankbaits are less specialized and fit a vast range of situations. Shapes are neither notably fat nor slender, and wobbles are neither ultra-tight, nor wide. They bridge gaps and fit many applications.
Bomber currently offers five different Model A models, and while all have common denominators with the moderate size and wobble, the models are not simply five sizes of the same lure. They vary some in depth range, dive pitch and specific shape to meet needs identified by anglers.
The Model 4A and 6A are the same size (2 1/8 inches) but the 6A runs a few feet deeper than the 4A. The 5A is the smallest current Model A at 1 7/8 and is an outstanding stream lure. The 7A and 8A, along with being larger than and running deeper than the other Model As, are more elongated in body shape. The 8A is the largest at 3 inches and dives 10-13 feet.