Learn about the most recent addition to Bobby Garland's Itty Bit series and its unique offerings for crappie fishermen who want to downsize.
Bobby Garland's highly popular Itty Bit series of crappie baits just got bigger. Not the baits, of course. They're still Itty Bit at only 1.25 inches in length. Instead, the series has grown with the introduction of the Itty Bit Slab Hunt'R.
The Itty Bit Slab Hunt'R has a different profile and action than the Itty Bit Swim'R or Slab Slay'R, two already proven baits for when conditions demand finesse or match-the-hatch approaches for success. All three are down-sized but full-featured versions of longtime Bobby Garland producers.
Itty Bit Slab Hunt'R Features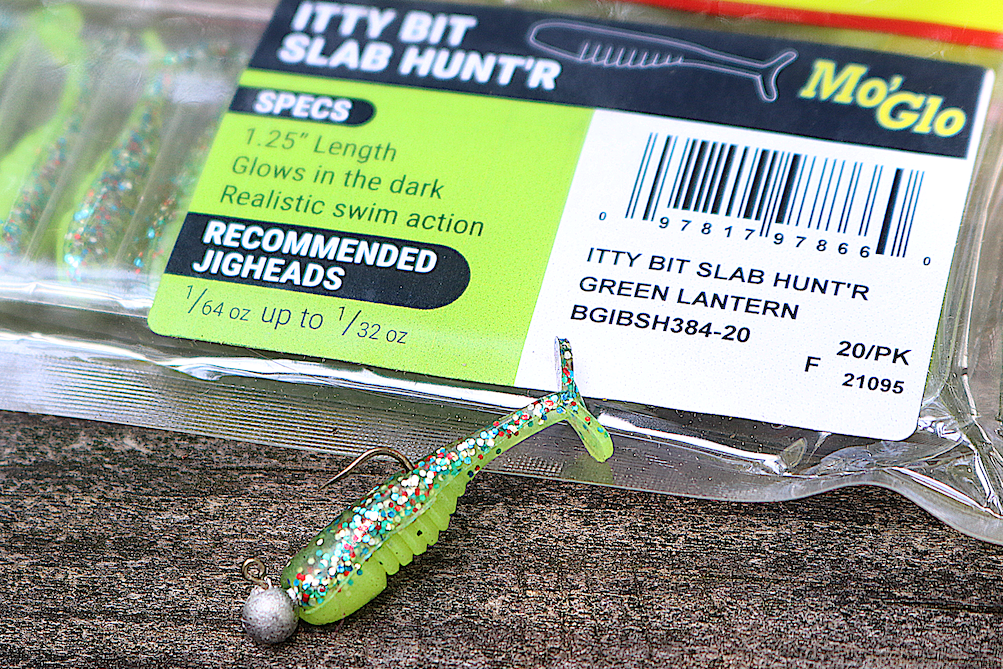 Like the original 2.25" Slab Hunt'R, the new smaller size has a natural minnow shape but in a larger profile than related Itty Bits from head to tail. The bait's vertical, two-bladed tail keeps swimming action tight and in the tail, like a real minnow. While its fatter head provides a better hold on lightweight jigheads ranging from 1/64- to 1/32-ounce.
The Itty Bit Slab Hunt'R has a ribbed underside to add vibration, hold scent and help the bait feel more natural to light-biting fishing. It can be fished a host of ways but is especially well suited for light line jigging, casting, split shotting, and fishing under a bobber.
Diminutive stature makes this morsel effective for a variety of finesse techniques, including ice fishing, but it also fits a niche for tough bites or when matching shad, mayfly and other forage hatches. Of course, as with most fishing lures, anglers often get creative when they get their hands on new bait designs and we've already heard several great success stories around this introduction.
See The Itty Bit Slab Hunt'R in Action
New Applications
Missouri's Terry Blankenship, a well-known crappie dock shooter who has been using Itty Bit baits for that technique for a while now, has already proven the Itty Bit Slab Hunt'R to be a great addition to his lure box. His first shot with it on Grand Lake O' The Cherokees (Oklahoma) ended with a sizable crappie getting off, but he followed that action with three catches in a row.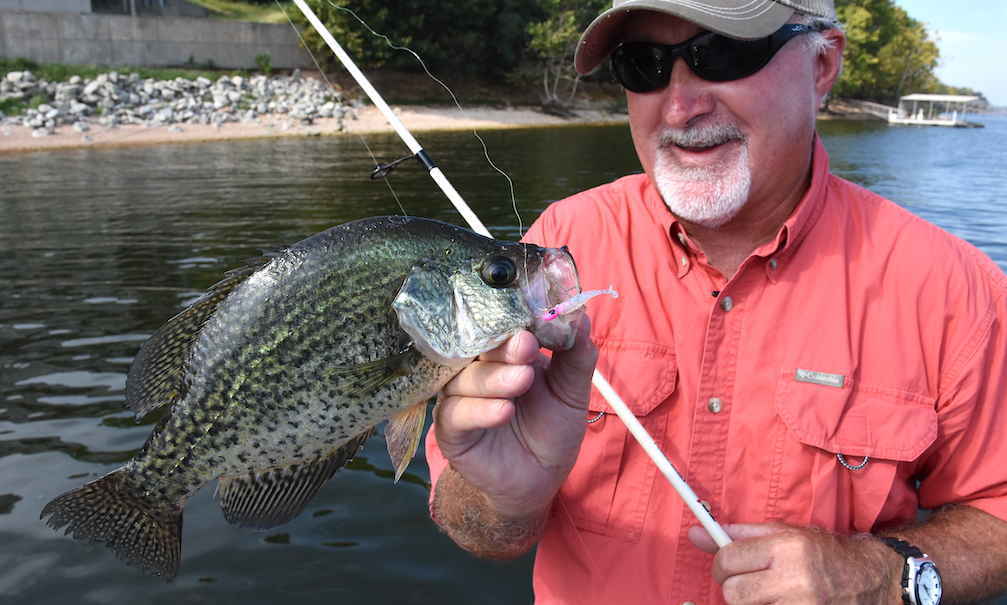 On Mississippi's Ross Barnett Reservoir, crappie guide Brad Chappell recently employed Itty Bit Slab Hunt'R baits to resolve a finicky brushpile bite that had his fish turning up their noses to spider rigging with minnow-tipped jigs. Chappell triggered success when he would cast the little baits rigged on 1/32-ounce jigheads tied to 6-pound test line past the piles and let them pendulum-fall over the cover. It was a change-up that resulted in solid catches of black and white crappie.
The same is true about Arkansas' Payton Usrey, who found the newest bait to work well for fooling roaming slabs while "live scoping" the deep, clear water of Beaver Lake during recent hot-day outings. He also discovered the tiny Slab Hunt'R is a consistent crappie producer when used as a trailer tied behind a trolled Bandit crankbait.
The Itty Bit Slab Hunt'R comes in all of the nearly 20 colors of the larger size, including Monkey Milk, Bluegrass, Blue Ice, Grenada Gold and Mo' Glo Green Lantern. A compartmented tray houses all 20 baits in every package to protect the baits' swim tail while in the bag. The new product will be available at Bobby Garland retailers soon. MSRP is $3.79 per package.