Long-time lure painter Frank Scalish offers insights on how to custom paint crankbaits and other fishing lures more effectively.
Years before Frank Scalish ever picked up an airbrush or even considered the idea that an angler could custom paint his own lures, he began drawing picture of lures that looked like real fish. An angler and artist from a young age and always a visionary, Scalish didn't understand why the lures that were sold at the time didn't look like fish forage, so he created lures and patterns in his mind and translated those into drawings.
Scalish, who is constantly devising new patterns and has created countless catalog colors for multiple fishing lure brands, including Norman, Bomber, Smithwick and Heddon, has been custom painting fishing lures for decades. That experience can provide a serious head start to anyone just getting into lure painting and insights even for veteran painters.
Scalish has always looked for ways to "build a better mousetrap." From his earliest tournament days, he struggled to find lures that were fully set up the way he thought was best, so he modified hooks, jig skirts, spinnerbait blades, crankbait weighting, etc., and soon got deeper into lurecraft by tying flies and jigs for all kinds of fishing.
Eventually he began dabbling with lure painting, and things really snowballed when his brother got into car body work and Scalish discovered automotive paint and all the different pearls, clear coats and candy colors. That was decades ago, and Scalish has been upgrading lures and his own skill set ever since.
Set-Up Considerations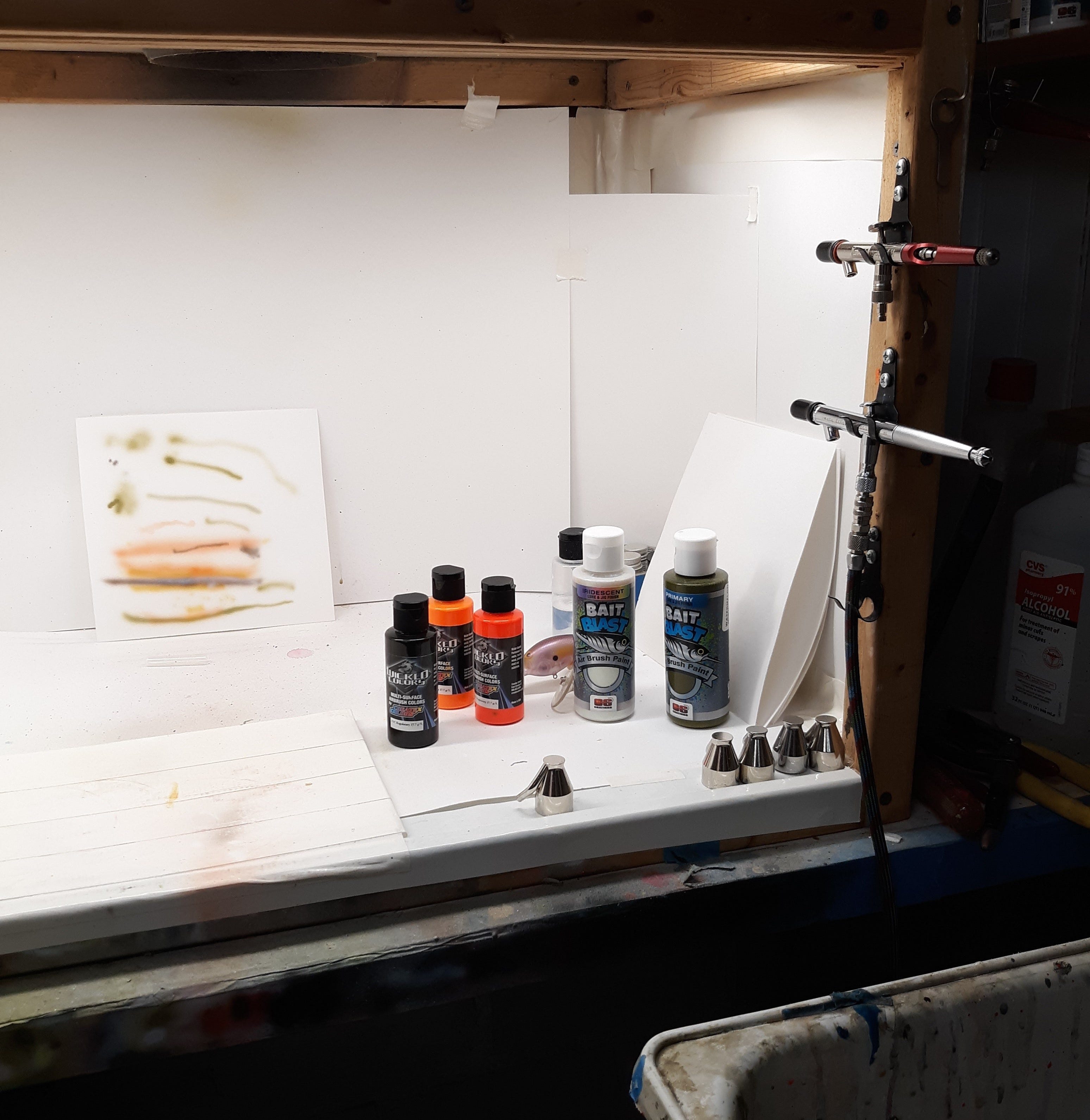 Scalish strongly suggests that anyone getting into lure painting or wanting to vastly improve their painting game invest in a double-action airbrush, which provides far more control than a single action airbrush. He said a single action brush works fine for a dedicated function like metal flake or clear coating, but for everything else, double action is the only way to go.
For paints, he suggested researching pros and cons of different types before jumping in but noted that water-based paints are the most popular, easiest to use and least expensive.
He also stressed the importance of investing in a good mask and setting up a well-ventilated booth for painting.
A bit of research, a few well-selected investments and some basic organization steps make it far easier to achieve lure painting success.
Practice, Practice & Practice More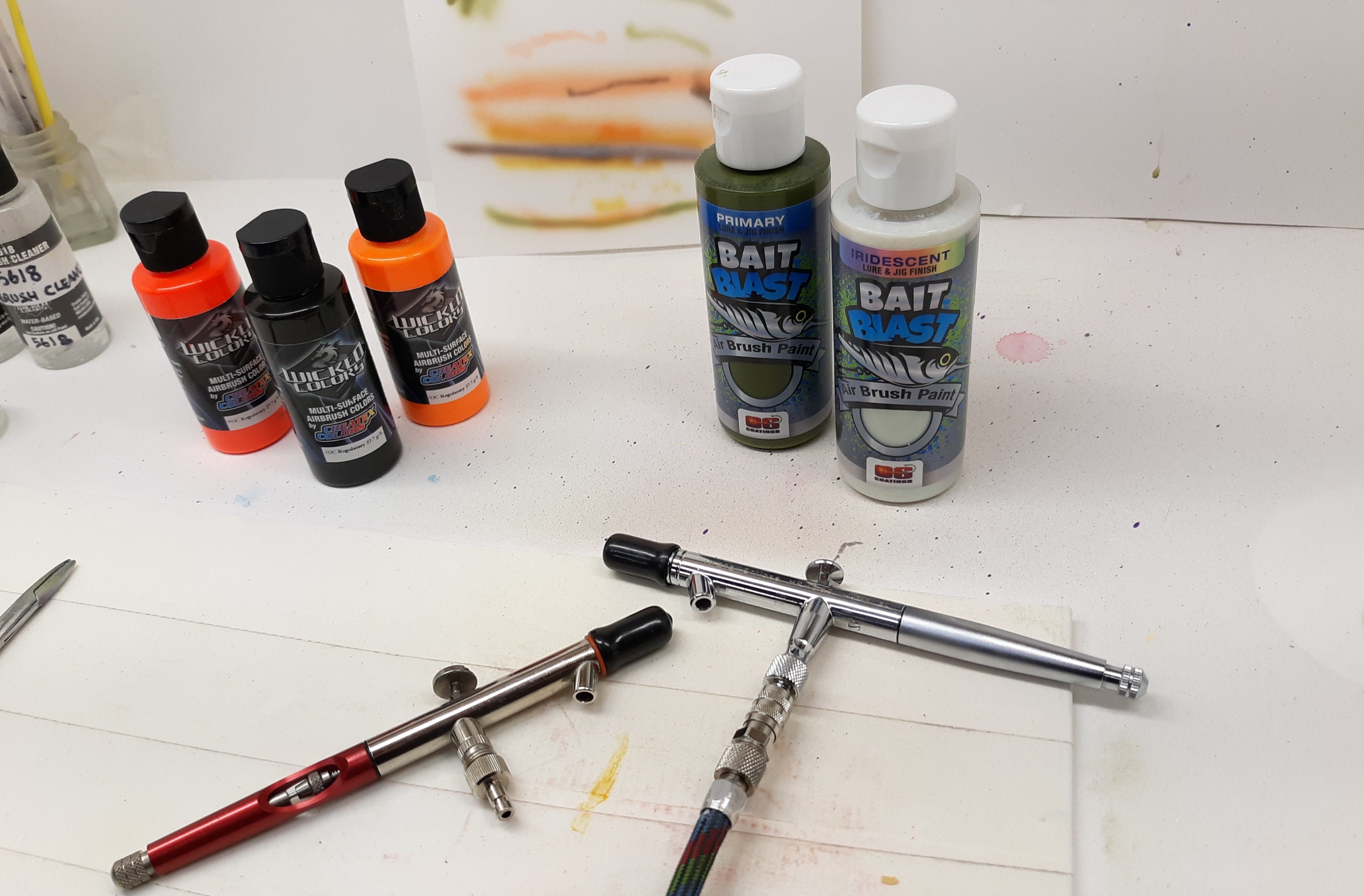 "Practice, Practice, Practice. That's the most important thing," Scalish said, emphasizing that he means practicing first on paper, not on lures, and with an emphasis on techniques for getting different effects.
Scalish highlighted the value of things like holding the brush at different distances and angles to see how the paint goes on differently and to master aim from different distances. Practice makes those things much more intuitive.
"Practice making straight lines, blending colors, making dots. Learn how to make a line thicker or thinner," he said.
He talked about practicing effects, doing over-sprays, using a filter… "Master airbrush techniques on paper first, and it will be much easier when you are painting lures," he said.
Scalish noted that sometimes colors are quite similar, and it can be difficult to see the difference when you are painting on a lure. However, if you build confidence in your own blending technique that translates into confidence that colors are blending properly even when that is difficult to see.
Natural & Simple
For the transition to lure painting, Scalish suggested beginning by imitating something natural, both because natural patterns suggest what fish eat and because painting something natural provides a target to shoot for instead of creating and learning to paint on lures at the same time.
Specifically, he suggested starting with something natural and simple, like a shad pattern, painting a bait white or pearl with a gray or black back or doing a silver scale pattern. From there, it's easy to expand by adding details like a shad dot, bands on a perch or bluegill's sides or color on a lure's belly.
With experience, it becomes easier to expand on uses of colors, glitter, transparent paints, etc. and to really get creative and translate ideas onto crankbaits, topwater baits or other lures.
For some lure painters, of course, airbrushing baits is akin to tying popular fly patterns. It's a fun activity, with added satisfaction that comes from fooling fish with a hand-painted lure. For others, it's much more about the opportunity to customize and create something that isn't available on a store shelf.
Consider Lure & Target Applications
It's worth noting that NOT all lures should be painted the same way, even for imitating the the same kind of forage. When Scalish gets ready to paint, he always considers the specific functions of the lure he is painting and the likely target species.
For example, a fish sees topwater lure from beneath, with sun shining from above it. Belly color is extra important, but the sides and even the top colors are seen as glimpses when the bait rocks. Shallow crankbaits and deep crankbaits differ from one another because they run in different parts of the water column, which means differing degrees of light penetration.
Regarding species, both science and subjective determinations that stem from experience can come into play. Walleyes have extra-large eyes and extra good vision. That part is science. Smallmouth bass react to chartreuse. That's more subjective, but it seems to be the unified opinion of most smallmouth enthusiasts and backed by real observation.
Save Time & Money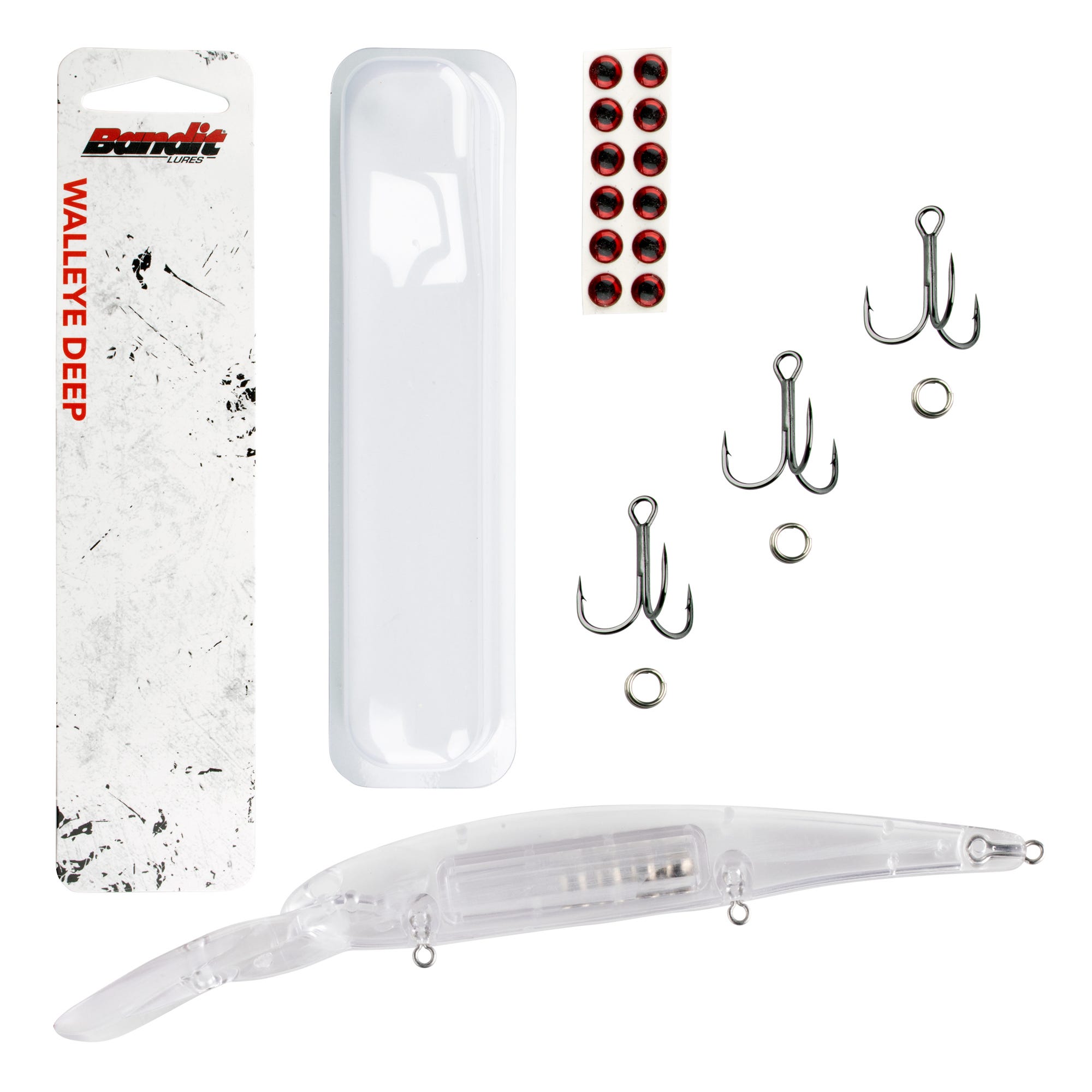 Scalish is a huge advocate of Lurenet's DIY Lure Blank Bundles for painters at any level because they include all the necessary pieces in ready-to-paint form, saving a lot of time, cost and headaches.
"If you've ever had to sand down a painted bait before custom painting, you know that having clear blanks saves hours and a massive mess," Scalish said.
He also likes the fact that these are all legitimate production blanks from some of the most popular lures for custom painting and that the bundles include all the necessary pieces, like split rings, hooks and eyes
"Not having to search out all those elements separately to get all the right pieces it worth its weight in gold," he said.