About Lurenet.com - For True Fishing Enthusiasts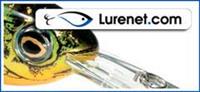 Whether you're a professional angler, or just trying to keep your fishing line wet as often as possible, Lurenet understands what connects you to the fish you want to catch. As the on-line home for all of the most popular fishing lures and brands of fishing line on the market today, Lurenet.com offers the ultimate and finest supplies to fill your tackle box for freshwater fishing or saltwater fishing.
No matter what you're looking for, whether it's a new kind of fishing lure for smallmouth bass, one of your old favorites or that special jerkbait, we can hook you up with the mainstay fishing lures found in the tackle boxes of many successful anglers. From classic topwater favorites like Arbogast and Heddon to today's most advanced soft plastic baits and attractants like YUM and top-of-the line spinnerbaits, buzzbaits and jigs such as BOOYAH, our mission is to give you a "reel" reason to keep your filet knife sharp.
We have tough, true running Bombers for those sporty stripers or ultralight Rebel Big Ants for an enjoyable day of catching bluegill. Lurenet.com has a lure to tickle their fancy so you can get your hook set. We even have the new Cotton Cordell Grappler Shad - a must-have for walleye fishermen. Whatever your pleasure, Lurenet.com has a lure for you.
And for those who are really hooked on fishing, check out our Fishing Resources with Fishing Tips and Fishing Articles to help improve your game. Or sit back and enjoy the Movie Room with hours of informational and entertaining footage. You can even share your triumphs in the Trophy Room and post pictures of the one that didn't get away!
---
Click one of the links below to learn about your favorite brand.