Crappie are on the move come fall. Utilizing different vertical presentations will help you stay on roaming crappie throughout the season.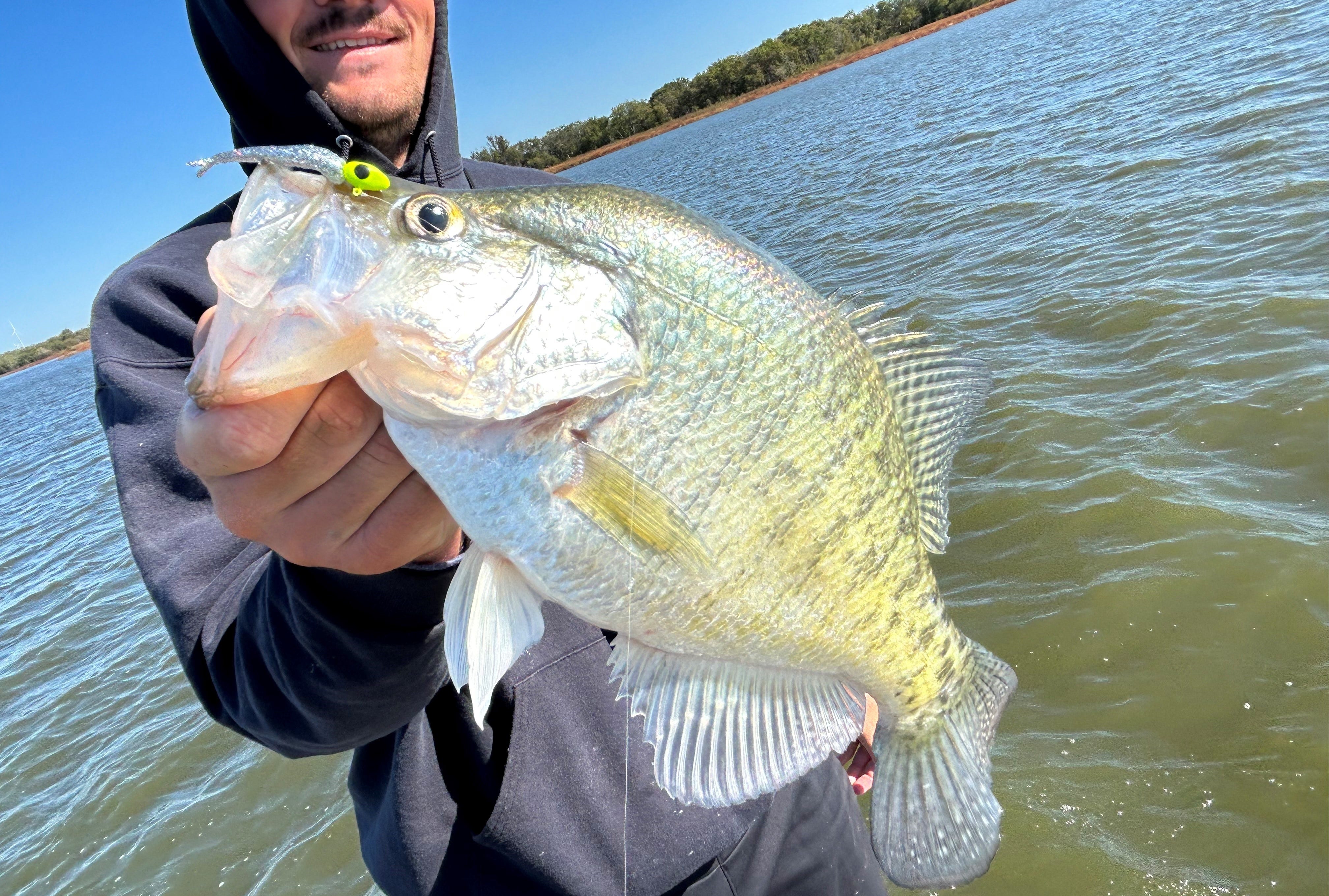 Fall fishing is as wild as the weather that defines it. Shorter days, cooler nights and seemingly endless fronts have crappie constantly on the move. These aggressive, roaming fish utilize creek and river channels to locate bait throughout the day, and so should you. Understanding how to take advantage of these navigation routes will help put you on more limits and heftier slabs.
Keep Moving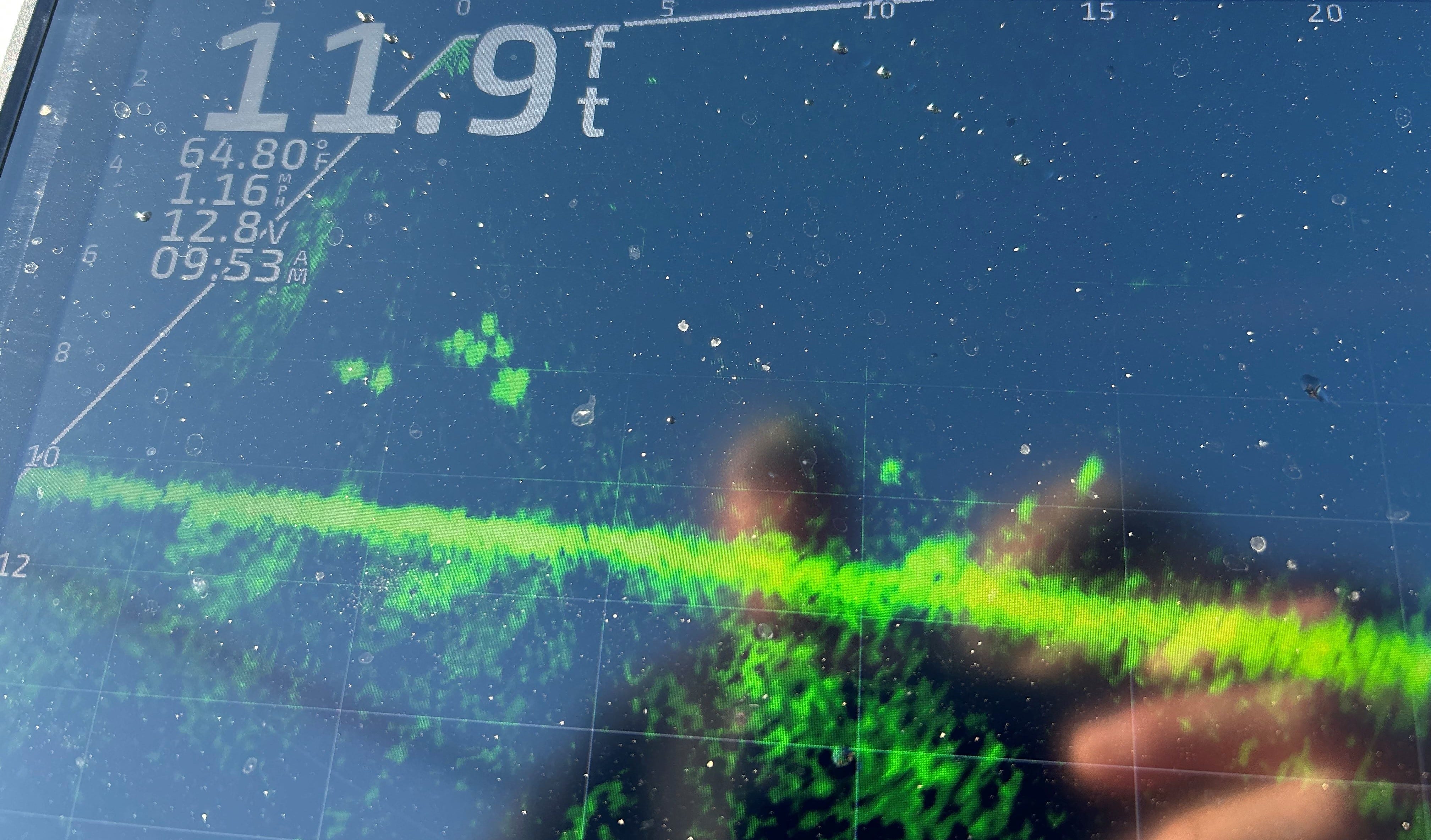 Like the name implies, roaming crappie are nomadic. During the transition from summer to winter, crappie behavior is heavily influenced by shad movement. Water temperatures can change dramatically from day to day and even hour to hour. These rapid fluctuations facilitate continuous movement of baitfish such as shad between shallow and deep water.
In order to hunt these moving bait balls effectively, crappie form loose schools in smaller numbers, but tend to be larger in overall individual size. Forward facing sonar has made targeting these small schools or individual fish much more efficient, but the key is to keep moving.
Starting at the confluence of a creek arm and main lake channel, follow the channel ledge to the back of the creek with your trolling motor. Crappie use these ledges to navigate open water and change depths.
As you mark fish, pitch your jig out in front of the boat and allow it to pendulum down to the depth that crappie are holding. Once the bait reaches the fish, steadily retrieve the jig upward without pause or rod action. Continue this strategy down one side of the channel until you've reached the shallowest depths and repeat the process back out of the creek on the opposite ledge.
Unlike brush or dock fishing where you may pull a limit of fish off one or two areas, fall crappie fishing is all about the hunt. If you don't have forward facing sonar, use your down scan to identify a certain depth that fish are suspended or allow your jig to fall to the bottom before beginning your retrieve.
A long rod in the 12- to 16-foot range is most effective for this approach because it allows you to keep your bait at a constant depth and reposition quickly.
Try Tandem Jigs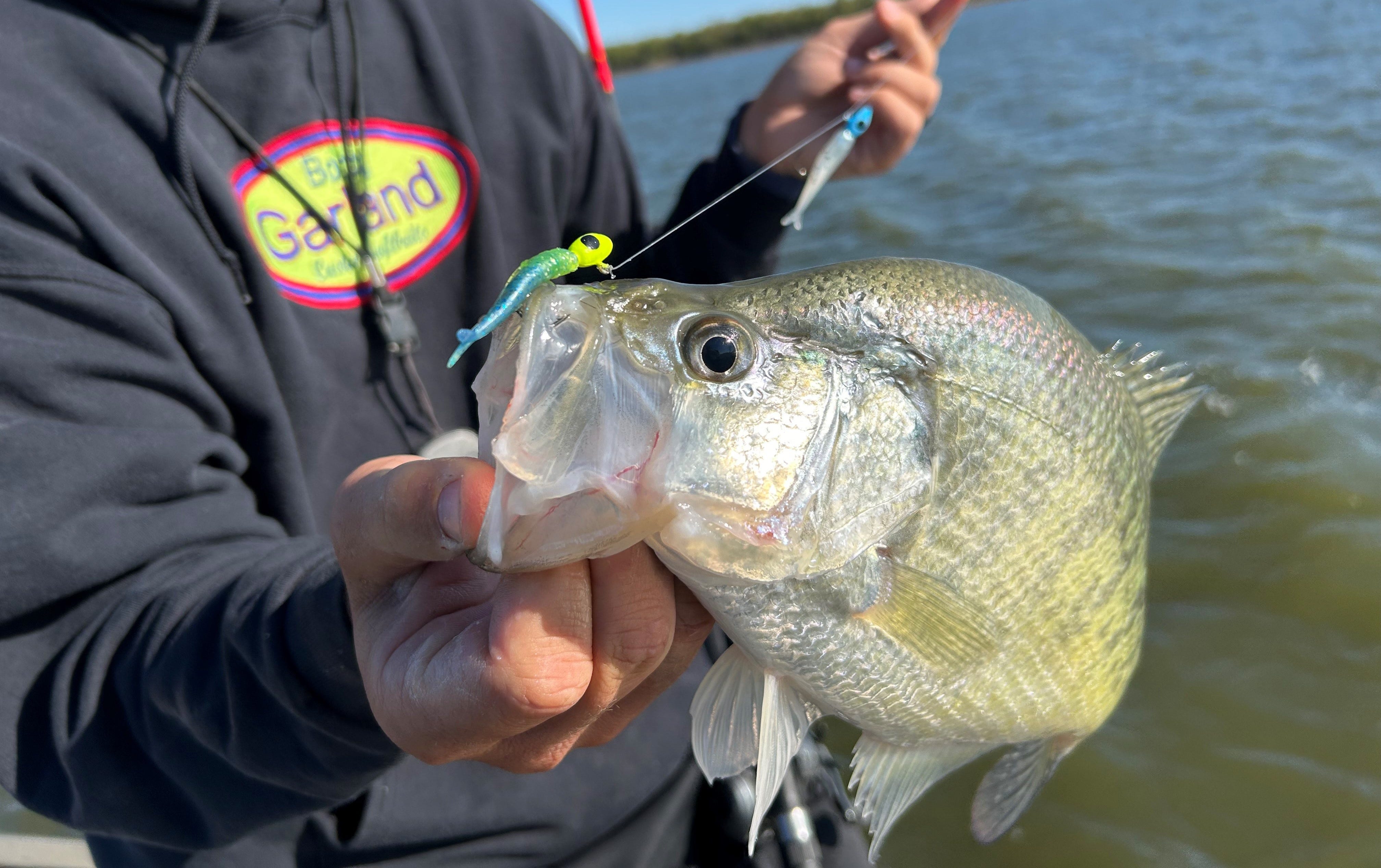 Crappie can be very particular about bait size and color. Running multiple jigs on the same line cuts down the time it takes to find a consistent pattern. Start off with different sizes or body styles until a clear preference is identified. Then try that same bait in different colors to refine the pattern.
Spider rigging with tandem jigs is a great way to quickly find a pattern without the latest electronics or on a body of water you are unfamiliar with. Main lake channel bends are a great place to start the search. Once you find a pattern, rig all your rods with the same pairing of jigs and begin following channel ledges toward shallow water.
Tandem rigs are also effective wind and current mitigators. By utilizing multiple jig heads on the same line, the heavier overall setup can get to and hold depth much more efficiently. This is a key advantage when approaching moving targets.
The new Live Roam'R is a fantastic tandem rig jig. Due to its symmetrical design, you can quickly decipher whether the fish want a small or large body profile by rigging one jig flat and the other upright.
The upright or "live" profile is great in the early fall when crappie are still keying in on remaining summertime fry. As we move closer to winter, the larger flat or "dying" profile mimics the baitfish transitioning from fry to fingerling. On any given day during the fall, crappie are bound to see a multitude of prey in these two size profiles making the Live Roam'R a potent fall combo for tandem rigs.
The Live Roam'R is available in 14 colors, designed to conquer any water condition. Crappie rely immensely on sight to feed. Clear water crappie are more amenable to natural and translucent colorations, while stained water crappie favor flashy and contrasting patterns.
Try these Bobby Garland colors for the following water conditions:
Stained water – Lights Out, Cajun Cricket, Bluegrass, Electric Chicken, Double Silver Rainbow, Threadfin Shad, Pecan Cream
Clear water – Blue Shiner, Bleeding Shad, Blue Thunder, Monkey Milk, Speckled Pearl, Blue Ice, Live Minnow
Ultra-Light, Ultra-Small, Ultra-Shallow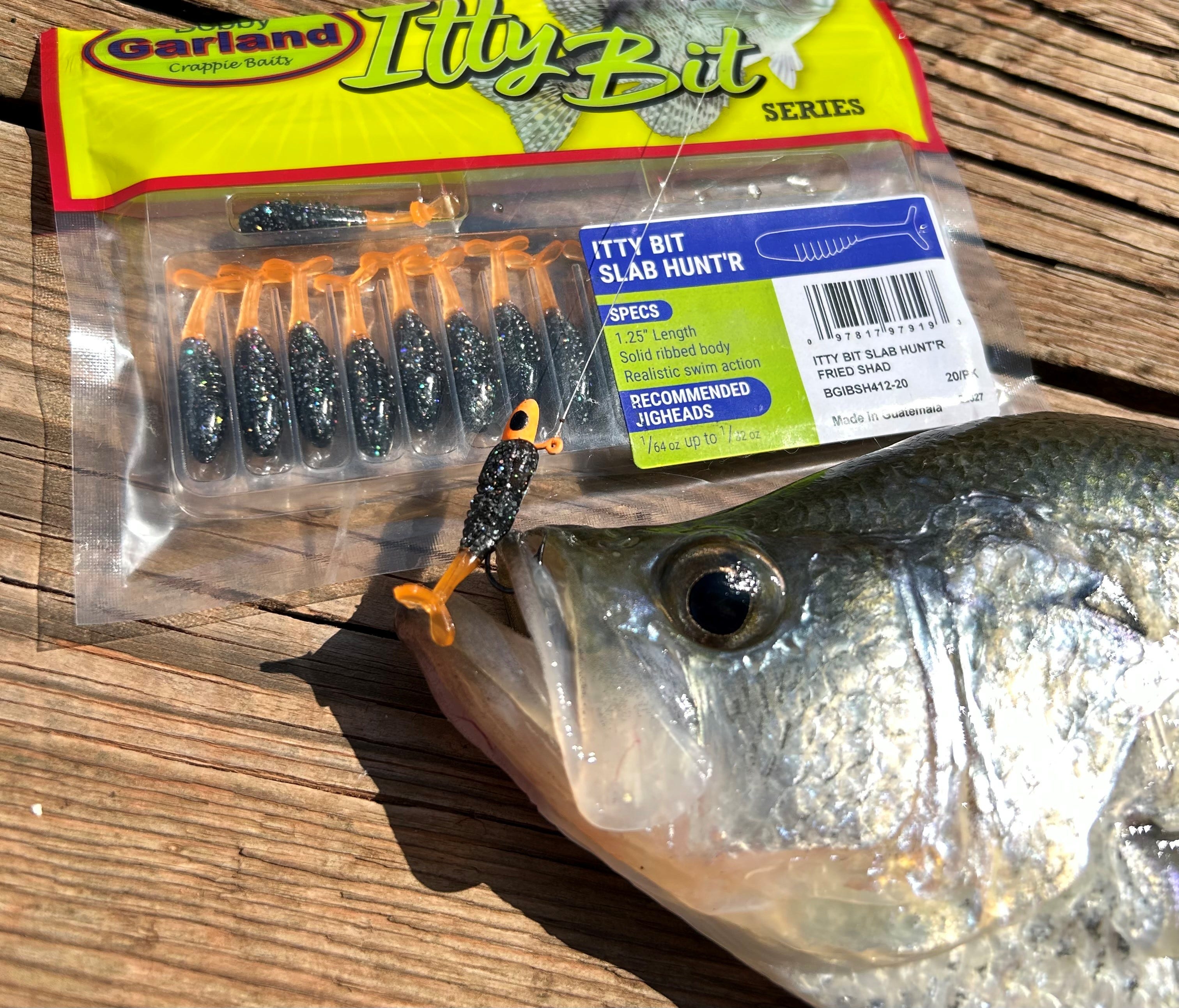 If long rods, spider rigs and tandem jigs aren't your cup of tea, then might I suggest a miniaturized approach. The fall months provide a superb opportunity to park yourself in shallow, sheltered creek arms where shad take advantage of optimal water temperatures. As water temperatures subside back into the 60s, baitfish congregate in great numbers along creek ledges, shallow flats and shoreline.
With ample forage, crappie can be tough to fool with aggressive bait profiles. Try a snack-sized Itty Bit Slab Hunt'R on a small jig head ranging from 1/24 ounce down to 1/64 ounce. Attaching a medium-sized split shot to the line 10 inches above the jig will help get the bait to depth, providing the perfect profile and action for shallow water slabs.
The backs of creek arms typically provide shelter from wind and current, making a light to ultra-light action spinning outfit the perfect delivery system for Itty Bit jigs.
These types of areas are also great for a wide variety of watercraft ranging from full-sized boats to float tubes, giving most anglers access to quality crappie at this time of year. Creek arms and coves house most of the public access on water bodies across the country.
Smaller watercrafts such as kayaks tend to spook fish less often giving an advantage to non-motorized anglers. Work parallel with the shoreline from the shallowest water out to the middle. Allow your Itty Bit Slab Hunt'R and split shot to fall directly below you until it hits bottom. Reel up slowly from the bottom until you find a consistent depth where bites are coming from. Then you can repeatedly set your jig at that depth and allow your watercraft to dead drift, simplifying the approach.
Target visible structure such as laydowns, standing timber, rip rap and points. Kayaks, small aluminum or plastic boats and float tubes are ideal for getting into shallow water crappie haunts such as flooded timber and backwater areas.
Give tested slabs a fresh look with Bobby Garland's newest Itty Bit Slab Hunt'R colors:
Sandfly
Hot Tator
Hummingbird
Fried Shad