Learn when and where to use smaller topwater lures for redfish, spotted seatrout, snook and more and how to fish these lures effectively.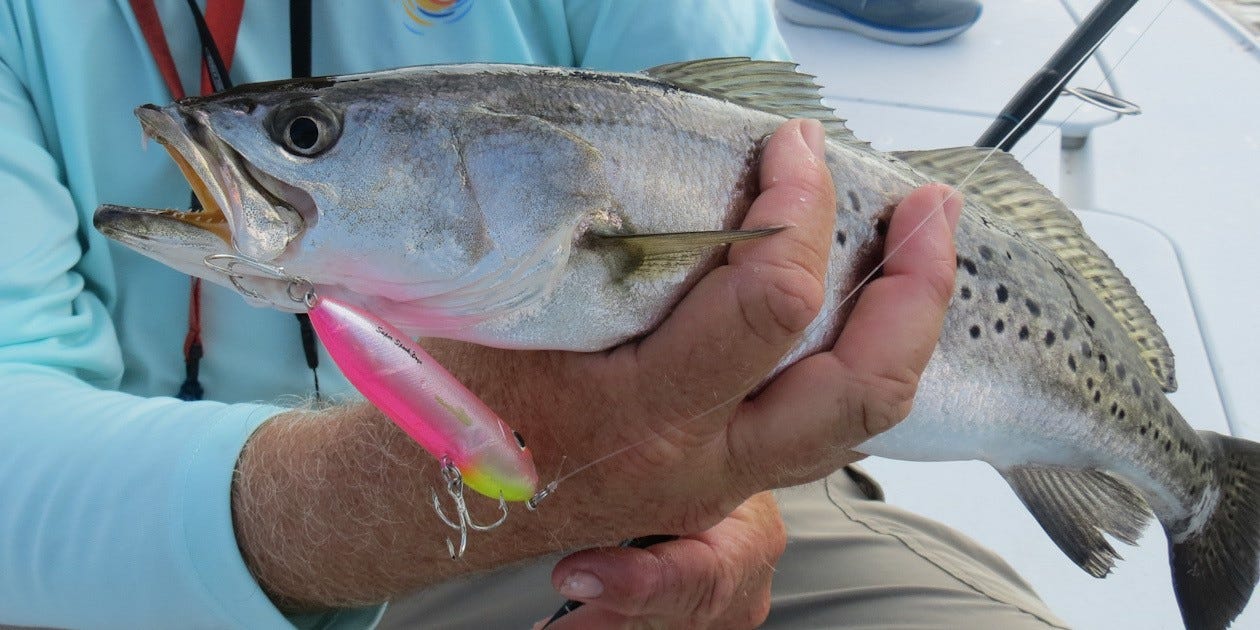 Many anglers stick with standard-sized 4- to 5-inch topwater lures to prompt explosive strikes from inshore saltwater fish, like spotted seatrout, redfish, and snook. Sometimes, though, these saltwater gamefish relate t smaller forage, creating a challenge for anglers seeking to "match the hatch." Captain Chris Holleman of Blue Cyclone Inshore Fishing Adventures in Jacksonville finds value in using smaller topwater walking baits to better imitate the smaller forage that fish sometimes prefer.
Capt. Chris uses smaller topwater lures for any inshore species of fish that feed high in the water column, including trout, redfish, snook, jack crevalle and bluefish. He has found that he tends to catch better quality with topwater, compared to other types of lures, including 4-plus-pound trout and upper slot size redfish.
When Small Topwaters Prevail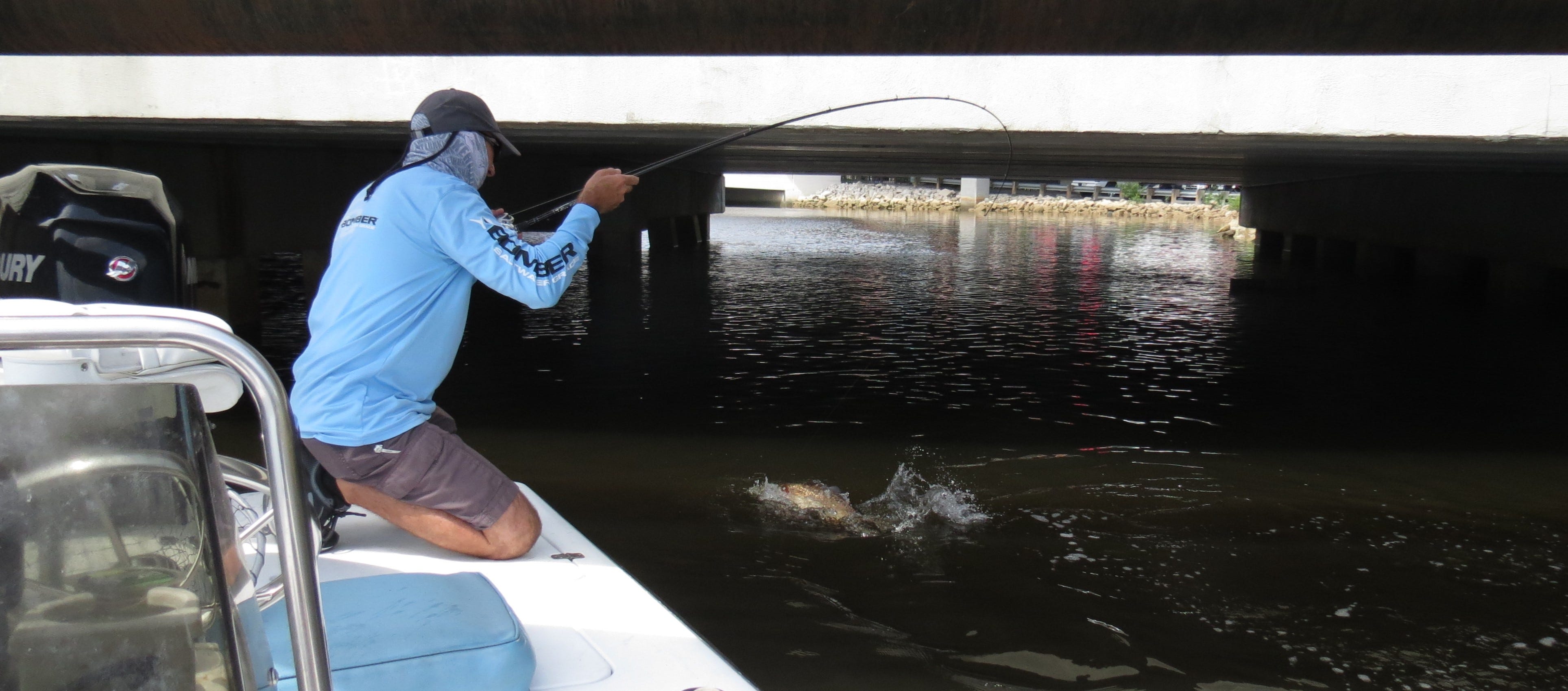 There are several situations when small topwater lures excel. When fish are spooky or holding extra shallow, the smaller lures will land softly in the water and cause less commotion. In clear water, a smaller size lure will attract the attention of a feeding fish while a larger size lure can scare fish away. During low light conditions such as sunrise and sunset, fish tend to feed, creating an excellent time to use a small topwater walking bait.
Capt. Chris pays attention to the bait and forage that fish are feeding on. During various times throughout a day, fish can be seen schooling and feeding on small shrimp, glass minnows, finger mullet or tiny menhaden, and the profile of a small topwater lure perfectly matches these baits.
"When I'm seeing real small fry or hatchlings getting chased by fish, that's the time to throw a small topwater bait to match the hatch," Holleman said. He feels that during that bite window, fish will hit a topwater lure throughout the day, even in bright sunlight.
A third time when small topwater lures excel is when an angler is struggling and not getting enough bites with standard-sized lures. This could be caused by an increase in fishing pressure, weather conditions, or an explanation beyond our understanding. When the bite is tough, Holleman recommends downsizing offerings.
Top spots for Topwater Lures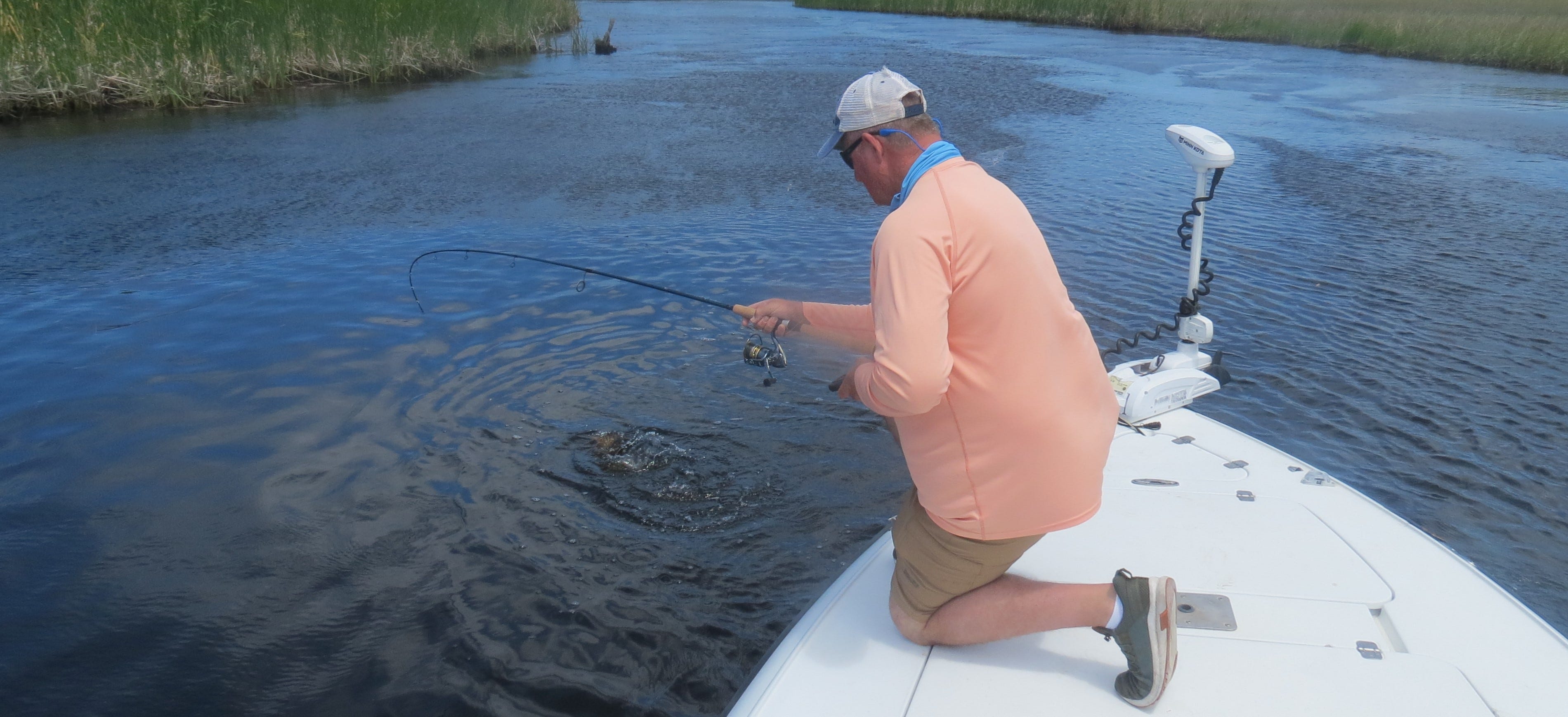 Capt. Chris likes to target flooded grass islands during the high tide and casts to points, eddies, or anywhere that offers a current break to fish. For redfish, Holleman looks for a falling tide, just before oyster bars become uncovered.
"I cast my Heddon Boyo topwater lure on top of the bar and work it off, and they will be waiting," Holleman said. During super low tides, Capt. Chris looks for the tell tail sign of redfish, such as "V" wakes or water pushing around oyster bars, which indicates a moving fish. On an incoming tide, just after the oyster bars get covered with water, can be an excellent time as the current is normally the fastest and triggers fish to feed aggressively.
Heddon Super Spook Boyo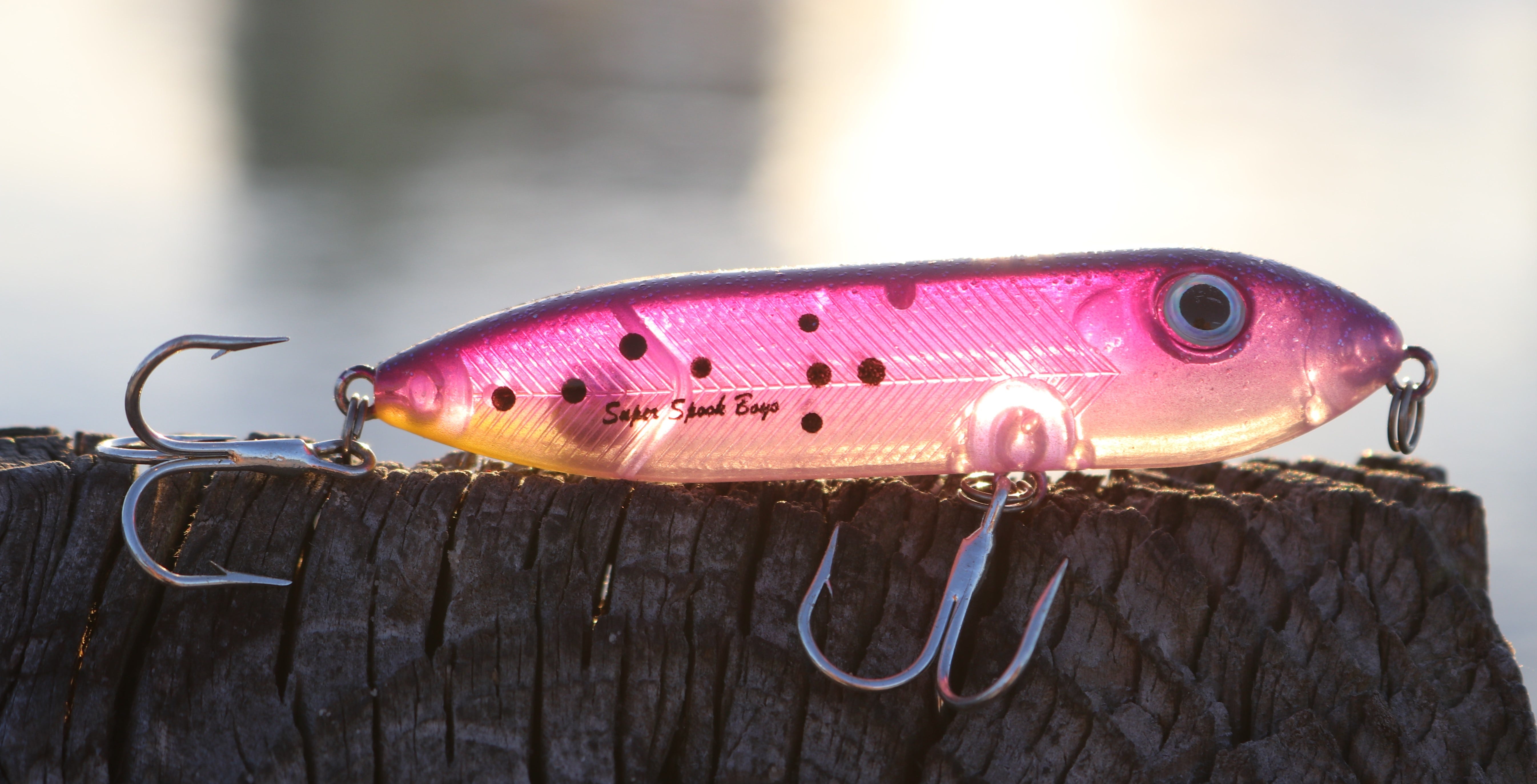 The Heddon Super Spook Boyo is a compact, 3-inch walking bait that weighs 3/8 ounce and can be easily cast with spinning or baitcasting tackle. The Boyo carries the same side-to-side walking action that other Heddon Spooks are known for and comes with a single lead rattle that calls fish to the lure.
Capt. Chris feels that the Boyo is a good bait for both freshwater and saltwater and will hold up well to redfish, snook, and trout. "I really like the Boyo. It's the perfect size lure. If you went any smaller, you couldn't build a bait that could hold up to big redfish," he said. "There are times when in super shallow water for redfish, the Boyo has a softer landing and doesn't spook them as badly as other lures."
For fishing in clear water, Capt. Chris prefers the Boyoo in the Sweet Tooth or Bluegill Fry colors because of a translucent bottom that is appealing to fish. For darker tannic stain colored water, Chris prefers the Boyo in Nickel or Black Shiner color because the colors perfectly imitate the flash of a finger mullet or shiny baitfish.
Heddon Super Spook Jr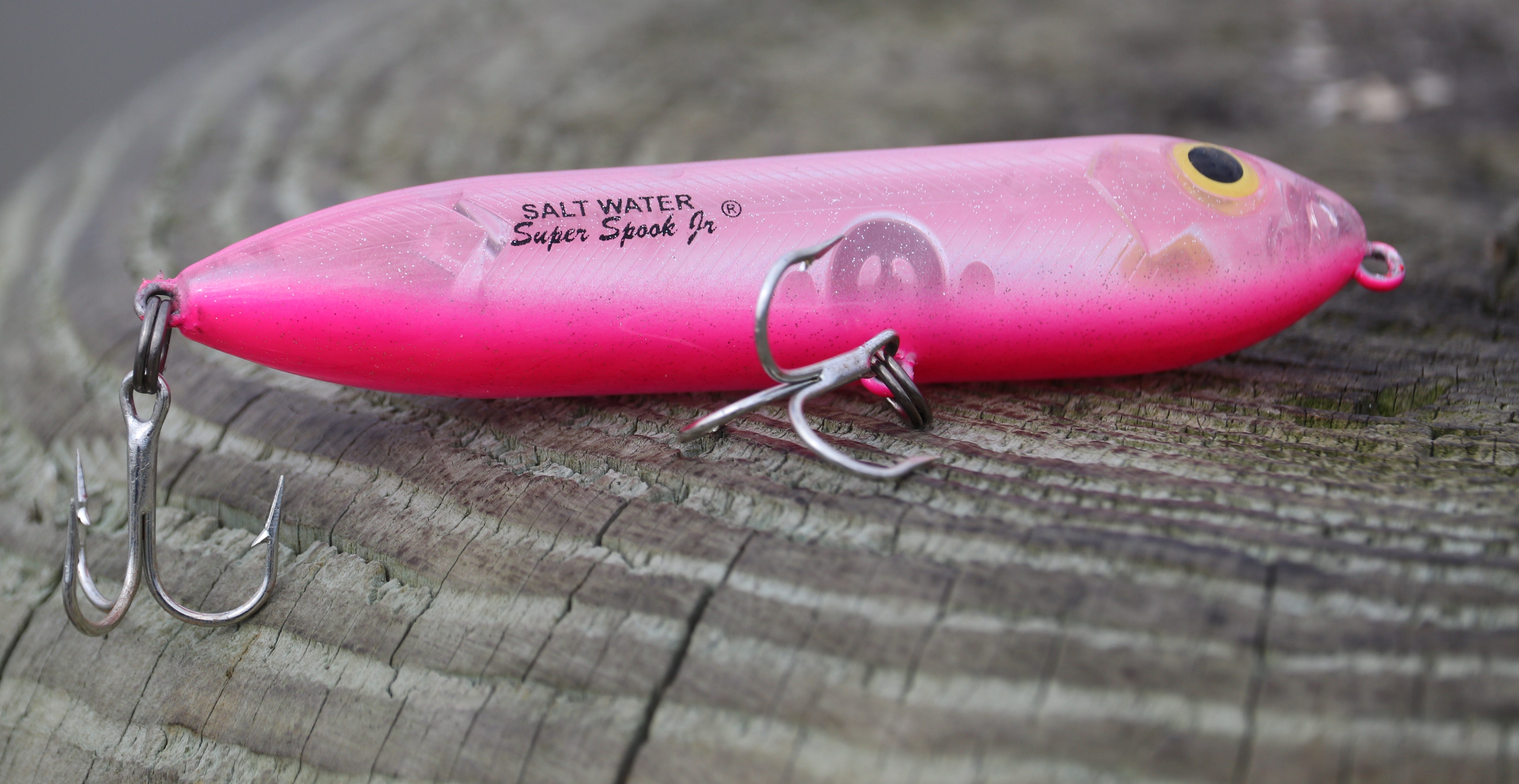 Capt. Chris thinks that for day in and day out all-around fishing, the Heddon Super Spook Jr is an excellent choice. Coming in at 1/2 ounce and 3 1/2 inches, the Super Spook Jr has the same rugged construction and appealing action as the full-sized Super Spook. "The Super Spook Jr will give you just a little more weight than the Boyo, and sometimes that little difference will help with an extra-long cast to spooky fish," Holleman said.
Capt. Chris also may opt for the Super Spook Jr when big fish are taking the Boyo so well that they are fully engulfing it, causing the leader to rub against the fish's mouth.
Capt. Chris noted that Bone is a great all-around Super Spook Jr. color for saltwater fish as it easily imitates the hue of a finger mullet, small menhaden or other small baitfish.
Heddon Spit'n Image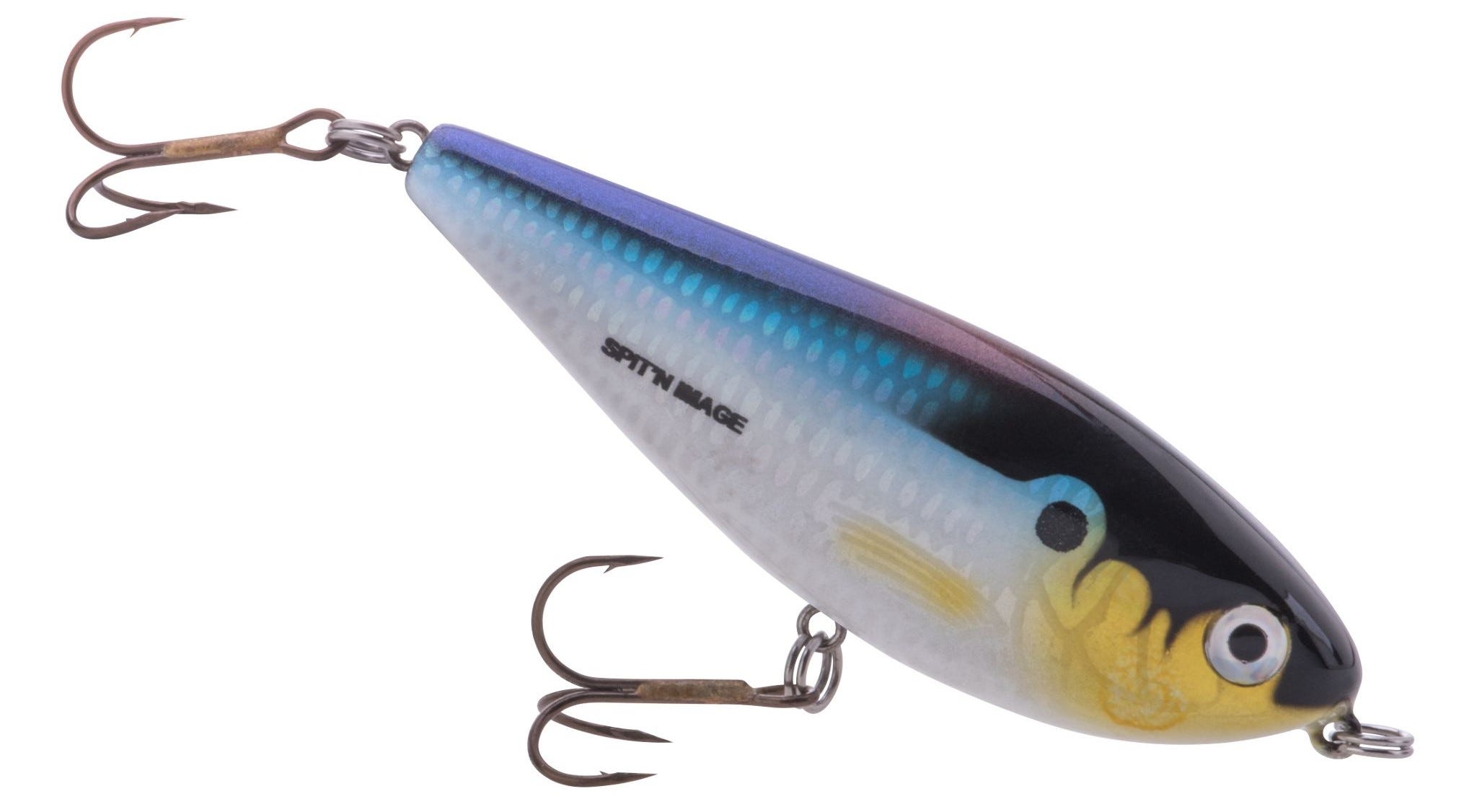 Capt. Chris prefers the Heddon Spit'n Image when seatrout and redfish are feeding on pogies or menhaden because of the bait's slightly plumper profile. This 3 1/4-inch lure weighs 7/16 ounce and comes with a noisy fish-attracting rattle.
"The Spit'n Image has been a great bait for many years," Capt. Chris said. "One of the first IFA redfish tournaments in Jacksonville was won on the Spit'n Image, and it is still a great bait today." The Spit'n Image moves from side to side and at rest, the tail sits low in the water. Chris feels that the Gizzard Shad, Threadfin Shad, or Tennessee Shad colors all perfectly imitate a fleeing pogie or menhaden.
Walking Presentations & Tackle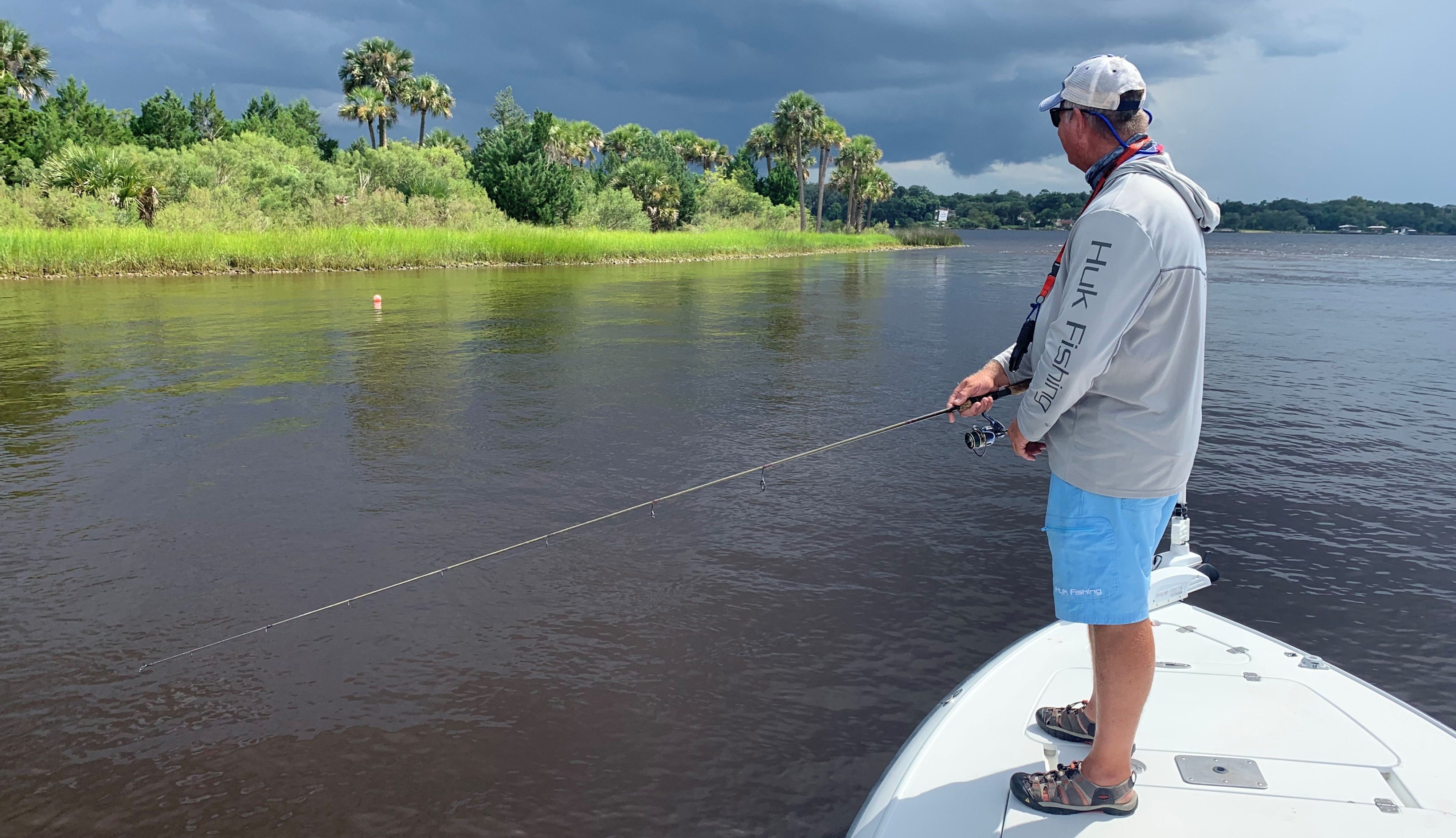 For fishing the Boyo, Super Spook Jr or Spit'n Image, Capt. Chris uses a "walk the dog" presentation, which uses a twitching cadence to create a side-to-side zig zagging action.
"I like to use a twitch, twitch, pause and I always get my strikes when I stop the bait," Capt. Chris said. Occasionally, he will see a fish following his bait and he will add a burst of speed on to create excitement then a sudden pause to prvide the chance for the fish to grab the lure. "If you pause your retrieve, they will hit the lure much better than if you keep your retrieve going."
The Jacksonville charter guide keeps it simple and fishes the Boyo, Super Spook Jr, and Spit'n Image on the same tackle. He prefers a Pflueger President or Supreme spinning reel in the 30-size spooled with 10-pound braided for maximized casting distance. He matches the size of his monofilament leader with conditions. For shallow clear water, Berkley Trilene Big Game 15-pound monofilament leader gets the nod, and he will upsize to 20-pound when fishing around docks, oyster bars or in dirty water. He matches each reel with a 7-foot Fenwick Inshore Elite medium action spinning rod.
Many saltwater anglers feel the need to upsize their hooks and split rings on other lures to help withstand damage caused by tackle busting snook and redfish, but Capt. Chris disagrees when it comes to the Boyo, Super Spook Jr., and Spit'n Image.
"I don't change out the hooks or hardware and only change out the hooks only if they get rusty," Holleman said, "They seem to grab fish really well and they are plenty strong enough." Capt. Chris ties his leader line directly to the split ring for both the Boyo and Spit'n Image but will tie a loop knot on the Super Spook Jr (which comes without a split ring) to help create side to side action.
The next time you are on the water and met with the appropriate situation, try downsizing. Follow Capt. Chris Holleman's advice to capitalize on the benefits of small topwater walking baits for inshore saltwater fishing.
Captain Chris Holleman from Blue Cyclone Inshore Fishing Adventures can be contacted at (904) 704-6178 or at Blue.Cyclone@hotmail.com.