We requested crappie recipes from Bobby Garland anglers and were delighted by the variety of great cooking ideas. Try some of these to add fun and flavor to your holiday celebration!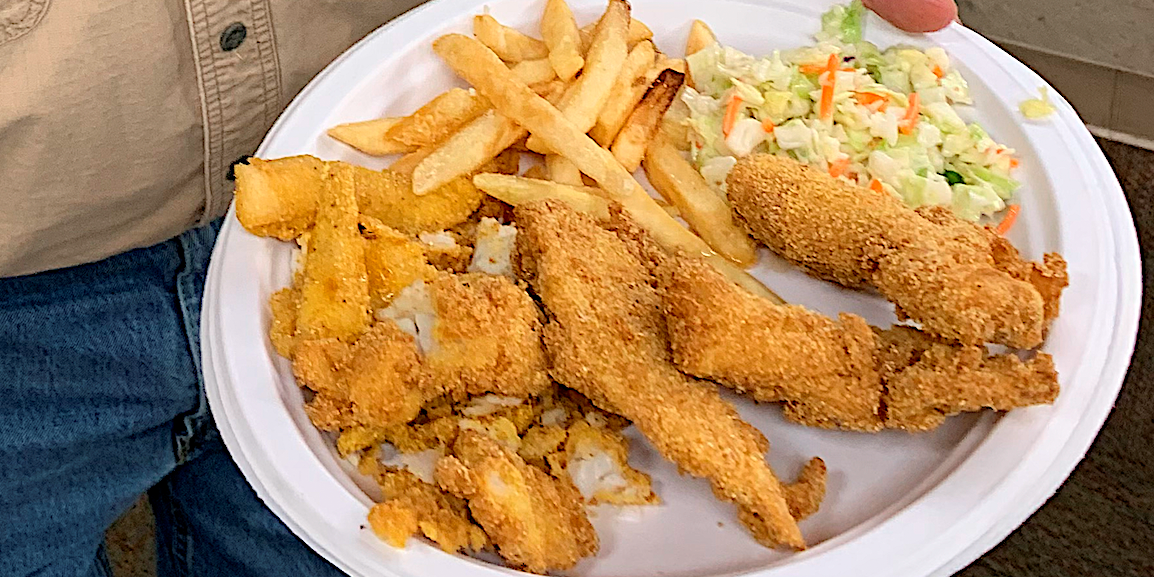 We know firsthand that a good old fashioned crappie fish fry offers a tasty break from traditional Holiday meals and leftovers, while continuing to keep family, friends and guests smiling and in festive spirits. We also know that anytime is a good time for fixing crappie – no holiday required – and that there are plenty more ways to cook crappie than just frying them.
We wanted to explore such alternatives and who better to ask for tried and proven crappie recipes than the anglers who know how to catch the species best? So, that's exactly what we did. We recently posted a request for crappie recipes on the Bobby Garland Facebook page for the purpose of gathering some ideas to share. The responses didn't disappoint!
Of course, one great benefit of crappie consumption is that afterward comes the need to replenish the fish supply on hand. That means we'll have to go fishing again soon. Winter is a primetime season for catching slabs in open water and through the ice. So, go ahead and get started on your holiday cycle: Catch. Eat. Repeat.
We encourage you to fully read each of the 10 recipes that follow because we definitely see enticing concepts around preparing, seasoning, and cooking that have us ready to give them a try, and we think you might too. At the end, we'll also serve up some top fish-cooking advice from a 90-year-old restaurant that has survived the test of time by focusing on only one thing – great-tasting fresh fish.
Blackened Crappie
by Jerry B. Beck Jr.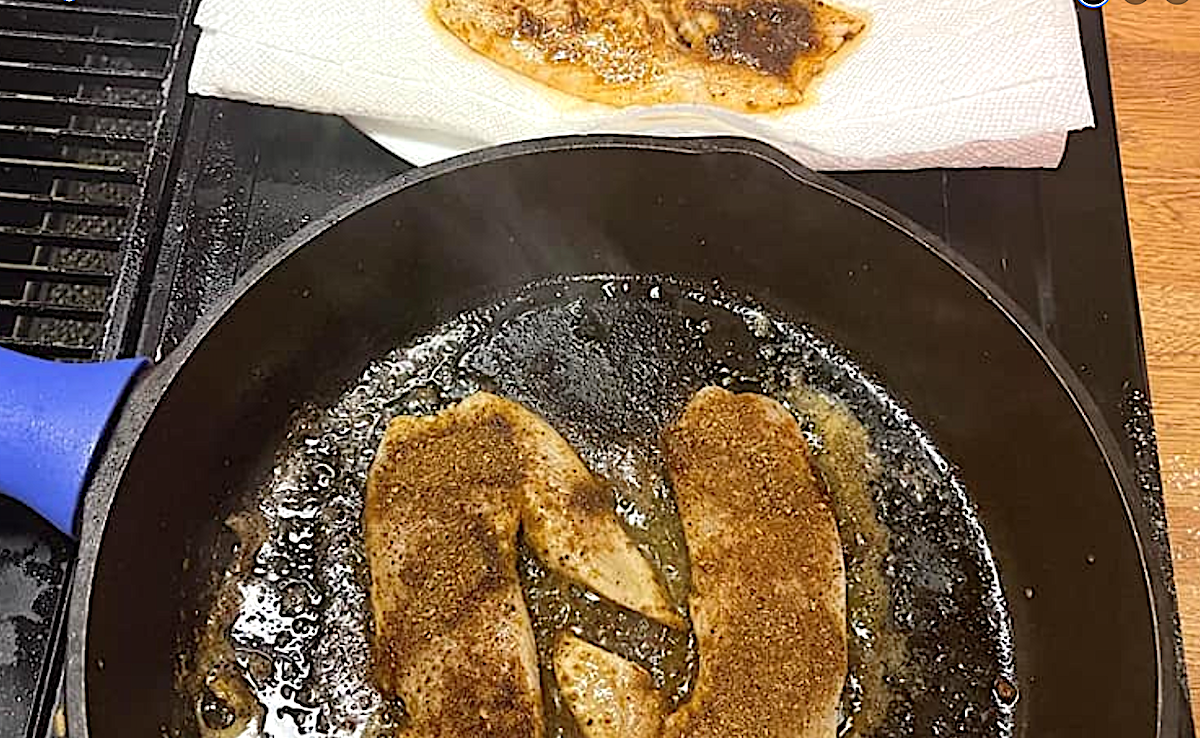 1.75 oz. Old Bay Blackened Seasoning
1 tablespoon garlic powder
1 tablespoon paprika
1 tablespoon Cajun seasoning
1 teaspoon melted butter
Mix dry ingredients together and put in a container to sprinkle heavily on up to 20 fillets. Using a hot cast iron skillet with 1 teaspoon melted butter, add 2 fillets with seasoning, and then season their top sides again while cooking. Cook 2-3 minutes per side. Remove and sprinkle with lemon juice. We also like to add crawfish etouffee over a bed of rice!
Honey-Lemon Baked Crappie
by Sarah Hartzog
For delicious crappie baked in a honey-lemon sauce:
1/2 cup lemon juice
1/4 cup of honey
1/4 cup melted butter
1 1/2 cups water
2 tablespoons cornstarch
Finely grated lemon zest from 2 lemons
Mix everything together in a saucepan on low heat. You'll then brush the combination onto the fish, and also sprinkle on some salt and cayenne. Bake uncovered at 350 degrees, basting as it cooks.
Smoked Crappie
by Scott Phillips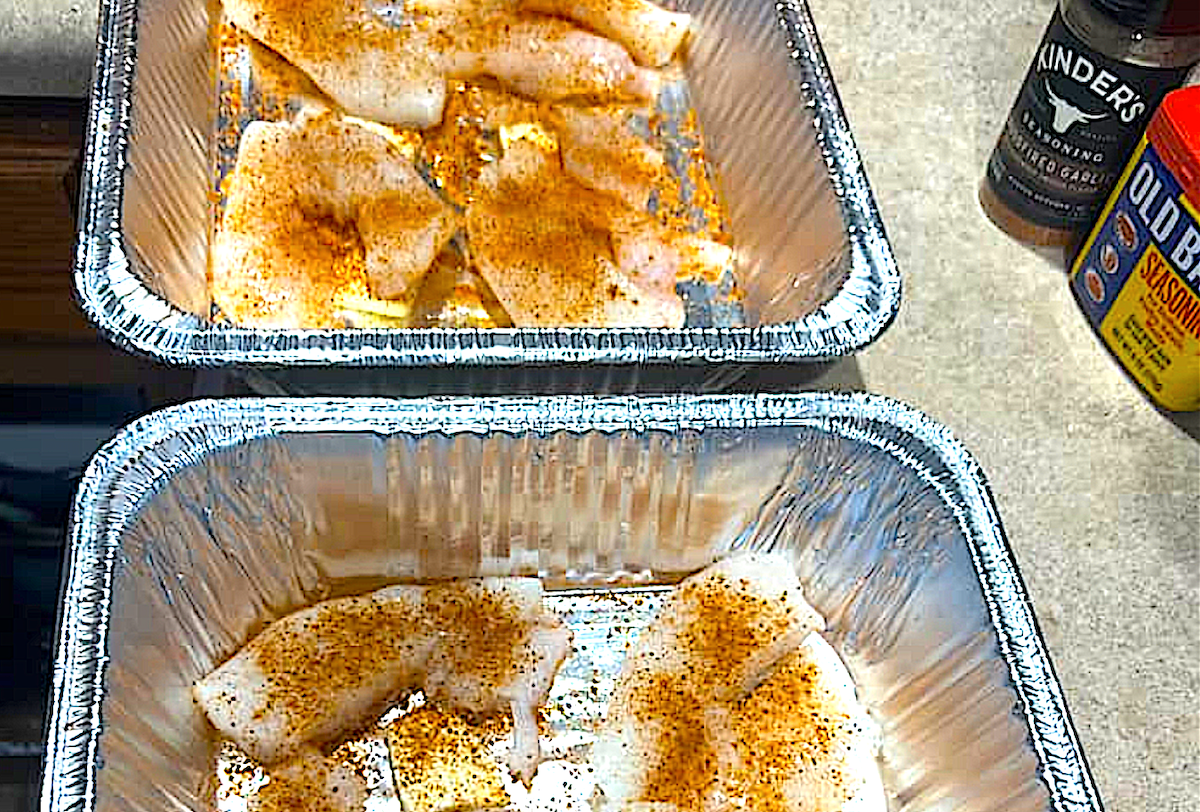 Use a mild wood choice like alder or pecan, and set smoker to 250 degrees. I'll season both sides of the fillets with Kinder's Woodfired Garlic. I'll put about 20 fillets, along with 4 or 5 slices of butter, per aluminum pan. I'll usually smoke the fillets for 45 minutes. I test them with a fork and when they are flakey, they are done.
Baked Crappie with Root Vegetables in Parchment
by Daniel Shore
Potato slices
Carrot slices
Butter
Garlic-herb or seafood seasoning
Lemon slices
Pre-heat oven to 400 degrees. Par-boil slices of potato and carrot. Place enough veggies on a sheet of parchment to top them with two or three crappie fillets. After placing fillets, season with your favorite garlic-herb or seafood seasoning. Also top each fillet with a pat of butter and a thin lemon slice. Carefully fold up parchment to create a sealed pouch. Bake in oven until fish flakes easily, usually about 12-15 minutes. Serve with salad and good bread.
Everything's Better with Bacon Baked Crappie
By Houston Hartzog
Lay out about six fillets on a buttered baking sheet.
Fry a couple of bacon strips to well done. Let them cool and then crumble the strips back into the skillet with the bacon drippings. Add in bread crumbs until there's enough to absorb the bacon grease.
Salt and pepper the fish fillets on the baking sheet. Then sprinkle the bacon-enriched bread crumbs over the fish. Drizzle some fresh lemon juice over their tops and bake them at 350 degrees for 25 minutes.
Crispy Crappie
by Melvin Furlong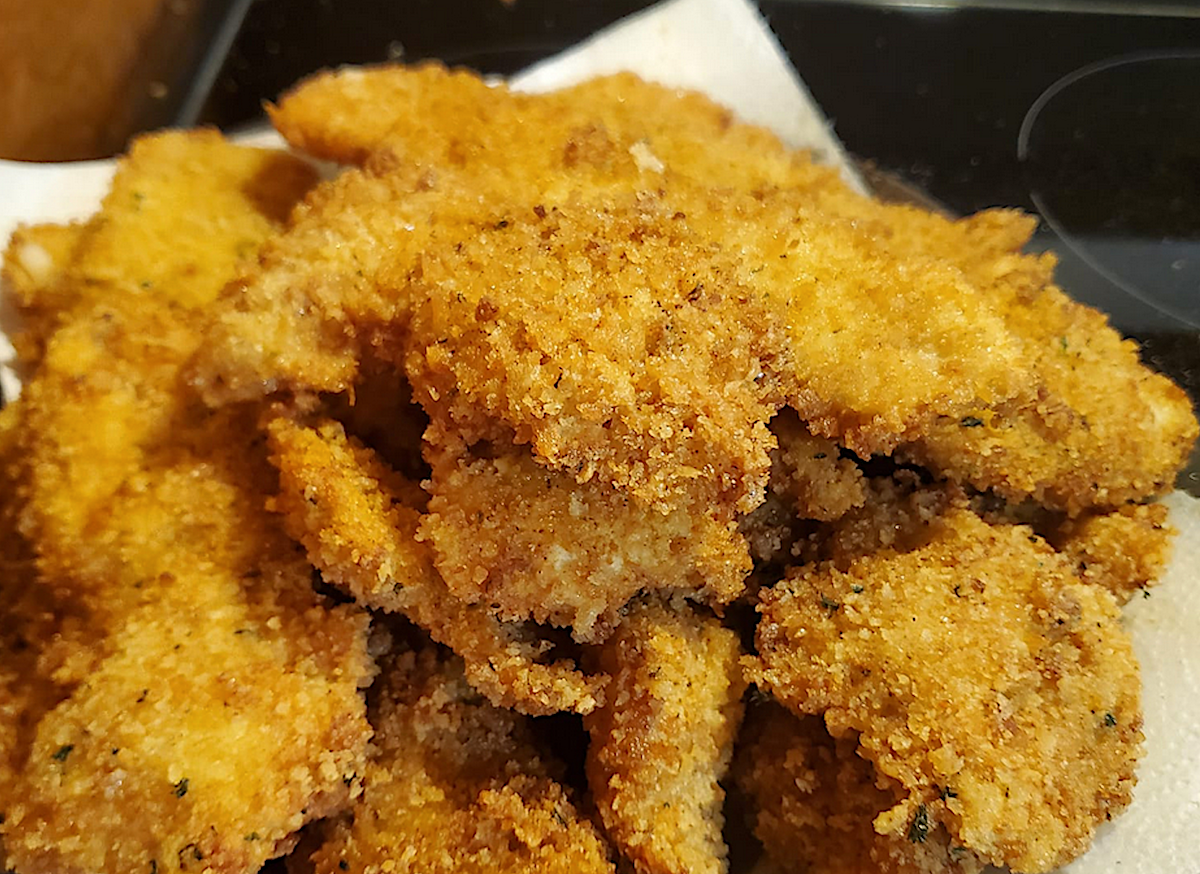 Kentucky Kernel seasoned flour
Yellow mustard
Panko Seasoned bread crumbs
Egg/milk wash
Old Bay Seasoning
Pat dry the fillets. Place fillets in a bowl and add yellow mustard to coat, as well as black pepper to taste, and then set aside. You will need three bowls for breading: Kentucky Kernel seasoned flour in the first; egg/milk wash in the second; and Panko Seasoned bread crumbs in third. Roll fillets in the flour and shake off. Then dip each in the egg wash, and next in the bread crumbs. Deep fry in peanut oil at 350-375 degrees. Cook fillets for 4-5 minutes until golden brown. Sprinkle with Old Bay seasoning upon removal from the fryer. Serve with favorite sauce or alone.
Spicy Pan-Fried Crappie
by Nick Nielsen
Tony Chachere's Creole Seasoning
Old Bay Seasoning
Unsalted Saltine crackers
Eggs
Frank's RedHot Sauce
To prepare the breading, use a food processor to buzz two sleeves of unsalted Saltine crackers to fine. Stir into these cracker crumbs, 1/2 tablespoon each of Tony Chachere's Creole and Old Bay seasonings, and mix together well. For the egg dip, break four eggs into a bowl and add 1/3 cup Frank's RedHot Sauce. Whip with a fork.
Rinse and pat dry your fillets. Place as many fillets as you can in the egg dip to soak for a bit. Preheat on stove top a large cast iron skillet with 1/2 inch of oil. While pan is heating, take each fillet individually from egg dip and dredge it through the cracker crumbs, making sure to totally cover. Lay breaded fillets out on a large plate in one layer, as prepped and resting for the fry pan. When oil is good and hot, place fillets in pan. Fry the first side 'til golden brown. Then flip and fry the second side to match. Flip again back to the first side to remove any moisture that has accumulated. Drain cooked fillets on paper towels and salt to taste.
Fry Krisp Crappie
By Todd Tammen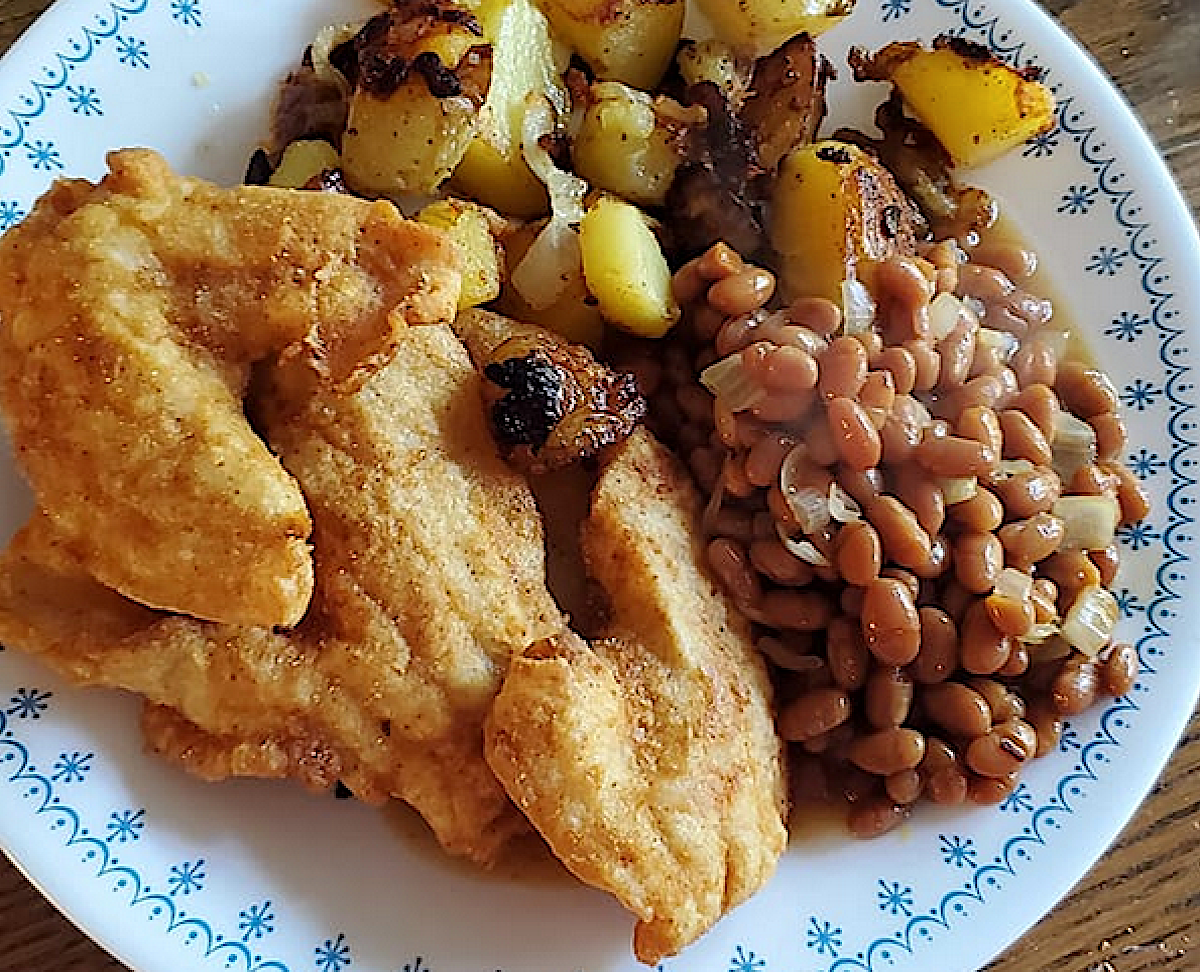 Fry Krisp batter mix
Cayenne pepper
Garlic salt
Paprika
Black pepper
Mix ingredients together in a one-gallon Ziploc bag, using 3 cups of Fry Krisp, 3 tablespoons cayenne pepper, 3 tablespoons garlic salt, 2 tablespoons black pepper, and 2 tablespoons paprika. Drain and dry crappie fillets. Put about five at a time into the bag and shake to cover each well. Remove fillets from bag and place on a plate. Let them sit for 10 minutes. I use canola oil. Heat to 350 degrees. Place breaded fillets into the hot oil. Once fillets start to stop bubbling as much and are floating more, they are done – usually around 5 minutes, tops. Drain on a paper towel and enjoy!
Cajun-style Blackened Crappie
By Cole Kennedy
Use store bought blackened seasoning for this recipe, or make your own by thoroughly mixing together 1/2 teaspoon each of the following ingredients:
Smoked paprika or sweet paprika
Onion powder
Garlic powder
Oregano
Celery seed
Allspice
Cloves
Cayenne
Salt and black pepper
Coat 6-8 fillets with the blackened seasoning and cook on medium heat in unsalted butter in a cast iron skillet, two minutes per side. Serve with rice and veggies. The fillets also make great po' boy sandwiches.
Crappie Tacos with Chipotle/Sour Cream/Lime Crema
by Allan Hyde
Cut crappie fillets to a manageable size and pat dry. Prepare crema, which is 1 cup of sour cream, juice from 1/2 to one whole lime (depending on how juicy), and one minced chipotle chile from a can of Chipotle Peppers in Adobo Sauce. Refrigerate.
The crunch/slaw can be your preference. We often make one with sliced fennel, lime and granny Smith apple.
Next, set up a pan with about an inch of vegetable oil and heat it. Now, set up your three-bowl breading station, which will be one with flour, one with a beaten egg and the third with Panko Bread Crumbs. Season all three with a good pinch of salt, chili powder, cayenne pepper and garlic powder. Stir to combine.
Next, take a piece of fish and dredge in the flour. Shake off the excess. Then coat in the egg, then Panko. Place on a wire rack. Continue until all are coated. Once the oil has reached 350 degrees, start frying the fish until golden brown and delicious.
To assemble as tacos, we use fresh flour tortillas (fajita size, purchased from the grocery story). Cook tortilla in a pan, cover with a towel until ready to use. Place a generous smear of the Chipotle mixture on the tortilla, add the fish and some of the slaw, cilantro and a squeeze of lime. Enjoy!
More Expert Cooking Advice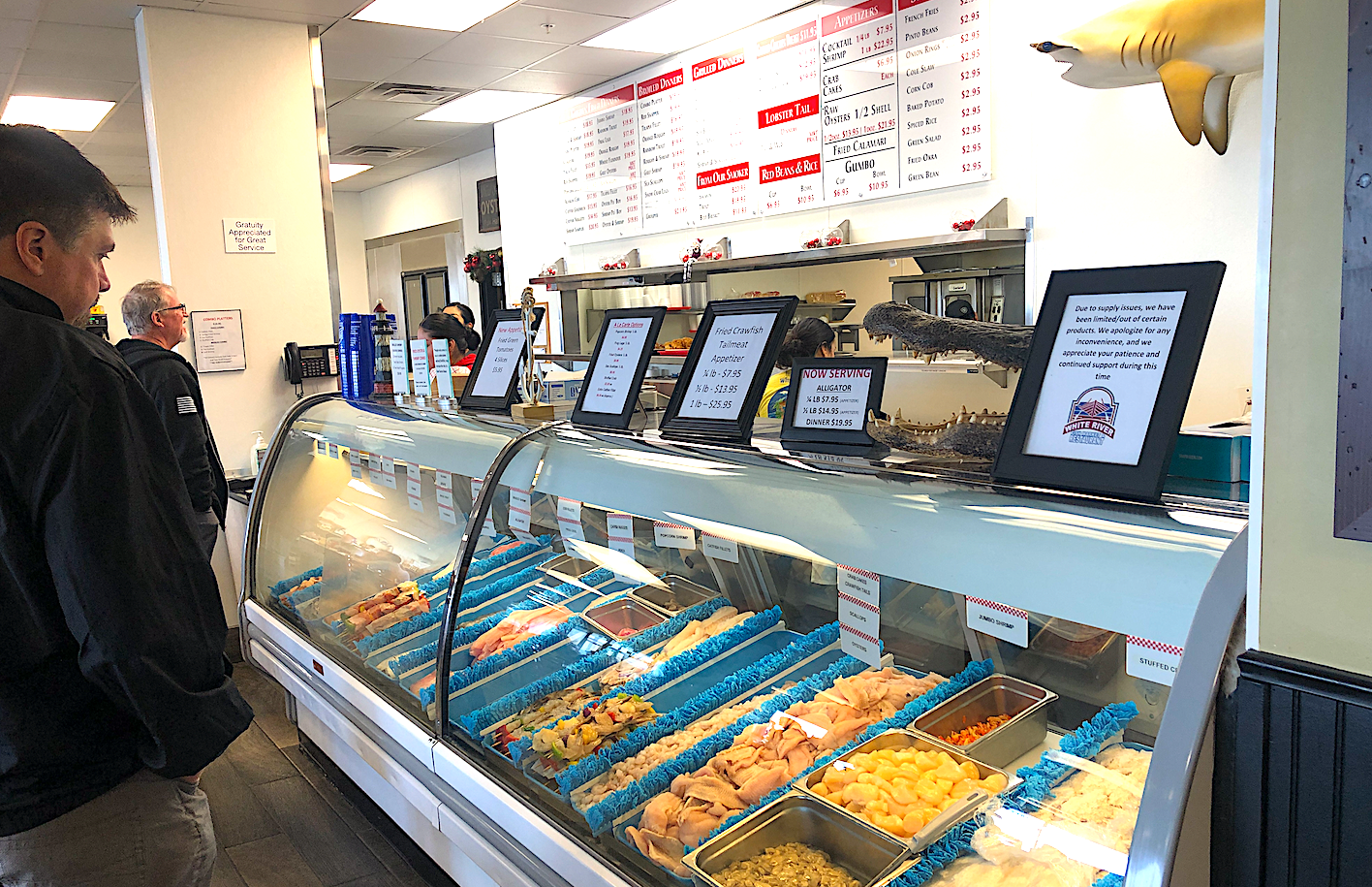 White River Fish Market in Tulsa, Okla., got its start in 1932 when locals Oran Fallis and his dad began returning home from farm produce deliveries to Arkansas with fresh fish to sell that came from the White River region of that state. A few years later a lunch counter was added to the wholesaling aspect, and the business started frying fish. Bet you can guess the rest of the story.
For the past several decades now, flown-in fresh fish, ranging from catfish to salmon to tilapia to flounder and more, are what fill the glass-viewed displays for either buying to take home from the market, or having fried, grilled or broiled in the restaurant part. There is no curb appeal nor crowd-enticing atmosphere. Just the ever-lingering scent of meal magic that comes from the visible kitchen behind the fish counter. It's all about the "taste" that has earned White River its long lines every day at lunch time, and the rightly-deserved recognition in top food magazines like Gourmet and Bon Appetit.
White River's Adrian Gonzalez says the success comes from their focus: fresh fish and consistent preparation. He and other staff graciously shared a few points that we thought might be helpful to keep in mind during your own fish-cooking efforts.
Top Tips for "Ready to Cook"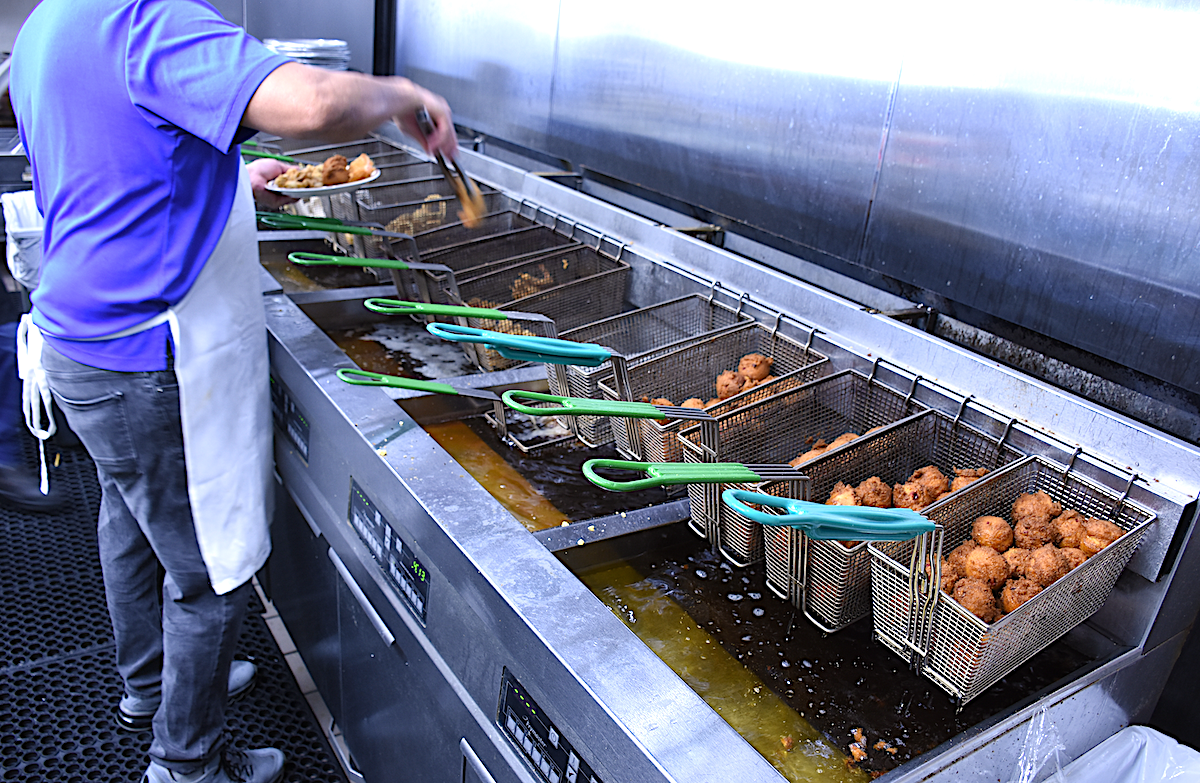 First and foremost, take care of your fish
Fillets are chilled and "moist," but not wet
Fillets go directly to dry breading
Breaded fillets go directly to fryers
Sustain frying oil temperature at 350 degrees
"Time" your fillets in the fryer for best consistency (varies according to size and kind of fish, try 5-7 minutes)
For the grill, fillets are first "hot" grilled for 2-3 minutes, and then buttered and seasoned and placed into an oven at 500 degrees for a few minutes (up to 8 minutes, but again depends on size and kind of fish) to finish the cooking and "seal in" flavor and moisture.
Sides should be prepped on the plate first, then fish added last for hot serving
How to Clean Crappie at Home, Without Leaving a Mess!