Pulling primarily from popular Custom Soft-Plastic Lure Colors for YUM Dingers, YUM has added six outstanding new colors to the 4 1/2-inch Finesse Worm line-up.
It isn't cheating to use a YUM 4 1/2-inch Finesse Worm – whether in a tournament or simply to out-fish a buddy. It almost feels that way, though. This bait seems to always produce fish, even fish that are in a very negative mood from weather, fishing pressure or other factors, and it can be rigged many ways to produce great results. Of course, the narrow profile that makes this bait too small to even seem like a serious bass lure probably adds to that feeling like you've strayed outside some kind of boundary.
That said, any funny feelings get erased by the pleasure that come with success in the form of repeated hook sets and fish landed. For that reason, the Finesse Worm ranks among YUM's most popular baits and was an easy choice for baits to get a color expansion.
Six new Finesse Worm colors, five of which were hand-picked from YUM Custom Colors for Dingers that were introduced last year, nearly double the number of available colors for the 4 1/2-inch Finesse Worm.
New Finesse Worm Colors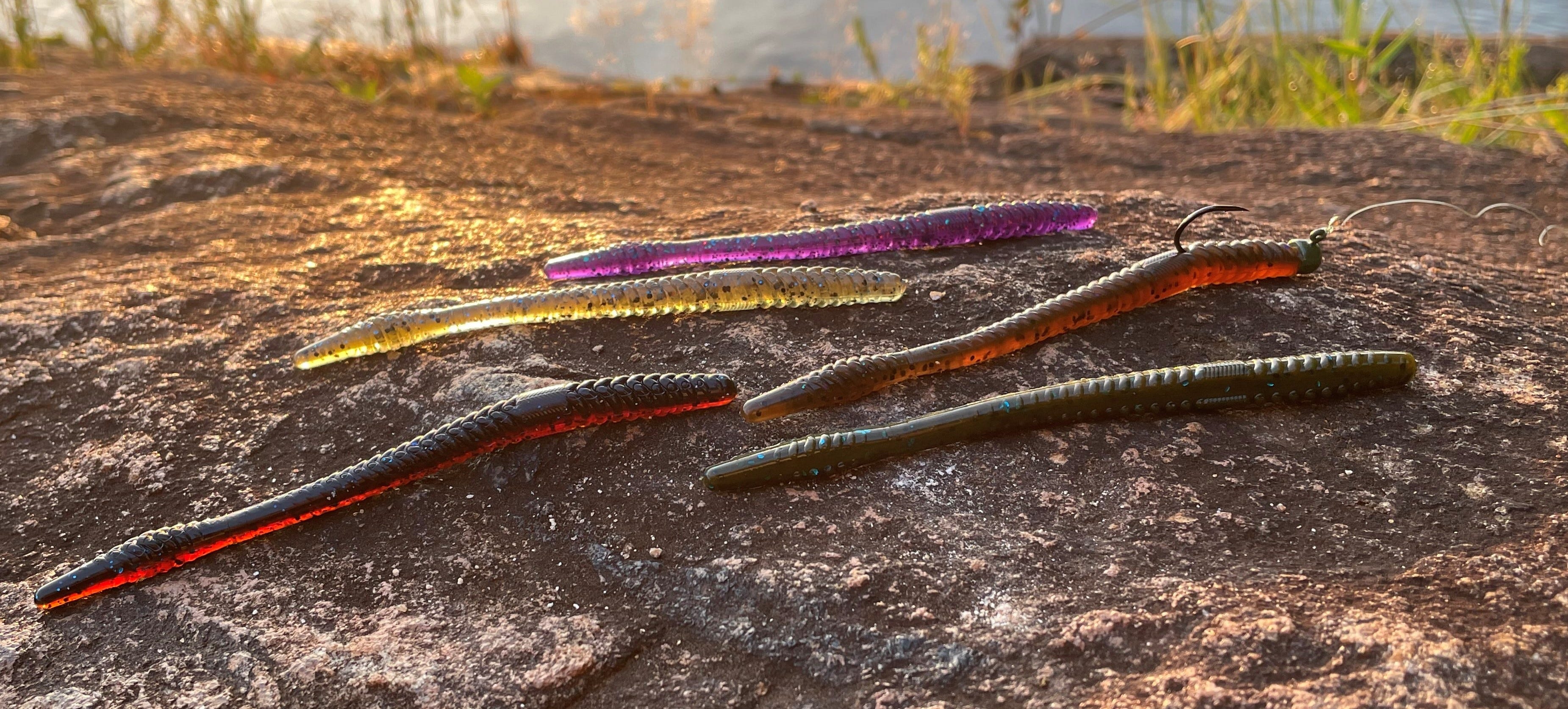 Elder's Magic – We'll start with Elder's Magic because it's the only one that didn't come from colors introduced with Custom Color YUM Dingers. This clear-water special, which has been around for a handful of years and is highly popular in other baits, should have been a 4 1/2-inch Finesse Worm color all along.
GB Haze – One of the most popular colors in the Custom Color line-up, GB Haze was a no-brainer for the Finesse Worm color expansion. A smoky light watermelon base is infused with small blue and black flakes for a color that is spectacular for fishing clear water.
Green Pumpkin Blue Flake – What if you took the perennial popularity and effectiveness of Green Pumpkin and added the sparkle of blue flakes? No need to wonder. YUM has done just that, and the results are spectacular.
Junebug Red Flake – Another new spin on a proven performer, Junebug Red Flake is exactly what the name suggests and is ideal for low light conditions, dark water and modest stain, and if you're plans include any Florida fishing, you'd be leaving something on the table if you did not tote along some Finesse Worms in this color!
Dirt Purple – A complex color that is cinnamon on one side and darker on the other, with the dark half loaded with purple and green sparkle, was brought to YUM by Elite Series Pro Stetson Blaylock. It looks like a dirty-water color, and indeed does well in stain, but it also excels in clear water, especially with a slow presentation, like a wacky rig, that allows it to really flash all its colors.
Mud Fleck – Unlike the others, Mud Fleck is a genuine dirty-water color. That might sound strange for a Finesse Worm, but at times you absolutely need the visibility of a dark color AND a small profile and subtle action.
6 Great Ways to Fish a YUM Finesse Worm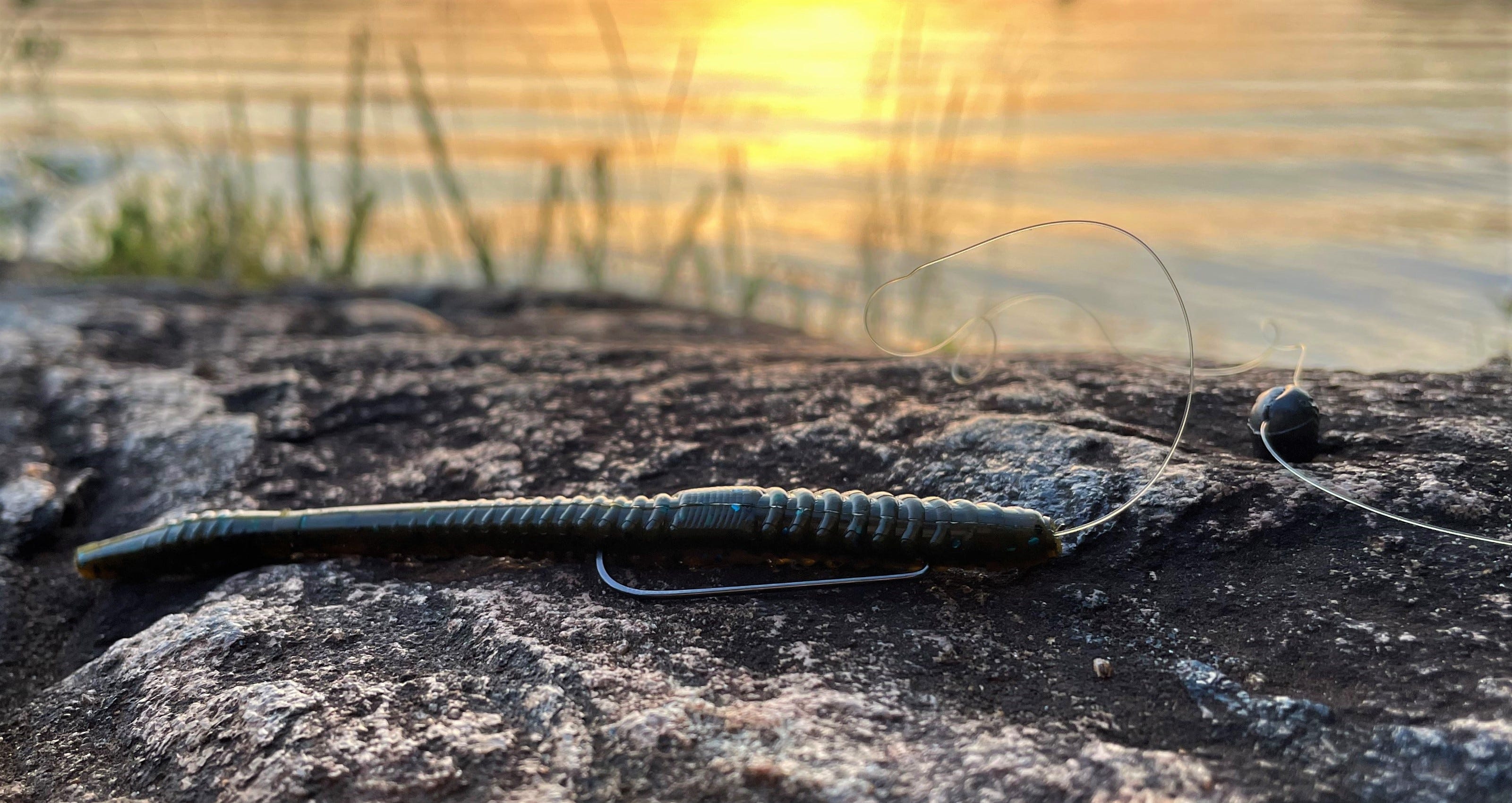 Shaky Head – The most classic application of a Finesse Worm is to rig it on a shaky head style jighead and work the bank, casting to everything that looks fishy with short pulls, hops and namesake "shakes," which make this little worm dance irresistibly. It's an easy way to fish and allows you to work a bank efficiently. It's the technique of choice for non-boating anglers in many professional tournaments because there is no better way to fish behind a very good angler who is using a variety of techniques and still catch fish!
Wacky Rig – When bass are relating to specific targets like trees and dock supports or zones like weed edges or slopes of points, a wacky rig allows for a slow fall and undulating motion that the fish cannot resist. Hook a Finesse Worm through in the middle, cast, let the bait drop and watch for the line to jump. Many fish hit on the initial drop. If none does, it's a good idea to raise the rod tip a few feet and let the bait fall again a time or two before reeling it back to make another cast.
Ned Rig – A Ned Rig resembles a shaky head in the sense that it involves jighead rigging. Ned Heads are mushroom shaped, though, which causes the head to rock in place and to roll forward when dragged slowly, thus making the bait stand up. The Ned presentation is very s-l-o-w, adding even more finesse – with small, gentle dragging movements that keep the jighead in contact with the bottom.
Split Shot – From a presentation standpoint, a split shot rig is like a miniature version of a Carolina rig. The little worm cruises along just off the bottom, looking completely uninhibited and like a very easy meal. Because it follows contours, this rig is effective in 2 feet or 12 feet, as long as feeding bass are relating to the bottom (which they often are). Hook the bait weedless, like a Texas rig, and add one or two split shot 2 or 3 feet up the line, using just enough weight to allow for reasonable casting and to allow the rig to stay on the bottom and for you to feel and control it on light spinning tackle. Drag it like a Carolina rig.
Drop Shot – When fish are concentrated on offshore objects, like rocks or brushpiles atop humps or points, a 4 1/2-inch Finesse Worm on a drop shot rig allows for highly targeted, slow and subtle presentations. The worm just shakes and wavers in the bass' dining room, seemingly without a care, and eventually becomes too much to resist.
Texas Rig – Finally, don't overlook the virtue of a simple Texas rig, which delivers the snagless qualities sometimes needed for working through sparse grass, in brush or around stumps. Because of the small size of the bait, it is typically a downsized Texas rig with a 1/8- or even 1/16-ounce bullet weight, a 1/O worm hook and light line on spinning tackle.