Learn how veteran crappie anglers catch spring crappie from the bank and how the shoreline approach provides advantages.
Some longtime crappie anglers have banked on catching spawning crappie for many years without need for a boat.
Many beginning anglers started their fishing from a bank but eventually graduated to casting to the shore from a boat. Seasoned anglers Gary Dollahon, Payton Usrey, Steve Higgins and Leon Adams have pursued crappie from a boat for several years, but they still enjoy catching crappie from the bank.
Bank fishing shines when crappie migrate to the shallows to spawn in the spring and become easily accessible for anglers casting from shore. Finding ideal spawning locations is the key to catching crappie from the bank during the spawn. The crappie experts explain why, where and how they fish from the bank during springtime.
Bank Advantages
Although he guides his clients from a boat, Beaver Lake guide Payton Usrey has benefitted from the advantages of bank fishing to catch springtime crappie. "You can get to some of that shallow backwater easier, especially in some of the lake arms and river arms," Usrey said. "You can get back in there where other people in a boat can't."
Steve Higgins noted that he can drive to areas and walk only about 50 yards to fish three different spots from the bank, noting that if he wanted to fish those same three spots from a boat it would be much more of an undertaking.
Bank fishing for crappie is a favorite tactic for Leon Adams in the winter, spring and summer. "I can get in real close, and I just work the banks around the logs and brush lying around there," he said. "I can get in there tighter to the cover than I can out of a boat."
Prime Bank Fishing Locations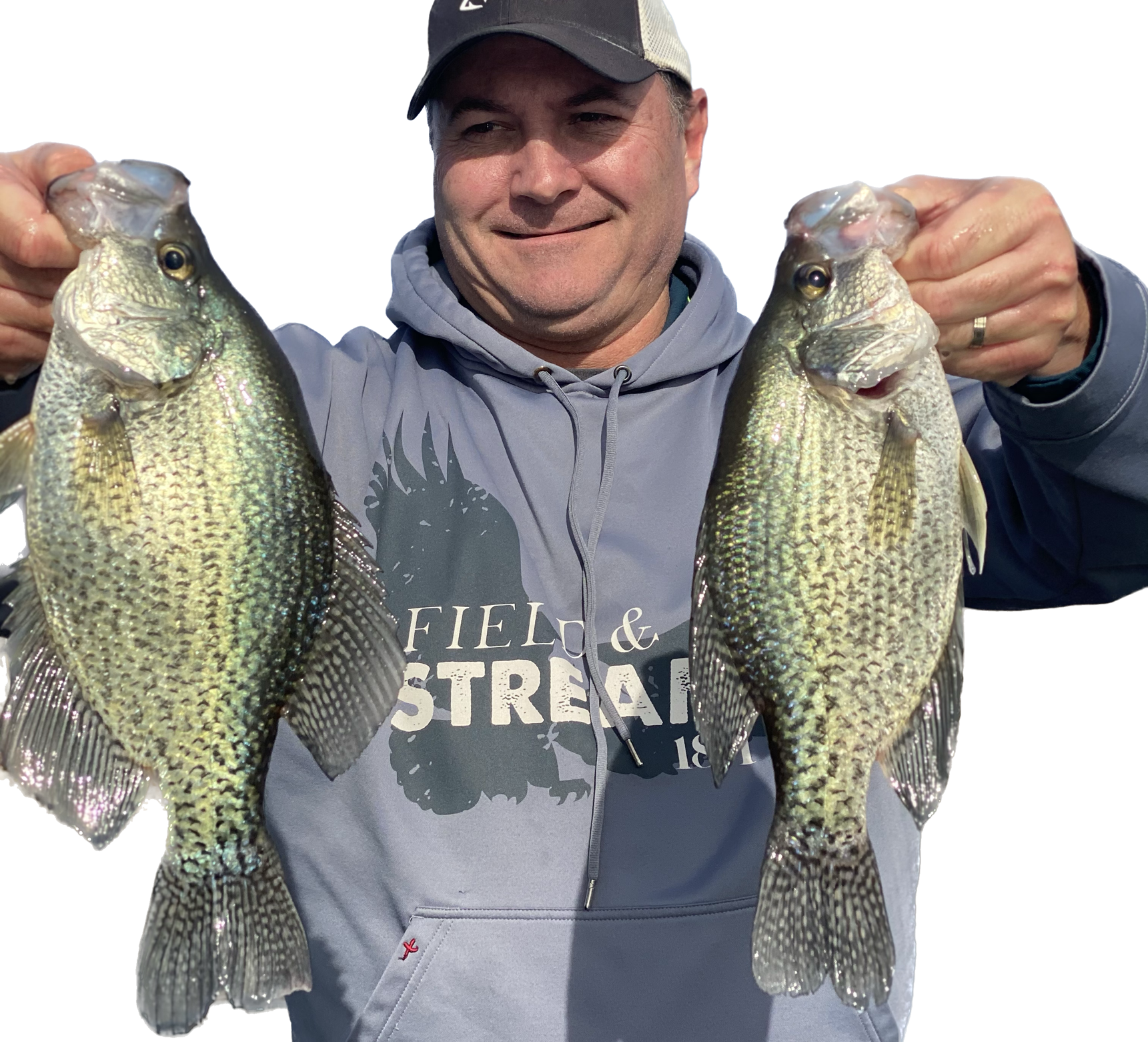 Oklahoma angler Gary Dollahon chooses a productive bank location based on three factors: 1. good access to the shoreline; 2. creek cove with isolated brush; and 3. rising water level. "I am using that higher water level to my advantage because I know that has put more of that shoreline cover into the water, which makes it more accessible from the bank," Dollahon said.
Dollahon's favorite bank fishing spots feature shallow, flat pockets close to deeper water, such as a creek channel. He favors flats with rocky shorelines, which are ideal spawning banks for crappie. In the early spring Dollahon favors bank fishing in pockets facing south because the pockets receive more sunshine and warm up quicker. He targets north-facing pockets later in the spring.
Once he finds a good-looking area Dollahon will cover a lot of ground. "I am almost always moving," he said. "I may cover at least a half mile to three quarters of a mile of hitting spots as I go. When you start doing that you kind of key on areas just like you do from a boat to establish your patterns."
Accessible spots featuring gravel shoals and pea gravel banks are Usrey's choice locations for catching springtime crappie from the bank.
Shallow water inside the cables behind boat docks along pea gravel shores is a productive bank fishing spot for Higgins during the crappie spawn. Most of the time Higgins drives to access areas to catch crappie from the bank. "It is pretty easy to get to those spots, and you are not going four-wheeling," he said.
Higgins also drives with four of five of his buddies to a feeder creek on Lake Eufaula where they set up lanterns along the bank in the evening. "A lot of times we won't start until dark and fish until midnight or two o'clock in the morning," he said.
While growing up and fishing Spavinaw and Eucha lakes in Oklahoma, Leon Adams learned how to find the most remote areas to catch spawning crappie from the bank. "I have to fight my way through the brush to get away from all the people," he said. Adams' favorite bank fishing spots consist of slate rock or gravel flats with some type of wood or grass cover.
Bank Targets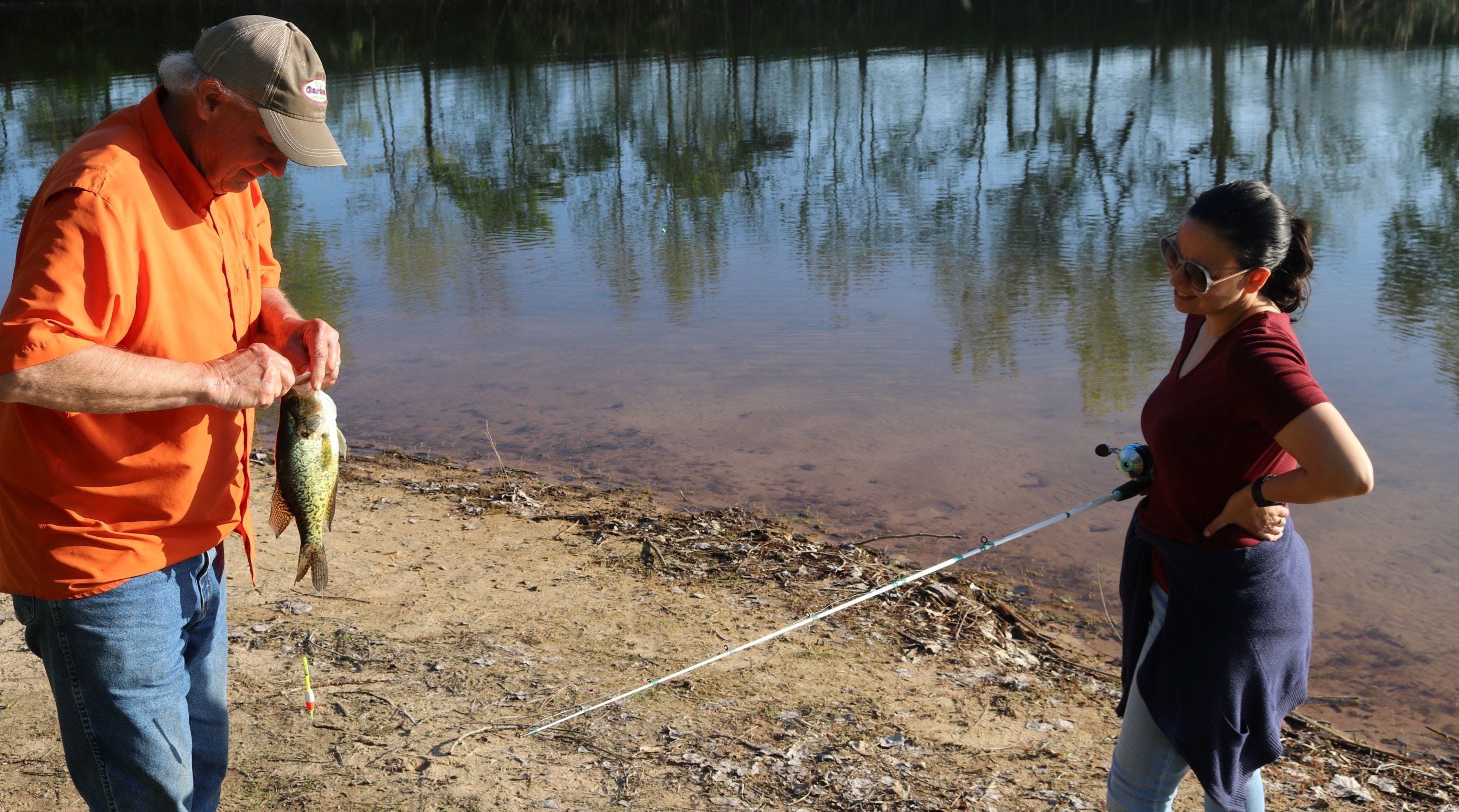 Targeting sparse cover is a key to success for Dollahon's bank fishing tactics. "I am looking for anything that is emerging from the water, and I like more isolated stuff," he said. "It could be a scrawny little buck brush or a little piece of driftwood that is stuck in the shallow pocket or a little patch of emergent grass." He believes the isolated cover holds bigger crappie than a big laydown with multiple branches.
A small stickup is a prime target for Usrey when he fishes from the bank. He notices several anglers will pass by smaller stickups to fish any nearby larger wood cover.
Adams favors fishing any grass or laydowns along the bank and brush piles he has sank in the shallows.
Water Level Preferences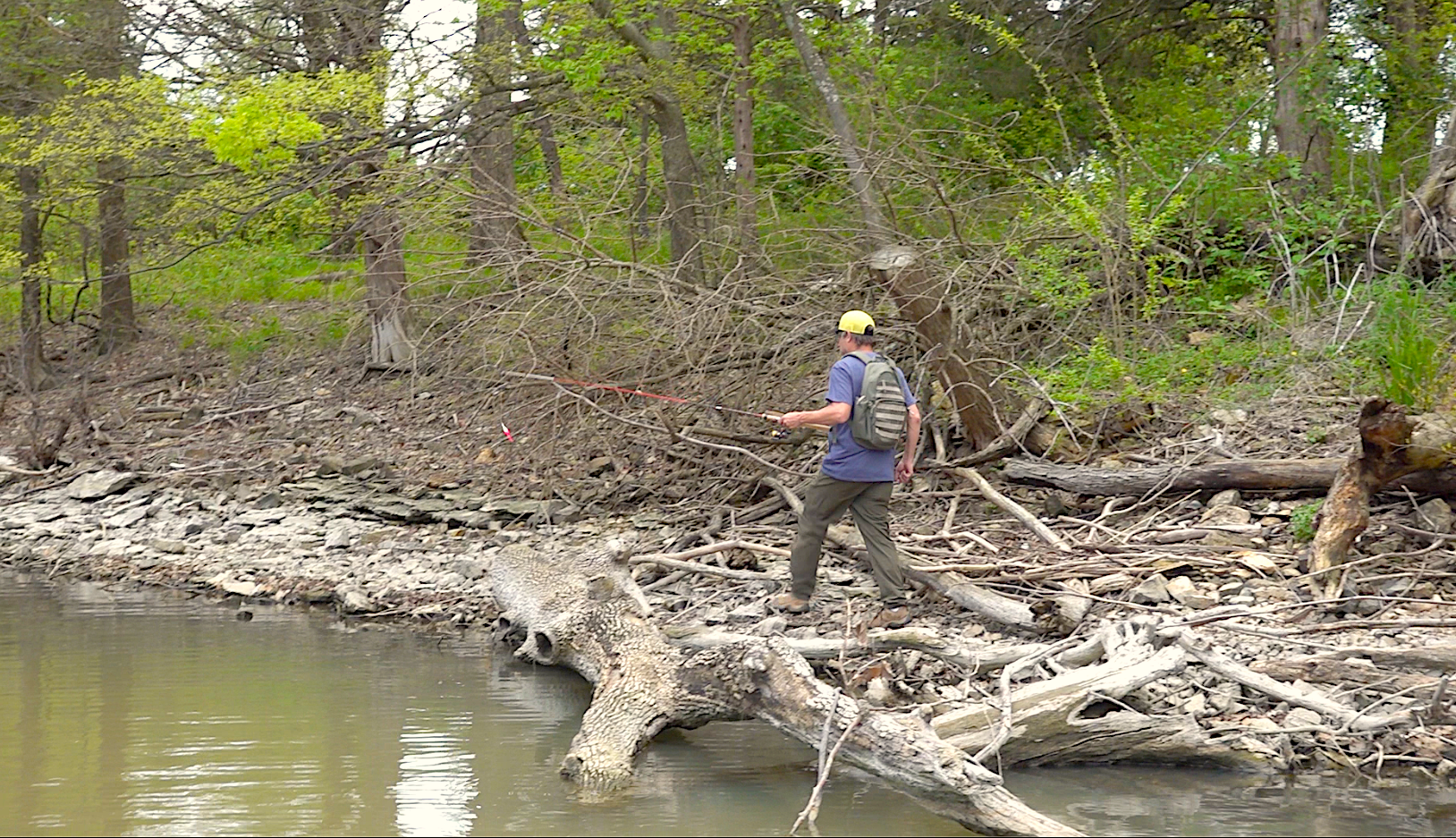 Usrey catches crappie from the bank whether the lake level is high or low, and each condition offers advantages. Low water levels prevent boats from reaching some shallow water areas he can fish from the bank, and high water gives bank anglers more access to flooded timber.
Dollahon, Higgins and Adams concur that it is easier for them to fish from the bank during low water stages rather than high water when too much cover becomes inundated. Adams prefers fishing from the bank when the lake level is at normal pool or about 1 foot low.
When Fort Gibson is low in the spring, Dollahon keys on rocks to catch springtime crappie. "We have a lot of boat ramps and campgrounds that are in spots in deep coves," Dollahon said. "Those areas have a lot of riprap to protect the shoreline, and those are all awesome for fishing from the bank."
Lures & Presentations
The lively action of the twin tail on the Bobby Garland Crappie Baits Minnow Mind'R makes this lure Dollahon's top choice for bank fishing. His favorite colors are Love Bug and Bone White Chartreuse. He rigs the Minnow Mind'R on a 1/24- or 1/16-ounce Crappie Pro Jighead and sets it less than 15 inches below a Thill spring-clip float.
"Most of the time I am trying to get the cork to land just barely past whatever I am targeting, and then I will slowly draw the cork back into it," Dollahon said. "It seems like whenever you pull the cork back in close proximity to that you are going to get a bite pretty quick or not at all." The Oklahoma angler casts his jig-and-float out to a depth of 3 to 4 feet and works it back to the bank.
A Baby Shad in Monkey Milk, Green Lantern or Cajun Cricket is Usrey's favorite lure for casting, dipping or setting below a bobber to catch crappie from the bank. He matches the Baby Shad with a 1/16- or 1/32-ounce jighead and fishes it less than 12 feet deep. When he is fishing around wood he either dips the jig between limbs or uses a slip bobber that allows him to drop the jig into the limbs and keep the lure at the right depth in the cover. Usrey also casts his float-and-jig rig parallel to the bank and works it in the open-water shallows with a series of slight twitches and pauses.
A Monkey Milk Baby Shad Swim'R and 1/8-ounce jig set 18 inches to 2 feet below a Thill float works best when Higgins fishes from the bank for spawning crappie. Higgins likes to cast the float-and-jig setup along shallow weed lines.
"If it is windy I will just slow reel the cork and let the fish pull it under," Higgins said. "If it is calm, I will tip the rod 6 to 8 inches to where it is just moving that bait a little bit because if you move it too much it is not as effective."
Adams favors casting in open water or dipping into cover with a Baby Shad in Crystal, Blue Ice or Blue Thunder while bank fishing in the spring. "If you can't catch them in those colors, you just as well should stay at the house," he said. He rigs his Baby Shads on 1/32- or 1/16-ounce jigheads and casts the lure with or without a float.
Adams' lure presentations depend on the available cover along the bank. "If it has good cover and the water depth that I like I will just make short throws," he said. When fishing with a jig set 18 inches to 2 feet below a float, Adams keeps his cork close to the cover. "I let it sit there and shake it every once in a while and a crappie will get it," he said.
If he is fishing tight to cover without a cork, Adams drops the jig to the bottom, lifts it slightly off the bottom and then occasionally twitches the lure to trigger a strike. He also retrieves his jig or float-and-jig at a slow, steady pace to catch spawning crappie in open water.
Alternative Bank Fishing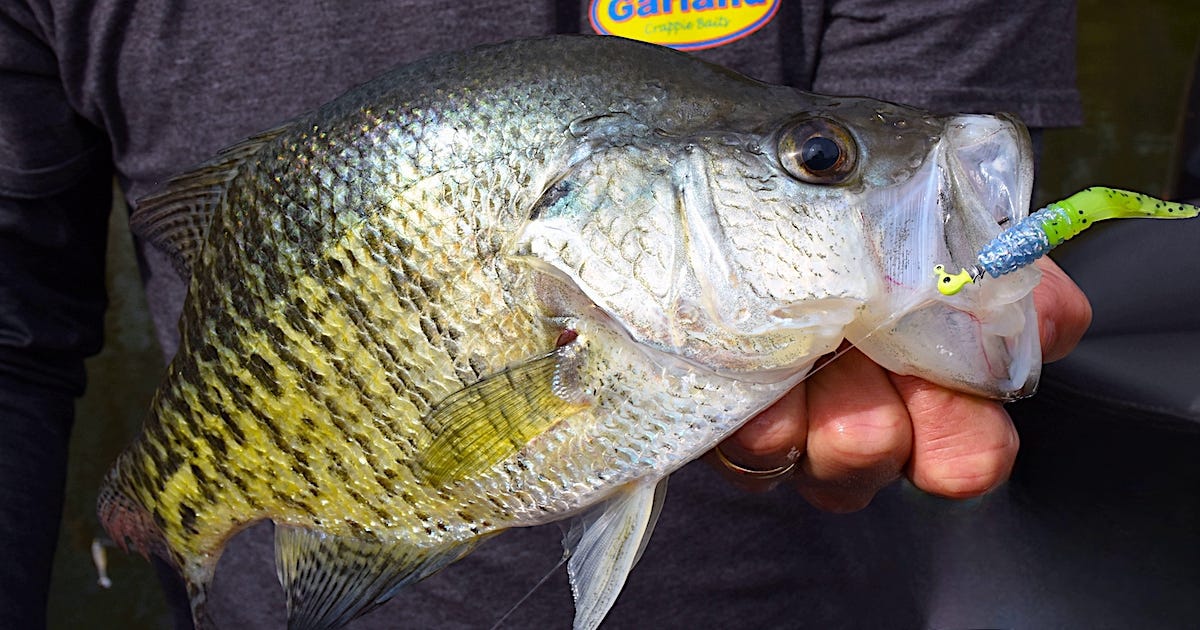 Here are some other bank fishing options to try at different times.
Bank fishing from a dam spillway extends beyond the spring bite, according to Gary Dollahon. He noted the crappie bite is more related to water releases from the dam more than to spawn time. Dollahon fishes the rock riprap below a dam with a cork-and-jig setup because it allows him to control the depth and flow rate of his lure as it moves around in eddies.
When he was on recreational outings with his kids during the summertime, Dollahon would wade in the shallows of Fort Gibson Lake to catch crappie. He keyed on shallow brush piles and caught crappie with a cork and jig or dipping his jig into the cover with a long pole.
Wade fishing in the creek arms of Beaver Lake has allowed Payton Usrey easy access to visible cover and avoid walking through thick weeds along the bank. Usrey used to wade fish the shallows of Beaver Lake wearing old tennis shoes (without waders) and dip his jig into cover with a 14-foot pole.