Want easy fishing and fast summer fishing action for multiple species? Slip bobbers open excellent opportunities for mixed panfish catches.
What you never know with summer panfishing is what species will be at the end of the line when a slip bobber darts out sight. More certain – assuming decent location choices – is the notion that you will get to watch your bobber go under several times. Slip bobber fishing is a highly dependable way to tap into summer panfish fishing action, and it is an easy style of fishing that is fun for the entire family.
Anglers commonly associate most panfishing pursuits with spring and early summer and stop targeting bluegills, perch, crappie and other panfish species once mid-summer hits and the fish become less plentiful around shallow, shoreline cover. Those fish seldom move far, though. Most just slide a bit deeper to a weedline, brushpile or slight break, to the deep end of a dock, out a point or to the deep edge of a riprap bank.
A slip bobber, which allows you to suspend a bait at any depth and is easy to cast even if set for 5 or 10 feet deep is ideal for this approach. Work just out from the same areas you fished earlier in the year, adjusting the bobber stop as needed to suspend your bait just off the bottom or just over the cover. Cover water until you find fish and slow down when you start getting hits. Pay careful attention to what you were doing and to the bank type, depth and cover when you start catching fish, and chances are good that as the day develops, you'll figure out the day's perfect panfish presentation and the most productive types of locations.
Likely panfish to catch include bluegills and all their nearest cousins (redear sunfish, longear sunfish, green sunfish, etc.), white and yellow perch, rock bass, white bass and crappie.
In addition to the panfish, don't be surprised by an occasional bass, walleye or even catfish, with cats extra likely if you choose a natural bait option.
Slip Bobbers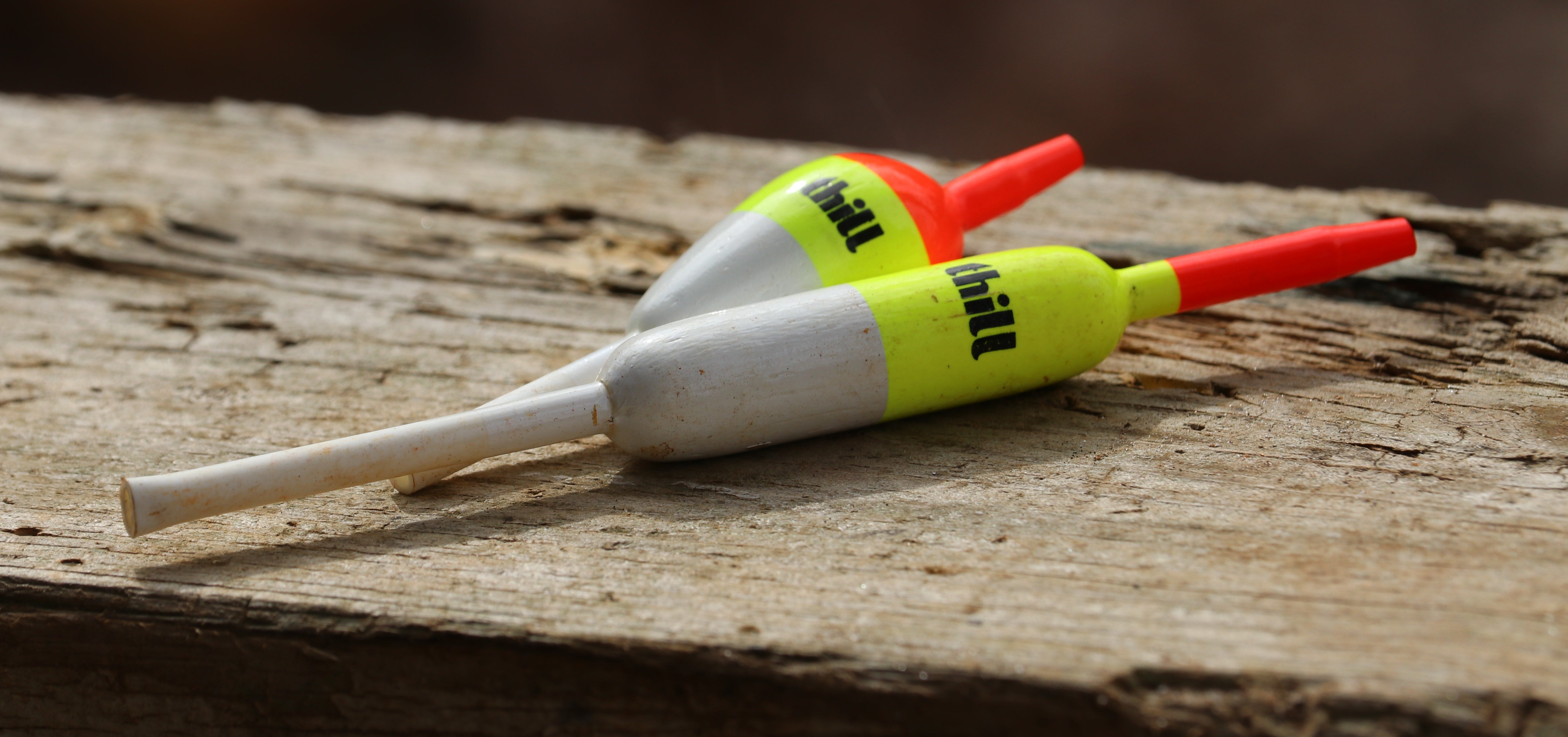 A slip bobber, sometimes called a slip float, is rigged with the line running through the bobber itself, as opposed to being clipped on in a fixed position. The bobber, therefore, slides freely on the line.
Before being cast, the bobber rests on your jig or split shot, creating a compact load that's easy to cast. Once the float lands, the weight at the terminal end pulls the line through the float until it comes to your bobber stop, which is attached to the line above the float and set for the depth you want to fish. Adjusting depth is as simple as sliding the bobber stop up or down the line.
For panfish and the small offerings that suit them best during summer, you don't need a very large slip float. The Thill America's Favorite Series 1-inch oval or 3/8-inch pencil slip floats work great for this application, with oval being better for working jigs and handing a bit of wind or current and the pencil offering maximized sensitivity for calm conditions and natural bait.
The 1/16-ounce rated Thill Crappie Cork is also an excellent option. It's an in-between shape that offers best of both worlds appeals. It also comes with the first bobber stop knot on the stem, so you just slide it off the top, onto the line, and tighten and trim it, and you are ready to fish. The Crappie Cork is also a dual function float that can be rigged as a slip float or a set float.
Panfish Jigs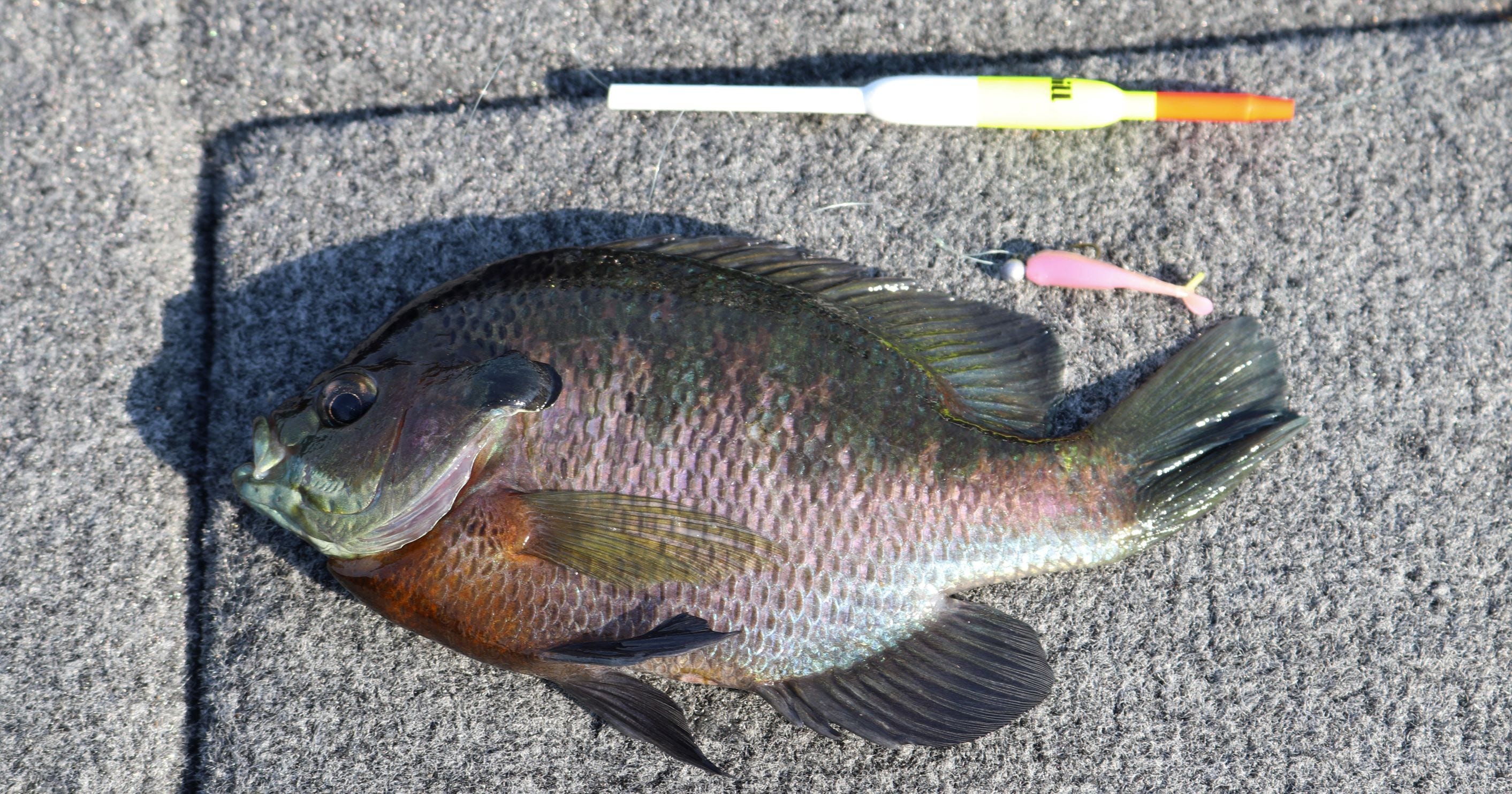 For summer action for mixed panfish, it's tough to top the appeal of a small jig suspended beneath a slip bobber and worked with gentle twitches or slight pulls. Twitches rock the bobber and make jig dance. Pulls cause the jig to rise and move horizontally and then pendulum down to the set depth.
Often the best presentation combines both types of rod movements and includes significant pauses. If the wind is creating a bit of a chop, minimal added action often prompts the most bites. Simply cast upwind of a zone you want to work, let the jig sink, and then reel just enough to keep slack out of the line, allowing the chop to move your offering through the zone and add life as it lifts and drops the jig.
Two types of jigs that work exceptionally well for this approach are Lindy 1/64-ounce and 1/32-ounce Little Nippers and Bobby Garland Itty Bit Series rigged baits on Itty Bits Jigheads.
The Little Nipper is a narrow profile feather jig that quivers constantly in the water with subtle movements.
Itty Bit baits are 1 1/2-inch versions of three of Bobby Garland's most popular crappie baits. The Itty Bit Slab Slay'R, Itty Bit Swim'R and Itty Bit Slab Hunt'R have a different profiles and action. All three are exceptionally well suited for this application. The Itty Bits heads come in 1/48- and 1/64-ounce sizes and are designed to match these baits.
The tiny jigs that offer the best action and a small profile for mixed panfish often are not heavy enough on their own to pull line through a slip cork until it comes to the bobber stop or to keep the jig at the desired depth in current or with wind. That's an easy fix. Either add a split shot or two a foot or so above the jig or tie a tandem rig with two jigs to add weight and double your offerings at the same time.
Natural Attraction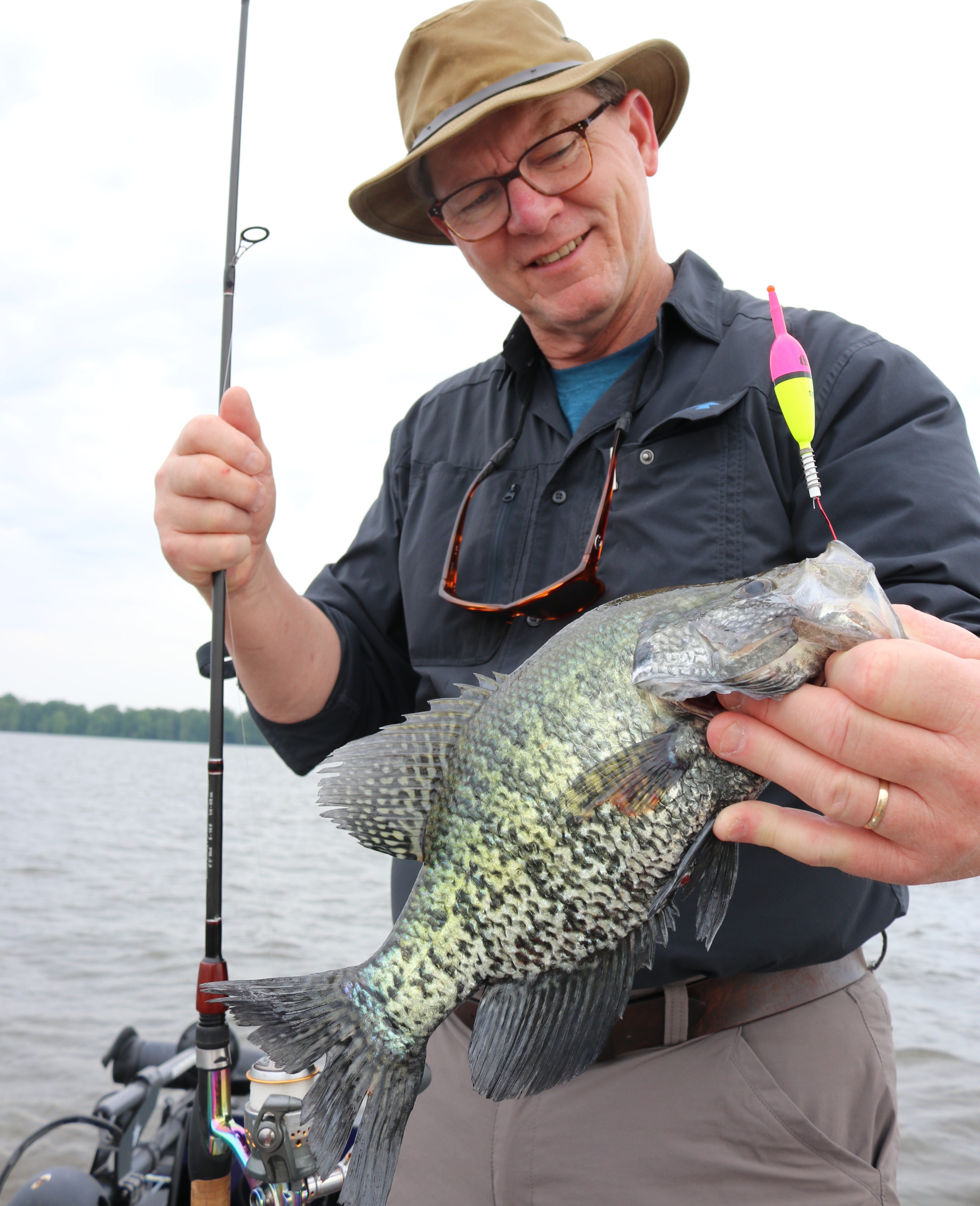 If you don't want to have to work a lure or simply favor fishing with bait, natural bait provides another good option. The best live bait to use for summer panfishing largely depends on species targeted. That said, different panfish species sometimes hang out together, and fish seemingly don't always know what they are supposed to prefer. Therefore, it's never a bad idea to have two or three options.
For bluegills and most of their closest cousins, crickets are hard to beat. That said, redear sunfish, commonly called shellcrackers, generally prefer a small worm like a redworm or a pink wiggler over a cricket. Worms also tend to work best for yellow perch or white perch. Crappie favor minnows over other natural offerings. Minnows also offer a solid option for perch. Mealworms also work well for most panfish and can be very good for tipping the jigs discussed in the previous section.
Whatever the bait, the terminal end rig is simple: just a hook and a big enough split shot to pull the line through the slip float and to hold the bait at the desired depth. Size 6 long-shank hooks work well for most panfish. A little larger, if crappie are primary targets.
Simple Slip Bobber Rigging with Thill Bobber Stop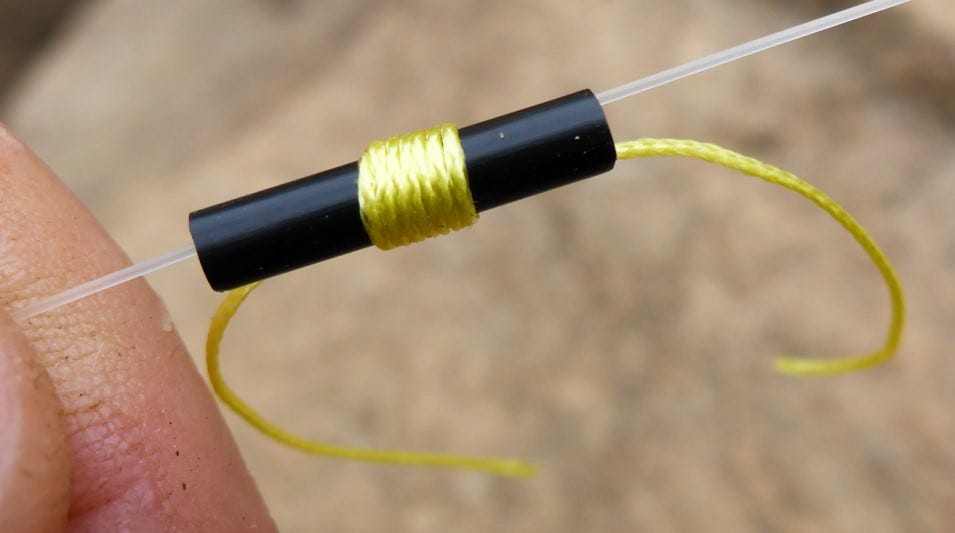 Slide the tube onto you line, and the knot off the tube. Lightly tighten the knot and remove and dispose of the tube.
Add a bead to your line, followed by your slip bobber, threaded top to bottom.
Tie on terminal gear, whether a plain hook or a jig to end of line.
Add a split shot above hook or jig, if needed.
Slide the knot to the depth you want to fish, snug it more, and trim the strings, but don't trim them too tight as you might need to retighten the knot at some point.