Building glow into your crappie fishing strategies can help you catch more fish, especially when the bite is tough.
"Anyone can catch a crappie when they are biting, but when the crappie are not aggressive or the bite tapers off, that's when using a Mo' Glo lure or Mo' Glo Slab Jam will get you bites," said Mississippi crappie guide Brad Chappell.
Chappell relies on Bobby Garland's Mo' Glo lures, which glow in the dark, when fishing deep, early in the morning or late afternoon.
When long lining, Chappell will typically rig a 1/24- to 1/8-ounce Crappie Pro Mo' Glo Jighead. The weight of the jighead depends on what depth he is targeting.
"I like to long line Bobby Garland Mo' Glo Stroll'R with a Mo' Glo Head in Outlaw Special or Pink Phantom," said Chappell, "I also like the Mo' Glo Baby Shad Screamer." Chappell will contrast the soft plastic lure with the Mo' Glo jighead. His favorite Mo' Glo jighead color pattern is pink or orange where he fishes.
When the bite gets tough trolling crankbaits, Chappell will pull out a bottle of Mo' Glo Slab Jam. "You would think that applying a liquid scent to a crankbait won't do much, but Slab Jam is different. It's more of a gel than a liquid so it adheres to the crankbait, slowly dissipating as the lure is pulled," Chappell said.
He applies the Slab Jam below the bill of the crankbait keeping the scent on the crankbait longer and leaving a scent trail behind the lure.
Chappell isn't the only angler who recognizes the irresistible appeal of the super glow formulation.
Glow Difference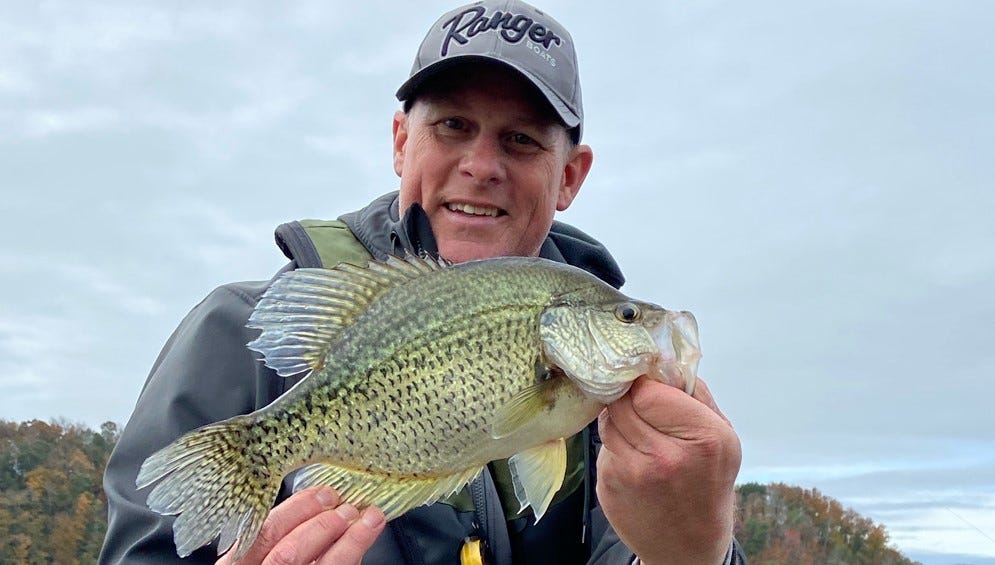 Bobby Garland pro staffer Brad Bowles has seen the difference of how crappie react to Mo' Glo lures and non-glowing lures. "Time of day and water clarity is when it can really make a difference between not catching crappie and catching them," Bowles said. He also believes there is a time of year when crappie are lethargic and when fishing Mo' Glo glowing lures and Slab Jam scent gets crappie to bite.
"Fishing a deep, clear reservoir like Dale Hollow means anglers are focused on deep brush piles most of the year, except for in the spring when they are easy to catch up shallow. When targeting these deeper crappie, I will stay a long distance away and cast past the brush pile with a Bobby Garland Mo' Glo Swim'R rigged on a Mo' Glo jighead, working it back through the cover," Bowles said. "If crappie are suspended, I will keep the lure higher up in the water column by reeling faster or slower to get it lower when they are buried in the brush."
On Dale Hollow, Bowles is targeting black crappie, which he said can be spooky in the gin-clear water.
Like so many other anglers Bowles uses live sonar technology to target crappie. "I normally cast 30 to 40 feet with a spinning reel with 6-pound line to the brush pile allowing the jighead to fall slowly to the fish. Normally, I will use a pink 1/16-ounce Mo' Glo Jighead rigged with a Bobby Garland Baby Shad Swim'R or Hyper Grub in my favorite color Green Lantern to the brush piles. I will know within seconds if the crappie are going to bite or not bite," Bowles said.
Bowles noted if the crappie are going to bite, they will swim around, staying on the move, and will strike a lure aggressively. However, if the fish nose in or move deep into the cover, it's going to be a harder to get them to bite. That's when Bowles will get out his Slab Jam and put it on the lure to incite crappie strikes. Fishing in a cooler climate, Bowles will keep his Slab Jam in his winter apparel. "One application of the Slab Jam last for a really long time on a lure," said Bowles, "So, I don't have to reapply very often."
Dock Talk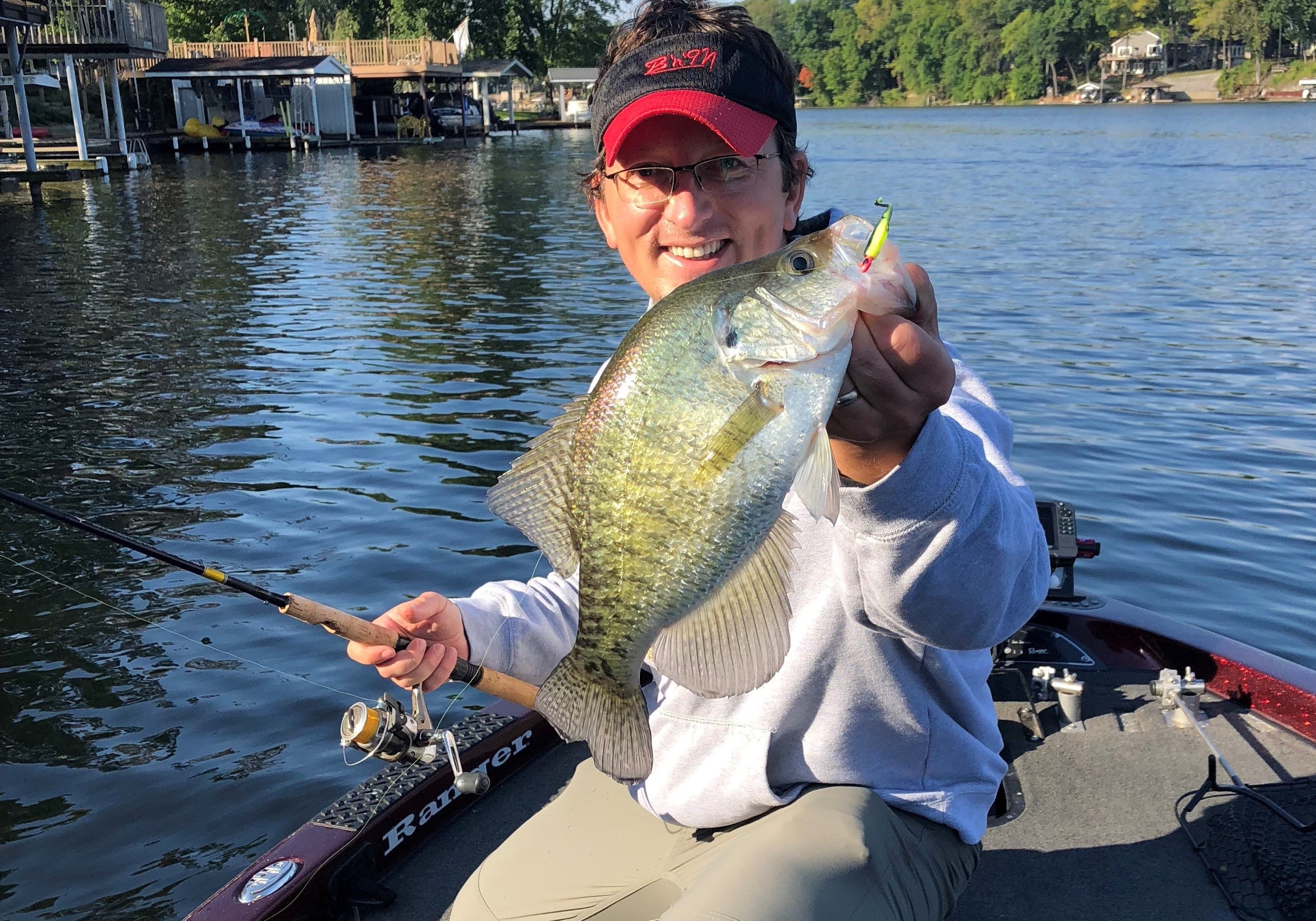 "For the next three months, I will be fishing docks, lots of docks, in Indianapolis lakes," said Indiana crappie angler Dough Sikora.
Sikora starts shooting docks on sunny days then moves to brush piles later, if the crappie are not biting. There are so many docks where Sikora fishes, it usually happens while he's dock fishing. Pole docks utilize mooring poles fixed into the bed of the body of water typically anchoring the poles that are attached to the dock keeping it in place.
Since the poles are permanent, they are commonly rusty, which absorbs heat, allowing algae to grow. That, in turn, attracts the baitfish, which attract the crappie.
For Dock shooting, Sikora uses a lightweight 1/24-ounce Mo' Glo jighead with a blue or orange head, rigging it with a Bobby Garland Baby Shad Swim'R in Blue Grass and Mo'Glo colors Sunset and Screamer. If Sikora isn't catching fish, but knows he is around them, he will put Bobby Garland Mo' Glo Slab Jam in its channel and reapply every so often.
He uses a 6-foot B'n'M Poles Sharp Shooter rigged with a trigger spin Shimano reel with 6- or 4-pound test high-vis fishing line.
"Once the water temperature drops below 50 degrees I will switch over to a Bobby Garland Mo' Glo Scent Wiggl'R when vertically fishing brush piles with an 11 foot rod," said Sikora, "The Wiggl'R doesn't dance around much and it looks like an easy target for crappie. It's the size and shape of the shad born in June or July that are not big. Shad will be lethargic so you won't be putting much action with the 1/16- to 1/8-ounce jighead. "
"Two things you should think about fishing in cold weather. First, always use a loop knot when vertically jigging so you are horizontally presenting the lure and not vertically. Second just keep the Mo' Glo Slab Jam in your pocket, where you can easily grab it," said Sikora, "I think it's actually easier to apply when it's cooler out."
Through the Ice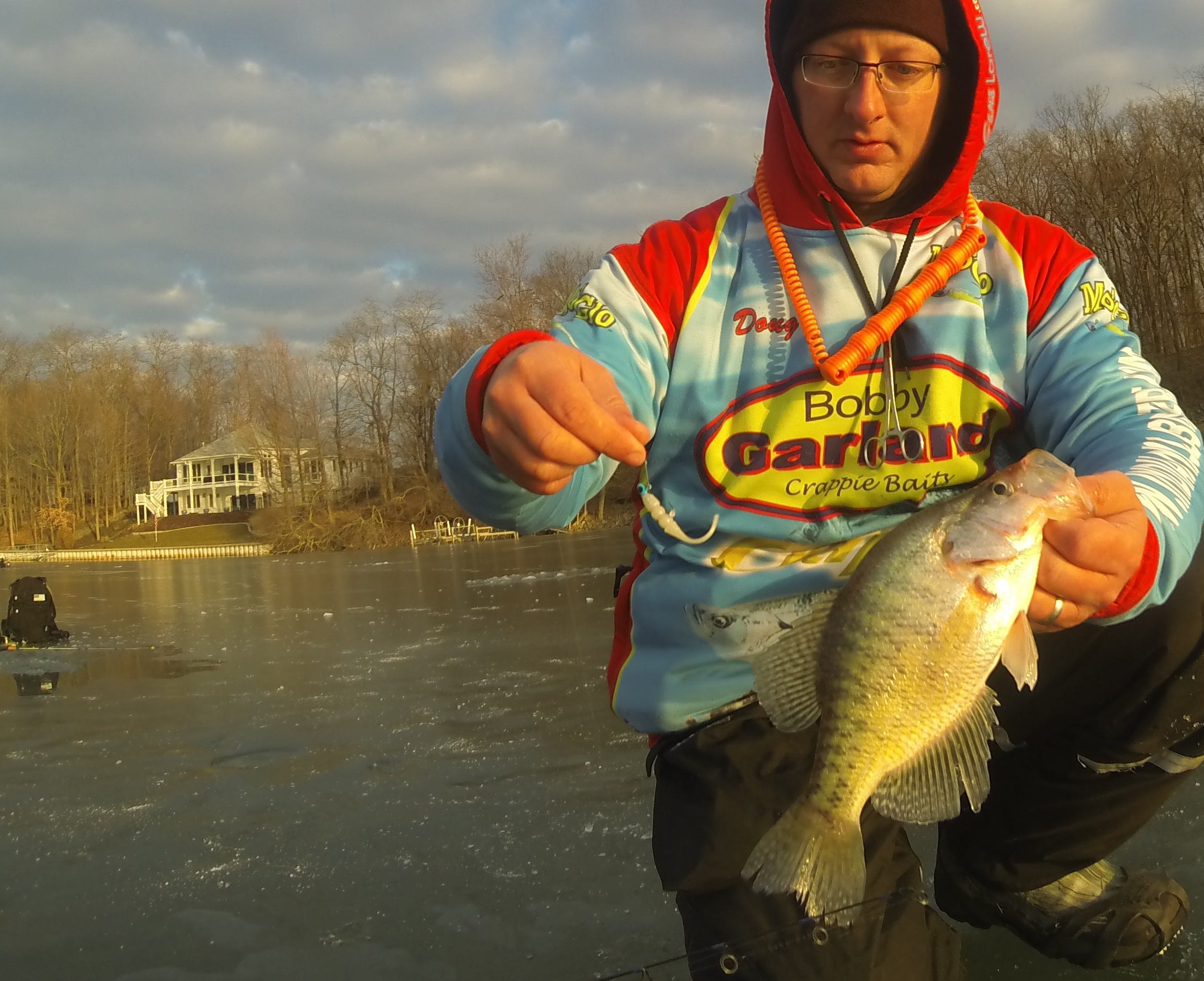 Late in the winter, when lakes in Sikora's area freeze, he spends as many days as his schedule allows out on the ice, chasing crappie and anything else that bites.
Ice on lake's surface reduces visibility and snow atop the ice reduce visibility even more. Dark skies are also common, even in the middle of the day during winter, and Sikora ice fishes by day and by night.
For all these reasons, glow is critical to Sikora's ice fishing approach. In fact, he commonly triples up on glow, using Mo' Glo Jigheads, Mo' Glo bait colors and plenty of Mo' Glo Slab Jam.
Sikora periodically reapplies Slab Jam to ensure that he always has plenty of glow, and he'll regularly recharge the glow with a flashlight.
Night Fishing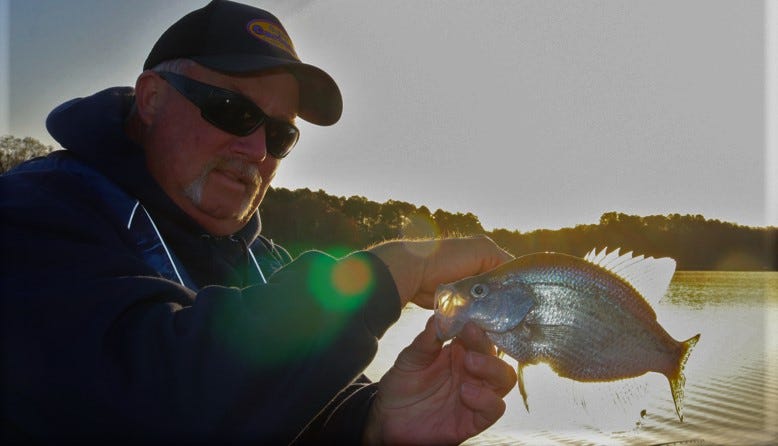 Not all anglers are fishing in the day this time of year. Bobby Garland Pro Jeff Loudermilk favors night fishing, utilizing an underwater green light around brush piles. To catch these nocturnal crappie, Loudermilk likes a Bobby Garland Baby Shad Swim'R in Monkey Milk, Pearl or last year's hot color Sunset, but will change to a Bobby Garland Mo' Glo Slab Slay'R when fishing in muddy water.
To get a little kick out of his Slab Slay'R he will take a photo with his phone flash to recharge the super glow formulation making the lure glow. Loudermilk will also tip his jighead and soft plastic lure with a minnow when vertical fishing outside the lighted area of the underwater light.
"If I'm casting a 1/48-ounce or heavier jighead, I'm casting usually past a brush pile bring it back into the ring of the light then back out into darkness, using a spinning rod with 4-pound test line. The larger crappie will be looking towards the light, but those bites might not happen until the lure is back in the dark area."
One tip Loudermilk had when fishing with a jighead, soft plastic lure tipped with a minnow is to add a Bobby Garland Slab Tickler to line above the jighead. "You would be amazed by the number of crappie I catch just adding the Slab Tickler to the jighead," said Loudermilk.
Mo' Glo
Use all Mo Glo Jigheads, baits and Slab Jam when crappie are lethargic
Fish them in stained water, deep water and early morning or late evening
Apply Slab Jam to any cavity, hole or joint on lures
Slab Jam has holographic glitter, replicating fish scales
All-natural amino acid-based and high visibility glow-in-the-dark gel formulation