Learn about the newest bass jig introduction from War Eagle Custom Lures – the Pro Football Jig – which provides year-round applications for catching largemouth and smallmouth bass.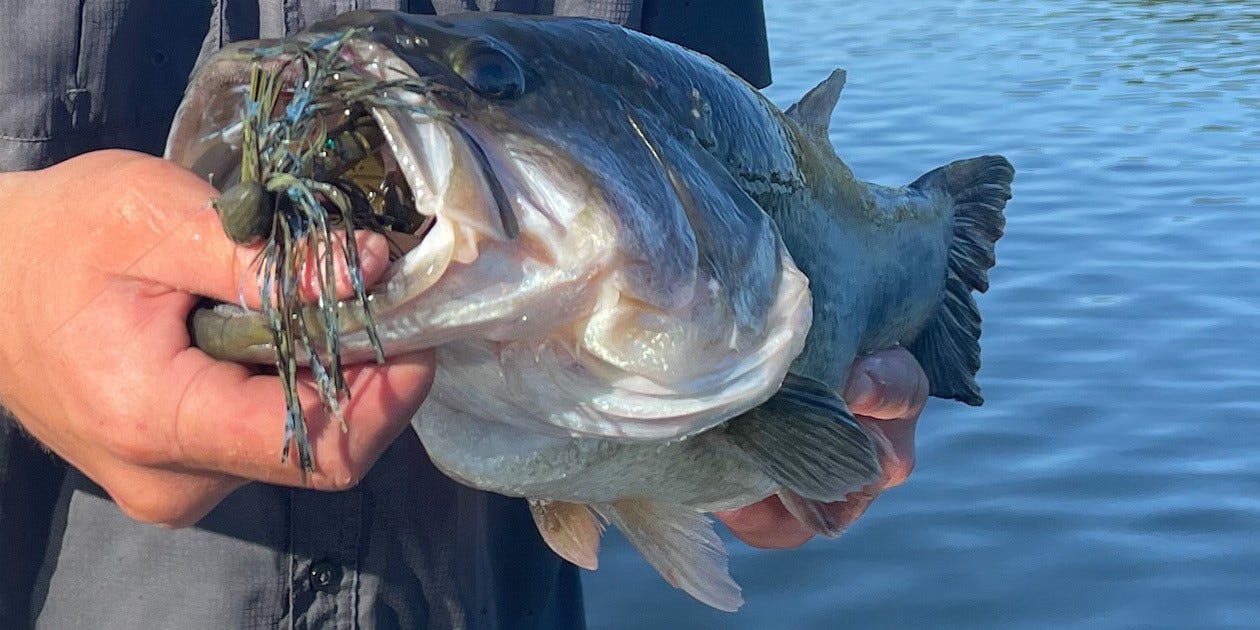 The football jig is an important tool for bass fishing and can come into play anytime bass are feeding close to the bottom. Dragging a football jig is an easy and effective technique for finding bass and catching them, with applications for every season.
War Eagle Custom Lures recently launched the Pro Football Jig, elevating the bar for this style of lure. Let's take a close-up look!
Pro Football Jig Lure Specs
The War Eagle Pro Football Jig features a modified football-style head that makes it extra well suited for fishing rocky bottoms because when the jig hits a rock it rotates right or left and rolls over the rock instead of hanging in a crevice.
The weedguard and hook are important features, and both would suit Goldilocks because of "meet in the middle" characteristics that make each ideal for common football jig fishing applications.
A football jig needs some hook protection, but not as much as a jig that's designed mostly to be flipped into wood cover. The weedguard on the Pro Football Jig proves just enough protection without inhibiting hooksets when fish are farther away.
The sharp 2/O hook is likewise strong enough to handle hefty bass, but it uses a light enough wire to allow for good hooksets, even with fish that hit early in a retrieve after a long cast.
The Pro Football Jig is available in two sizes – 1/2 and 3/4 ounces – and seven outstanding, pro-selected colors, which mostly suggest crawfish and collectively provide outstanding options for a broad range of conditions:
Black Blue Shiner
GP Orange Craw
Green Pumpkin
PB&J
Frank's Blue Craw
3D Green Pumpkin
Natural
When to Use a Pro Football Jig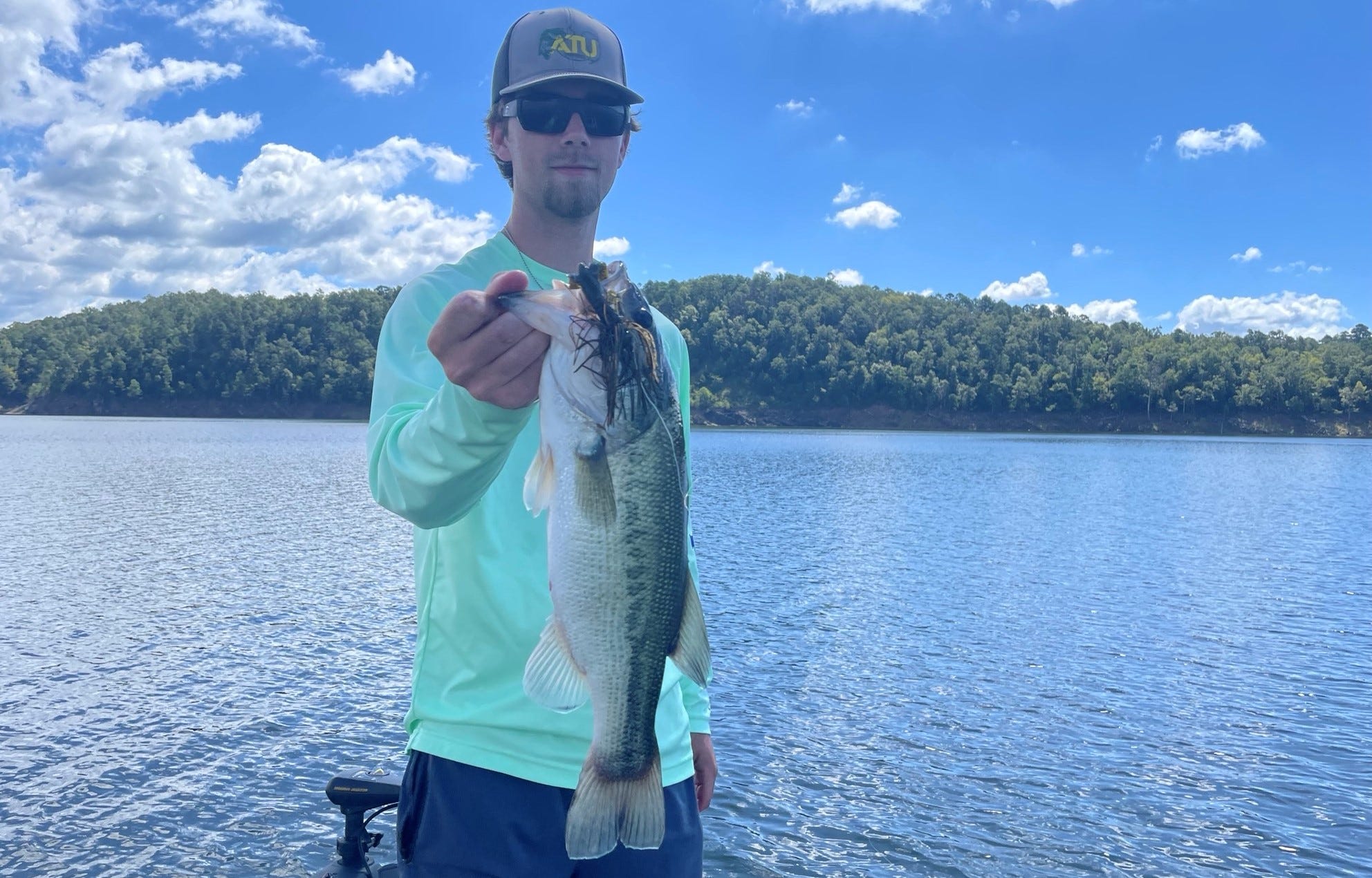 A football jig has year-round applications and provides a very good option anytime the bass are holding on the bottom – especially in rocky areas at moderate depths. It's especially productive when the fish are relating to crawfish because it imitates a craw very effectively. However, it can also suggest a goby or other forage fish species that are near the bottom.
Fishing a football jig is a horizontal presentation, which means you can work a broad structure, such as a big hump or long point, to locate feeding fish. This makes it better than a jigging spoon or drop shot, which are more stationary, if fish are somewhat widespread. It isn't a fast, searching technique that allows you to cover huge areas, but if you know the right types of areas and fish methodically, it is highly effective for seeking out fish that are willing to feed but not quite wanting to chase.
While a football jig is most often associated with offshore structure, it's also highly effective for working a rocky bank that has a moderate slope, casting to the shore and covering a range of depths with each presentation.
Where to Fish a Football Jig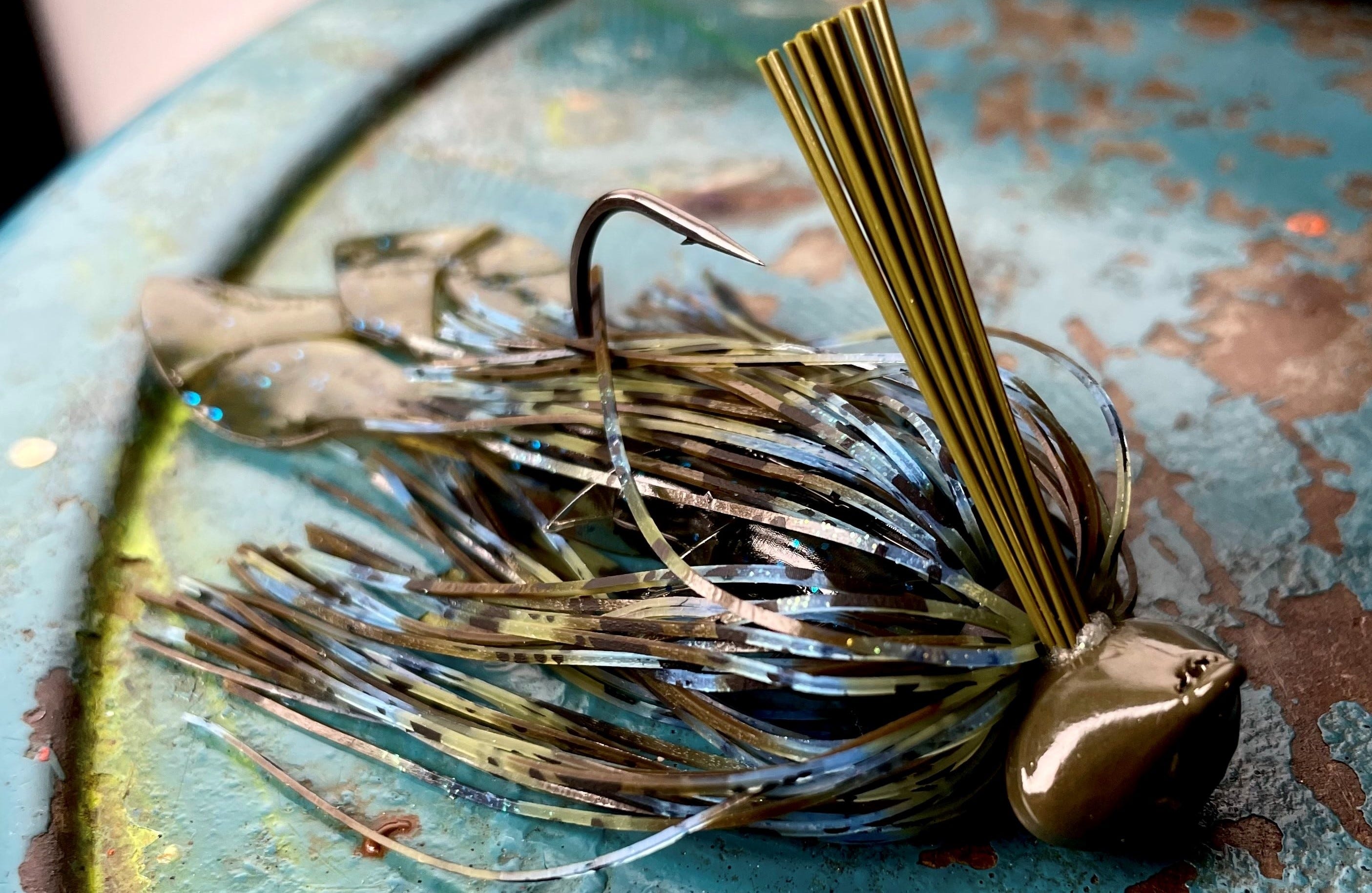 For starters, a football jig lends itself best fishing on the bottom and is seldom hopped significantly or swam. It moves horizontally or follows slopes, mimicking a crawfish scurrying along the bottom.
The Pro Football Jig is designed specifically for fishing rocky bottoms, but that can take many forms. Solid rock points, gravel bars, chunk rock banks and boulder-littered sand flats are just a few examples. Key areas commonly feature a mix of rock types or a transition area between gravel and craggier rocks, where bass find ideal ambush points.
During late summer, the proximity of deep water, often along a reservoir's main channel or natural lake's main basin are extra important. Points and humps that adjacent to deep water and channel swing banks with good rocky cover can be outstanding. As summer begins giving way to fall, many bass will move to the mouths of major creek arms and eventually up into the creeks.
Why the War Eagle Pro Football Jig?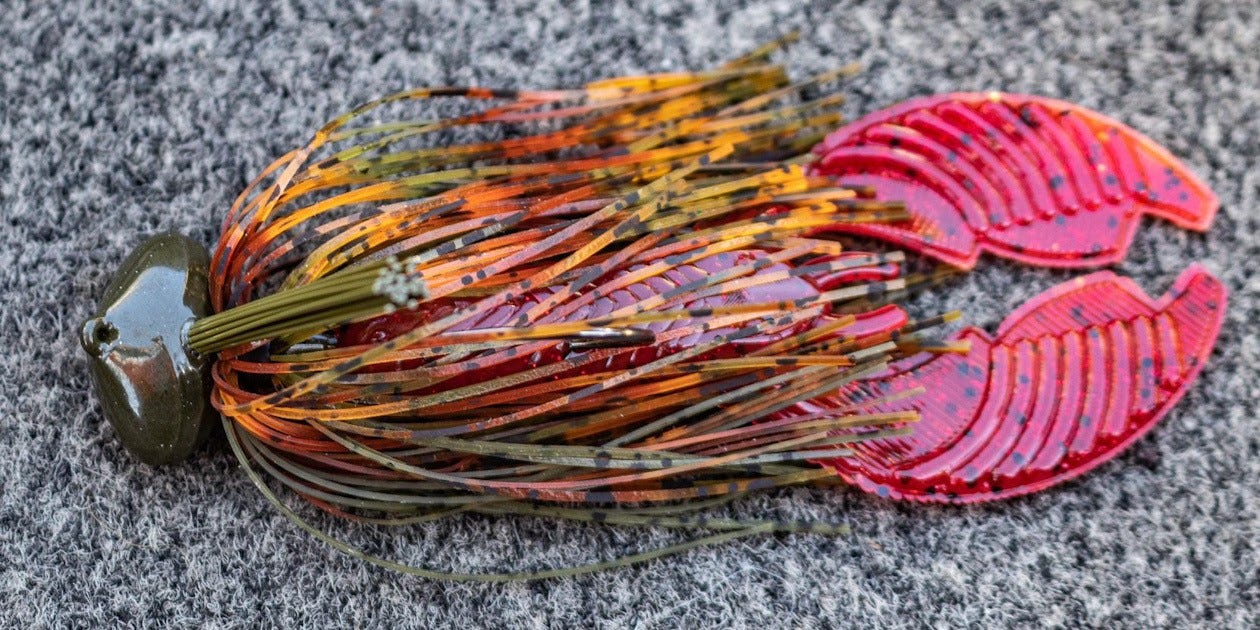 War Eagle identified the football jig as a gab in a brand that specializes in jigs and spinnerbaits, with zero-compromise, premium versions of each. At the same time, War Eagle pros saw flaws in existing football jigs.
Much like the Jiu-Jigsu Jig does as a flipping jig, the War Eagle Pro Football jig brings together ideal versions of every element of a football jig. The distinctive keeled head shape and line tie maximize this jig's ability to work across rocky bottom, rolling to trigger strike instead of snagging. The hook and weedguard, as detailed above, are optimal for the most important football jig applications.
Paint and skirts are likewise premium, with intricate color schemes created through pro angler impact.
How to Fish a Football Jig
One of the best things about a football jig is that it is easy to fish effectively. Add a craw trailer, such as a YUM Spine Craw or Craw Chunk, and tie it on, and it's ready to fish. Cast to the bank or structure, let the jig sink to the bottom and fish with short drags, so it stays in contact with the bottom. The core presentation is much like fishing a Carolina rig, except that you typically only sweep the rod tip a foot or so at a time.
Slow often is the way to go, but speed is an important patterning variable. During the warm months, especially, dragging the bait as quickly as you can while maintaining bottom contact sometimes will prompt more strikes.
Varying presentation angles can also be very important because of the specific ways bass often will orient to ambush prey. Often dragging a jig across a spot that just yielded nothing – but from a different angle – will prompt an attack. That's especially true where current is present and influencing how bass set up to feed.
Strikes on the Pro Football Jig sometimes provide a classic "thump," like a traditional plastic worm bite. Other times, bass suck in the jig softly and don't really run off. It just feels a little spongy, almost like the jig is coming through vegetation. Either way, set the hook! It's far better to swing on nothing than to realize a moment too late you just missed an opportunity!