Expert advice on a highly effective crappie-catching technique that produces almost year-round and throughout the country.
Going long can produce a quick score for football teams, and crappie anglers can also score quickly by going long with their baits.
When Brad Chappell started fishing Magnolia Crappie Club tournaments, he quickly discovered he needed to go long for crappie to succeed in the club. Chappell became convinced he needed to change tactics when the team of Earl Brinks and Kenny Browning kept winning the club tournaments by long lining for crappie.
"Honestly, they were putting a beat down on us, so I just decided I wanted to do it," Chappell said.
Chappell learned his lessons so well that he is now considered one of the best anywhere at long lining, a method of trolling lures on long lines from the sides and back of a slow-moving boat. The Mississippi guide believes long lining is so effective because it allows him to cover water quickly with a wide span of lures running through a specific, controllable depth.
Long lining produces for Chappell through most of the year. "I do it as long as the water is over 45 degrees," Chappell said. "Anything below that is a little bit too cold."
Seasonal Patterns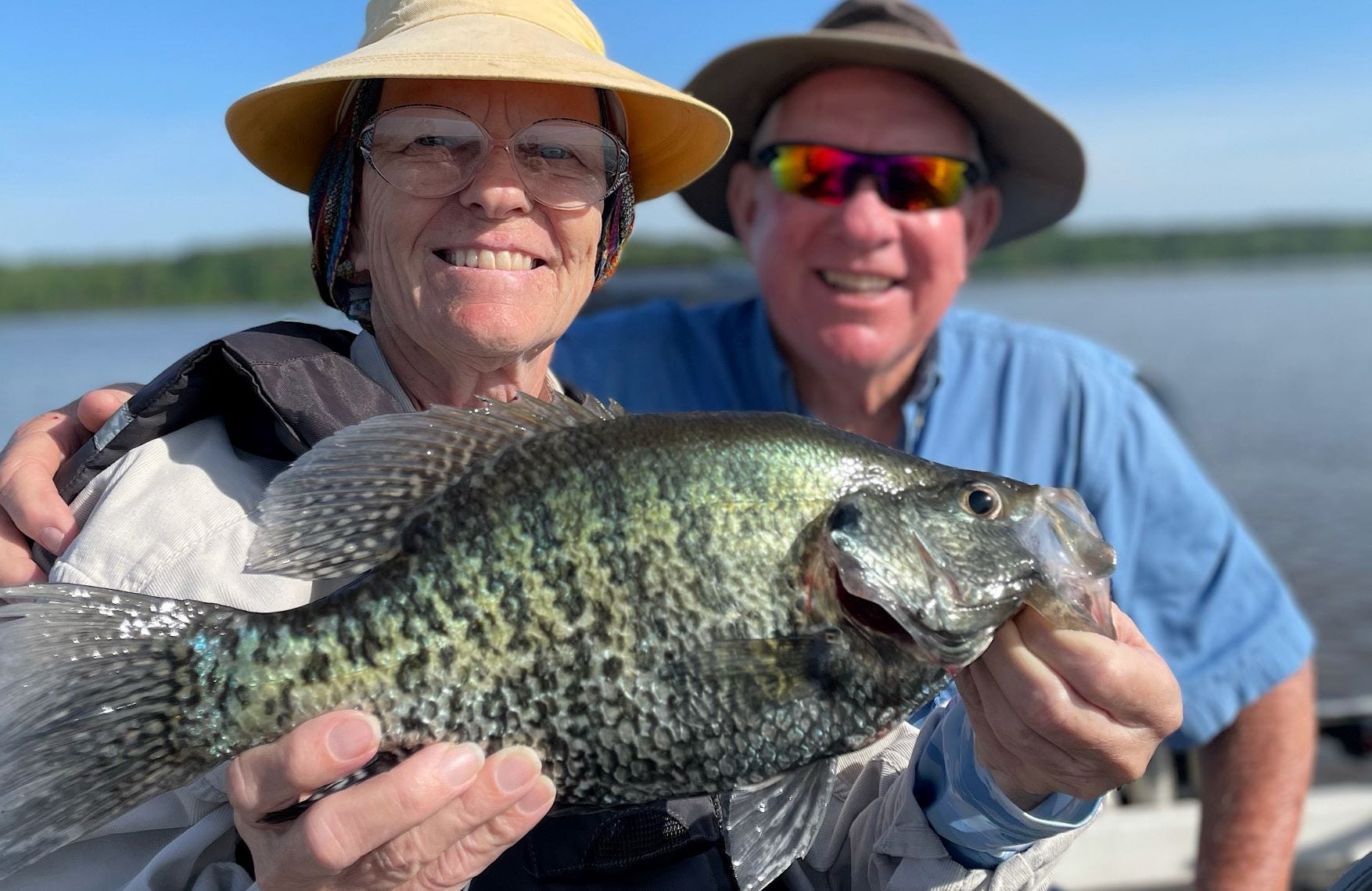 Seasons dictate where Chappell targets crappie for long lining on any body of water.
During the prespawn in the spring Chappell searches for crappie at the mouths of major creeks and river systems of a reservoir where the fish are staging in preparation for the spawn.
The spawn causes Chappell to downsize his jigs and troll the shallows of flats and bays. He scans his electronics to find crappie relating to break lines in the shallows.
After the spawn, Chappell reverts to the mouths of the creeks and follows the crappie as the fish migrate to their summertime haunts on the main lake. His long-lining summertime tactics key on crappie suspended over the old river channel on the main lake.
Chappell follows the shad migration to the shallows of the coves and flats during fall. He sets up his long-lining rigs for trolling in shallow water again to catch crappie feasting on baitfish before winter arrives.
Pinpointing Crappie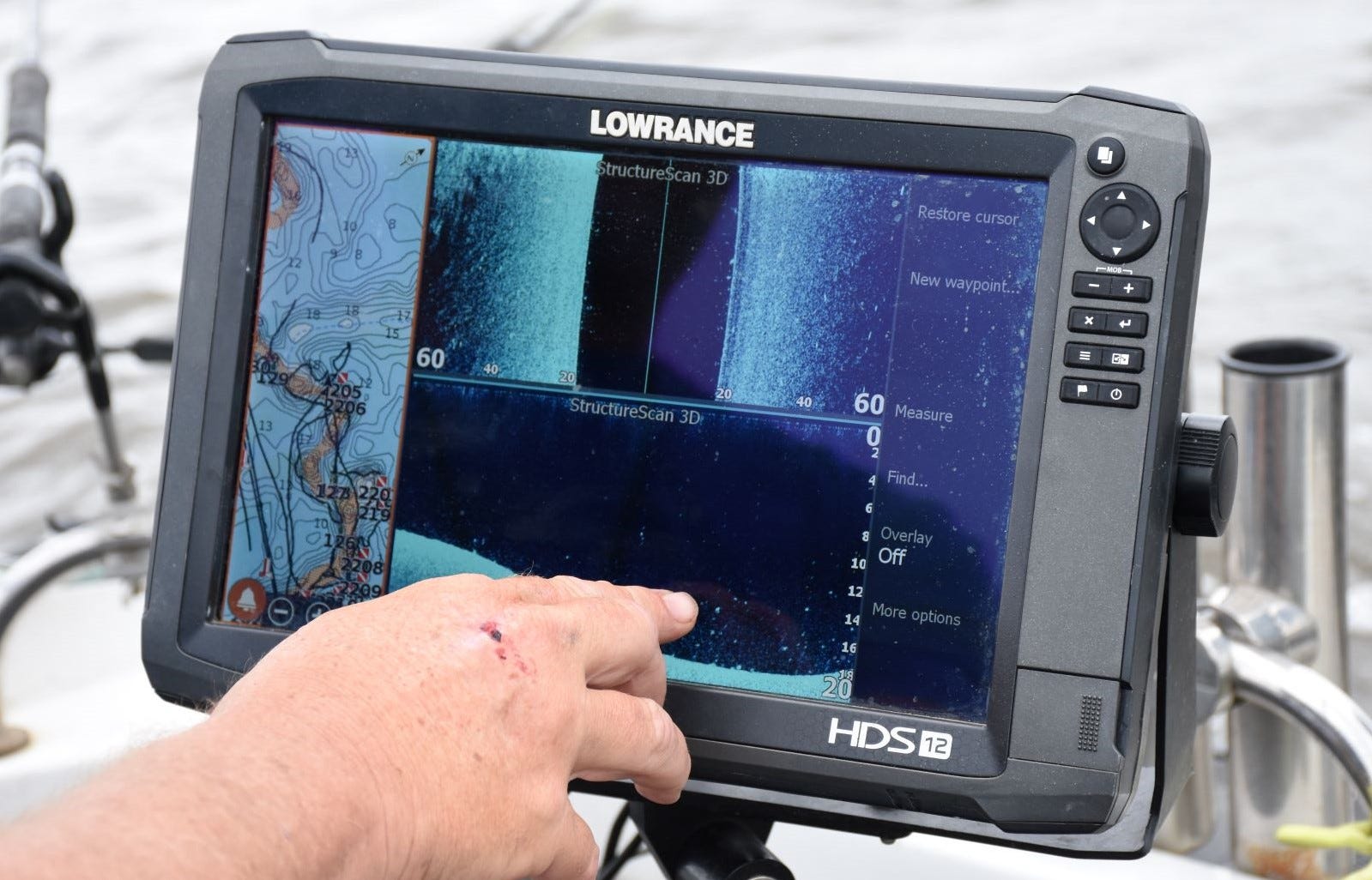 Relying on the side imaging and down imaging features of his Garmin sonar unit helps Chappell pinpoint crappie while long lining vast open water of a lake. Locating baitfish with his electronics also assists Chappell in determining how active the crappie are.
"If I see a lot of baitfish scattered in the water column and not really grouped up tight, that kind of tells me that is not really an active area," Chappell said. "If I see on my unit's side or down imaging, balls of shad that are really tight together most of the time I am going to see crappie underneath them. That also tells me it is an active area. The shad are in fear of their lives so they are getting grouped up tight. I think a lot of fishermen overlook what the shad are doing."
When he sees a tight shad ball on his electronics, Chappell tries to run his baits at a depth right below the baitfish ball.
Lure Selection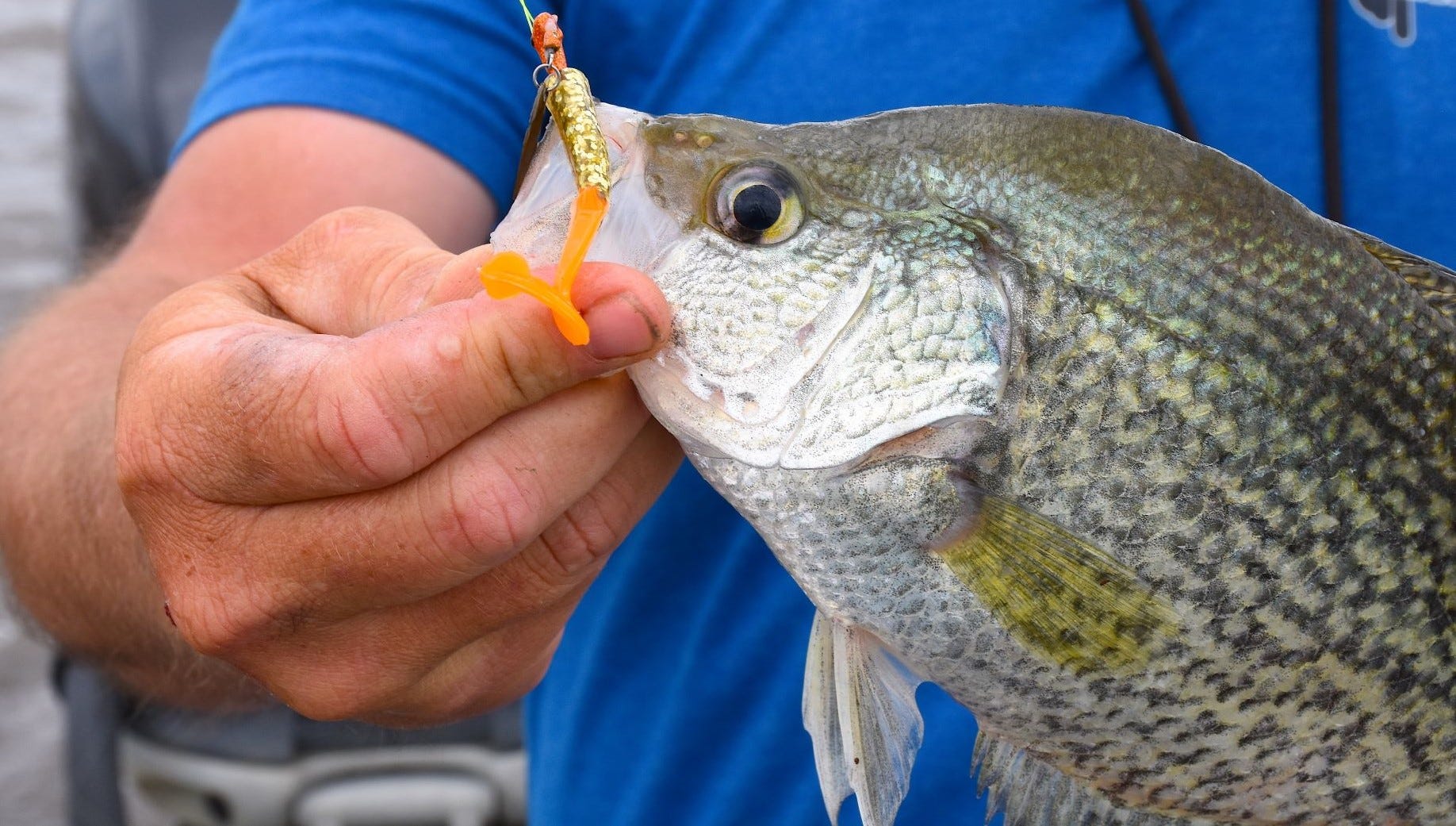 "I use the same bait every day, which is the Bobby Garland Stroll'R," Chappell said. "It comes back to confidence, and I know it works."
Chappell opts for various jighead sizes for his Stroll'Rs depending on the depth he plans on trolling his lures. When long lining in water less than 8 feet deep, Chappell trolls a single Stroll'R attached to a 1/24-ounce jighead. He upgrades to two 1/16-ounce jigs for trolling from 9 to 11 feet deep and sets up his trolling rig with double 1/8 ounce jigs for running from 11 to 18 feet deep. For running his Stroll'Rs deeper than 18 feet, Chappell selects two 1/4-ounce jigs. Chappell ties his jigs on 6-pound monofilament line and spaces his double jigs about 3 to 4 feet apart.
The hottest Stroll'R color for Chappell the last couple of years has been Keystone Candy. His favorite colors for springtime long lining are Purple Passion, Grenada Gold and Blue Chrome.
"How I start out with colors is on bright sunny days I like to use baits that have a lot of glitter in them," Chappell said. "I don't pay as much attention to the color as much as I would to glitter versus non-glitter. If it is cloudy I don't usually use baits with glitter."
Rod Spread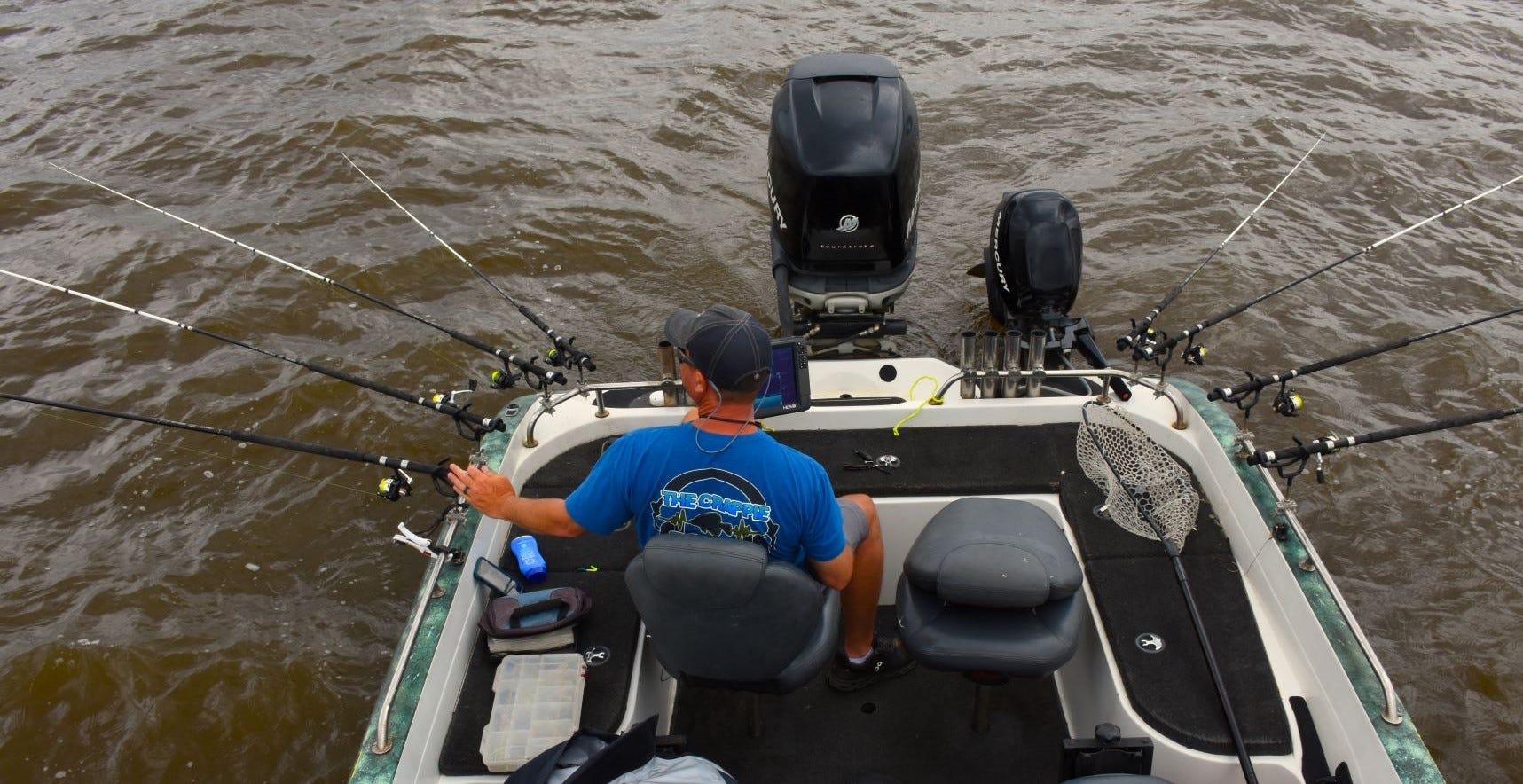 Chappell's long-lining setup consists of eight Denali Brad Chappell Signature Trollers Rods of various lengths. The crappie pro starts with two 9-foot poles positioned in the center of the boat's stern, followed by 12-foot poles placed at an angle on each side of the boat's stern. Then 15-foot poles are angled next along each side of the boat, followed by the 18-foot poles positioned directly out the side of the boat. Chappell estimates the position of each rod on the stern and along the port and starboard gunwales provides 3 1/2 to 4 feet of separation between the tips of each rod.
Determining Trolling Depth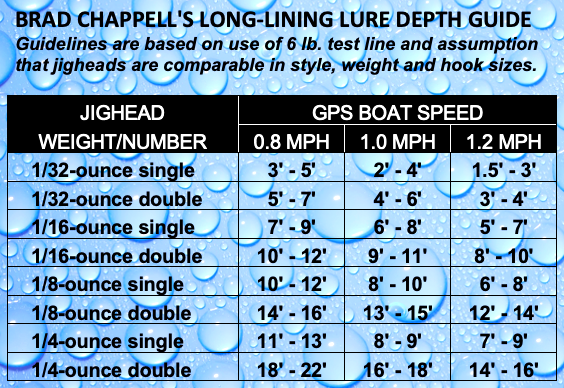 "The three main factors that determine the depths of my baits are the speed of the boat, the size of the line and the size of the jigheads," Chappell said.
The tournament veteran estimates he casts out about 70 to 80 feet of line to begin long lining. "If you take the same size jig and cast it out as hard as you can to reach that 70- to 80-foot mark, you are going to do it time and time again at about the same length," he said.
Chappell trolls most of the time at 1.2 miles per hour but will adjust his speed if he needs to run his lures higher or lower in the water column.
"As I am trolling, if I see I will be coming over a big brush pile or a stump and I know my baits are at about that same height I will speed up my boat to about 1.5 to bring those baits up higher so I won't lose them," Chappell said. "That will avoid losing some baits. If I am trolling and I start seeing crappie lower than what I have been catching them on with that jig combination I will drop down the speed because I know that will make the baits go deeper in the water column."
Figuring a Game Plan
Chappell's success at long lining depends on formulating a good game plan for the day. "The first thing I want to do when I start the day is see the depth that the fish are suspended at so then I can determine the jig combination I want to use," he said. "Then I am going to spread out with different colors. When I get bit I want to see where the bait is in the crappie's mouth."
If Chappell catches a crappie and the whole jighead is down its throat that tells him he is using the perfect combination. Catching a crappie with the hook in the side of its head or on its cheeks indicates to Chappell he is not on the right color and might have to make a change. "It means the fish are hitting the lure, which means I am in the good ballpark but I am still not to where the fish are completely inhaling the bait," he said. "Once I see that bait completely inhaled means I have the perfect color to use."
Selecting the right lure color and jig size and trolling at the right speed ensures Chappell will have a successful day of long lining.
Tangle-Free Long Lining Tips
A massive tangle of lines and lures is always a threat when long lining with eight lines and multiple baits. Brad Chappell offers the following tips for reducing the risk of tangling lines when long lining.
Troll in wide open areas and avoid narrow coves or creeks where you will have to make sharp turns.
Make wide turns to help keep your lines separated while turning.
Alternate line colors on your rods (clear on the 9- and 15-foot rods and high-visibility on the 12- and 18-foot poles) so you can tell by the colors if your lines are getting too close to each other when turning.
When you detect a strike, set the hook and lift up the rod to about the 12 o'clock position. This will allow you to keep the crappie on the surface and prevent the fish from tangling in the other lines. Then you can guide the fish right between your lines.
Watch to learn more about Brad Chappell's long-lining approach.