We've gathered great crappie recipes from friends of Bobby Garland Crappie Baits in anticipation of the excellent crappie catching opportunities that always arrive this time of year.
Don't go too big with that bird! You don't want to be overloaded with turkey leftovers. Thanksgiving unofficially kicks off the winter crappie season in much of the country and always delivers some of the best fishing of the year.
Every angler knows that crappie are delightful on the table and can be prepared many ways. It's easy to just fall on our old faithful ways of cooking fish. To do that is to miss out, though, so we asked some close friends of Bobby Garland Crappie Baits to share some of their favorite ways of cooking crappie.
Mexican Style Crappie
Jeff Schwieterman, Parker, Texas
-Crappie fillets, drained well
-Your favorite salsa
-Shredded cheddar cheese
-Tortilla chips
-Tony Chachere's Creole Seasoning
Season fillets to taste.
Spray heavy skillet with non-stick cooking spray and heat.
Over medium heat, arrange and pan fry Crappie fillets turning once.
Once cooked through, remove any excess water from skillet.
Cover each fillet with salsa, shredded cheddar cheese and crushed tortilla chips.
Cover and heat till cheese is melted and serve.
Baked Crappie
Jeff Lowdermilk, Morganton, North Carolina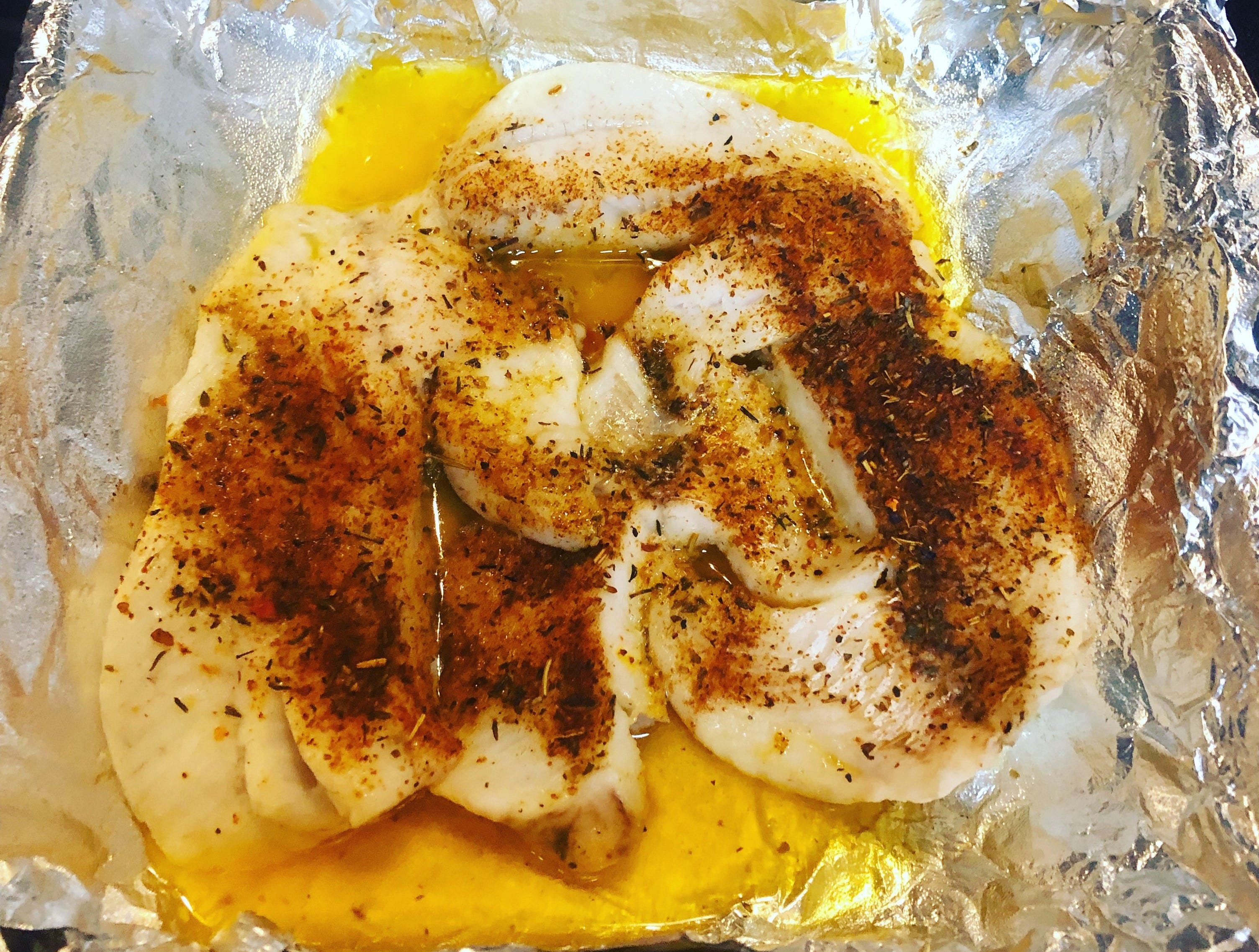 -Crappie fillets
-butter
-Gaspo's Famous Seasoning
Preheat oven to 350 degrees.
Put fillets in pan lined with aluminum foil.
Put butter in all four corners of pan.
Sprinkle fillets with Gaspo's famous seasoning.
Bake 25-30 minutes.
Quick Breakfast Crappie
Barry Morrow, Truman Lake, Missouri
-1 or 2 pieces of crappie fillet
-Butter
-Cajun seasoning
-Salt
-Pepper
-Onion salt

Rinse each piece with water & lightly dry.
Lay each piece on a microwave plate.
Butter top side only.
Season with Cajun Seasoning, salt and pepper, and a little onion salt.
Cover with paper towel.
Cook on full power 1 to 3 minutes, depending on size of fillets and microwave.
Once you smell crappie cooking and/or hear water popping out of the fillets, it's probably ready to consume.


This is especially good for breakfast, with bread or without. I usually fix this prior to heading out for a guide trip. So good!
Fiery Crappie
Greg Robinson, Beaver Lake, Arkansas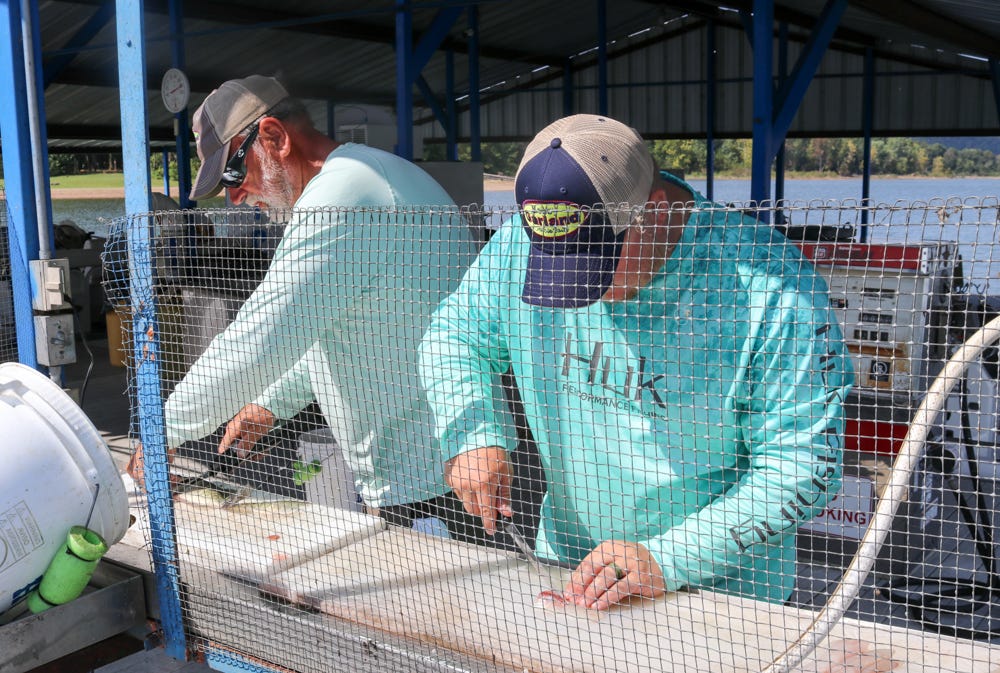 -Crappie fillets
-Yellow Mustard
-Louisiana Hot Sauce
-Cooking oil
Mix yellow mustard and Louisiana Hot Sauce to taste in a small bowl.
Cover fillets with mix.
Crush a bag of flaming hot Cheetos.
Roll filets in crumbs and fry.
Crappie & Vegetable Medley
Dean McCoy, Benton, Kentucky
6-8 crappie fillets
2 small yellow squash
1 bell pepper
1 sweet onion
Salt & pepper
Cajun seasoning
Olive oil

Slice Squash, onions and bell peppers and place.
Sauté in pan with small amount of olive oil salt and pepper to taste, cooking vegetables until fork tender.
Sprinkle Cajun seasoning on crappie fillets and place on top if vegetables.
Cover pan and cook on medium heat for 12 minutes.
Remove lid. Drain liquid if needed and cook an addition 10 minutes until moisture is mostly gone.
Julie's Baked Crappie
Julie Meyer, Lake Eufaula, Oklahoma
-Long grain wild rice
-Olive oil
-Favorite seasonings
-8 to 12 crappie fillets
-1/4 cup white wine
1/4 cup lemon juice
Prepare long grain and wild rice according to package directions. It takes about 45 minutes to cook, so start early.
Preheat oven to 410 degrees. Drizzle olive oil to thinly coat the bottom of a glass baking pan. A 9 x 13 pan will hold 8 to 12 crappie fillets.
Sprinkle your favorite seasoning(s) over the pan: seafood, Cajun, herb and garlic, salt and pepper. Nothing with MSG.
Arrange the fillets in the pan, then drizzle a bit more olive oil over each. Lightly sprinkle seasoning(s) on fillets.
Bake for five minutes. While the fish is cooking, mix at least 1/4 cup white wine with 1/4 cup lemon juice.
After five minutes, pour liquid over the fillets then slide pan back into oven. Cook five more minutes, then remove from heat.
Serve fish over the rice and pour pan juices over both.
Crispy Crappie
Dan & Mary Sue Dannenmueller, Wetumpka, Alabama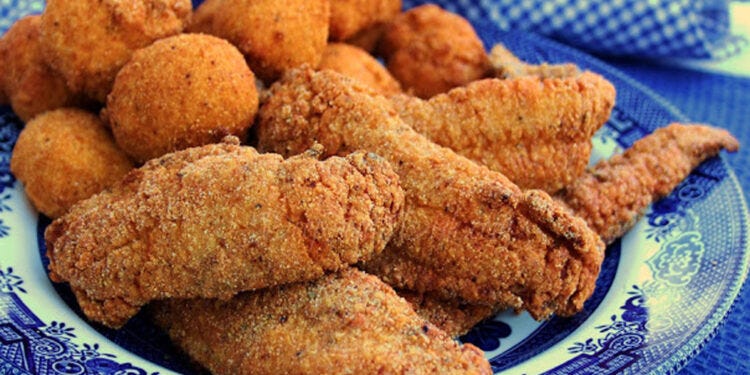 -8 crappie fillets
-1 cup yellow corn meal
-1 tsp salt
-1/2 tsp pepper
-extra virgin olive oil to cover bottom of skillet
Rinse fillets in ice cold water.
Mix cornmeal, salt and pepper on a paper plate.
Roll fillets in cornmeal mixture till coated well.
Heat oil till hot, but not smoking.
Fry fillets until golden brown and crispy. Turn them over and fry
the other side until golden brown.
Remove to paper towels to drain.
Add additional salt and pepper to taste.
Enjoy!
RW Hush Puppies
Ron Wong, Outdoor Writer, Memphis, Tennessee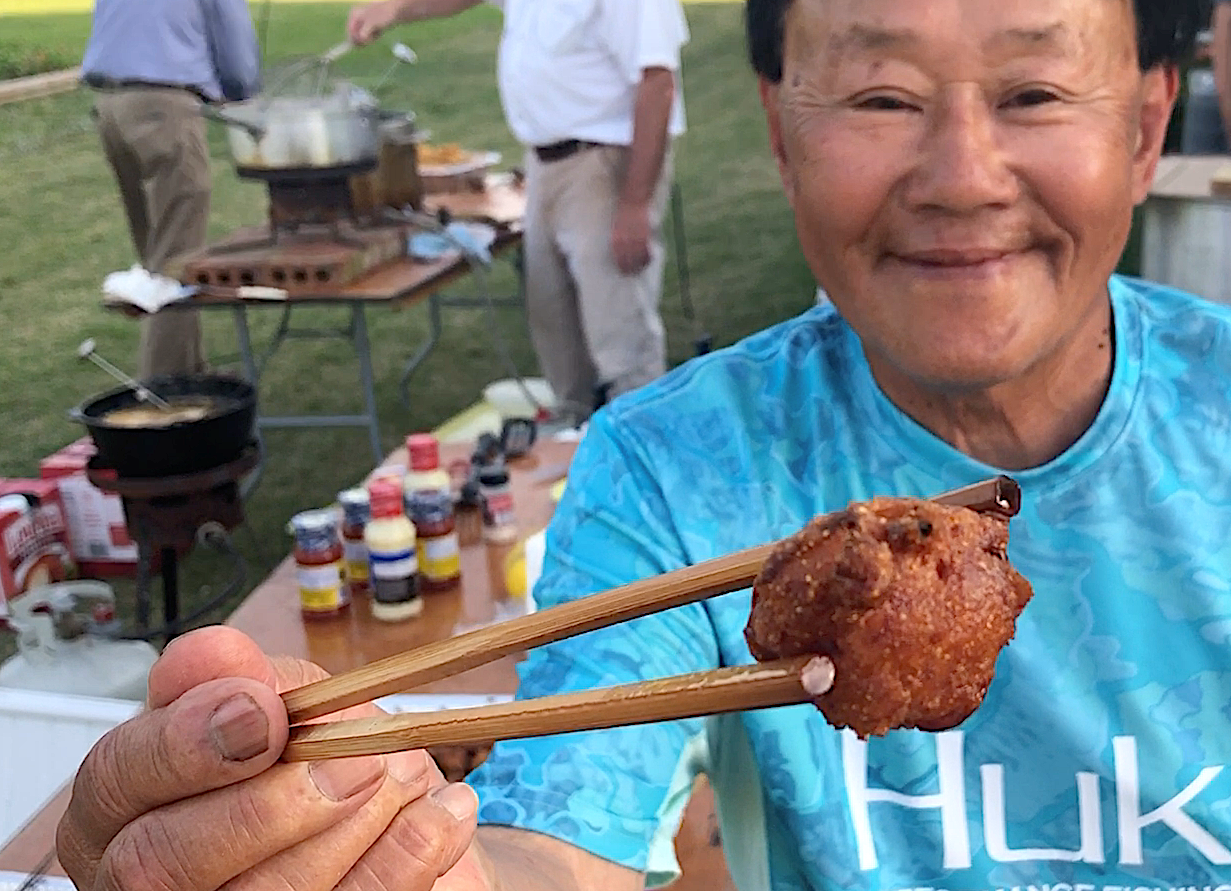 -1 cup plain yellow corn meal
-3/4 cup all-purpose flour
-1 tablespoon baking powder
-3/4 tablespoon salt
-1 can creamed corn
-1 large egg, whipped
-1 large onion, finely diced
-1/2 cup diced jalapeno (optional)
-Oil for frying
Heat oil to 325 degrees.
Mix all items to make dough.
Drop 1 rounded teaspoon dough into oil.
Fry to golden/dark brown on all sides (approximately 8-10 minutes).
Yields approximately 100 pieces.