by Alton Jones

Thanksgiving.

I have so very much to be thankful for that it really is nice to have reason to pause and consider those things more deliberately and to put them into words. I have reason to be thankful for many things, every day, but Thanksgiving provides a perfect opportunity to do a little more assessing and to list some specific things, so I hope you'll join me giving thanks.

What I am most thankful for, without any question, is my Lord and Savior Jesus Christ and the sacrifice he made on the cross by dying for sins, so I could be forgiven, when I was totally undeserving.

He is the sole reason I am who I am, and my relationship with him is the most important thing to me. He is my model, and his example shows how I need to treat other people. Being a pro fisherman is really fun, but my career is merely a platform God has given to me to spread the gospel and to share with others what he is doing in my life.

Next, I'm thankful for my family: my wife, Jimmye Sue, and my children, Alton Jr., Kristin and Jamie. I've found that as I get older I become more reflective, and I increasingly realize the things I value the most have less to do with fish or fishing and more to do with family. Each of my children is unique, and they are all wonderful blessings.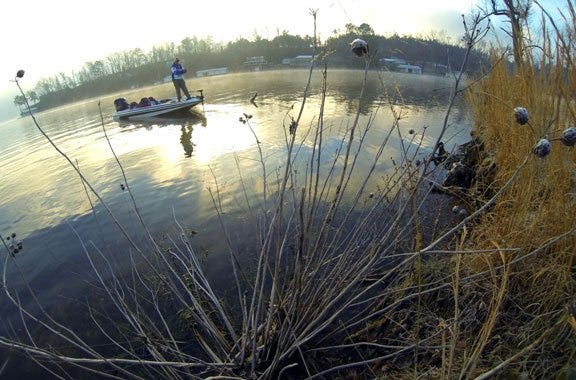 My family has traveled with me full-time for 15 years, homeschooling and sharing all aspects of life, with Jimmye Sue helping me with absolutely everything and making great sacrifices so I can pursue a career of professional bass fishing. This year my youngest daughter is enrolled in public school so that she can play volleyball, so they weren't able to travel with me, and not having them with me on the road has made me appreciate my family all the more and better realize their sacrifice and what a great benefit it has been to me to have traveled together for so many years.

While talking about family, I'm also very thankful for my parents. My parents set a great example for me, and not everyone is fortunate enough to be able to say that. I'm thankful for a solid family history and that my parents passed along their faith through their example by living out those things that were the most important to them.

I'm also very thankful to everyone who serves or has served in any branch of the U.S. Military and for their sacrifices – in some cases, the ultimate sacrifice – that allows me to live not only in America but in a free America.

Growing up, I always had some degree of respect and appreciation for veterans who had served in World War II or Vietnam. It was somewhat distant to me, though. With all that has gone on over the past 15 years, I now know many families who have been directly impacted by war and have met so many soldiers who have been wounded in battle. That definitely gives me a fuller appreciation for those sacrifices and makes each sacrifice much more real to me.

Very closely related, because the opportunity exists only due to freedoms protected by our military and those who serve, I'm very thankful to get to earn my living doing something as fun as fishing for bass. There are many places in the world where you can fish for bass – including places as far away as South Africa and Japan – but I there is nowhere else where you can really earn you living fishing for bass. In America, we enjoy the unique opportunity to pick a passion and find a unique way to earn a living that way.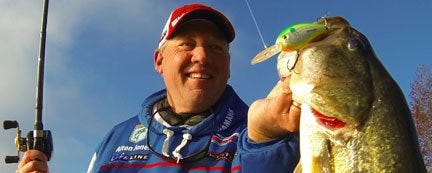 Early in our marriage, Jimmye Sue encouraged me to pursue my dream of professional bass fishing, and God has provided the means for that to a happen. I'm thankful for the fishing, for the people I meet and spend time with as a pro bass fisherman and the places I get to travel.

Finally, I'm thankful for the bass themselves. What a wonderful kind of fish to be able to try to catch. It makes me smile every day to think about bass and bass fishing. I have fun trying to figure out the bass and going out and catching them, whether or not there is any kind of tournament or other fishing event going on. I just like bass, and I am thankful for them.

I say, "finally," but that's not to suggest that this list is complete or even close to complete. I'm truly thankful for so many things, both big and small, that I could go on for a very long time talking about such things. I've shared those are most important to me, though, so I think I'll leave it at that. How about you? What are most thankful for today?

I hope you have a wonderful Thanksgiving and that you can get out and catch some fish this weekend!