Learn how top swim jig anglers select trailers and how to swim a jig for bass and find great success.
Swimming a jig for bass is nothing new. Just ask Chris Jones.
"I started swimming a jig with my dad in the late 1980s and early '90s on Lake Fork," said Jones, a pro angler who has racked up 28 Top 10 finishes in MLF competition. "Back then, the technique wasn't lure specific. We just swam the jigs we had. We flipped to a bush or laydown, reeled it back…A fish would hit! We didn't know we were 'swimming a jig' until later on."
Times have changed, and so has the swim jig, today fashioned to function and epitomized in the BOOYAH Mobster Swim Jig.
Here's how three top pros are matching a Mobster with assorted swim jig trailers to deadly fish-catching effect.
Birth of a Mobster
Chris Jones counts himself a member of a brotherhood of Oklahoma anglers who call themselves the "Muddy Water Mob." These early swim jig practitioners gravitated to some well-conceived garage shop jigs before coming to BOOYAH with creative thoughts on effective swim jig design. The result was the BOOYAH Mobster Swim Jig.
"In my opinion, it's the perfect swim jig," Jones said.
Selecting the best plastic trailer is a puzzle best solved by factoring in season and conditions. "It depends on what I'm trying to do and the water color," Jones said.
Shad Spawn — In mid-May, largemouth bass are largely in post-spawn recovery. That condition coincides with the shad spawn. "My choice during the shad spawn will be some sort of white or shad color jig combined with a matching color trailer," Jones said.
His shad-colored Mobster choices are either The Cleaner, a solid white jig, or The Numbers, a white jig with a blue/gray shaded top head and skirt flecks, along with chartreuse-dipped tail strands.
"The Cleaner is my choice if the water is stained," said Jones, who rode the Mobster to a Top 10 finish at a recent MLF Toyota Series event at Sam Rayburn Lake. "The Numbers, which has more of a translucent shad-colored skirt, is my favorite in clear to slightly stained water conditions."
Protecting Beds — The daytime bite during the post-spawn period often finds largemouth aggressively protecting fry from bed predators.
"There might be bluegill swimming around," Jones said. "I will be swimming a green pumpkin-colored swim jig if the water is clear, or my signature Too Tall, which is a black with chartreuse, purple and blue jig with chartreuse head, if the water is stained or muddy."
Trailer choice depends on where Jones wants his jig combo to ride in the water column.
YUM Pulse: "If I want to swim my jig across an expansive milfoil flat, more than likely I will run it deeper. I go with either the 3.5- or 4.5-inch YUM Pulse paddletail as my trailer," says Jones. "It's hydrodynamics are such that when you make a long cast and reel it fast, it won't rise on you."
YUM Craw Chunk: A trailer with appendages and a broad footprint creates resistance, keeping the jig/trailer combo higher in the water column than, say, a slim profile minnow-style bait. "The YUM Craw Chunk won't sink in the water very fast," says Jones. "It stays up because it creates that 'plane' effect."
YUM Spine Craw: When fish are finicky, winds are light or water is gin clear, his go-to trailer is the YUM Spine Craw. "I used it at Sam Rayburn because the water was very clear," Jones said. "They wanted a small profile and the bait reeled fast."
'Tis the Swim Jig Season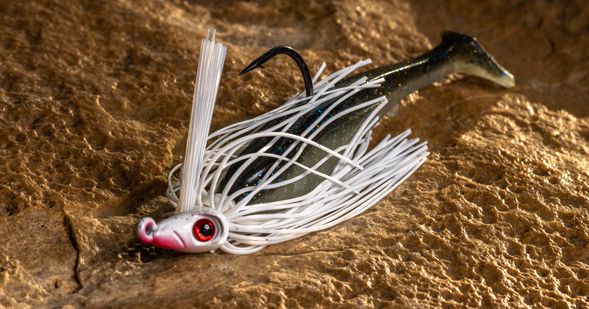 "Swimming a jig is something I do right off the bat in the morning this time of year," said guide and tournament pro Jimmy Mason, fresh off a trip on Pickwick Lake in mid-May. "It's something you can catch a lot of bass on."
The shad spawn is on in much of the South in May, and a Mobster Swim Jig with a well-suited trailer taps into the urgings of opportunistic bass during this period of plenty.
"We're fishing near emergent vegetation like water willow and sometimes pads," Mason said.
Mason matches a 5/16-ounce Mobster in the Tommy Gun color (white with light chartreuse) with a shad-colored trailer. He pointed toward the YUM Spine Craw in Pearl Silver Flake pattern as his personal favorite, but a 3.5-inch YUM Scottsboro Swimbait, Sexy Shad variety, is a close second.
"I fish the Spine Craw with an aggressive action," Mason said. "It is compact. It comes through water willow really well. And that trailer has a fast motion when you pop it…Pump the bait and the claws of the Spine Craw give off a fast beat. It also has great falling action when you kill it."
The Mobster/Scottsboro duo is an ideal tandem when he's skipping the Mobster into dock stalls. The jighead's flat underside facilitates the skip cast.
"The Scottsboro swimbait's bulk allows it to skip better, too," says Mason. "And it's a real good shad imitation!"
When the early morning shad spawn bite tapers off, Mason mimics bluegill with a black/blue Mobster (The Fuzz) or green pumpkin color like Grand.
"Matched with a green pumpkin trailer, it is one of the very best swim jig combinations," said Mason who favors the flapping action of a YUM Craw Chunk trailer when working over deeper grass beds. "When the bass drop deeper, I put on the 1/2-ounce Mobster, make a long cast, let it fall to the top of the grass, and swim it over the top. You catch a ton of big ones in the summer doing that."
The Craw Chunk comes in a wide range of color schemes to match bluegill/sunfish/perch appearance. Blue Fleck, Camo, Crawdad, Green Pumpkin, and Green Pumpkin Purple Flake are a few of those options.
Fish Fast & Cover Water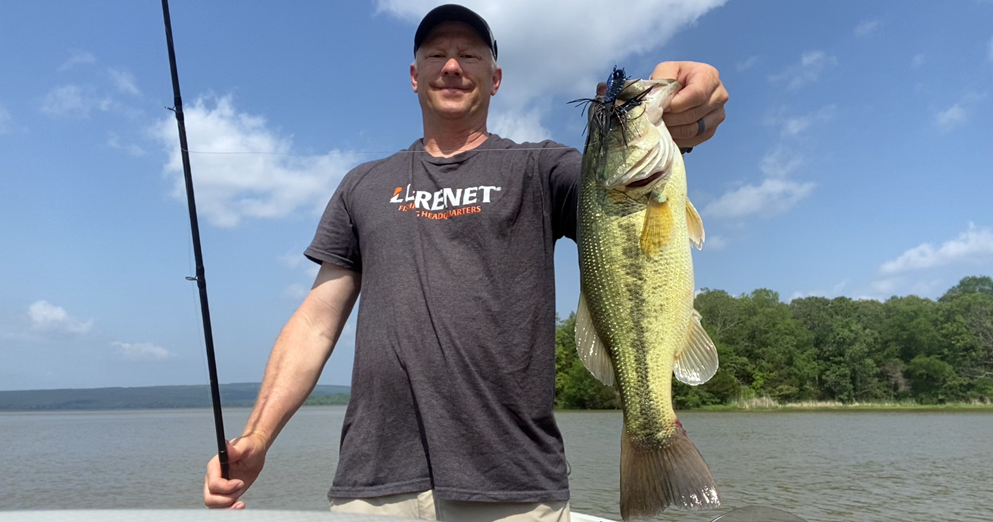 At tournament time, count on Chris Huselton to have two Mobster Swim Jigs ready and waiting on his deck.
"For years, fishing a swim jig has been my favorite technique," Huselton said. "I like to fish fast and cover a lot of water. With a swim jig, I can do that."
He credits the Mobster Swim Jig for easily navigating troubled water, working its way through hazardous cover ranging from grass and brush to laydowns and boat docks. Finding fish quickly is his swim jig's most endearing trait.
"I like the 1/2-ounce model because I can work it fast, almost like a topwater or a spinnerbait retrieve," Huselton said. "I like to wake it, work a straight, fast retrieve around cover and get that reaction bite. It tracks well, too."
Huselton tailors his swim jig to function and need with his trailer selection.
"A lot of guys use a paddletail style trailer," says Huselton. "I use one a little, too, but mostly I use a craw-style trailer."
The YUM Spine Craw and YUM Craw Chunk carry the bulk of the workload. The smaller-bodied Spine Craw tracks deeper and presents a more convincing target in clear water. The Craw Chunk's bigger legs displace more water, making the bait easier for a bass to track in muddy water.
Huselton maintains a high hook-up ratio with his swim jig by presenting a compact bait, shortening his Spine Craw, and trimming his jig skirt close to the bend of the hook.
"I keep the whole package compact," he says. "When they bite, they get the whole bait."
Anatomy of a Mobster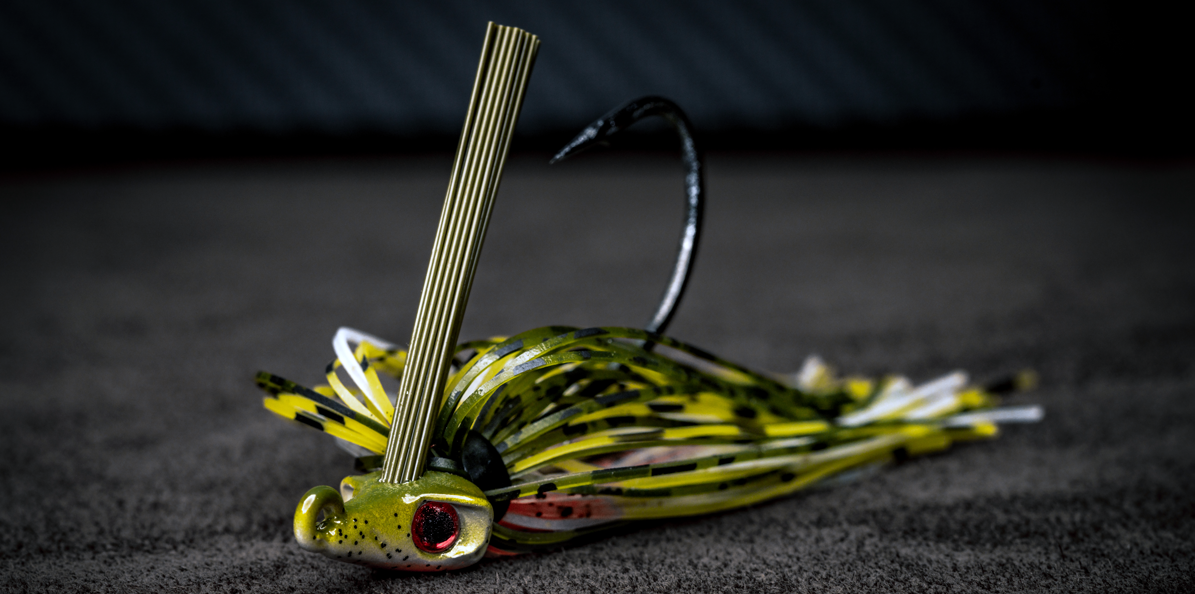 There's more than meets the eye in the BOOYAH Mobster Swim Jig, a jig that Chris Jones dubs "the perfect swim jig!"
Head weight: The Mobster's head is its most distinctive feature. Its pointed shape positions jig weight at the back and bottom of the head, reducing hang-ups and adding a subtle wag to its swimming motion.
Eyes and head shape — The pointed head flares back. The Mobster's large eyes are cupped in the flare pockets. "It displaces more water and creates more disturbance than a lot of swim jigs," says Chris Huselton.
Hook - On the Mobster's business end is a stout and sturdy 5/0 black nickel hook. Exceptionally sharp, it pins fish solidly and holds its shape under heavy strain.
Weedguard — Not too stiff. Not too soft. The medium strength weed guard strands are just right!
Trailer keeper — The dual-wire keeper helps keep soft plastic trailers firmly in place.
Skirt — High quality silicon skirts flash rich colors and pulse with life.