Here's what you need to know about an easy and dependable way to catch fish during spring from ponds, lakes and streams throughout the country.
Whether you are beginning to learn how to fish with a float for bluegills and other panfish or a seasoned angler who has the technique dialed to a science, you simply cannot beat the feelings of anticipation and relaxation of fishing with a Thill float and live bait.
Float fishing with live bait has been a choice of anglers dating back to the 1800s. It is one of the earliest direct line-to-pole techniques thought of, and has withstood the test of time while remaining a popular choice among many anglers of various skill levels around the world.
Thill Floats rigged with live bait beneath are about as straight forward of a tactic as it gets. No need to overthink, overspend, or essentially overkill your rigging. Everything you need to get started catching bluegill is included in the Thill Panfishing Float Kit, which includes two Thill Pencil Spring Floats, six split shot sinkers, and two hooks.
With this kit or a similar set-up, you will have the anticipation of waiting for that float to disappear and the thrill and rush of not knowing what is on the other end of the line when you feel that initial thump, followed by a tug. A most likely suspect for what is tugging at the end of your line is a panfish species known as bluegill. Bluegill are notoriously common catches with live bait float fishing. They are very aggressive during the spring, which makes them an exciting species to target and a fun fight when you have one hooked. As a bonus, they taste delicious!
So, before heading to the lake, pond or creek, let's go over how to get started float fishing with live bait and how you can have success catching bluegill right away.
Rigging Up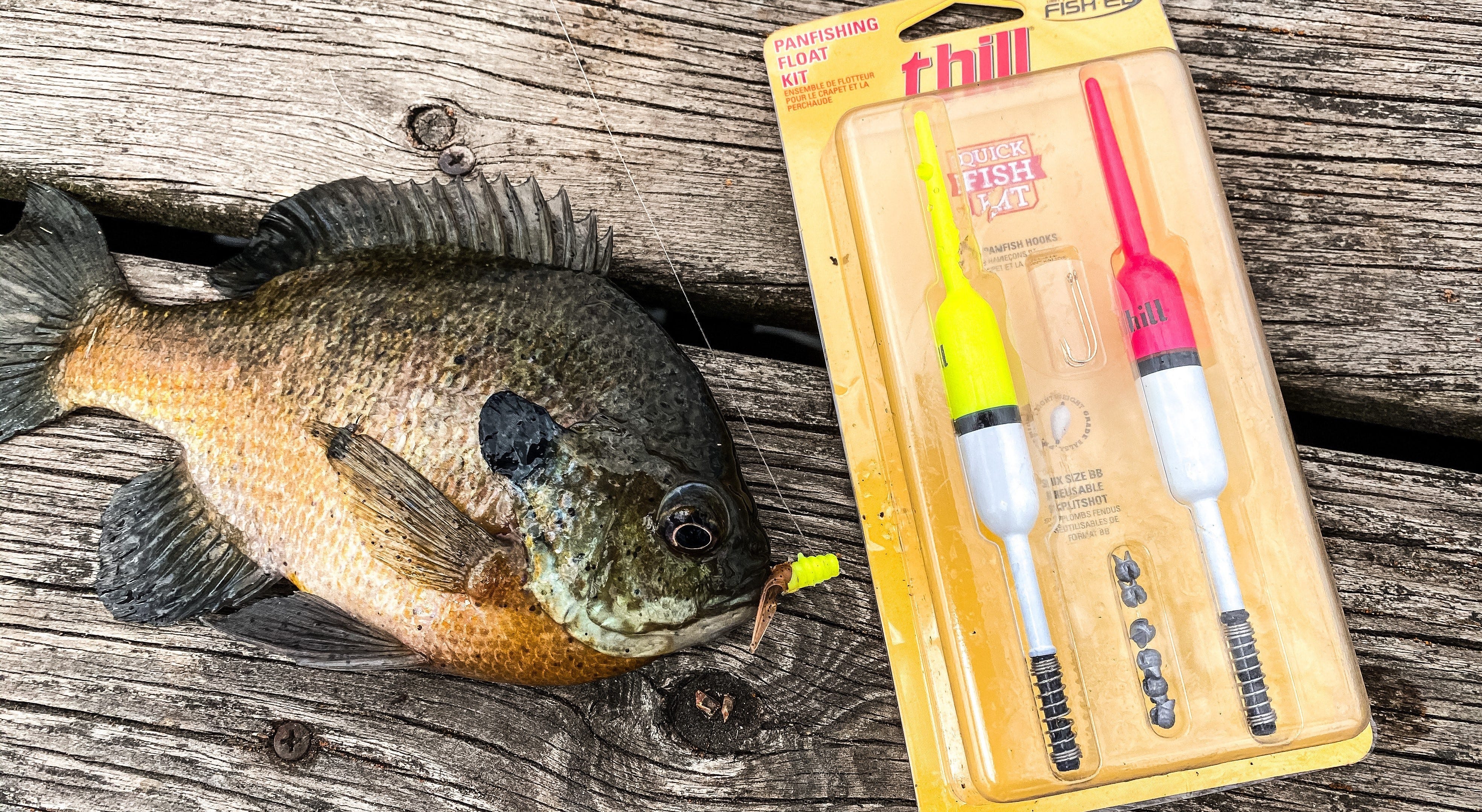 As mentioned above, the Thill Panfishing Float Kit has everything you need to get started catching bluegill. Regarding your rod and reel setup, these floats and split shot sinkers will perform best on a lighter setup. Six-pound Monofilament line works as an excellent and cost-efficient choice. Anything in the 4- to 10-pound-test range works fine if that's what you have spooled already.
Step 1: Tie your hook to the end of your line using your favorite fishing knot. If you are unsure how to tie a fishing knot, two of the most common and easiest knots to learn are the Palomar knot and clinch knot.
Step 2: Add two split shot sinkers 4-8 inches above your hook. Split shot sinkers are designed to clamp onto the line. For the sake of your dental health, refrain from clamping these split shot sinkers to the line by biting down on them with your teeth. Instead, use a pair of pliers.
Step 3: Set your Thill Pencil Float above your split shot, to your desired depth. To do this, slide the spring at the bottom of the float up as high as you can until the line hooking area is exposed, and slide your line into the open crease. Keep the float spring up high and slide the float up or down your line to whichever depth you would like to target. With spring floats, a common depth setting is around 2 feet above the hook. When you have the float set to your desired depth, slide the spring back down to the bottom of the float to lock it in place. You can always change the float placement later by simply pressing the float spring to the top again.
Types of Live Bait
Some of the best live bait choices for targeting bluegill fishing during the spring are worms, crickets and grasshoppers. These are great choices throughout all seasons, but especially during the spring, when they are naturally active around water.
Worms are a common choice due to their great availability. They can be purchased in nearly every tackle store in America, and there's a good chance you can dig some up from your backyard or some nearby woodlot.
Crickets or grasshoppers work well late into spring and throughout the summer when insect activity begins to increase as the weather warms. These are very versatile options as they can be targeted for surface feeding bluegill, while also presented beneath the surface by using split shot sinkers. If you are targeting very early spring bluegill directly after ice out, wax worms may work as well.
Rigging Live Bait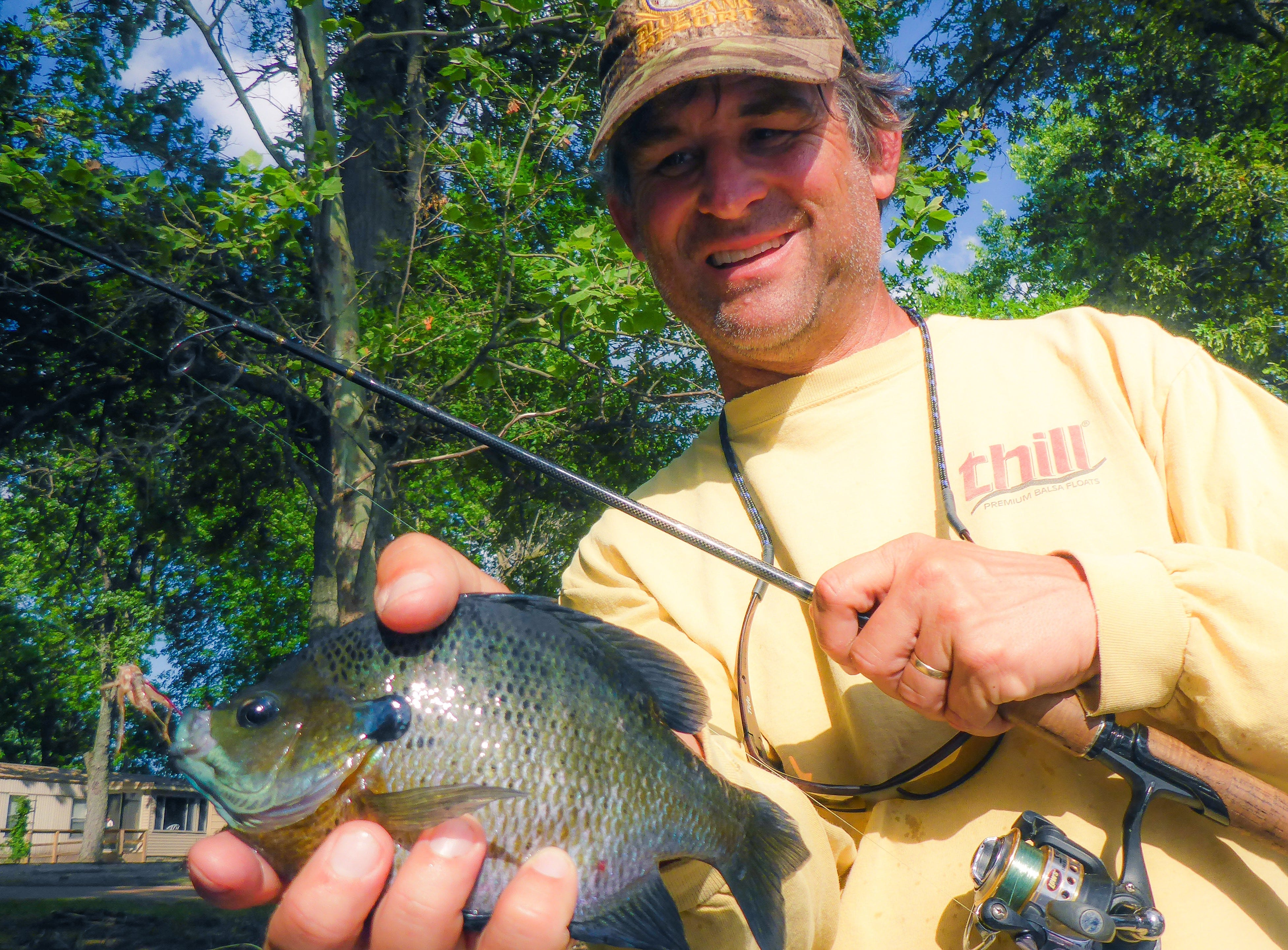 When rigging your live bait, it is important to keep the bait ALIVE! A common mistake from anglers is impairing live bait with too much hook shank and not allowing it to wiggle freely.
For rigging worms, start by inserting the hook just past the base of the head, and thread the worm through the rest of the hook until you have reached the barb. This will secure the body of the worm to the main part of the hook, while still allowing the head and tail sections to wiggle and have action. If you're using wigglers or redworms, one worm is probably about right. For night crawlers, break them into sections.
When rigging crickets or grasshoppers, it can be tricky to keep them from wanting to jump away. Squeeze both sides of the insect with your thumb and index fingers to get a firm grip (but not too tight). Then, insert the hook in the upper part of the insect and pull it through the body. Try and keep the hook shallow without running too deeply into the body, otherwise this will kill the cricket or grasshopper. By doing this, you have hooked your insect and are still allowing it to live with full range of motion, increasing your chances of attracting a curious bluegill.
Alternatives to Live Bait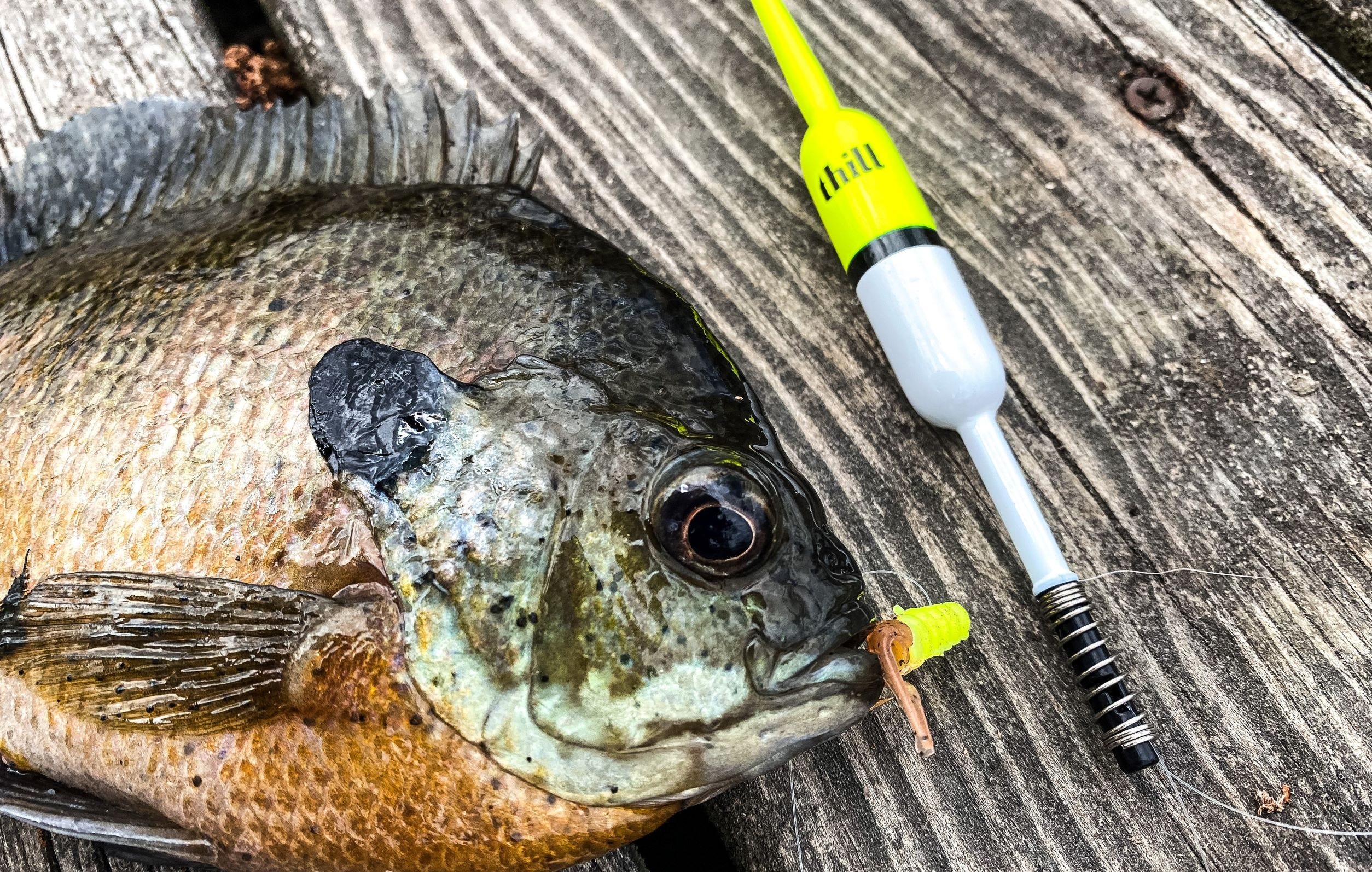 If no live bait options are available to you, if you don't want to have to keep changing bait, or you are simply not a live bait angler, look towards using tiny soft plastic baits under your float. Rigging tiny soft plastics under floats can be overlooked simply due to the popularity of live bait choices, but these can be just as effective due to their small non-threatening size, which will trigger some aggressive strikes from spring bluegill looking for an easy meal.
Best Alternatives To Live Bait
Where to Target Bluegill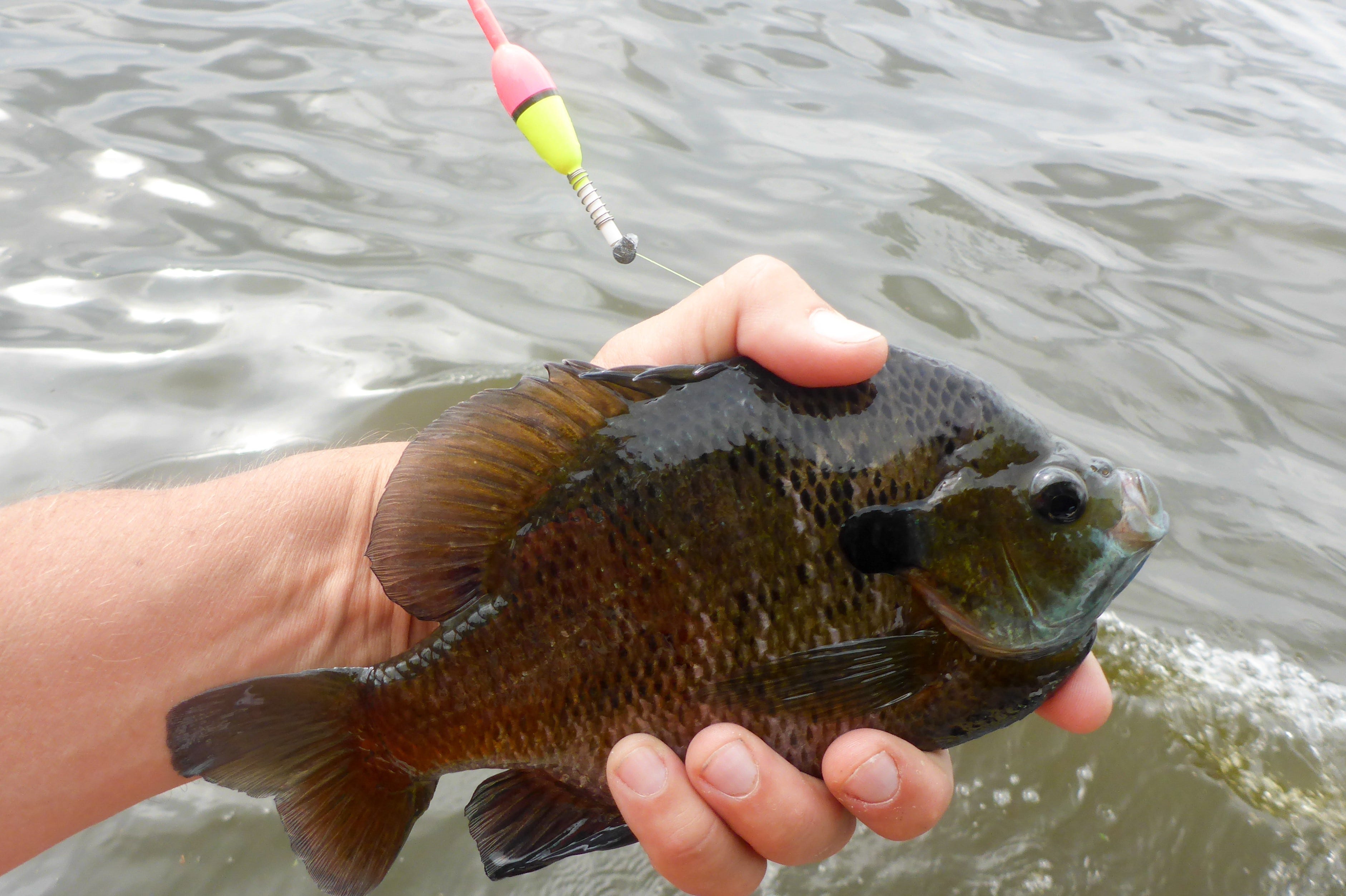 A good rule of thumb is that bluegill will often be found in areas with access to shallow cover during the spring. This allows bluegill to confidently search for food and bugs on the surface and gives them the opportunity to hide from predators if needed.
About mid-spring, when water temperatures begin to trend upward to 60 degrees, much of the bluegill population in a body of water will flood the shallows and aggressively fend for territory and food as they begin their spawning process. This is an excellent time to target bluegill when they are vulnerable.
Spots to Target Bluegill
Tree laydowns & brush piles
Shade spots
The backs of pockets & coves
Rock piles
Boat docks
Now, you are ready and armed with knowledge for a successful spring day of bluegill fishing! It's time to head out to your favorite fishing spot. Grab a Thill Panfishing Float Kit with some live bait, rig up, and wait for that float to disappear! If you already have suitable hooks and split shot or ultralight jigs, Thill America's Favorite Series Floats are great for the job.
Use the code BUTLER15 to save 15% OFF your order.