Kevin Brown's BFL Regional Championship win on one of his home lakes qualified him to fish the BFL All-American on waters that are even closer to home.
"Winning this one and going back to the All-American is such an unreal feeling," said Kevin Brown of Hot Springs, Ark. about his victory in the Phoenix Bass Fishing League Championship on Lake Ouachita. Brown noted that he's extra excited for his second opportunity to compete in the BFL All-American because it is being held on one of his home lakes.
The All-American, which is one of the longest running championship events in professional bass fishing, will be held June 2-4 on Lake Hamilton in Hot Springs.
"All I wanted was the opportunity to qualify for the event on my home lake," Brown said. He did that easily, as the top six finishers from each regional championship make the All-American. However, he also earned his fourth BFL win and prizes and cash valued at $68,200.
Being from Arkansas, Brown typically fishes only the Arkie Division of the BFLs. However, this year he also competed in the Okie Division and finished 19th in the points, earning his spot in the Lake Ouachita regional, which was the championship for the Cowboy, Great Lakes, Mississippi and Okie divisions.
Brown has fished Lake Ouachita for more than two decades, fishing its deep, clear waters with his dad since he was 10 years old. He and his dad begin fishing BFL tournaments more than 15 years ago.
Winning Pattern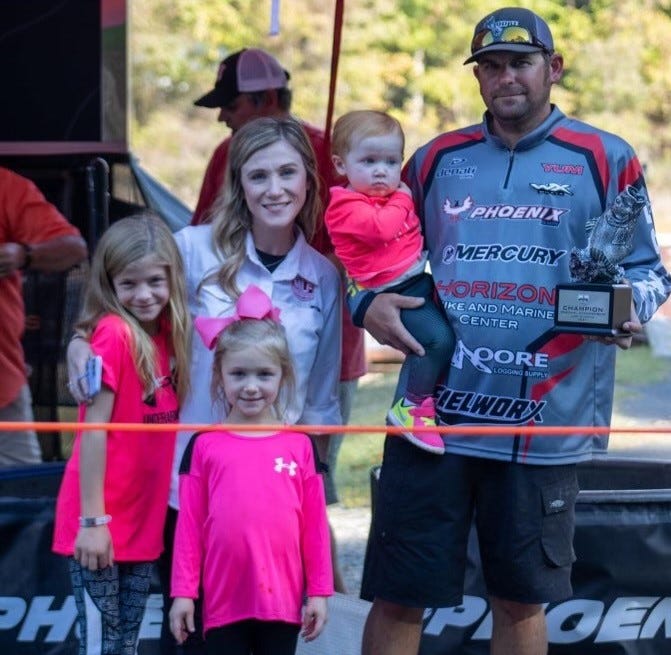 Despite competing on waters he is extremely familiar with, Brown did not win with a secret sweet spot or even a few hot spots. It was a pure pattern event that found him rotating through more than 30 spots, all offshore and similar in character.
The bass were holding on channel swings in 23 to 28 feet of water, usually relating to specific cover, such as brush or rocks. Some fish were right in the cover or tight to the bottom. Others were positioned a bit higher in the water column.
Brown caught all his fish one of two ways. Most came on a YUM Flash Mob Jr. rigged with 1/4-ounce jig heads and 3.5-inch YUM Pulse swimbaits in Phantom Pearl and Pearl Blue. He caught a few key fish on a War Eagle 1/2-ounce Heavy Finesse Jig in Green Pumpkin Orange.
Brown used 1/4-ounce heads on his Flash Mob Jr. to get his baits down to the fish's deep holding areas. Also because of the depth, he mostly relied on slow and steady presentations. He would pick up the jig after fishing a spot with the Flash Mob Jr. The jig presentation was slow and methodical, repeatedly lifting the jig just a foot or so off the bottom and letting it drop.
Day by Day
Days 1 and 2 were consistent for Brown, in terms of how the fish were positioned, and both produced plenty of action. One important difference was that while Day 1 didn't produce any real quality bites, Day 2 included a couple of larger fish, which helped put Brown in front.
Day 3 started slow, with the fish not showing up in the same types of places where they had been. He had to make slight adjustments, choosing spots on the structure that were a little flatter, to find the fish.
"They'd move a little bit, and they were all right on the bottom," he said.
Brown's best action all three days occurred through mid-morning, allowing him to secure solid limits. However, scattered bites later in the day provided important upgrades.
All-American
"When I got to 10 pounds, I knew I had clinched the berth into the All-American, but I wasn't sure that I had enough to win," Brown said about his final day. "Then I got to 12 pounds and was feeling a little better, but I still wasn't comfortable because of the guys behind me. Mike (Brueggen) is an unbelievable angler, and Brian (Bean) is one of the best guys on this lake. I hustled until the very end, because the two guys behind me were very dangerous."
Brown was excited to qualify with Bean, who finished third in the regional. Bean is also from Hot Springs and the two of them traveled together to fish this year. Brown's only other time fishing the All-American, more than 10 years ago, was also significant in terms of who else qualified.
"2010 was a special year because my dad and I both qualified to compete on the boater side," Brown said