By Mike Pehannich

If you haven't checked a 5-, 6- or even a 7-pound smallmouth bass off your bucket list, head to the world's largest smallmouth factories this fall and follow this guide to putting your personal best smallie in the boat.

Since the emergence of the Great Lakes as some of the premier smallmouth bass fisheries on the continent, dreams are becoming reality for more and more anglers every year. As the adage goes, "If you want to catch big fish, fish big-fish waters."

Autumn is prime time to target a true toad of a bronzeback out of any one of a multitude of harbor towns from Duluth to Toronto. For bass fishermen, the waters of Superior's Duluth area and Chequamegon Bay, east and west shores of Lake Michigan, southern Lake Huron, Lake St. Clair and its connecting river systems, and both ends of lakes Erie and Ontario have all become synonymous with giant smallmouth.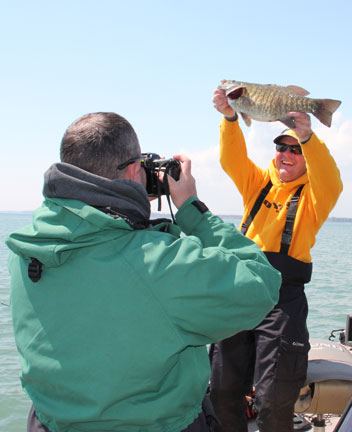 What is a "monster" smallmouth? For most bass anglers in the country, a bronzeback above the 5-pound mark is a true trophy. But those ever-growing football-shaped brown bass of the Great Lakes have pushed the bar ever higher to the point where many who have had even a modicum of success on the big waters have elevated their ambitions to 6- and 7-pound heights.

Most of fall's monster smallmouth are creatures of deep underwater points and humps. But veteran Lake Erie guides Frank Campbell and Terry Jones add an asterisk to that dictum.

"An important factor in fall – especially early fall – is current," says Campbell. "In their late summer patterns, fish get into that current because it tends to offer water that's a little cooler and carries a little more oxygen. Baitfish like it, too, and that's the key. Current seems to draw the bait, and bait draws the bass."

In the Buffalo, N.Y., region of Lake Erie, smallmouth amass on the east end at the mouth of the Upper Niagara River.

"You find a lot of shoals that come up to 8 or 10 feet deep on both the Canadian and New York side," says Terry Jones, tenured guide on the Erie bass factory. "And with the current, these are productive areas from late summer deep into the fall."

River areas can remain hot spots, too, throughout the fall.

"River smallies gather on weedbeds once temperatures start dropping," says Jones. "As fall progresses, it only gets better for smallmouth – and largemouth, too. Fishing the weedbeds near Beaver Island and the Strawberry area, for example, can be fantastic working Booyah spinnerbaits – that chartreuse/chartreuse Booyah (Glow Blade) is a great bait -- or throwing a Yum Tube along the edges of the weedline. We also catch a lot on Smithwick Rogues over the tops of the weeds. And, you always have a shot at a fish of a lifetime, a big musky!"

Jones makes milk-run stops at several shallow haunts with a history of producing 5-pound-plus smallmouth even late into the season. Still, he acknowledges that the majority of the late-season monsters come from deep water.

"Every really big smallmouth I catch in fall is coming from 35 feet and deeper," echoes Frank Campbell. "A lot of times big smallmouth are at 35- to 45-foot depths along points that may come up to 25 or 30 feet. For humps, look at depths in the mid-40 range. Sometimes we will go down to 50-plus or even 60 feet."

Campbell underscores the importance of identifying baitfish as well as bottom structure on his electronics to find key areas.

"If you are marking deeper baitfish near the bottom, you are in the right area," says Campbell. "The fish will find them."

Staples in the Great Lakes smallmouth's diet for most of the season, gobies become just one of several key entrees on their menu as bass fatten up for winter on emerald shiners, crayfish, sculpin and other baitfish.

Tubes remain key tools in the autumn arsenal. Dropshot rigs also bring baits to the lairs of autumn's bottom dwellers. Yum Dingers and minnow-style soft baits appeal to autumn appetites.

"One thing you can do to catch the attention of giant smallmouth in fall is to use bigger baits," adds Campbell. "Instead of dropshotting little Yum Dingers, you might step up to the larger 6-inch size. With live bait, you might run bigger golden shiners or big sucker chubs in the 6- to 7-inch range on a Lindy Rig."


The Lindy Rig allows him to use a heavy weight – up to 1-3/4 ounce – without loss of feel. A fluorocarbon leader adds to the Lindy Rig's effectiveness. It not only makes line less visible but has better abrasion-resistance than monofilament.

Campbell warns anglers to take their time setting the hook when they upsize with live bait. "The bass need more time to chew on a big minnow," he explains.

Both anglers keep a close eye on their electronics in late season. Bass are apt to move less, and pinpointing their location on deep structure can be critical.

"Usually, the big ones sit right at the drop-off on the deep-water humps and deep points," Campbell explains. "Big fish key on bait in fall along with preferred depth (35- to 45- or even 50-plus feet) and structure – all three! If you are in an area that looks good but you don't see baitfish on your graph, you probably aren't in the right area. Same goes if you find baitfish signs but not structure or depth."

Smallmouth metallurgy
Spoons and blade baits come out of the storage lockers when water temperatures hit the low 60s, and they get a serious workout when temps fall below 55.

Bass will hop on a Cotton Cordell C.C. Spoon in early fall when the fish are active. As activity levels and metabolisms slow, blade baits take over.

The Heddon Sonar pioneered the blade bait category, and it still performs cold-water magic as well today as it did a half century ago. Try baitfish colors, but always have a chrome (silver) and a gold blade on hand, too.

The Heddon Sonar Flash and Rattling Sonar Flash draw fish from longer distance with glimmer and added sound vibration.

"You can always work a dropshot through an area, but it is easier to cover water with a spoon or blade," says Campbell. "You can zoom through their zone on the upswing and drop back through it for a reaction bite. Or you can pull it slowly when they are tight to bottom."

Guide Contact:
Frank Campbell -- Niagara Region Charter Service, www.niagaracharter.com; 716-523-0013.

Terry Jones -- First Class Bass Charters, 716-875-4946.