The May/June Lurenet Bank & Creek Kit comes just in time for some of the most fun fishing of the year. Learn what's inside and how to use these great baits to tap into outstanding action.
If you missed out on the March/April Bank & Creek Kit, we have good news. A new Bank & Creek Kit was released May 1, and like its predecessors, this kit is loaded with lures hand-picked for bank & creek fishing success this time of year.
May and June are about as good as it gets for walking banks of ponds and lakes and wading creeks and small rivers. Fish of many kinds are cruising close to the bank and feeding frequently. They watch for food the surface, which allows for enhanced bank access to fish in many spots and equates with exciting fishing action. Creeks are comfortable to wet wade and the high, stained water that commonly occurs early in the spring typically has settled.
Among the best things about May and June is that fishing tends to heat up for a host of species. Whether you prefer targeting lake largemouths or crappie, creek smallmouth bass or trout or pond bluegills – or if you like fishing for everything that bites and catching variety – plentiful opportunities exist.
The new Bank & Creek Kit includes a mix of topwater and subsurface lures and a range of sizes and styles, allowing you to effectively target a broad range of fish species in many different settings during late spring and continuing into summer. Let's take a closer look!
3 Exclusive Custom Color Lures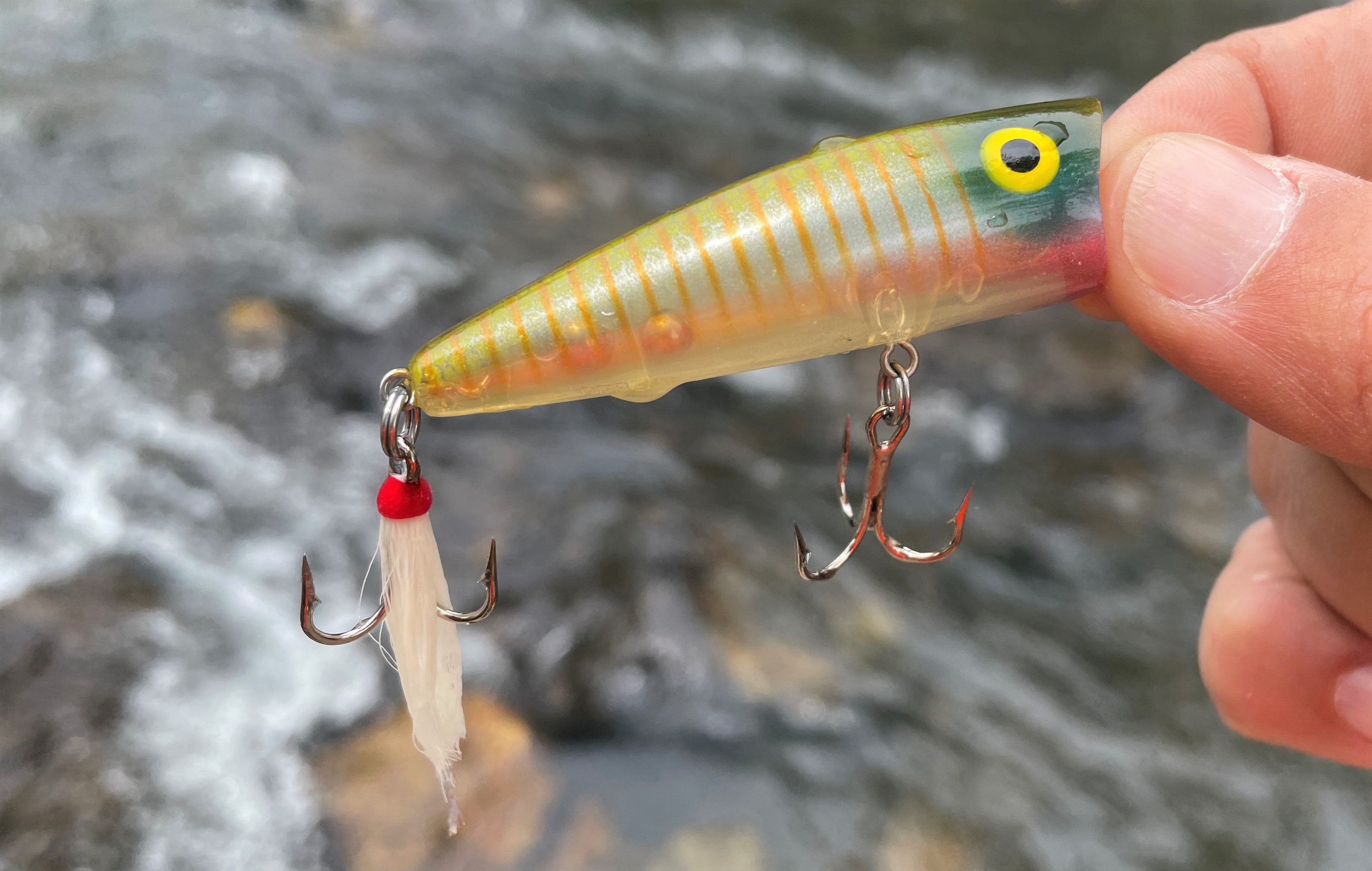 One of the coolest things about Lurenet Bank & Creek Kits is that every kit includes custom color lures that are not available any other way. Because May and June are so good for topwater fishing in creeks and ponds, the new kit includes THREE custom color topwater lures – all extremely popular and effective in small water – in colors created specifically for this kit!
The Heddon Super Spook Boyo, which is the newest member of the iconic Heddon Spook family, is only 3 inches long, making it look like an easy meal and matching much forage in small waters. It's stouter and heavier than a Zara Puppy and has bigger hooks and stronger hardware. It casts astoundingly well for its small size, allowing you to reach far more fish-holding cover from the bank, and the heavier hooks and hardware allow it to handle the big bass that ponds are famous for producing! The Bleeding Pearl custom color is a translucent pearl, with pearly olive and pink tones, and red specs in the gill area.
The Cotton Cordell Crazy Shad, also 3 inches long, is a proven prop bait with blades on the front and back. The Crazy Shad excels for prompting attacks from bass that are ambushing spawning sunfish of various sorts and May/June is prime time for that bite, which is why the Pumpkinseed color was created. Pumpkinseed is green on the back and yellow on the belly, suggesting several sunfish species, but with speckles all over to match the pumpkinseed species. Cast the Crazy Shad close to weed edges, stumps, deadfalls and other cover and work it slowly with short snaps of the rod tip, which engage the blades to make a subtle splash without moving the lure far from the cover. The Crazy Shad also works wonderfully in creeks and small rivers for smallmouths, spotted bass and more.
The third custom color bait, a Rebel Pop-R P60 in Shimmer Brim, again capitalizes on high the number of bluegills, shellcrackers and other sunfish species in shallow water this time of year and the propensity of predator species like bass and pike to feed on these species. The P60 is the original Pop-R and the forerunner to most popular bass poppers. It is 2 1/2 inches long and weighs 1/4-ounce and can be fished easily on baitcasting or spinning tackle. It's exceptionally diverse in the sounds and splashes it can make and can be fished slowly near cover or quickly to cover water and suggest a fleeing baitfish. It excels for bank & creek applications. Shimmer Brim is translucent and natural, making it subtle and irresistible.
Top & Bottom Bass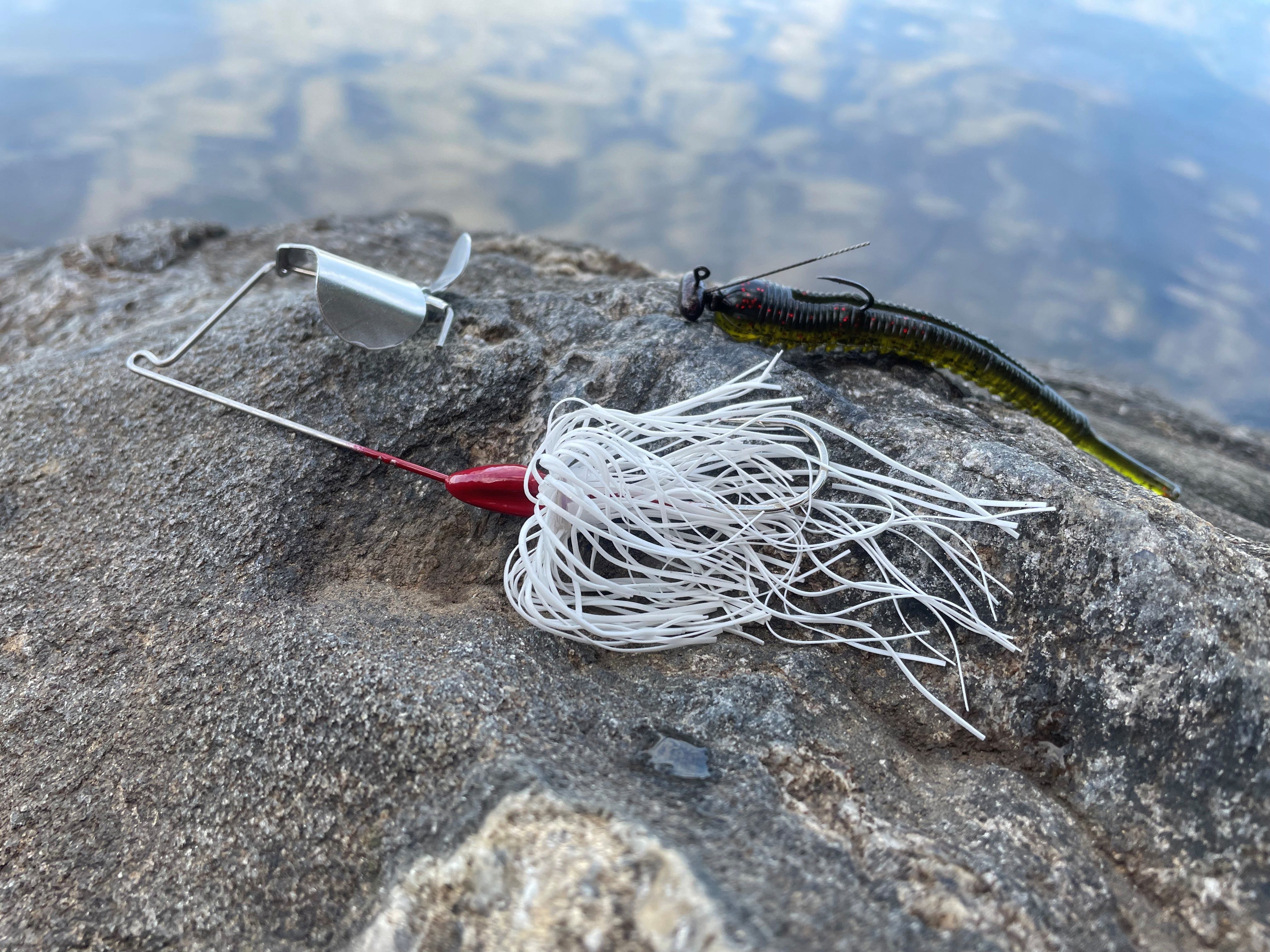 Complementing the three custom color topwater plugs and providing a fabulous option for covering the surface and working the top in and around grabbier cover, the kit includes War Eagle 1/4-ounce Buzzbait in the color White, which features a silver blade and a red head. The 1/4-ounce model is the smallest size buzzbait War Eagle makes and is exceptionally well suited for wading a creek, floating a small river, or walking the bank of a pond or lake. Keep moving when you fish a War Eagle Buzzbait to cover water and find fish. It prompts reactions as it buzzes across ambush points.
If the fish aren't looking up, two other Bank & Creek Kit pieces, fished together, offer outstanding finesse appeal and the opportunity to work the bottom. The Gene Larew Ned Rig Pighead and Ned Rig Inch Worm, as their names suggest, are designed for Ned rigging, which is simply a finesse version of jighead worm fishing that involves a small bait that postures itself vertically when it hits bottom. The Pighead in the kit is Copper and 1/16 ounce. The Inch Worm color is Sooner Run, which is green pumpkin on the back and a dark watermelon red on the underside.
The Pighead is sort of a modified football jig shape, with a flat front and line tie position designed to posture the bait vertically when it finds bottom. It has a built-in keeper, a light hook for light line and small baits, and a light weed guard. The Inch Worm is a 4-inch tapering worm that has small ribs and a tiny swim foot at the tip of its narrow tail. Ned rig specialist often go ultra small with plastics using very small soft-plastic lures, and the Inch Worm gets its name from 1-inch markings that make it easy to shorten this worm measured amounts.
Because the Inch Worm lends itself so well to downsizing, this is definitely not a bass exclusive rig. Pinched down to a couple of inches, it is very well suited for rock bass, warmouths, trout and a host of other species in creeks and in ponds and lakes.
Crappie & Much More
Two additional packages of soft plastic lures come from the Bobby Garland Crappie Baits brand. As the name suggests, these baits were created for catching crappie, and both are exceptionally well suited for that task. That said, both have outstanding multi-species appeal and provide fabulous options for walking a pond bank or wading a creek and catching a bunch of different species. The kit also includes a package of 1/16-ounce Crappie Pro Mo' Glo Jigheads in the color Ghost, which is a glow-in-the-dark white.
The iconic Bobby Garland Baby Shad is the No. 1 selling crappie lure good reason. The simple shape mimics a minnow or a young shad or herring, and the narrow tail quivers irresistibly in the water. Pitched and allowed to pendulum down, suspended under a float or fished vertically, the Baby Shad has nearly constant but subtle movement and mimics a minnow or small shad. The kit color for the Baby Shad is Purple Monkey, which is a glittery sliver with a light purple back.
The Bobby Garland Pile Diver, which was designed for pitching to brushpiles and calling crappie out of the cover, is basically a miniature creature bait. It has a ribbed body, short swim-foot-equipped front legs and longer back legs that both curve inward. The appendages quiver like crazy when the bait is pulled forward and when it falls through the water column. The Pile Diver is very versatile and catches everything that swims in a creek or pond. It can be pitched tight to cover, hopped along the bottom or swam through the water column. The Threadfin Shad color includes just enough glitter for high visibility with smokey tones that suggest a variety of minnow and small aquatic insect nymphs and critters.
More Great Stuff
Like every Bank & Creek Kit the May/June Kit includes a variable discount card for as much as 65 percent off a future Lurenet purchase, plus a signed and numbered instructional illustration by Frank Scalish and an angling guide for the specific items in the kit. The May/June kit also includes Lurenet and Rebel brand decals. Everything comes in a Lurenet durable zippered bag that you can carry the water, as is, or use to sort and store other gear.
Like previous kits, the May/June Bank & Creek Kit is a limited edition, with only 300 kits available, so don't miss your opportunity!