By Dr. Hal Schramm

Bass fishing is a dynamic, ever-changing process, and that is especially true in the spring as bass transition from winter to prespawn, to the spawn and then postspawn. Throughout the prespawn—spawn—postspawn sequence, bass are aggressive and tend to be shallow—a perfect combination for a lot of bites and for the fish of a lifetime. A perfect time to make memories.

This project chronicles the progression of the 2015 bass spawning season from south to north. A new spawning map will be posted every two weeks to let you know where bass are prespawn, where they are spawning, and where they are postspawn to help you adjust your mindset before you get to the lake, or maybe to plan the right time to arrive at one of your bucket-list fishing destinations.

Each map is accompanied by fishing reports from the best bass sticks in the country. Some are accomplished professional tournament anglers, some are professional and experienced guides. All frequently fish the waters that they report on, and all know where, when, and how to make bass bite.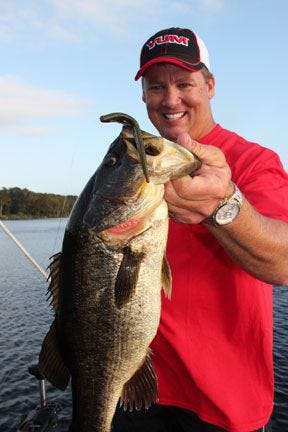 St. Johns River, Florida: Prespawn
The bass spawn continues for a long time in Florida waters, at least 2 months and as long as 4 months in some lakes. On Lake George, which receives warm-water flows from three major springs—Juniper, Salt, and Silver Glen, the spawn starts in January and continues through late May. This report focuses on the St. Johns River from 50 miles upstream and 30 miles downstream of Lake George. Remember—this is a river, and the water is usually flowing.

Bassmaster Elite Pro Terry "Big Show" Scroggins reported that the water in the river right now is 57-59 degrees. Bass in the river start spawning at 62 to 65 degrees, so the bite is late prespawn. Scroggins has fished the St. Johns all his life and relies on one pattern: shell bars and ledges in the river that come up to 3 to 8 feet deep. You can locate these bars easily with side imaging, but often current breaks and swirls will give away their location.

Plan A:
Scroggin's favorite way to fish the bars from winter through prespawn is to hop an XCalibur One Knocker off the bottom. Scroggins lets the One Knocker sink to the bottom, then gives it a slow hop, moving his rod tip from 10 to 12 o'clock. The falling lure mimics a dying shad, and most bites come on the fall. Watch your line! Foxy Mama is a good color to start with.

Plan B:
Same shell bar or ledge, Scroggins roots the bottom with a ½-ounce Bomber Fat Free Shad. Citrus Shad is his go-to color.

Plan C:
Plans A and B are for bigger fish. If you are looking for a lot of bites and fast action, fish a Carolina rig. Scroggins uses a 1-ounce egg sinker, 15-lb fluorocarbon main line, and a 4-foot leader. At the business end is a 4.75 inch Yum Swurm in a darker color like green pumpkin or mullet.

Pro pointer: Fish moving water whenever you can. Cold fronts are an inescapable reality in the spring, and they make for an especially tough bite in Florida. Scroggins recommends downsizing to a YUM Sharp Shooter on a C rig or changing to that same bait on a drop shot presentation.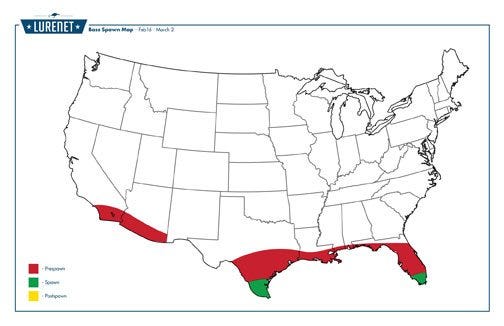 Toledo Bend Reservoir, Texas: Prespawn
Bass are starting to move to the bank on this massive Texas/Louisiana reservoir. Offshore grass (hydrilla) is the place to be fishing.

Veteran B.A.S.S. Elite angler Zell Rowland relies on three presentations for prespawn bass on this sprawling, timber-filled Louisiana/Texas bass factory.

Plan A:
Rowland's first choice is a Smithwick Suspending Rogue or Perfect 10 Rogue. Rowland moves quickly along the grass edge looking for a bite or for something different—a point, a pocket, thinner grass that may reveal a "drain" (Texas angler-speak for a mini-ditch where water is a little deeper) that may concentrate staging bass and warrants multiple casts. When you get bit, work the spot thoroughly for multiple fish.

"Look closely; you'll probably see something different in the grass, and that's what you need to find more of," advises Rowland.

Color choices for the Rogues are chrome/black back or chrome/blue back; he opts for orange-bellied models if the water has some color or turbidity. If chrome isn't working, Rowland tunes down the flash by casting a pearl- or white-sided Rogue, usually with a little green color.

Rowland fishes the Rogues with conventional jerk-pause retrieves, but insists cadence is important. The water temperature is in the mid-to-upper 50s, so long pauses aren't necessary, but mix up the speed and cadence until you get bit. Are you getting bit with three jerks? Four jerks? Five? Repeat what works (see Pro's Pointer).

Plan B:
Second choice is dragging the grass edge with a Carolina rig. Rowland opts for a 5-inch Yum Dinger, Yum Wooly Bug or Lizard on a medium-length (3 to 3.5 foot) leader behind a ½-ounce weight. Color depends on water clarity, but Rowland usually fishes black/blue, green pumpkin or black neon in the characteristically dark water in the 'Bend. Watermelon/red flake is great for shallow water.

Plan C:
Tick the grass with an XR50. Color? "Better be red," responded the master, "but I carry chrome/black back just case."

Pro's Pointer: The cadence on the Rogue not only tells you what pulls the bass' trigger, but it may also tell you how deep the bass are. On a long cast, each jerk drives that suspending jerk bait a little deeper. A three-jerk retrieve will fish deeper than a two-jerk retrieve. A four-jerk retrieve will fish a little deeper than a three-jerk retrieve. And so on. Keep depth in mind.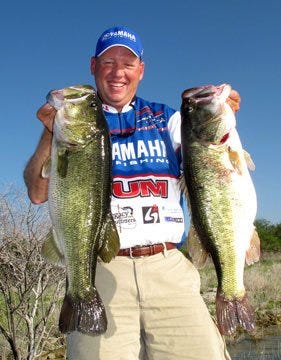 Falcon Reservoir, Texas: Spawn
Tucked away in far south Texas, down in the land where everything sticks, stings or bites, is Falcon Reservoir. This Rio Grande River reservoir in Zapata is on again, off again because of water level fluctuations. When it's on, it's on big time for both numbers and giants. And yes, the stories you've heard about how hard these bass fight are true. They're beasts of a different breed.

Texan Alton Jones reported that if the water temperature is 60 degrees and the water is rising, the bass are spawning. The water temp is 60, and the water is rising. The spawn is ON, and it should be a gangbuster.

The former Bassmaster Classic champ has some simple advice. Bass will spawn out of the waves; fish protected points with flooded brush and back in creeks. With the water level where it is, this is all about casting and pitching to bushes and trees.

Target water that is 1- to 3-feet deep. Falcon is murky so you probably won't see beds. Unlike the rest of the year when you want your bait to drop right in the heart of that huisache tree, you want to fish to the side of the tree but still close to wood.

Jones reasons that the bass are reacting to the threat of the bait, so he wants his bait stationary on the bottom. He fishes either a 6-inch Yum Dinger or a Yum Christie Critter under a 1/8-ounce slip sinker, light enough for a slow fall, but with enough weight to hold the bait to the bottom. Heavier weight may be necessary to feel your bait if the all-to-frequent winds are blowing. Fish your favorite color. Soak the bait, shake it in place, soak it, repeat. Experiment with soak time to see what draws a bite. Jones may soak the bait in place for up to a minute.

If that doesn't work, try a different area of the lake. If this pattern isn't working after fishing good cover in several areas, get off the spawn pattern and look for prespawn bass.

Jones' only deviation from fishing soft plastics is to fish a Booyah Pad Crasher, and he only does this if the surface temperature is 70 degrees or warmer.

Pro's pointer: Several different kinds of trees grew in the valley before impoundment. Pay attention to the type and growth form of the tree where you are getting bit. Trees may be the pattern, but fishing the right trees can dial you in to an awesome catch.