Learn why the Bobby Garland Mayfly lure is 12-month crappie producing lure.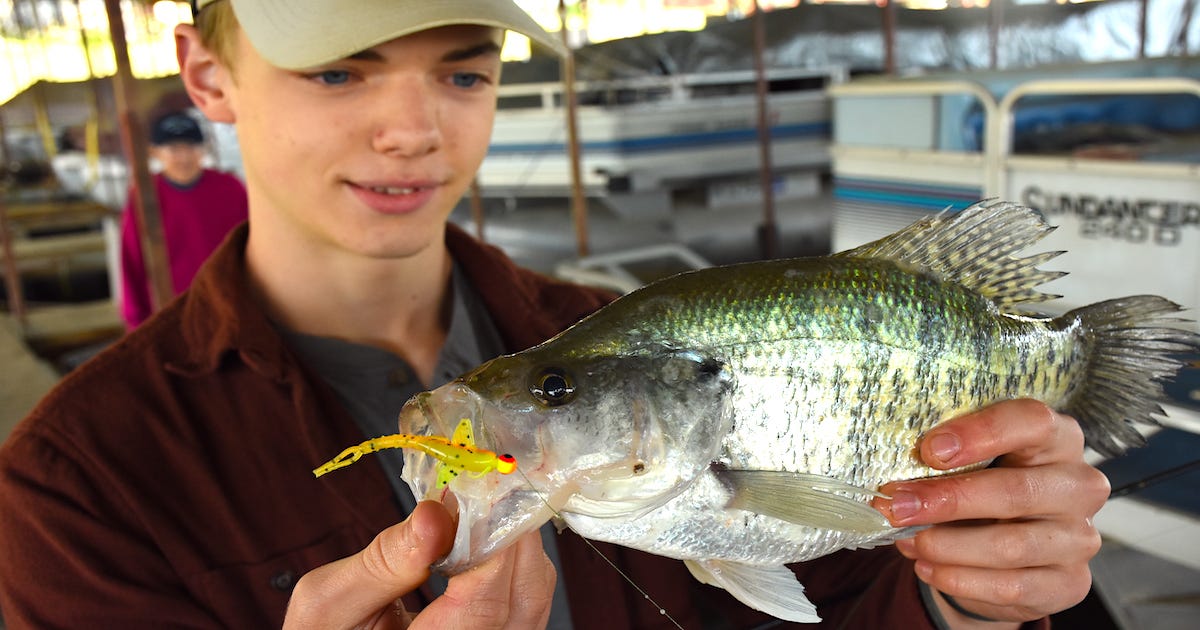 It was a client no-show for Brad Chappell on the beautiful May morning on Ross Barnett, where the two were to meet, so instead the Mississippi crappie guide decided he'd "just go fishing."
"It's a rarity, thank goodness, when someone books a trip and simply doesn't show without notice, and even more so when it's picture-perfect weather like we had, but I actually found myself excited about the unexpected opportunity for some carefree fishing," said Chappell, who stays busy year-round guiding and producing his The Crappie Connection podcast series.
And then Chappell was dealt another surprise.
"Almost immediately upon launching, I started noticing mayflies floating on the calm lake top all over the place. Soon my sonar was showing me lots of crappie randomly suspended pretty much everywhere at 6-9 feet. Then the light bulb went off. 'They're roaming and feeding on this mayfly hatch!'" There wasn't any cover or structure of note tying fish to a specific area, nor was there any particular spot the insects seemed concentrated, it was simply a bug fest and crappie were making the most of it.
Chappell said he got giddy while rigging a Bobby Garland Mayfly and thinking about the potential action that awaited. His color choice was Spring Fling, a new combination featuring a cotton candy pink body loaded with silver flake, and a chartreuse tail. Chappell has always advocated using bright, shiny lure colors on sunny days in water with decent visibility, as Ross Barnett had on this day. His suspicion that these fish were keying on the mayfly profile was quickly rewarded when on LiveScope he watched a crappie streak from 6 or 7 feet away to intercept his descending lure.
"This mayfly bite was so good and so predictable that I soon found myself struggling with whether or not to simply enjoy the incredible catching or instead break out the camera gear and make this a learning lesson to share with others. I knew the right answer, so out came the cameras."
Mayflies are found all over the world in a variety of clean freshwater habitats. Other nicknames for various kinds of this common winged insect include shadflies, fishflies, sandflies, dayflies and Canadian soldiers. Whatever the name, crappie and many other fish love to eat mayflies.
Mayflies do get the "May" part from the month when a lot of hatches are going on, but in reality the occurrence happens over a much wider period between spring and fall according to water temps and other influencing factors.
While Chappell's great outing was in May, it's a scientific fact that fish take advantage of this important food source throughout the insect's full life cycle of various transformations. It's important that crappie anglers understand mayflies may spend a few months to years in a larvae form underwater before they eventually emerge as winged adults, a final stage of life that is incredibly short in duration. Adult mayflies live from just a few minutes to only a couple of days. All the while, and through all the stages, crappie are feeding on mayfly forms.
About the Insect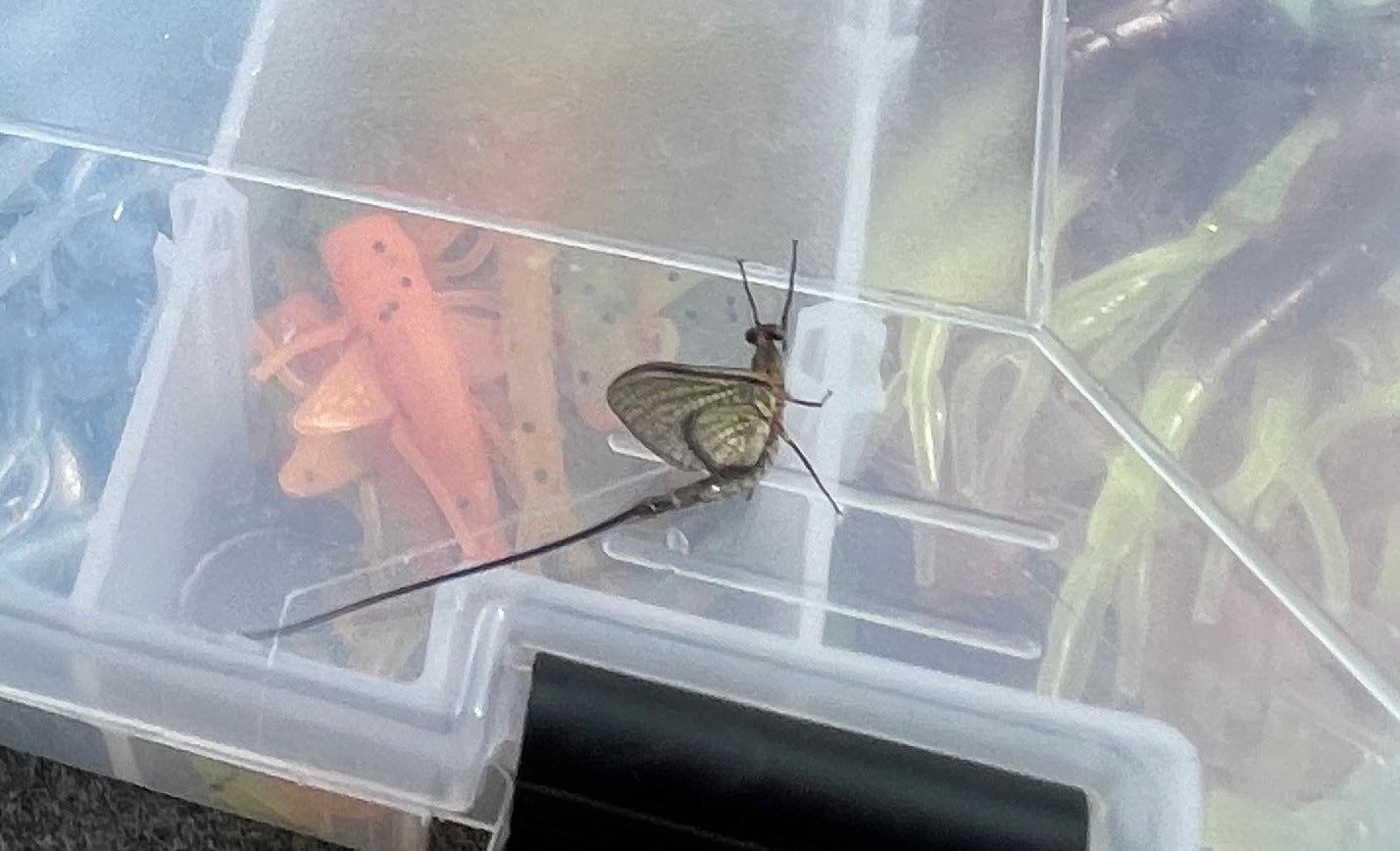 Mayflies are aquatic insects in the order Ephemeroptera, with more than 3,000 known species.
Mayfly larvae (also called nymphs or naiads) may live for a few months to a few years underwater.
Nymphs don't have wings, but do have legs and antennae-like appendages at the tail
Nymphs live in streams and lakes, often at the bottom and along edges, burrowing in sediments and/or hiding under rocks and wood.
Water pollution compromises survival of nymphs, so a strong mayfly hatch is a positive indicator of a quality aquatic environment.
Nymphs eventually molt into a winged stage, which then quickly molts one more time into a full adult mayfly.
Nymphs emerge as winged insects differently by species: Some do so underwater; some will first rise to the surface; and others climb from the water.
Adult mayflies are among the most primitive forms of winged creatures, having wings that do not fold flat over the abdomen.
Mayflies vary in size by specimen, have legs and have 2 or 3 long tail-like appendages, called cerci.
"Hatch" timings can be linked to seasonal water temp warmings, seemingly somewhere around the 70-degree mark. Fall coolings may also see hatches. Annual timings can differ according to weather trends, and likewise vary by geographic location.
The same-time emergence of "millions" of mayflies within an area is believed to be an evolutional development for survival of enough adults to lay eggs and ensure existence.
Adult mayflies mate and lay eggs. They have extremely short life spans from minutes to a few days.
Mayflies by appearance can be intimidating, but they don't bite. Biggest nuisance is their sheer presence in numbers, which can be annoying around people's activities.
Mayflies are attracted to artificial lighting, which makes lighted docks an especially attractive place for the insects and crappie to meet.
Female mayflies typically lay between a few hundred and few thousand eggs, the majority of which end up on the water's bottom. Incubation may take up to a year.
About the Bobby Garland Mayfly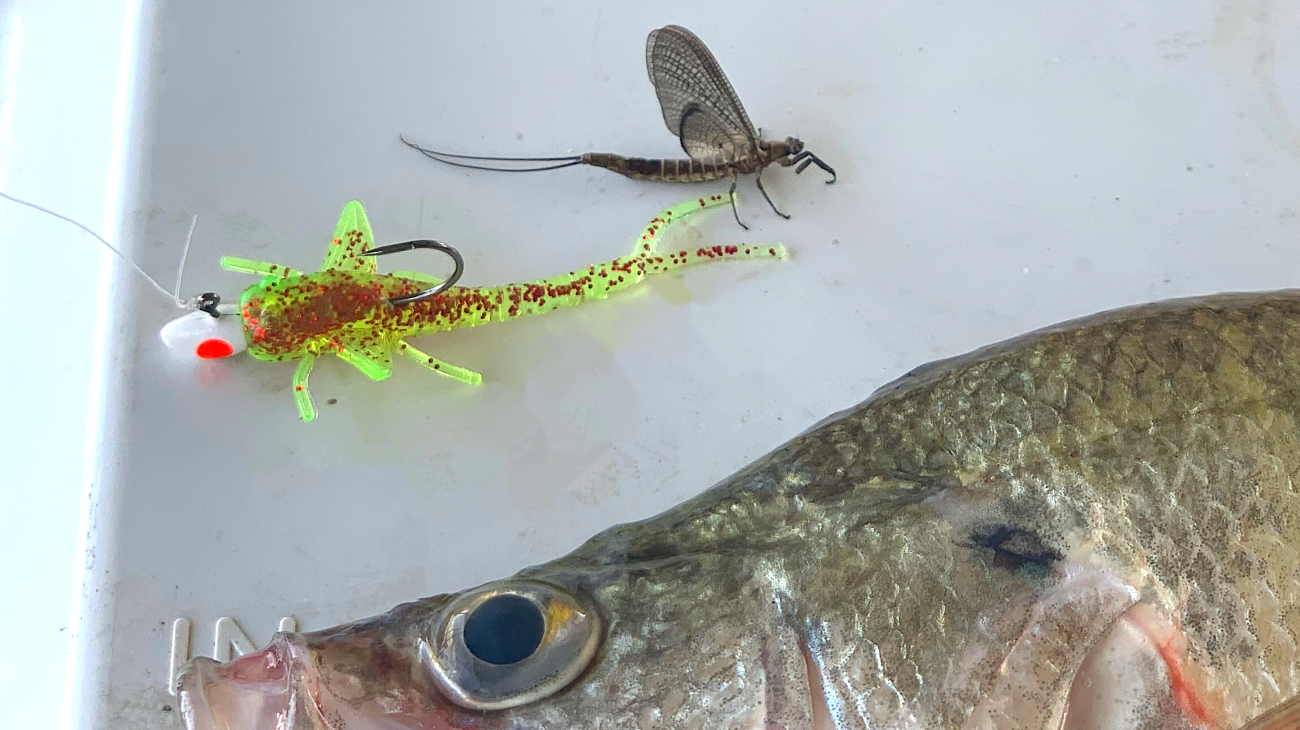 True to form, the Bobby Garland 2.25-inch soft-plastic crappie bait – the Mayfly – was introduced in spring (2022); and became readily available at retail in the fall. The lure's distinctive profile serves well the crappie's primary use of sight to feed. Also, the bait's flexible appendages – wings, legs and cerci – produce vibrations that crappie can "hear." And the Mayfly's fish-oil enhancement appeals to a crappie's sense of smell and taste. Collectively, these features bring the Mayfly to life in realistic representation of all the insect's stages, from nymph to adult.
The importance of lure profiles in crappie fishing success has been brought to light with the introduction of forward-facing sonar. The "live" technology has given anglers a real-time look at how crappie react – or don't – in response to lure offerings. The Mayfly shape screams "crappie food," as it looks like two things that make up a big part of the fish's diet – insects and baitfish. In just its first year, the Mayfly has proven its effectiveness throughout all seasons and in waters all across the country.
Mayfly Lure Features:
Realistic mayfly shape and profile, featuring flexible legs, wings and cerci
Soft-plastic body that fits jigheads from 1/32- to 3/16-ounce
Tapering, elongated tail segmented with outer rings for strength, and that ends with spindly twin-tail appendages that wiggle enticingly
Streamline design suitable for all crappie fishing techniques from jigging to trolling
Wet-bag packaging to protect lure's shape in a natural baitfish-scented bath
High-quantity 50-count bag with convenient flip-lid access. $9.99 MSRP
Available in 12 colors – solids, laminates and body/tail combos: Blue Ice, Bluegrass, Cajun Cricket, Chartreuse Red Glitter, Electric Chicken, Mayfly, Monkey Milk, Mo' Glo Green Lantern, and all-new Spring Fling, Neon Nymph, White Ice and Mo' Glo Glow Worm
Flashbacks of Success!
May 2023 – Ross Barnett Reservoir, MS – Brad Chappell
Shortly after launching, Chappell discovered mayflies were all over the lake's surface on the calm, sunny morning. He hit the jackpot by catching crappie roaming in open water by using a Mayfly in Spring Fling color on 1/16-ounce Crappie Pro jighead Ghost tied to the end of his line about 15-inches below a pegged 1/2-ounce egg sinker. The additional weight gets the bait down quickly to the roamers that were aggressively feeding on the mayfly hatch.
April 2023 – Lake Eufaula, OK – John and Julie Meyer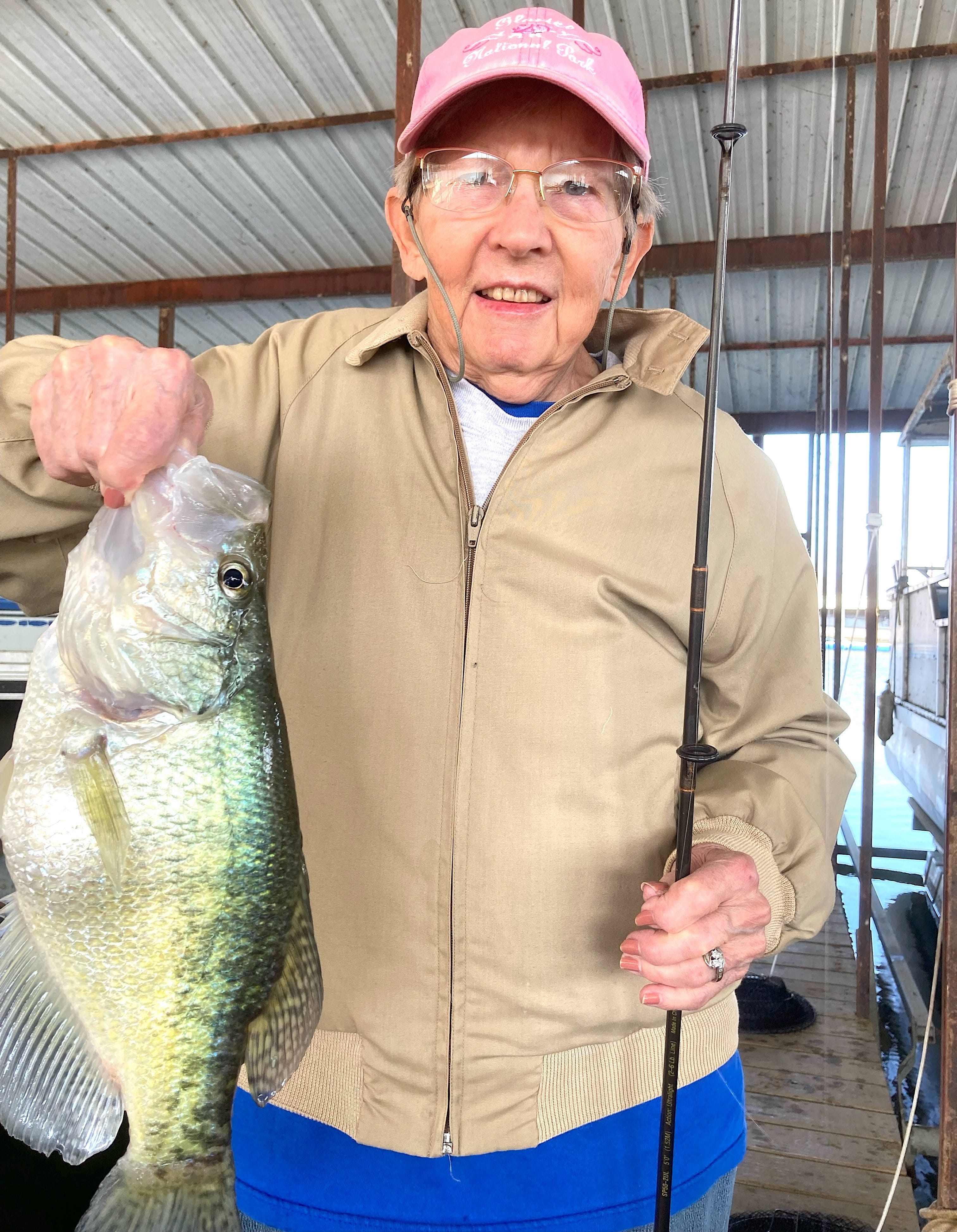 The Meyers and their dock-community buddies on this iconic crappie lake in the Duchess Creek area were busily catching black and white crappie, and some genuine dandies, over a several-week period that started back in early March. They found success in double-rigging the Mayfly on 1/16-ounce jigheads and either dropping or swinging the baits alongside suspended brush at depths of 6 to 10 feet. John noted the bite got even shallower, and super fun, during a shad spawn around the docks in late April. Best colors were Electric Chicken and Neon Nymph.
March 2023 – Coosa River, AL – Lee Pitts
Crappie guide Lee Pitts and his clients enjoyed several weeks of spring crappie-catching fun with the Mayfly on both Weiss Lake and Neely Henry by long-line trolling the baits in creek channels leading to flats. Pitts said the best speed was around .8 MPH, which had baits rigged on Crappie Pro 1/24-ounce jigheads running at depths of 6-7 feet. Spring Fling was a hot color on both waters.
January 2023 – Oologah Lake, OK – Gary Dollahon
Fishing with lure designer George Toalson, neither the early-morning rain nor the 42-degree water temps dampened the spirits of the anglers or the fish. For weeks, Toalson had been having success fishing mid-lake area brush piles. On this day, the guys noticed the fish were often hitting particularly shallow. As Toalson was saying, "I'll bet you could catch 'em with a cork," Dollahon was finishing adding a Thill bobber to his line. First cast produced a bite, the second resulted in the rig's first catch. Several more fell for the Blue Ice Mayfly fished about 4 1/2 feet under the bobber, before wind got up and demanded a technique change.
September 2022 – Central Indiana – Doug Sikora
Doug was one happy angler upon learning about the Bobby Garland Mayfly, saying it was a near-perfect imitation of the "Hex." He explained Hex was short for Hexogenia limbata, the scientific name of the mayfly species that's important to local crappie waters. He loves to "shoot" crappie baits up under docks throughout the summer month and then adds in fishing along edges heading into fall. The Mayfly has lived up to Doug's highest expectations for both techniques.
August 2022 – Beaver Lake, AR – Greg Robinson and Payton Usrey
During the hottest part of summer, these two crappie guides were constantly posting Facebook pics of clients and family members and their crappie catches from beautiful Beaver Lake. Their productive tactic was to locate roaming crappie in open water with LiveScope sonar, and then present a Mayfly bait to the fish. A good depth range for these crappie was 16-22 feet, and the anglers Mayfly color preferences were Cajun Cricket, White Ice and Monkey Milk.
July 2022 – Small-Waters Maine (Bangor area) - Jeff Samsel and Doug Teel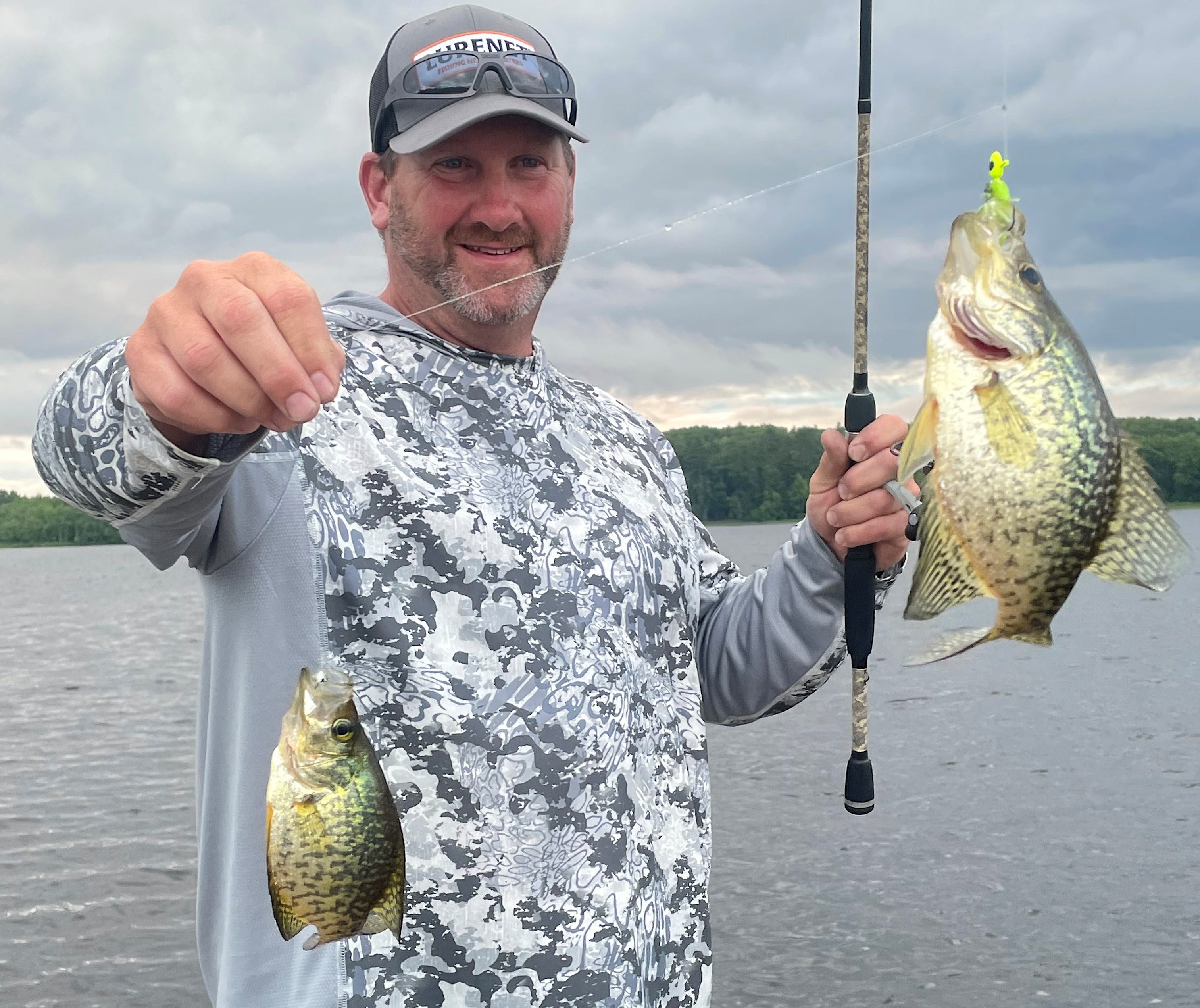 Crappie aren't native to Maine, but you wouldn't know it from the success these two anglers had on small waters in the state. They found the crappie hanging near the bottom throughout a wide span of 13-14 feet of water, places that had no obvious breaks, grass or other structure around. They fished 1/24- and 1/16-ounce jigheads in tandem, and the three most productive colors were Neon Nymph, Mo' Glo Green Lantern and Mayfly.
April 2022 – Grand Lake, OK – Dustin McDaniel
It was full-blown crappie spawning time on the popular northeastern Oklahoma lake, and crappie guide McDaniel was busy putting clients on fish in all the right coves around the lake's mid-section to give the Mayfly a real workout. Fishing it under a bobber near banks with cover was especially effective, but he also occasionally stopped in the middle of a cove to drop the bait on a single roamer with similar results. Colors working well on Grand Lake have been Monkey Milk, Electric Chicken, Neon Nymph, Cajun Cricket, Mayfly and Chartreuse Red Glitter.
Early March 2022 – Lake of the Ozarks, MO – Terry Blankenship and John Neporadny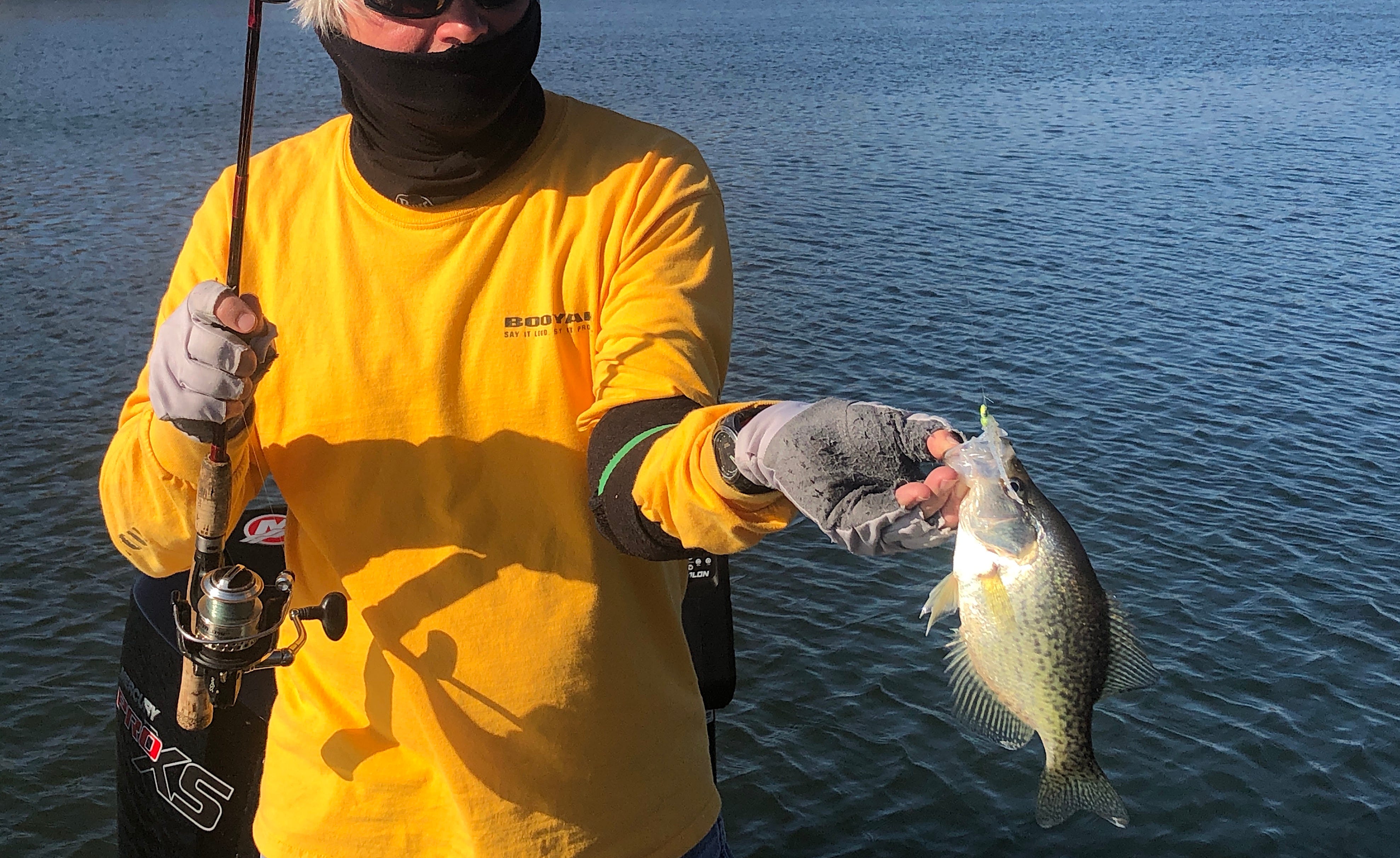 As the final "field test" for the new design before its launch, this popular crappie destination confirmed the Mayfly was the real deal. These two crappie experts put the Mayfly through the ringer over a variety of different favorite spots – from casting to banks, to fishing under corks, to pitching to brush piles, to shooting docks – and what they found was that the crappie in every situation loved them. So much so, that Neporadny painstakingly nursed his last three sample baits with Super Glue and tender care to keep them functional until the production models became available a few weeks later.