Read the Diary of a Crappie Madman from a January day when conditions were changing quickly and learn how adjust according to conditions and based on what the crappie reveal.
The excitement of an anticipated fishing trip always messes with my mind, making it hard to concentrate on anything other than the fun to come. It was no different for me this time as an opportunity for a crappie fishing outing with a couple of friends rapidly approached. While I don't normally keep a fishing journal, except in my head, for some reason this adventure seemed well-suited for such a documented timeline. Therefore, what follows is my version of what might be described as any entry in the Diary of a Crappie Madman.
Day Prior To Fishing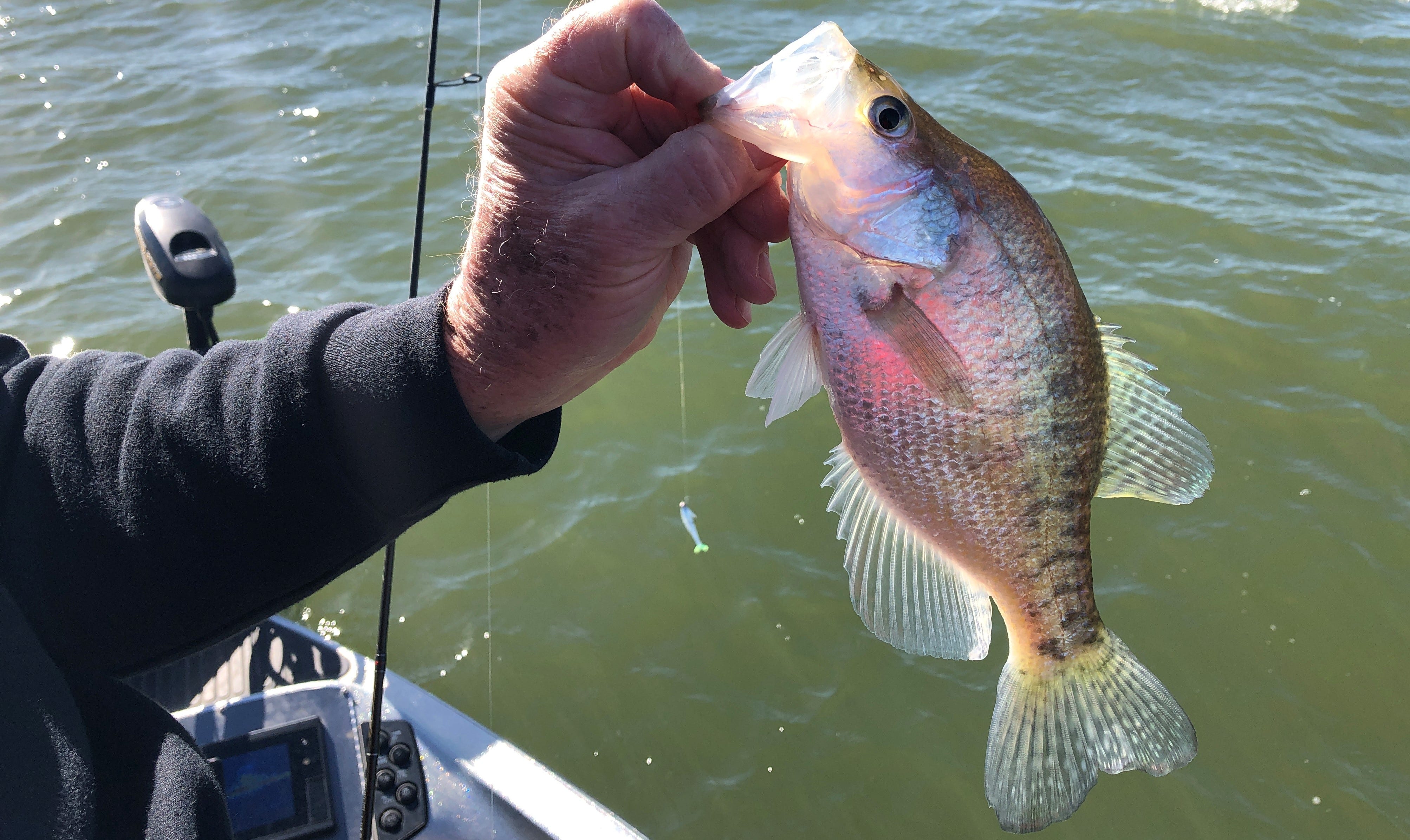 4:23 AM
Darn it. It was another early wake up – about an hour before the alarm. I tossed and turned, trying to steal a few more winks. Instead, my mind raced through a list of things I had to do at work, knowing I'd be out crappie fishing the next day. I finally gave up and got up, but with a good grasp on my plan for the day.
10:12 AM
How could it already be after 10? I hadn't touched a thing on my list. I decided to call George Toalson to discuss our rendezvous. "Looks like rain in the morning," was how he answered. I talked through the forecast with my longtime friend and former co-worker at Gene Larew Lures, and we agreed the fast-moving front was not a threat to our plans to fish Oologah Lake (north of Tulsa, Okla.). We decided to meet at Oologah's Redbud Marina ramp at 9:00.
10:31 AM
I called our already-invited fishing guest, Kelly Bostian, to fill him in on details. Kelly's a longtime outdoor writer, and he was interested in using the outing to gather content for his blog and to learn more about an upcoming Crappie University course, for which Toalson is an instructor. We visited first about the chance of rain. Then we set our own rendezvous plans to meet in Tulsa at 8:15 so we could ride to the lake together. Back to work.
5:40 PM
Hitting a good stopping point in my work day, I paused to assess next-step options. I chose attending a grandson's basketball practice over starting another work task. First, though, I wanted to watch the weather forecast on the 6 o'clock news.
6:13 PM
"Some areas might see up to half an inch of rain, but most of us will see just enough moisture to settle the dust a little," the meteorologist said. It was music to my ears, so I planted a kiss on my wife and headed out the door to the basketball practice.
8:15 PM
Back home and just settling into my recliner, I got a text from George: "Wind is going to get up pretty good, so we better put in at Blue Creek. Meet you at Nabatak at 9." His note finished with a report that he had gone fishing that afternoon and "caught 'em." It was good news because we needed catching success for Kelly to get his content.
10:16 PM
One more watch of the weather on the late local news. The front still looked to be a fast-moving system with minimal rain, and one that would be out of our area by around 9:00. Perfect!
Fishing Day!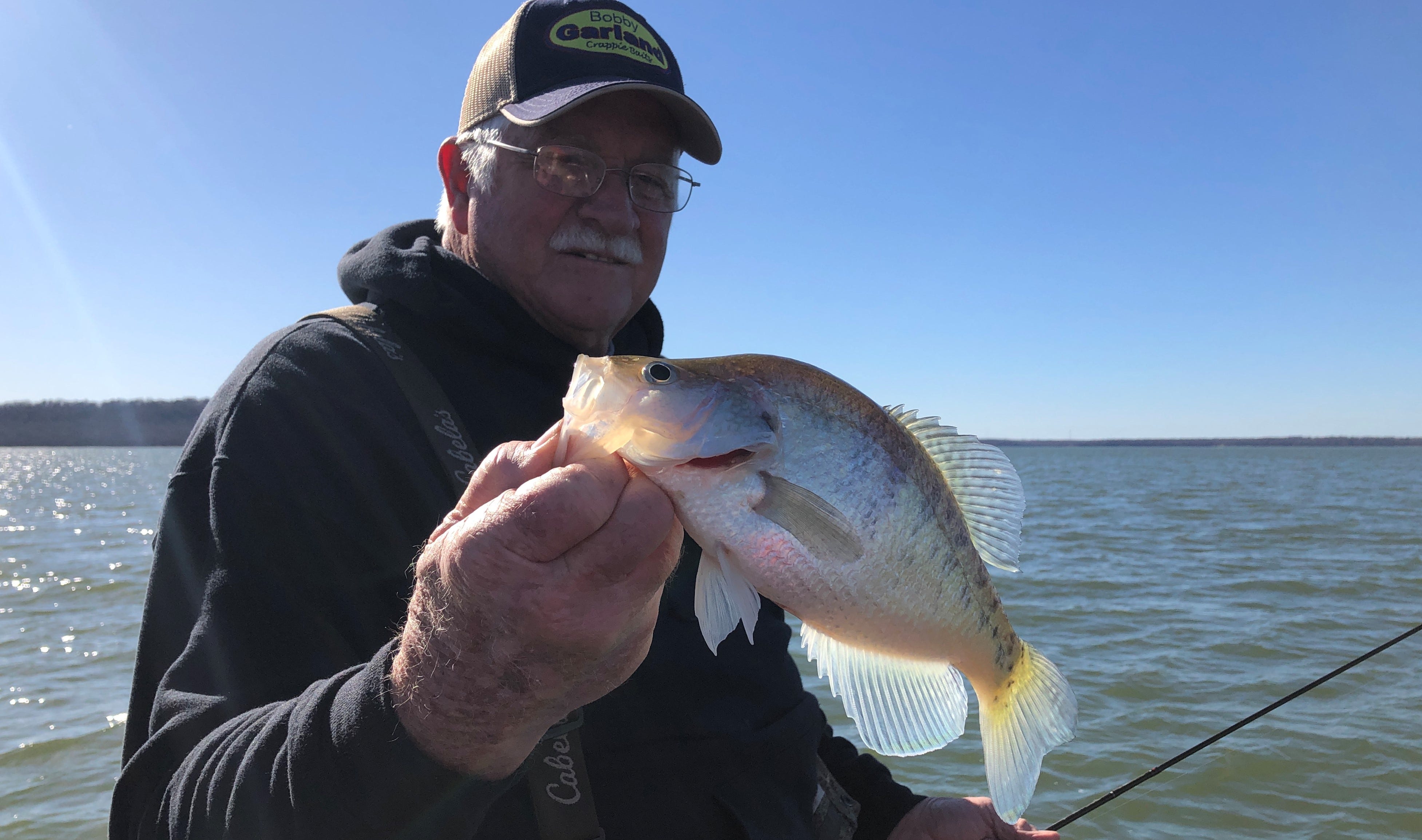 3:12 AM
A rumble of thunder woke me, and I could hear rain lightly tapping against our bedroom window. "Awesome," I thought to myself. It's earlier than forecasted, so it should also be out of here earlier. I turned the TV on to check the radar, but of course the weather map didn't seem to be working properly this morn. Back to sleep, kinda.
6 AM
Even from the shower I could hear rain hitting the roof and side of the house. "That's more than settling the dust," I thought. Checking the radar afterward showed a skinny line of rain moving through the area. The morning weatherman talked about the system moving slower than expected, but still "clearing the area by mid-morning or so."
7:30 AM
I loaded fishing gear into my Suburban as a light rain fell, with an unseasonably warm morning temperature of 54 degrees. It was more like spring than mid-January. I checked two or three times to make sure I had my rainsuit. I was on schedule to allow a QuikTrip stop to pick up sandwiches for the day. Off I went.
7:52 AM
With sandwiches and ice purchased, I was amid a normal stream of vehicles commuting at rush hour on Highway 169 North. The sky was dark, and rain was falling. A couple minutes later, it was pouring. My thoughts were more on what the rain would do to George's fishing spots than focusing on the sea of off-and-on brake lights glaring ahead, until all became one bright red continuous glow. The three lanes of traffic had become one, and the single file line crept past an accident.
8:10 AM
Remarkably, Kelly and I pulled in at the same time, and on time. The rain had cooperatively slowed to a sprinkle, so our spirits were high as we transferred his gear and headed to meet George. Within minutes, we were in a blinding rain storm. The more we drove, the more it rained. We nervously laughed about "the half inch at most" forecast. The rain continued for most of our 30-minute drive.
8:55 AM
Our weather app radars were lit up with bright colors on top of us, yet the rain again slowed to a sprinkle as George arrived. We loaded in his rig and headed for the lake. Progressive radar showed another wave of rain approaching, but still with a promise of a clearing.
9:20 AM
It was pouring again as we arrived at the boat ramp, which we had to ourselves. I continually studied the radar while we sat in the truck, and George and Kelly traded deer hunting stories.
9:55 AM
Rainfall had lightened to a sprinkle and the radar indicated the storm was finally moving out. We concurred that more than an inch had fallen in relatively short order. I wondered aloud what the rain would do to the fishing. George said he wasn't concerned about the bite, but rather what the winds would do with the front having passed. We launched the boat.
On the Lake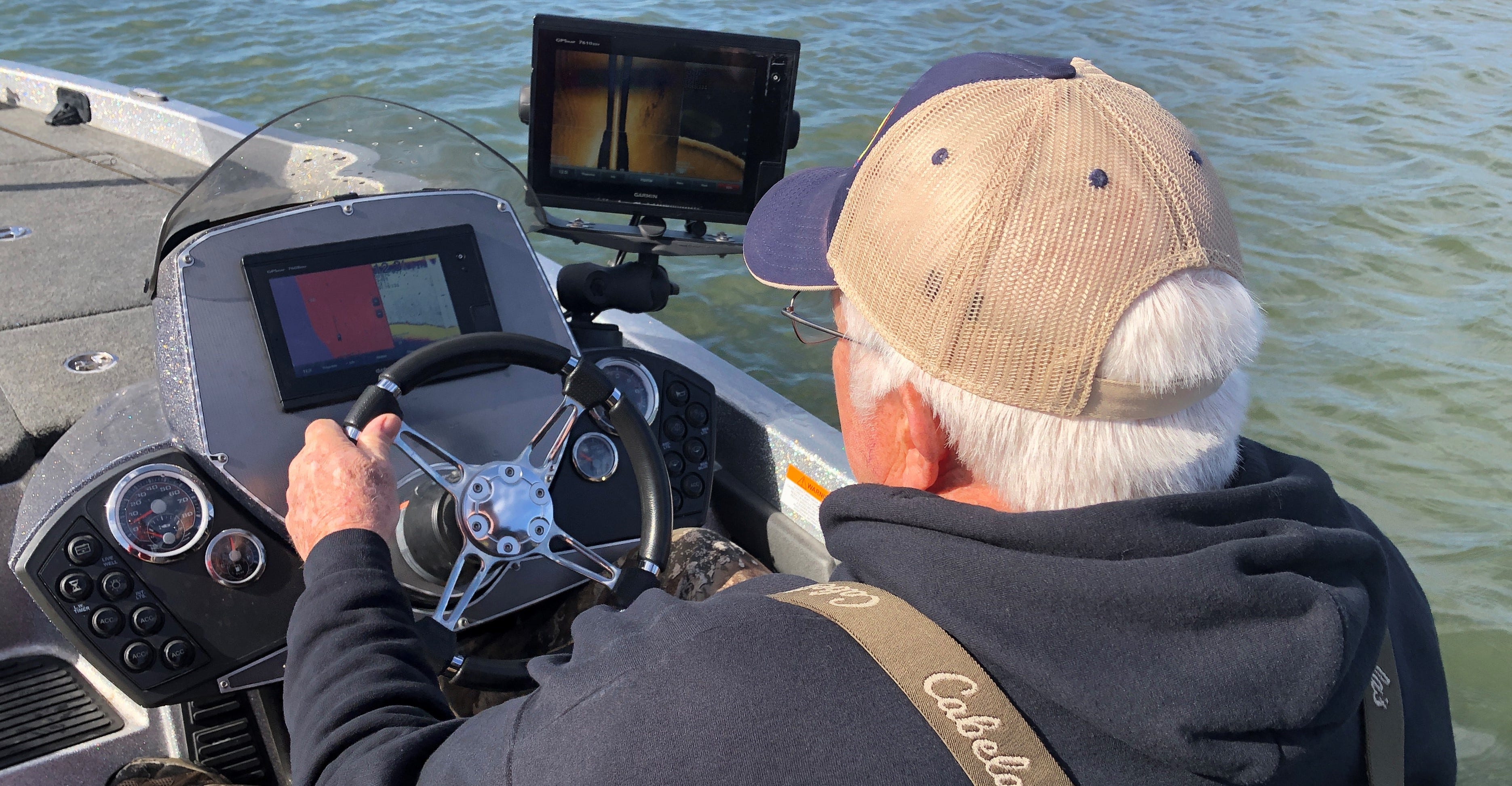 10:12 AM
After a short boat ride, George watched his Garmin units while idling along as he held a marker buoy ready. "That's a good bunch of fish," he commented, dropping the buoy overboard. He deployed his trolling motor and engaged its Spot-Lock GPS anchoring feature to hold us in place.
10:14 AM
"Blue Ice has been the color, and I've been touching the tip of this Slab Hunt'Rs tail with chartreuse," George said while handing Kelly a rod rigged with the bait. "Now toss it right over there, let if fall for about a 10 count and start reeling slowly." Following instructions to a T, Kelly was rewarded with the first crappie of the day.
10:23 AM
George just landed his fourth crappie in a row, and was putting on an on-the-water fishing clinic. "I designed this bait so the tail would move even at the slowest speed. That's the best way to fish the Slab Hunt'R – Slow." As he unhooked a fish, he wiggled the bait to demonstrate the tail's great action.
10:50 AM
Winds had been light since the passing of the rain, and we were seeing an obvious clear break in the sky to the west. The conditions were good for fishing like we were, with a single 1/16-ounce jighead rigged with the Slab Hunt'R in brush piles in 9-15 feet. "Last year at this time, we were catching our fish deep here – 20, 25, 30 feet – but so far this year shallower has been better for me," George said.
11:42 AM
With George leading the catching, and success coming from a few different piles by now, I commented that I just had a strike coming only 3 or 4 feet under the surface while retrieving my lure. George confirmed he was seeing fish suspended "4 or 5 at the top of the brush," and suggested a cork might be a good approach for catching them. I couldn't pass on that idea.
11:47 AM
I rigged a Thill spring float about 3 1/2 feet above my jig. George told me to slide it another foot deeper, which I did, and then I made a cast. I slowly reeled it back across the calm surface, stopped it, and wiggled it a little. It quivered slightly on its own. I groaned, knowing I just missed a bite, and George said, "You let that one get away." A couple more feet into the presentation, it quivered again, but this time I popped a hookset that connected. On successive casts, more bites followed. Some came while reeling, some while stopped, and some after a "pop." Kelly followed suit with a cork rig and found similar success.
1:11 PM
As the wind picked up with the clearing sky, the cork bite began to wane. So did the tightlining success that George had been dominating. George commented that he wasn't seeing the "numbers" around the brush piles that he had been earlier and made a move to look at other cover.
2:10 PM
Two brush piles in deeper water, 16 or 17 feet, produced several more crappie, all with George's slow-reeling technique with the Slab Hunt'R. Most often, the bite was extremely light, but on occasion it would be a classic crappie "thump." Regardless of how they hit, the fish were in great shape and were feisty coming from the relatively shallow depths. A check of the watch indicated it was time to wrap up our outing.
2:25 PM
Despite it having been a crazy January day of weather, ranging from pouring rain to calm and then windy, and reaching a high temp in the mid-60s, the outing served as proof that with great electronics, a solid understanding of your lures, and constantly observing crappie behavior, you can adjust to find great catching success. We ended up keeping 42 fish, all but a couple being of the white species, and most being in the 10- to 13-inch range. It was a great day of crappie fishing, with two enjoyable guys in George Toalson and Kelly Bostian.
Top Tips from the Day
Crappie behavior can change often over the course of a day. While it's good to have preconceived notions about your approach at the start, be observant to let the fish tell you what they want and adjust accordingly.
Having great crappie fishing knowledge is one thing. Having great electronics is another. Using the two in combination heighten the odds for success.
A horizontal presentation worked best that day. George's slow reeling approach helped keep the bait at a consistent level during retrieve. Also, the use of a cork achieved a consistent level.
Lure colors do make a difference. George had experimented with different colors of lures on previous outings to Oologah, and we did on this day as well. However, Blue Ice produced best. The chartreuse-tipped tail seemed to make a discernible difference. Be open minded and experiment.
A quality, sensitive rod and smooth-reeling reel are essential for light line (4- to 6-pound test) fishing in winter when the bite can be incredibly light. The "quivering' cork strikes reinforced that fact on this day.
Know your lures and what they do. The Slab Hunt'R at 2.25 inches likely isn't the winter bait of choice for many crappie anglers, but George's understanding of the slow swimming feature of the lure and the easy-meal appeal of the profile no doubt makes this lure his confidence bait for the season, and for good reason.