Learn how expert crappie angler recognize the end of the spawn and how they adjust fishing approaches to continue catching spring crappie.
Cold fronts have shut down the shallow-water action on certain days, but most of the time, the crappie have been aggressive and attacked nearly anything thrown near their spawning beds. However, in the last few days the shallow-water bite has been tapering off, so you begin to wonder whether those fish you were catching along the spawning banks have been wiped out by fishing pressure or if the crappie have quit spawning.
Crappie guides and tournament veterans look for certain signs to determine if the spawn is entering its final stage.
Spawn Ending Indicators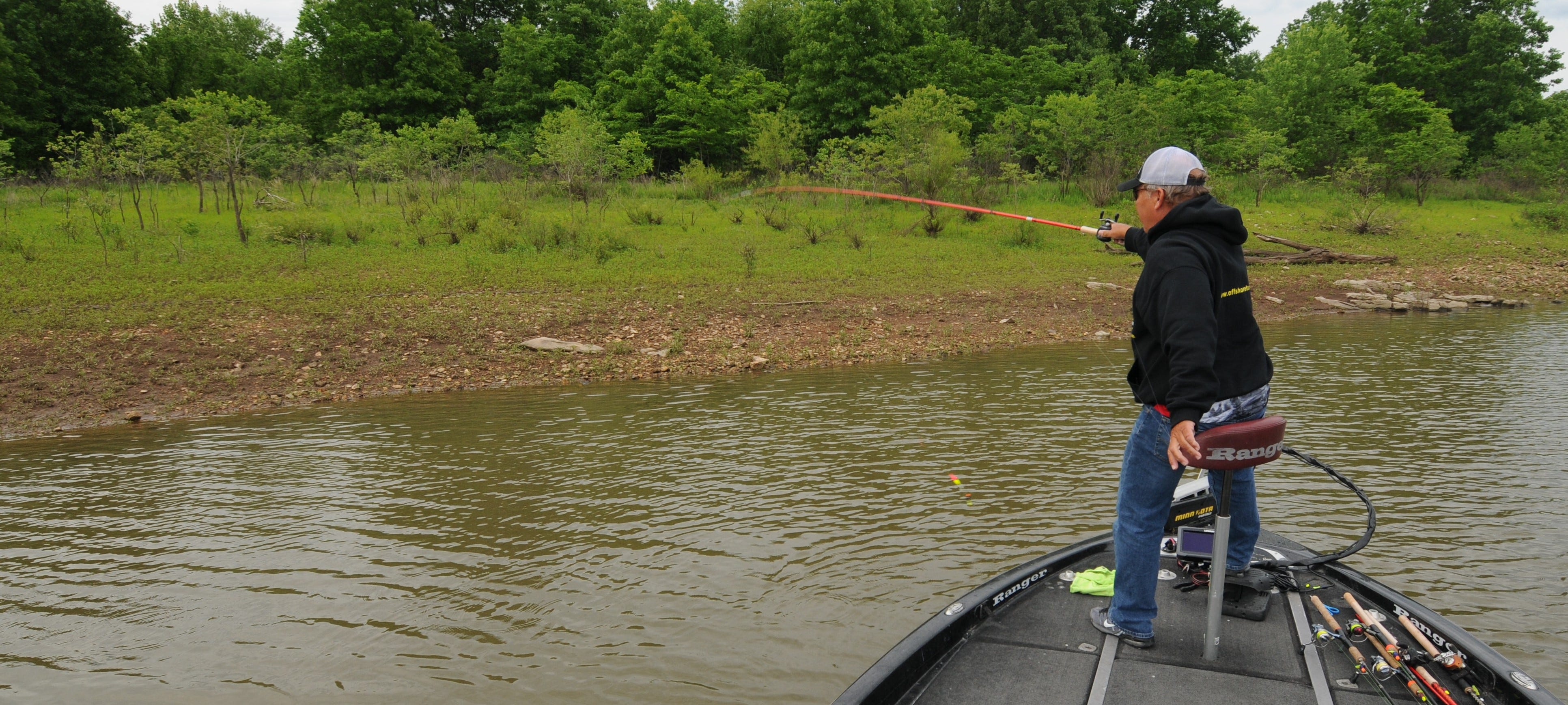 Retired North Carolina guide Freddie Sinclair can tell the spawn is nearing an end when he starts catching smaller crappie in thin water.
"In the prespawn and the first of the spawn you will catch a lot of the big females," he said. "They are the first ones that tend to go to the beds and start spawning. Then you will start noticing in the middle of the spawn the size of the fish gets a little bit smaller. You might go from 2- or 2 1/2-pounders to 1 1/2 to 2 pounds and then towards the end of the spawn you will have that second-year spawner. Then at the end of the spawn you will have that first-year spawner. The fish get smaller as the spawn goes on.
"The old saying used to be when the dogwoods bloom is the time to go catch crappie, but during my seminars, I always preached that if you wait until the dogwoods bloom you missed the big fish," Sinclair said.
Beaver Lake guide Payton Usrey relies on water temperature to indicate if the spawn is nearly over. "When it is about 68 (degrees) the spawn starts winding down, and you start finding less and less fish along the bank," the Arkansas guide said.
A crappie's appearance is also reveals if the fish is finishing up its spawning duties. "When we start seeing more of the late season white crappie come in and they are very, very poor-looking, that is when (the spawn) is about done," Alabama guide Lee Pitts said. "Most of the time our black crappie come in first and spawn, but when we start seeing those male white crappie that are very poor in the 9- to 11-inch group, then that's about the end of the spawn. They are just as skinny as rails."
Louisiana tournament veteran Tim Hebert can tell the spawn is nearing completion by looking at the dark coloration of male crappie. "When we start seeing the black tails on the blackened male fish that tells you the spawn is pretty much over," he said. "You might catch one every now and then, and then there will be a two- to three-week lull when people struggle fishing because the fish are not aggressive."
Oklahoma guide Dustin McDaniel prefers targeting bigger female crappie suspended over deeper water during the spawn so the best way he can tell if crappie are done spawning is by inspecting the physical condition of the fish. "Sometimes I think they will spawn for a few days when the weather is right and then we will get a cold snap so some fish will pull back off," McDaniel said. "When it gets warm they will push back up to the bank so the spawn can vary anywhere from a week to four or five weeks. You can usually tell if the spawn is over because the females are skinny fish that have laid their eggs."
Sinclair and Usrey notice some telltale signs of the spawn ending when they clean their clients' catches. "If you clean a female you can kind of tell that she is halfway spawned out or has laid some of her eggs," Sinclair said.
"You will find a lot of the egg sacks are just real small instead of big and bulky," said Usrey, who notices some of the females have dried-up egg sacks.
Stay Shallow or Go Deep?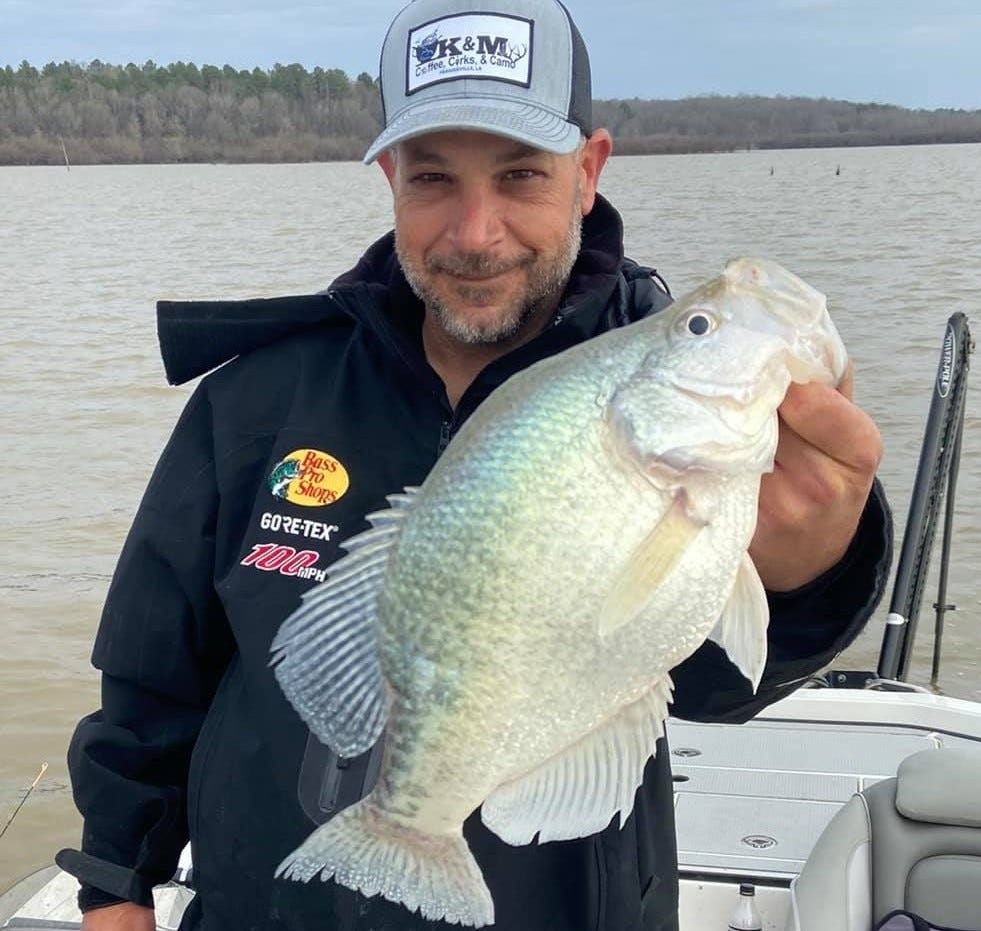 When the spawn nears its conclusion, crappie anglers must determine whether to target late spawners lingering in the shallows or look for postspawn crappie moving to their first recuperating stop in deeper water.
The massive size of Missouri's Truman Lake allows Barry Morrow to catch spawning crappie in the shallows during about a six-week span, including the full and new moon phases. "When they don't bite up in the shallow water and I can't catch them casting or flipping a cork, then I move out (to another section of the lake)," the Missouri guide said.
When his spawning banks stop producing, Morrow knows where to find postspawn crappie. "The fish move exactly to where they were in the prespawn, which is usually 8 to 10 feet of water," he said. "They are just out a little bit deeper and they will hold up there for several weeks until they get into the summer pattern." He finds postspawn crappie around any cover, such as rocks, stumps or standing timber in the 8- to 10-foot range.
McDaniel continues staying offshore to catch Grand Lake crappie transitioning from the spawn to postspawn. "I am looking for fish that are pulling off the bank but still staying around their spawning areas," he said. "The fish push back off the bank going towards the main lake and work their way out to the big water."
Brush piles along creek channels are favorite spots for Sinclair to find postspawn crappie on Jordan, Falls and Harris lakes. "The fish kind of go out and hover and rest for a little bit there for maybe a week or two and then they get hungry and start feeding," Sinclair said.
Postspawn crappie at Beaver Lake leave the spawning banks and move to the flats first, according to Usrey. When the water temperatures climb to 78 degrees and higher the fish move into pole timber 50 to 60 feet deep.
Pitts catches spawning and postspawn crappie under the stationary docks on his home waters of Weiss and Neely Henry lakes.
Laydowns and stumps in the canals of Lake Verret and Grassy Lake are key spots for Hebert to catch spawning crappie. He finds postspawn crappie at the mouths of the canals where the fish eventually move into the lakes for the summer.
Lure choices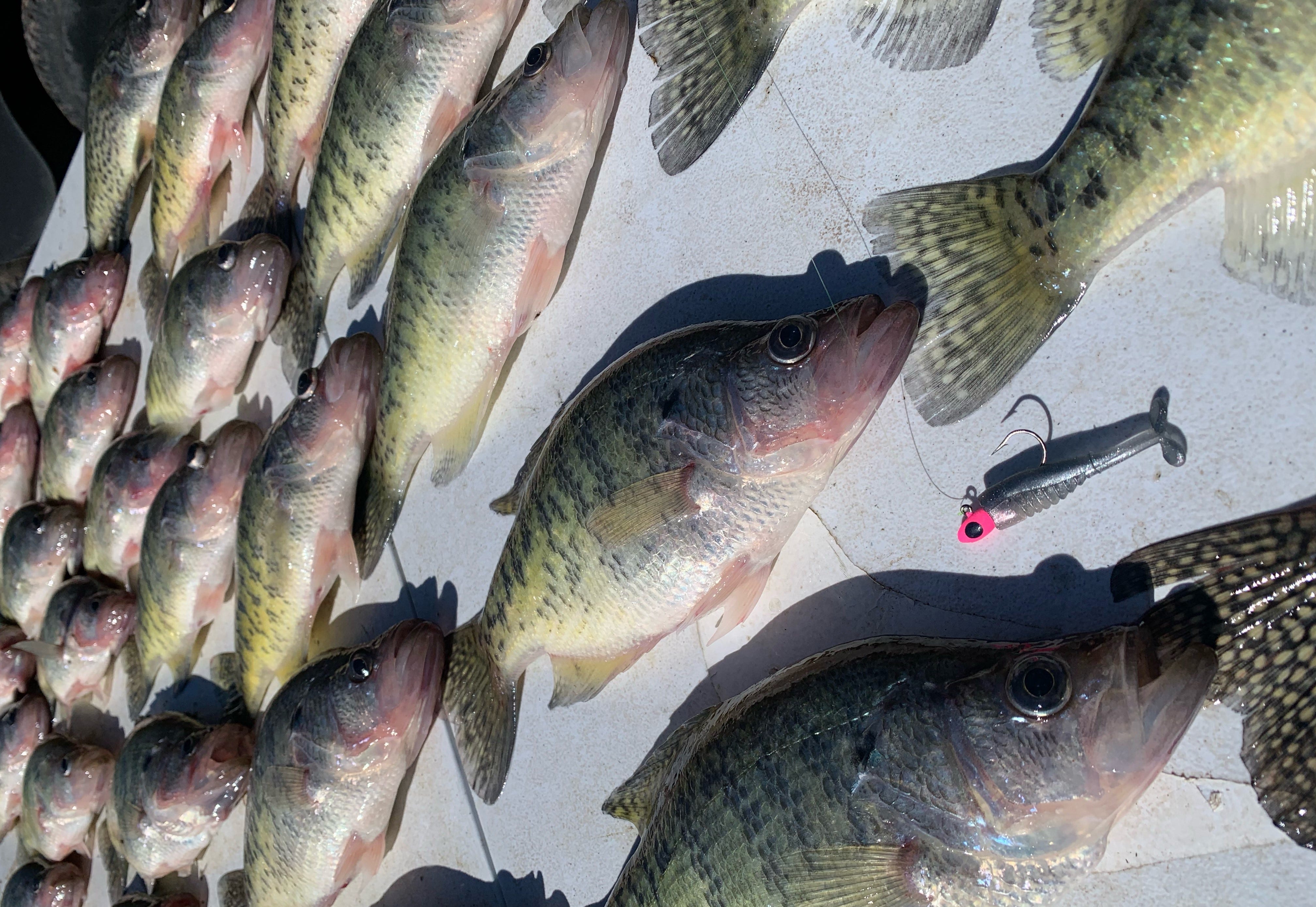 McDaniel tempts spawning and postspawn crappie with a Bobby Garland Baby Shad in the Bleeding Shad color with a 1/8-ounce jighead. The Slab Hunt'R in Monkey Milk combined with a 1/8- ounce jig is his choice to catch aggressive postspawn fish.
The Baby Shad is also Sinclair's favorite bait for spawning crappie he finds on his Garmin Panoptix LiveScope. He catches postspawn crappie on Hyper Grubs or Stroll'Rs with 1/16- or 1/32-ounce jigheads either longline trolling or pinpointing fish with LiveScope. The retired guide notices crappie that have recuperated from the spawn are hungry and prefer the lively tail action of the Hyper Grub and Stroll'R. Water clarity determines his lure color choices: Black Hot Pink, Cajun Cricket and Black Pearl Chartreuse for murky to muddy water or Blue Ice, Junebug, Bluegrass and Red Chartreuse Silver for stained to clear water.
Usrey catches late spawning crappie on a Monkey Milk, Green Hornet or Cajun Cricket Baby Shad and 1/16-ounce jig set 6 to 12 inches below a Thill float. He opts for a Slab Hunt'R (Monkey Milk, Junebug or Blue Ice) with a 1/16-ounce jighead as a search bait to track down crappie transitioning from the spawn to postspawn.
The 2-inch Slab Slay'R and 1/8-ounce jig is Morrow's favorite lure for flipping with a cork to spawning crappie. He opts for Black Chartreuse Silver or Black Hot Pink hues for dirty water and Junebug for clearer water. The Missouri angler also rates the Stroll'R with a 1/16-ounce jig as a great lure for casting into the shallows for spawning crappie.
When targeting spawning or postspawn crappie under the stationary docks, Pitts relies on Minnow Mind'Rs, 2-inch Slab Slay'Rs and Baby Shads (Bluegrass, Black Chartreuse Silver and Cajun Cricket for stained to murky water or Monkey Milk and Blue Ice for clear water). He either dock shoots with a 1/24- or 1/32-ounce jighead to create a slower falling bait or sets the jig below a Thill float to keep the bait in the strike zone longer under the dock.
Hebert prefers the small profile of a Blue Ice Baby Shad (1/16-ounce Pink MoGlo Jighead) for single-pole jigging around the stumps and laydowns for spawning crappie in the canals. He switches to a Slab Slay'R (Eclipse color) with a 1/16-ounce jighead for pitching to postspawn crappie at the mouths of the canals.