By David Brown

A lone finger mullet lazily strolls along the Roseau cane edge. There's a break in the stalky vegetation there, likely the path of the current eddy that deliberately directed the tasty meal to the tiny depression containing a pack of ravenous Mississippi Delta redfish.

The mullet's pace quickens like it's walking past a graveyard. A sudden pause -- as if to ponder the predicament -- precedes a burst of speed, crystal-clear clarity and an ultimate spike in the flight instinct.

Back-and-forth and back-and-forth, the mullet's head nervously bobs and darts, the small fish hitting angles that might evade an impending maw. Its erratic efforts to evade cruel fate is its only chance. There's a bunch of them, excited assassins built to kill, and they're close.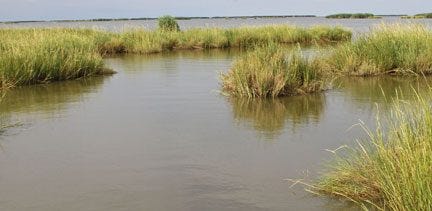 The mullet jerks hard left as a 15-pound mass of brute force and boundless appetite opens fire with a deadly assault that blasts the prey skyward.

He's free – knocked clear of the bronze beast. The baitfish hits the water headfirst and darts toward the escape of marsh grass. Then it went dark.

But the second redfish's moment of predatory glee fractures with a stark realization: "This is no mullet."

You feel it's weight and power and begin the next most-exciting minute or two of your life.

Indeed, it was not a live batifish. But Heddon's Saltwater Super Spook has been doing the best job of imitating this forage fish for decades. Crafted to closely resemble the profiles of mullet and other coastal baitfish, Super Spooks have a bona fide, deal-closing walk that redfish (and other gamefish fresh and salt) just can't resist. It's proven. A sizable target that's easily heard and spotted even when muddy water prevails, these hefty baits represent an ample meal well worth the chase.

Now, if we're dealing out condolences, that redfish with the sore lip needn't feel bad – a big speckled trout fell for a similar ruse an hour earlier on a Chug'n Spook. The cupped lip creates the sound of topside strikes and like the rest of the Spook family it does that walk-the-dog retrieve that triggers strikes.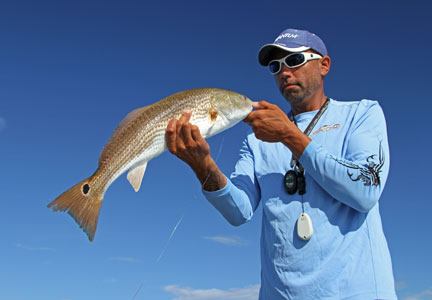 Tops for Topwaters
Louisiana anglers know that Spooks of various size and color will tempt the Delta reds and trout most any day of the warm season. However, with the fish feeding heavily for winter's approach, late fall offers lights-out potential, especially during warming trends.

"Basically, the water temperature needs to get above 65 degrees here for topwater baits to be effective," said Capt. Anthony Randazzo, of Paradise Plus Lodge in Venice, La. "We have had great success with these lures in the spring, summer and fall. However, fall is my personal favorite."

A devout Spook fan, Randazzo offered his insight on productive Spook tactics:

The Right Bait: "We love to throw the Super Spook whenever we have surface activity. This includes both baitfish and gamefish activity. Calm conditions and shallow water greatly enhance our chances of getting bit.

"The chugging spook is better suited for choppy conditions. It also seems to help fish locate the lure better in stained to muddy water."

Work It: "There are lots of ways to fish a Spook and we try several techniques each day we fish them. Most often we will 'walk the dog' with a medium gait and occasional pauses. Some days the gait is quick and tight, while other days it is quite slow and wide.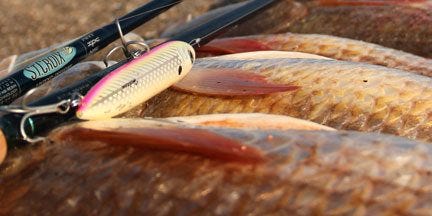 "Some days the pauses need only be for a second but other days, the bait may need to rest for 5 seconds. Occasionally, if the fish are very stubborn we will use this retrieve: Twitch, pause, twitch, pause, twitch, twitch, twitch, pause and repeat."

Size 'Em Up: "We always try to match the hatch. The bigger the baitfish, the bigger the bait. As a given, the bigger the bait, the bigger the gamefish. That being said, we use bigger baits when pursuing trophy fish and smaller baits when pursuing larger quantities."

Where to Cast: "We have had a lot of success throwing spooks around the shallow sandbars that line the coastal areas of the Delta. We also love to use these lures over oyster beds, shallow Roseau cane points and barrier islands."

Tackle: "We use a 7- or 7 ½-foot, medium-action rod when slinging spooks. We use 20-lb braid with 30-lb fluorocarbon leader. The rod will load up when casting and give you longer casts.

"The medium-action rod will give you a short delay when setting the hooks to allow the fish to get a fair chance to eat the whole lure. The leader helps conceal the lure and seldom wraps around the treble hooks making your fishing time much less frustrating, as opposed to tying braid directly to your lures."

Action Awareness: "A good medium-action rod will make it easy to maintain a rhythm while retrieving the spook and it won't wear your arm out as quickly as other rod actions. You'll also need a medium-action rod when fighting a Spook loving fish. The rod flexes as the drag slips and you'll keep the hooks from pulling from the fish.

"Some anglers who fish topwater reduce their drag setting to really low levels and put the slightest pressure on the spool with their thumbs. Once you get the hang of this technique you can appreciate how quickly you can take your thumb off the spool of your baitcaster and allow the fish to run with very little pressure on the hooks."