Learn how expert crappie anglers effectively target pre-spawn crappie in deep water and how get baits in the correct zone.
The up-trending popularity of catching pre-spawn crappie from a boat in deep water during February and March is nothing new, but we can learn more about the techniques from those who do it best. These open water "roamers" are on the move and eating in preparation for the spawn, so right now is the time to take advantage of the fishing action.
I have vivid memories of doing exactly that kind of fishing 20 years ago with longtime crappie fishing expert Todd Huckabee. In the Grand River above Fort Gibson Lak and at some of Lake Eufaula's lower-end creeks, he'd idle along "in the middle of nowhere" while keeping an eagle eye on his electronics. To me the targets he got excited about looked no different than the schools of baitfish we're all accustomed to seeing in such areas this time of year, so I was always surprised when we'd stop and drop our jigs and start pulling crappie from depths of 25 feet and more. Sonar back then was nowhere near what today's units provide in directional viewing, including forward-facing "live" technology, yet Huckabee was still "seeing" everything he needed for what he wanted to know.
Learning About Deep-Water Crappie
I pounded him with questions about how he knew those were crappie and why he was looking for them in the areas where he did. For those of you who know Todd well, you'll not be surprised that his answers were always authoritative and definitive. It was early 2000s and a Zebco/Quantum project had brought us together. Most of my crappie fishing prior to then was of the more traditional kind – fishing brush piles, around bluffs, and along the spring spawning banks. The new aspect intrigued me, though, because I already had a passion for catching bass with a jigging spoon around deep structure in lakes like Elephant Butte, N.M., and Lake Amistad, Texas. At both places I had frequent encounters with crappie in February and early March, and I was noting some predictability for such. As a result of that confidence, and the fast-track crappie education from Huckabee, the deep-water crappie bite became one of my favorites.
My thirst for learning has never wavered, so I'm still asking lots of questions. Two great resources regarding deep water crappie fishing are Dustin McDaniel and Gary Rowe.
McDaniel is a crappie guide on northeastern Oklahoma's Grand Lake, which sits at the north end of the Grand River system, while Rowe mostly fishes the river system's southern end point – Fort Gibson Lake. Both men rely heavily on Garmin LiveScope for their deep-water crappie fishing, but they have contrasting styles when it comes to "weighting" their rigs to fish depths of 20 - 50 feet and more.
Targeting Pre-Spawn Roamers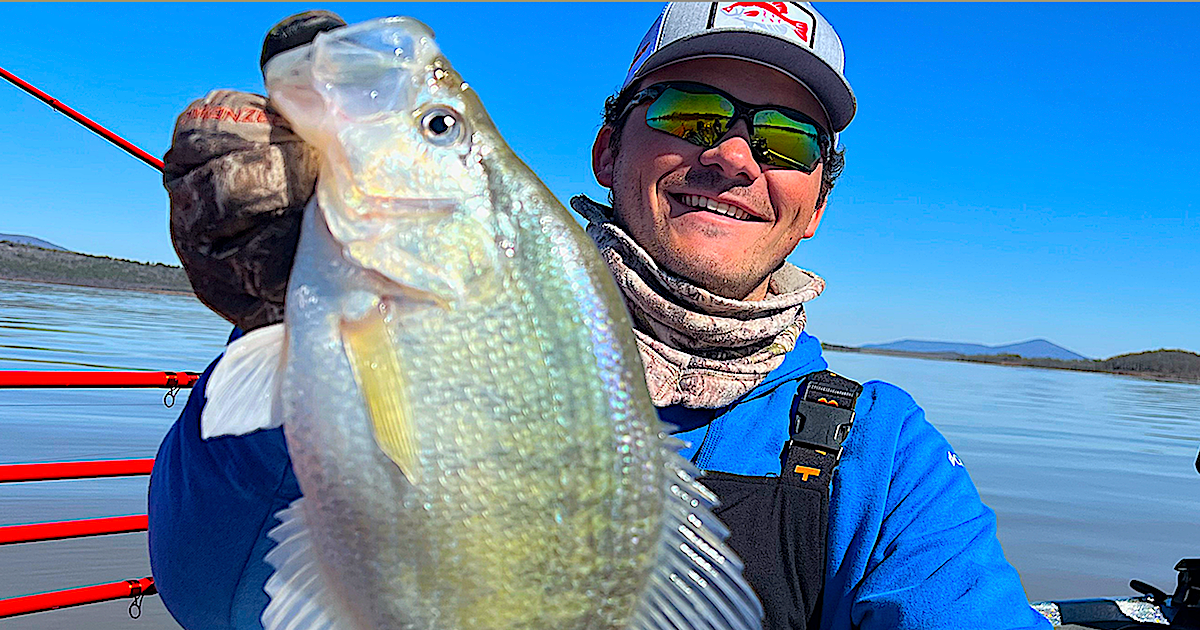 McDaniel's personal preference skews more toward catching quality over quantity, so that's an early discussion to be had when booking a trip with him. "Grand doesn't have the giant crappie like a Grenada and other trophy destinations can offer, but we have plenty of dandies to make most any crappie angler proud. Otherwise, our overall crappie population is really quite amazing right now."
Young by age but a veteran by experience, McDaniel is one of the country's best at using forward-facing sonar technology for finding "roamers," a designation often applied to describe individual crappie, and usually bigger ones, that roam the open waters. "Crappie look different than most gamefish on LiveScope, typically appearing more roundish and showing little body movement. If you see a lot of tail action, it's probably not a crappie," McDaniel explained in talking about what he's looking for.
His approach for catching roamers is to stay back from a targeted fish so not to spook it, and he prefers a long rod, 14 to 16 feet in length, be used for the same reason. Then it all boils down to being able to put the right lure at the right place to get the bite. McDaniel has found the most accurate way to bring lure and fish together is to drop the bait straight down and stop it about 3 to 4 feet above the crappie, allowing the angler to make any alignment adjustments without alarming the fish. Once all is good, lowering of the lure resumes but stops with the lure just above the crappie – never at the same depth nor below.
"Crappie look up and feed up, and anything other than above doesn't get the respect of being natural and something to eat." Once the fish sees the lure and reacts favorably, the angler begins to slowly reel without stopping until either the fish bites or the lure is back in the boat.
Sounds pretty easy, right? In reality, it takes a lot of practice to bring lure and fish together, and depth confounds the situation. Imagine trying to do this with a 1/32-ounce crappie jig at 30 or 40 feet, and from a boat bobbing on the surface. That's why McDaniel adds weight ABOVE his jig. The additional weight helps get the lure down in expedited fashion and without any impact to action of the jig hanging below.
His integrated weighting system includes a traditional bullet-style slip sinker and two bobber stops. The rigging process begins with running the line through the first bobber stop, then through the sinker, then through the second bobber stop, and then tying a jighead to the end. Next, he'll adjust the slip sinker to sit about 10-12 inches above his jighead, and secure it there by sliding the two bobber stops to the sinker's ends.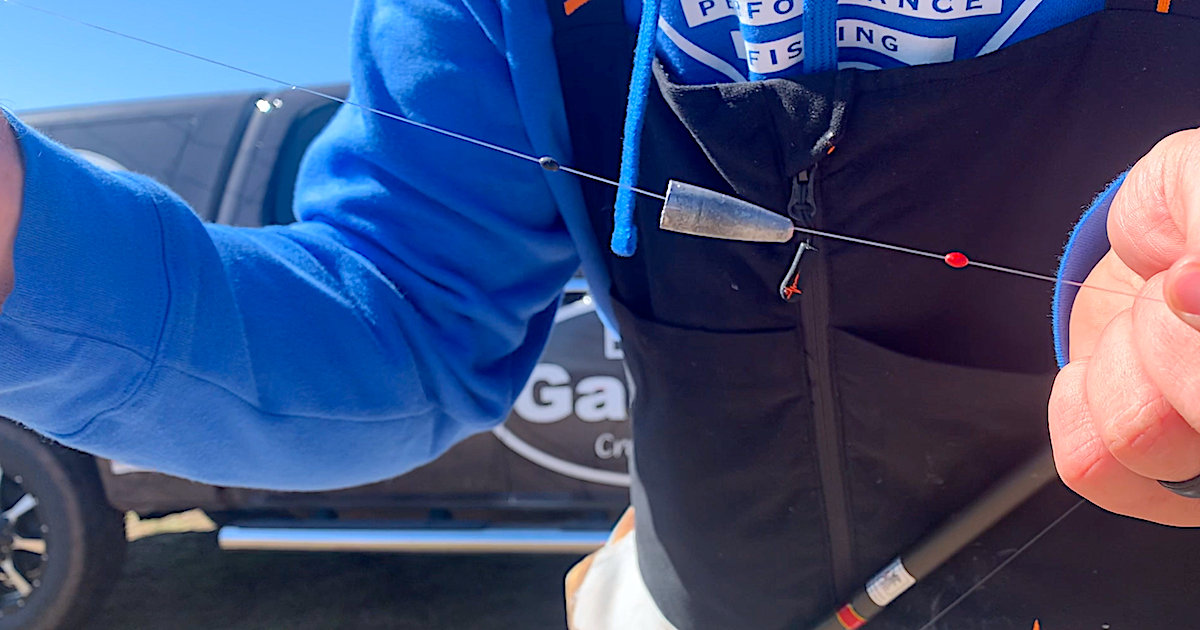 McDaniel selects a Crappie Pro jighead in a size relevant for the lure, taking into consideration weight and hook size. For example, he'll use up to a 3/16-ounce Crappie Pro Mo' Glo jighead on a 2.25-inch Slab Hunt'R, a 1/8- or 1/16-ounce Mo' Glo jighead on the 2.25-inch Minnow Mind'R and 2-inch Baby Shad, but will downsize to a 1/32-ounce Crappie Pro Head Dockt'R for the 1.25-inch Itty Bit Slab Hunt'R.
As for determining slip sinker size, McDaniel chooses among a range of weights between 1/4 and 1/2 ounce, going with the lightest he can get by with for the conditions being fished. More depth and more wind dictate more weight. The weighting system is the exact same he uses whether guiding his clients for roamers or when he's targeting big loners while fishing crappie tournaments across the country. He has a proven track record of success at both, relying mostly on natural baitfish colors like Bleeding Shad, Threadfin Shad and Monkey Milk. When asked about his deepest crappie catch, he replied: "61 feet, at Beaver Lake, Arkansas."
Gary Rowe's Itty Bit Approach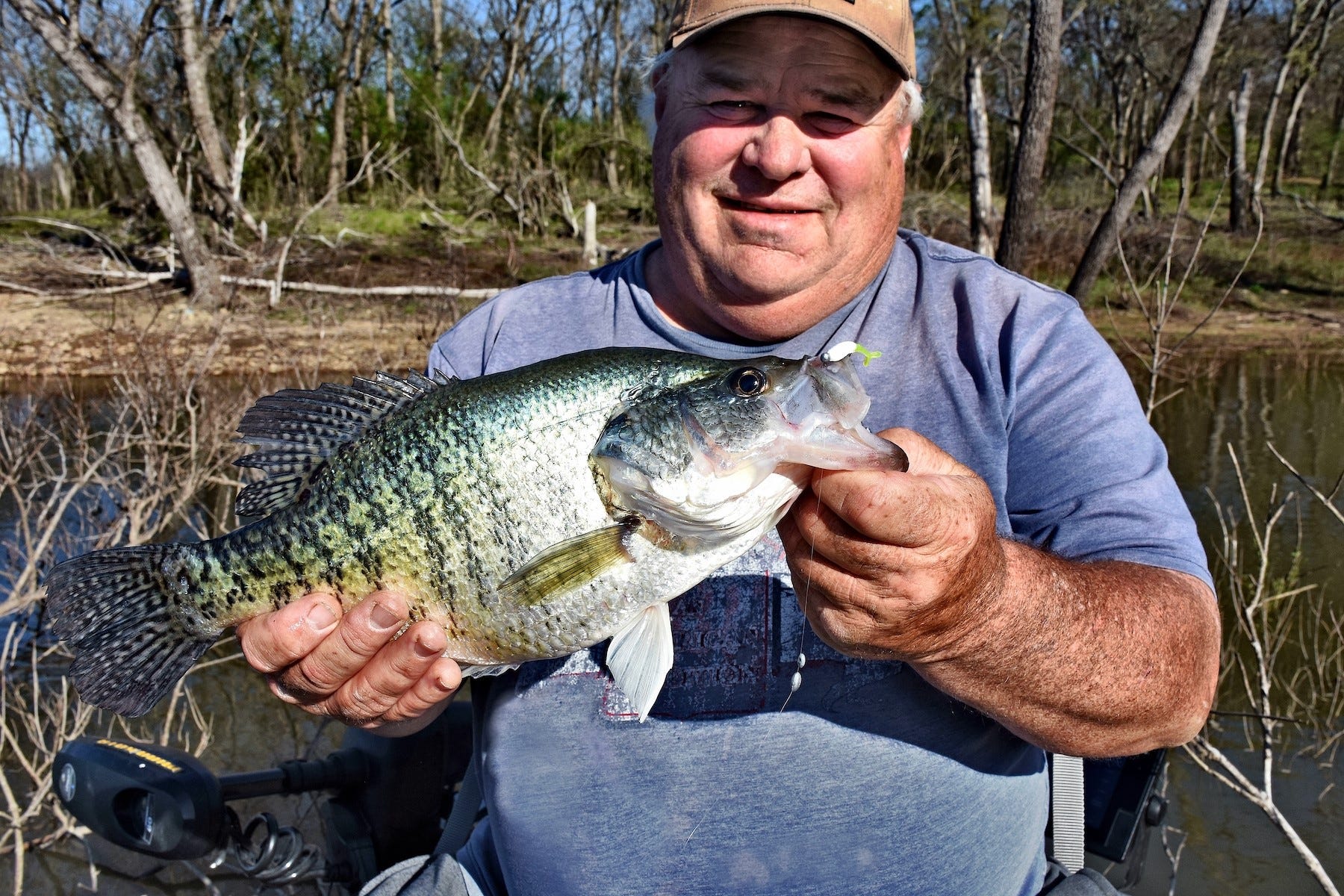 Gary Rowe on Fort Gibson Lake also enjoys catching roaming crappie, but he employs a somewhat different tactic for weighting than McDaniel. For vertical dropping a bait with a long rod, he uses a 3/8-ounce egg-shaped slip sinker that is stopped by a barrel swivel. To the other end of the swivel, he attaches an 8- to 10-inch leader rigged with a 1/48-ounce Itty Bits Jighead. The tiny jighead is because Rowe says he relies on the Bobby Garland 1.25-inch Itty Bit series 99% of the time, year-round for his crappie fishing.
"I don't care what time of year it is, I just have so much confidence in these little baits I feel I can catch black and white crappie whatever their moods, that I just don't stray often to something different."
And while Rowe openly admits he's most interested in just "catching," he's quick to proudly point out that in 2022 he weighed more than a half dozen "2-plus-pounders" from his home lake caught on Itty Bits, including a 2.7 beauty caught early April.
Rowe says he typically uses the long rod and 3/8-ounce sinker combo when he's fishing depths of 25 feet or more, or should wind require the added help to control his line. He said he's had to fish deeper more so this year than usual, attributing that to fluctuating water levels because of recent rains. "Even when the lake has come up 3 or 4 feet, our crappie have been roaming pretty much the same areas, just going deeper or backing a little farther into mouths of creeks and away from the river current."
His other outfit, and his favorite, is a 7-foot spinning rod that he likes to use to "pitch" to roamers he's seeing on LiveScope that right now are occupying depths of 3 to 20 feet. "These fish are moving around more than the deeper fish and I like the flexibility of being able to scan freely with my sonar, and quickly direct my lure where needed toward a crappie."
For this approach, Rowe says he uses only the weight of the Itty Bits Jighead if he's seeing most of the fish at depths of 12 feet or less. If they're 12 to 20 feet, or if the wind is a factor, he adds additional weight by crimping on a Clam Shot weight directly to his 6-pound test line about 10 inches above his jighead. He explained a #4 Clam Shot is equivalent to about 1/10 ounce, while a #5 is about 1/20 ounce. "Neither is adding a lot of weight, but you'll be able to notice the difference in fall rate and line with your Itty Bits."
As for Rowe's favorite bait styles and colors, he says his top producers recently have been the Itty Bit Slab Slay'R in Black/Hot Pink, and the Itty Bit Slab Hunt'R in Junebug/Chartreuse Pearl. "Bone White/Chartreuse is also always a dependable color for me here on Fort Gibson," he added.