Learning to select the best spinnerbait for the situation can vastly improve your bass fishing catch rates, especially during autumn, when spinnerbaits excel but when conditions change quickly.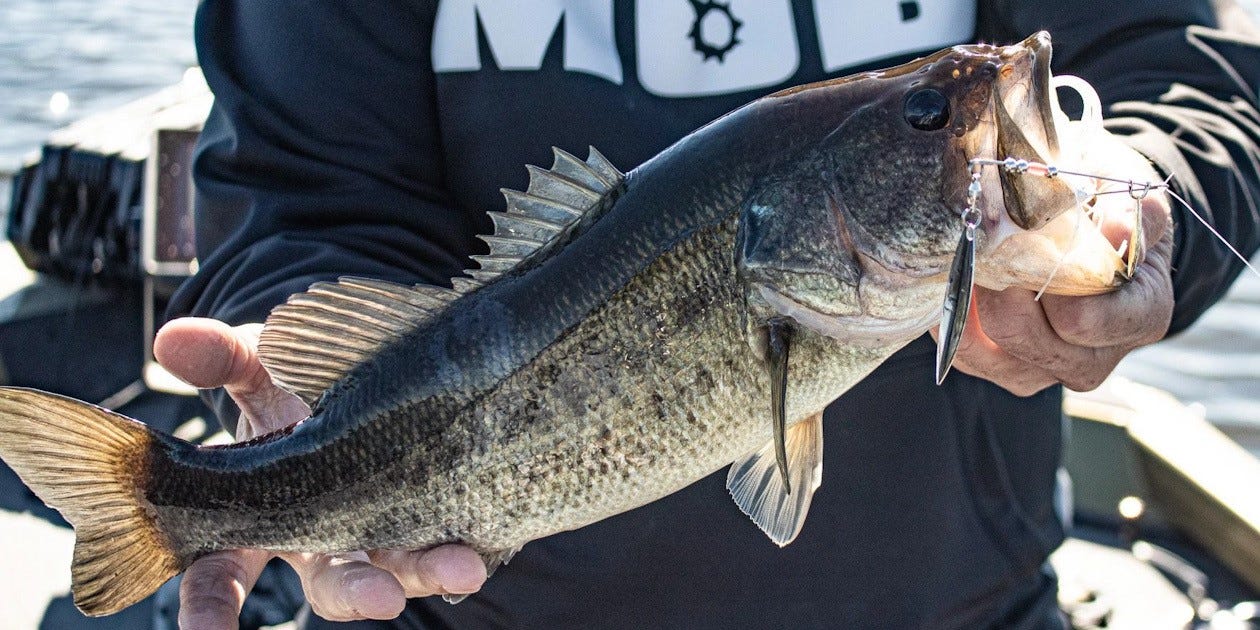 Learning to select the best spinnerbait for the situation can vastly improve your bass fishing catch rates, especially during autumn, when spinnerbaits excel but when conditions change quickly.
Autumn and spinnerbait bass fishing go together. The bass follow big schools of shad into creek arms of reservoirs, move shallower and feed heavily as the water temperatures moderate.
Spinnerbait bass fishing is fun and highly effective, and the core technique is simple, especially when the fish are fairly shallow. Make long casts past likely fish-holding cover or over structural features such as points and humps, reel back mostly steadily, and set the hook when a fish bites.
Like with any type of fishing, patterning is important for maximizing success. Begin where you see shad flipping on the surface and keep moving – whether you're walking the bank or fishing from a boat – until the fish start hitting, which reveals locations and provides patterning clues. Vary retrieve speeds and depths, and add occasional rod snaps or hesitations. Take careful note of what you had been doing every time a bass hits.
That said, the most important thing you can do to make the most of every spinnerbait bass fishing trip is to select the best spinnerbait for the waters you are fishing and prevailing conditions. With so many spinnerbaits out there, that decision can seem overwhelming, and it's too easy to just default to a specific spinnerbait that has worked for you before or simply to guess. A more systematic approach will make you far more effective catching fish consistently, even as conditions change. We'll break down major variables and the selection process.
Important Spinnerbait Blade Variables
Shape – Colorado blades, which are round, maximize vibration and slow a spinnerbait's fall. Willow leaf blades send out more flash but less vibration and allows the bait to sink more easily. In-between shapes, like Oklahoma blades, fall in-between in vibration, flash and resistance.
Size – Stock spinnerbait model blade sizes generally balance spinnerbaits properly. Where options exist for the same size of spinnerbait, larger blades of any given shape equate to more flash, vibration and resistance. Balance of blade size and bait size also affect the speed you can fish a spinnerbait effectively.
Configuration – Spinnerbaits come in a broad range of blade configurations, with a big single Colorado blade offering the most thump and two or more willow blades sending out the most flash. Combinations of two different types of blades generally give spinnerbaits more versatility. Each combination offers a unique blend of vibration, flash and resistance.
Color – Metallic blades are the most common because of their flash – with silvery blades often favored for clear water and bright skies and gold and copper excelling in dark water and under dark skies. Painted blades, interestingly, are the most popular in muddy water for added visibility and for burning in very clear water to prompt reaction strikes.
Utilize the Covert Heat Map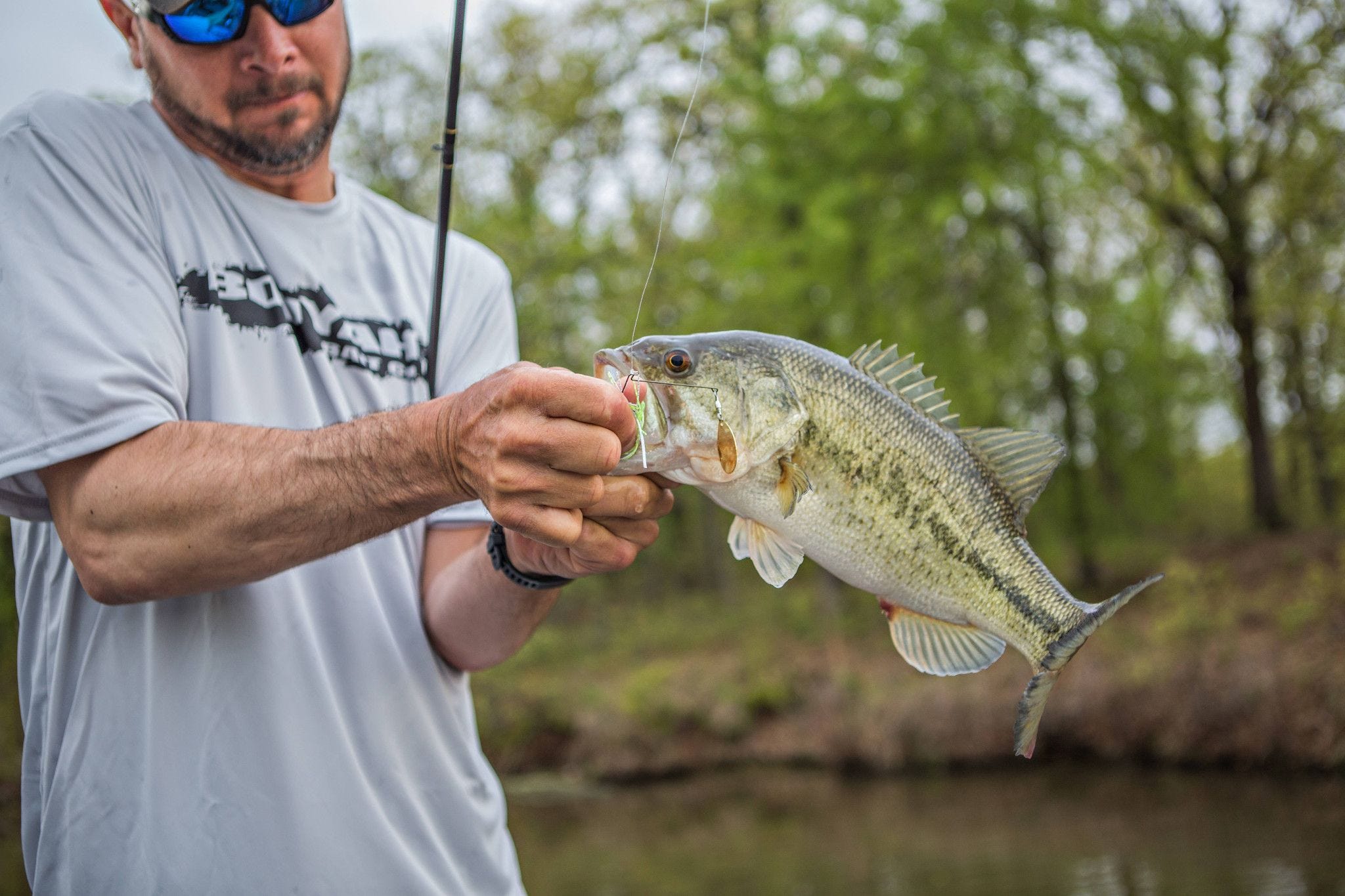 Some very good news for selecting the best spinnerbait for a situation is that you don't need to figure it out on your own. You can tap into the expertise of Jason Christie – one of the finest spinnerbait anglers on the planet – as often as you'd like by using the BOOYAH Covert Spinnerbait Heat Map on Lurenet.
To use this great tool, you simply line up water color and water temperature, and where the two intersect you get two top picks from Christie, specific to configuration, size and color.
The Heat Map can be used in a few ways. The most obvious is on the water, inputting actual conditions and selecting the spinnerbait from your box that is the best match. That said, you're much more likely to have the spinnerbait you need if you begin the process at home, inputting temperatures and water colors you're likely to encounter on an upcoming trip and making sure your spinnerbait box is properly stocked.
Beyond that, there's a major benefit in spending time simply studying the Heat Map. Clicking on various combinations and taking note of which specific baits Christie recommends will provide tremendous insights on his thought process and can help you make better decisions about all each of the spinnerbait variables noted above.
Finesse Spinnerbait for Fall Fishing
Autumn unquestionably serves up some of the best spinnerbait fishing of the year, especially in rivers and lakes where shad are the primary forage. That said, conditions that are common this time of year sometimes call for a measure of finesse in spinnerbait fishing. Low clear water and the high pressure brought on by the first cold fronts of the season dictate using spinnerbaits with smaller frame and smaller blades.
In the past, "finesse spinnerbaits" typically meant lightweight spinnerbaits that were difficult to cast and keep in the zone and in many cases of lower quality than full-sized spinnerbaits. Not anymore! The newBOOYAH Covert Finesse Series, available in 3/8- and 1/2-ounce sizes and in Oklahoma/Colorado, Double Colorado and Double Willow configurations, packs the punch of the popular Covert Series into a smaller package. To keep the profile small and balanced but retain 3/8- and 1/2-ounce sizes, BOOYAH redistributed some of the weight from the head to the hook shank.
Like other Covert Spinnerbaits, Covert Finesse Series baits are built to Jason Christie's exact specifications. Features include Hildebrandt blades, a modified BOOYAH head with a raked gill to compensate for blade torque and custom-color, premium skirts. And like every other detail, the colors and configurations were the ones Christie identified as needed for a finesse spinnerbait.
4 Great Trailers for a Finesse Spinnerbait