The water level fluctuations that are common during spring change crappie locations, so catching crappie begins with finding them. Here's how two expert anglers contend with spring flooding to locate and catch fish.
For crappie fishermen, March Madness best describes the challenge of trying to stay on crappie during the hopefully brief and chaotic period of fluctuations encountered this time of year.
Dustin McDaniel will be the first to tell you he "got educated" about changing water levels last spring when heavy rains forced him to figure out high-water crappie quickly on his usual guiding haunts in northeastern Oklahoma. He's already had to call on those learnings and has made some more discoveries along the way. Missouri guide Terry Blankenship says that his ability to find crappie is what makes him good at catching the species, and that NOW is the time to get the game face on.
Both men have tons of experience and valuable information to share on how they go about finding and catching crappie in high-water conditions, so read on if your favorite lake is up and has you scratching your head about how to scratch out an early-spring limit of crappie.
Dustin McDaniel – Extreme High-Water Fluctuations
Wister Lake is a flood-control lake in southeast Oklahoma with a surface area of about 7,300 acres that offers quality crappie fishing throughout the year. Like many of the state's eastern-side lakes, Wister is prone to high-water fluctuations in springtime due to heavy rain runoffs.
Early February 2023 downpours had elevated Wister by about 15 feet when Dustin McDaniel and tournament partner Ken Roberson visited the lake for a tournament in the middle of that month. The water was still coming in, with surface temps lingering around mid-40s and air temps about the same. They had previous experience on the lake at a comparable time, but not at this high-water state. Using lake familiarity and what they'd been doing recently to catch crappie on other northeastern Oklahoma lakes, their strategy was to target open-water roamers in secondary channels.
"I picked a mid-lake creek on the north side with a wall break that served to direct the main river current flow on past us, almost creating an eddy-like effect at the creek's mouth," McDaniel explained. "We found scattered roamers moving around at 8 to 10 feet in 25 feet of water, and in and around the channel. Some were willing to bite, but early-on we had the feeling there was something better happening elsewhere. We kept moving, kept exploring, and all the while relying on forward-facing sonar to help us locate the most crappie, and the most active ones."
An Eye on the Screen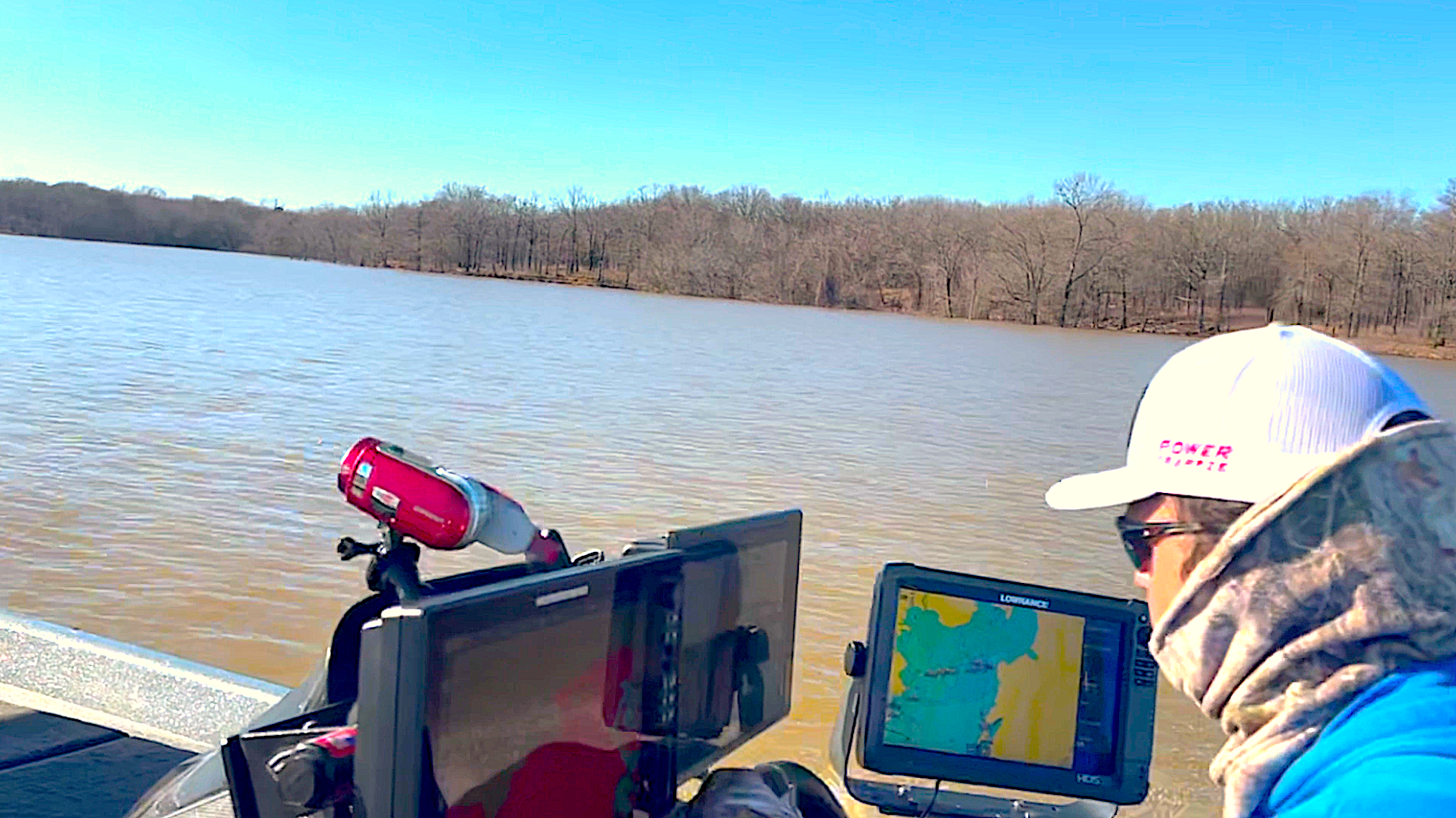 The team scouted more secondary creeks with similar results to the first, and then ventured to the backs of smaller feeder creeks that were identifiable on the map by a "blue line." The designation indicates it's a source of water flow, at least at some times of the year.
"We were still focusing on channels, but eventually realized crappie seemed to be more back in the subtle flats and pockets, and a long way from channels having any water flow. Depths of 10 to 18 feet of water appeared to be their preference, meaning these fish were moving into areas that didn't even have water just a few days back. However, they were still occupying levels high in the water column, similar to the 6- to 10-foot depths we found them at in the first areas we fished, just in totally different situations than we expected for the time of year."
Lures & Presentations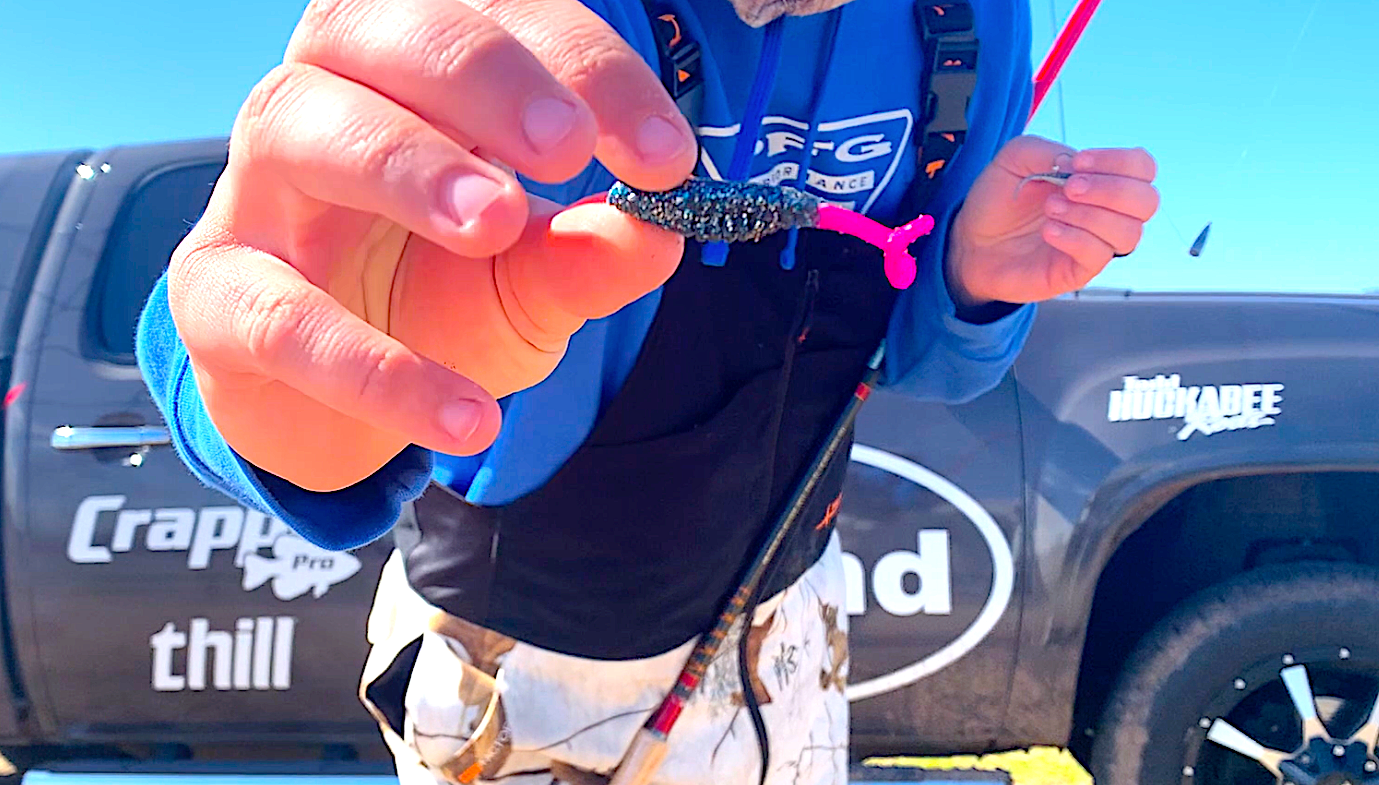 "Earlier in the day, the crappie were aggressive and were all over our Slab Hunt'Rs in Bluegill/Fire color, rigged on a pink Crappie Pro jighead. By early afternoon though, they got finickier and began short striking our baits. We switched to the smaller profile original Baby Shad, in Threadfin Shad color, and continued to rig it on the pink jighead.
McDaniel said they used 15-foot Ghost series Huckabee Rods for their vertical presentation of lures to the fish and went to a heavier sinker pegged with bobber stops a few inches above their Crappie Pro/Baby Shad combo when the wind got up. The heavier weight allowed them better line and lure control to quickly present the bait to a crappie.
"We had early-year flooding last year in Oklahoma, and I learned a lot then about what crappie do in such conditions. I applied much of that knowledge to our Wister outing, and it helped a bunch. Also, as is usually the case, I learned a bunch more during the Wister trip. The thing to remember this time of year is to keep looking, keep trying things. Crappie are biting somewhere on your body of water right now!"
Terry Blankenship – Moderate Fluctuations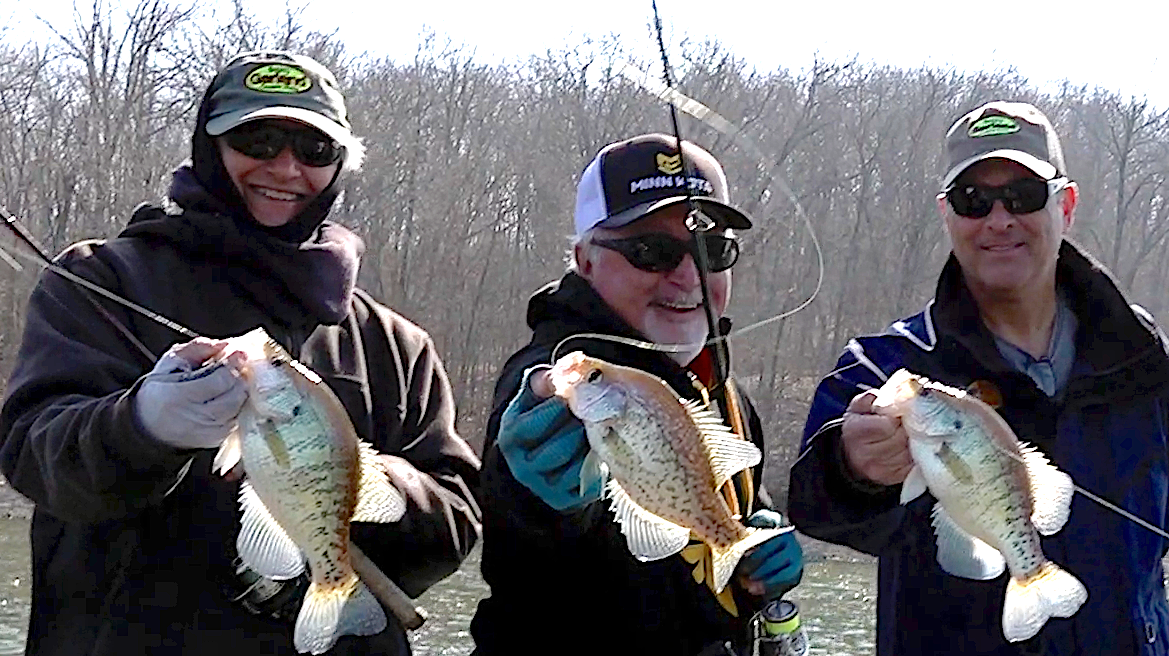 Blankenship has decades of experience on Lake of the Ozarks, his home lake, and one of the best crappie fisheries in the country. And he's evolved over years of technological advancements made in fish-finding electronics. He's long been associated with Humminbird electronics, and the company relies on him for field testing developmental new equipment. The combination of his lake knowledge, crappie fishing experience and electronics savvy put all crappie-finding advantages in his favor.
"March is typically loaded with lots of variables. If it's not runoff from rains bringing the lake up, then it seems it's the water-control folks drawing it down in preparation for such. Then add in your usual cold fronts, many windy days, and a crazy range of temps, then you've really stirred things up. It's a period that can drive you nuts because you know the crappie are eating, but there are so many external factors influencing where they are and what they're doing that it can be frustrating. But I love the challenge of finding crappie and enjoy looking for them almost as much as I do catching them."
Lake of the Ozarks is one of the largest manmade lakes in the United States. It has a surface area of 54,000 acres, is nearly 100 miles long and has more than 1,100 miles of shoreline. Most of the year, the lake maintains a relatively stable surface elevation. In spring, the rains come, changing everything. "The most I've ever seen our lake come up in short order was about six feet, but that was certainly an extreme case. Usually, it'll rise a couple feet or so with heavy spring runoff, and that's a lot of new water."
With sudden rises, Blankenship finds that the crappie seem to "suck tight to brush." For the condition, he prefers fishing the Glaize arm, which has a large section of lake running through the wooded and undeveloped Lake of the Ozarks State Park. He says every large spring runoff carries tons of trees, logs and debris in, and all provide great cover for crappie. His focus for "holding spots" is near channel turns, and he especially likes the inside stretch of a channel turn. "Sometimes the cover catches along the bank and connects there. Other times it hangs up offshore and lies on the bottom. Both of can be really good at holding crappie. The best scenario is when you can find the cover in 'dead water,' an area protected from the current. Log jams and little protected pockets near the channel, but out of the current, serve as great gathering spots for crappie migrating up the creeks to spawn."
Blankenship says the runoff water typically will be "dirty," but that just means you'll probably need to fish shallower, even if the cover isn't at that depth. He also said that you'll often find both black and white crappie in the same spots at this time, because the "conditions" brought them together. "Don't be afraid to toss a cork and jig on top of cover right now, and also to tight-line a jig high around the top before probing deeper into the brush. "A lot of times they'll be suspended high near the surface."
Blankenship keys on northern banks, especially the ones with pockets or protected turns near a channel, but out away from the current. He explained a south wind will steadily push surface water so that the warmer parts of it will stack up and elevate the temperatures in such areas. "In late March, early April, a jump of 5 to 6 degrees can make a big difference in fish activity. Gamefish and baitfish want the most comfortable water, so I keep that top of mind while keeping an eye on water temp."
Dirty-Water Baits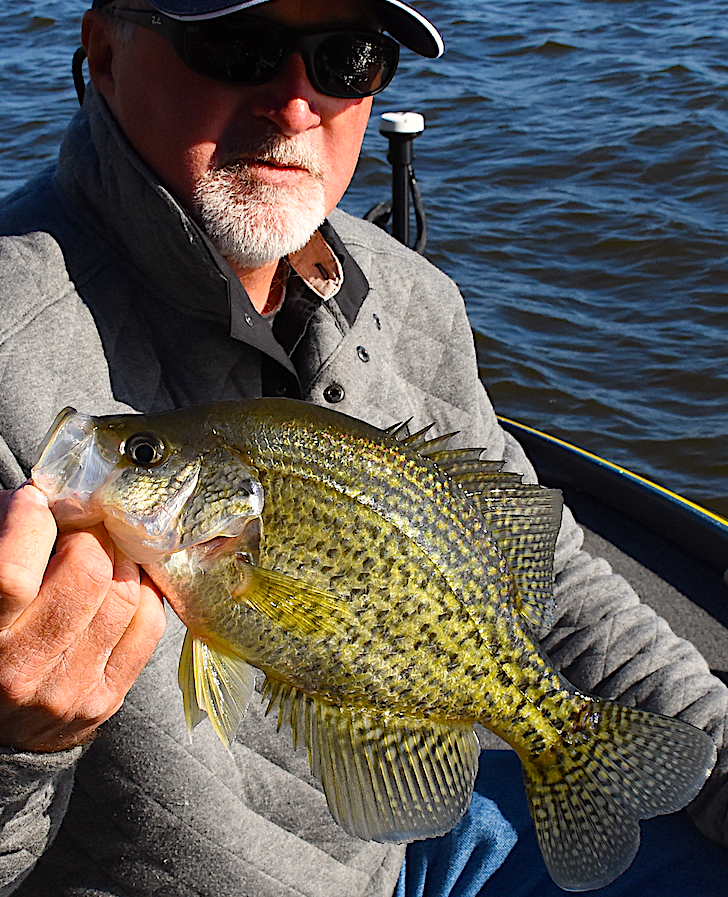 Crappie are sight feeders by preference, but that doesn't mean you have to relate their vision to ours. Crappie have other sensory factors allowing them to find food. In high-water runoff conditions, Blankenship opts for brighter and/or contrasting hues that offer the greatest sight potential, but he is also thinking "vibration" when making bait selection.
"Crappie can sense movement to key on prey. Have you ever tried to hold a Baby Shad or Baby Shad Swim'R still? You can't do it, so those two Bobby Garland baits are always atop my lure selection list. Colors like Bluegrass, Bone White/Chartreuse and Mo' Glo Screamer are great options. I also like the Minnow Mind'R and Slab Slay'R, for a different profile and more color options. Both baits have ribbed bodies and cupped tails, with the Minnow Mind'R having a split tail; the features create vibration that get attention. Also, both baits come in great dirty water colors like Bone White/Chartreuse and Black/Chartreuse.
"Fight through the temptation to avoid going crappie fishing when water levels run high. Instead, get on the water and figure 'em out now, because when April is upon us, you'll already be in the driver's seat when the spring crappie explosion does hit!"