Learn why points are hotspots for fall and early winter crappie and how to fish these structures effectively this time of year.
November and December have always been two of my favorite months to fish for crappie.
Part of the preference comes from my being blessed with a long career in the outdoors industry during which I've spent years of weekends and summers tied up as others busily enjoy the very activities I'm working to promote, such as fishing, and leaving me mostly the end-of-year Holidays for my downtime.
Job aside, I've also found the Thanksgiving to New Year's timeframe to be an especially quiet, beautiful and productive period to be on the water. So, with this seasonal break coming up soon, now's the time to get to the point, or in this case – points – because fishing crappie on points can be exceptionally productive this time of year.
Just like we use roads in our daily activities, fish of all kinds constantly move along pathways for a variety of reasons. Creek channel edges are often credited with being the structural definition that influence fish movements most. I like to think of points that come closest to interrupting channel edges as being "intersections with flashing caution lights." These spots demand fish to take some action – a slowdown, full stop, partial turn, complete change in direction, or all of the above. Bottom line is, chances are good that something is going to happen at these underwater intersections, and they are where you can take advantage of the fish-catching opportunities.
A great thing about points is that the best ones are relatively easy to find in most lakes. Quality lake maps clearly identify the ones that match up best to the scenario described above, and the most basic of fish finders are capable of outlining points. And, should you have neither a map nor sonar unit, even a simple eyeballing of the shoreline's landscape is likely to reveal a prominent point that is headed toward a channel edge. With a marker buoy handy and a weighted crappie lure on the end of your fishing line, you're in business.
Home Court Advantage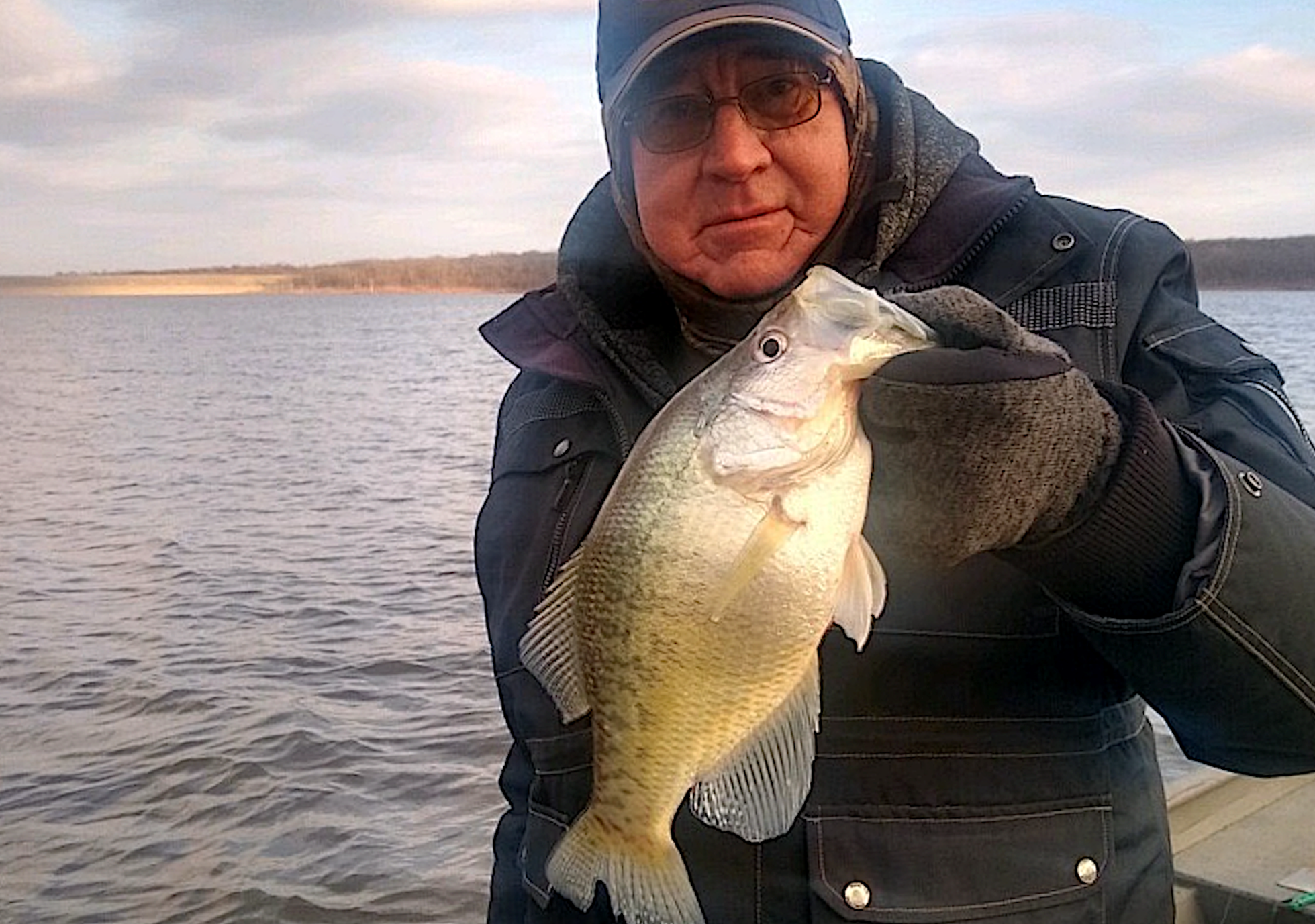 Leon Mears was high school age when Keystone Lake in Oklahoma was completed and started to fill. While his buddies were doing typical high-schooler things, he spent his idle time walking and driving every side road he could find around the new lake. To this day, he remembers structures, flats and points from those observations – and many are still among his best crappie fishing spots.
"Unlike most lakes around here, Keystone has a lot of sand, and our crappie seem to really key on those areas from spring through summer," he said. "Then, when things start transitioning to fall and winter, crappie are moving to the breaks. While Keystone doesn't have a lot of points like those found in other waters nearby, I do know a few sandy points with breaks and cover near channels that really hold the species this time of year."
Mears says as a general rule, Keystone's crappie seem to "hang a lot" in 12 to 15 feet of water. His standard approach is to first stay off of the cover and pitch his jig beyond it so that it pendulum swings back to the spot.
The Bobby Garland Crappie Shooter has become Mears' jig of choice for Keystone in recent years . "It's been a hot bait for me the past couple of seasons, but this season has been the best yet. I think it's because of the bait's size and profile."
The Crappie Shooter is a 1.5-inch bait shaped like a shad. Mears rigs it flat on a 1/24-ounce Crappie Pro Head Dockt'R Jighead, so that the hooks comes out on a flat side of the bait, instead of rigging the lure in a natural "swimming" position. He says he thinks it works so well because "it does look like a shad."
Mears says when the pitch-and-fall bite has slowed, he will reposition his boat to be over the cover so he can vertically work his bait in and around the structure to access fish that are holding tight to it. He also says he will usually try a different bait profile and/or color, too, before leaving a spot, but that the Crappie Shooter in Blue Ice has been his best jig combination "by far" on Keystone this year.
Fork Drop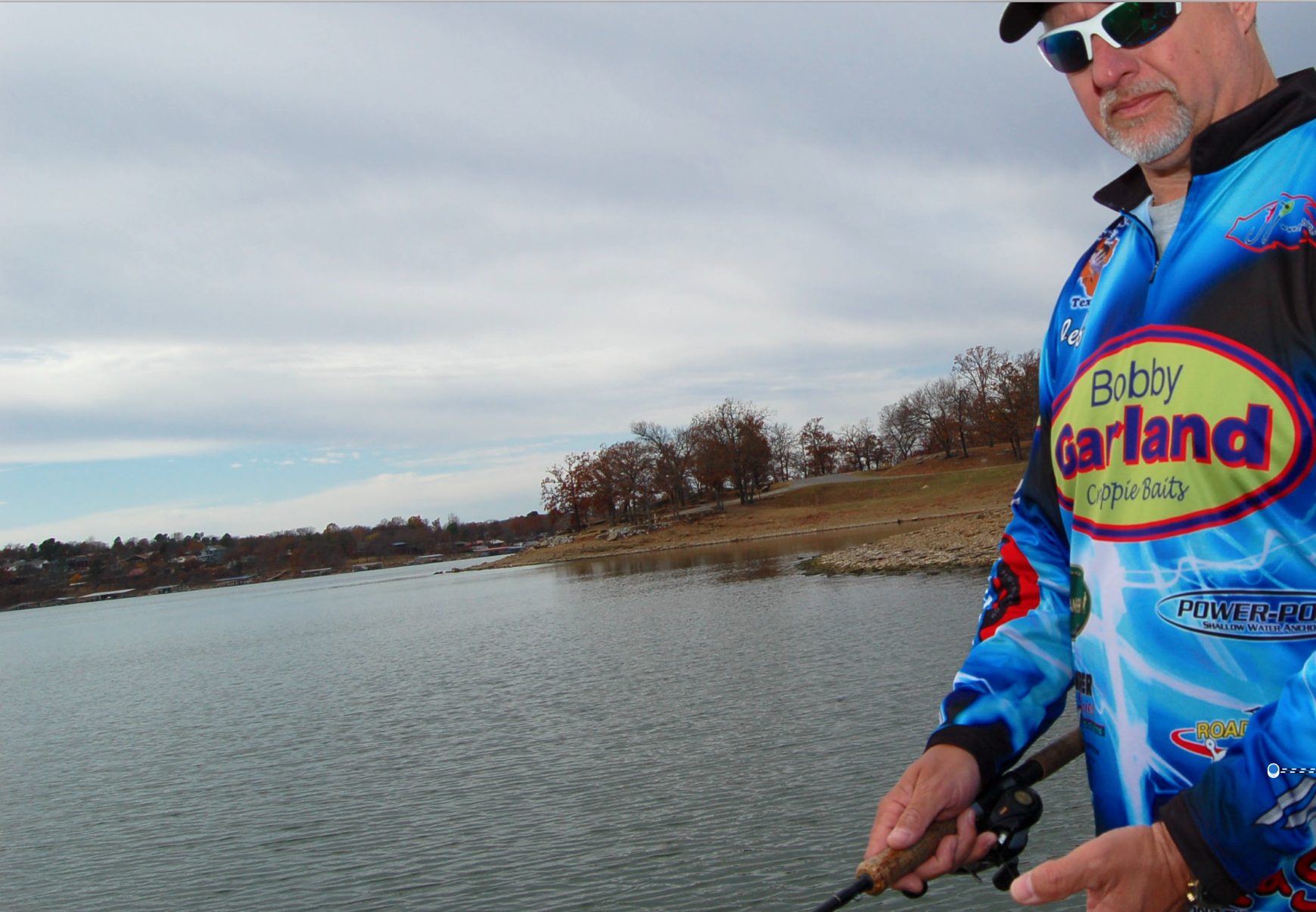 Texas' Lake Fork has long been a destination for bass anglers, but in recent years it has also become a favored destination for crappie anglers. Jeff Schwieterman is one of the latter.
Schwieterman said during fall he looks for points in the mid-lake area or just inside the mouths of major creeks that have trees on them and creek channels nearby. "Points with cover are keys for me, and I'm usually looking for the combination at depths of 15 to 25 feet."
He said he's always watching for areas that have "some shad activity."
His approach to presenting a bait is similar to that of Mears in that he stays off the cover so he can pitch to it and allow his jig to "swing back into the tree." However, what differs greatly from the Oklahoma angler on Keystone, is the Texas angler's bait of choice.
Schwieterman "goes big," preferring to use a Bobby Garland 3-inch Slab Slay'R rigged on a 3/16-ounce Crappie Pro Mo' Glo Jighead, and sometimes he'll even up his weight to a 1/4-ounce jighead for a faster fall and "more action." His lure colors of choice are Mo' Glo Green Lantern, Green Banana, and Double Silver Rainbow dipped in chartreuse dye.
Schwieterman added that when the crappie "move into true winter mode," he'll spend most of his time fishing deep-water points nearer the dam. In that period, he's double rigging two 1/8-ounce jigheads, and fishing "up" the points by bouncing them along the bottom.
He offered a reminder that Lake Fork has special crappie regulations in winter. The regulations read: For black and white crappie caught from December 1 through the last day of February, there is no minimum length limit and all crappie caught must be retained. From March through November, minimum length is 10 inches. Year-round daily bag limit is 25 crappie in any combination.
Down the Stairs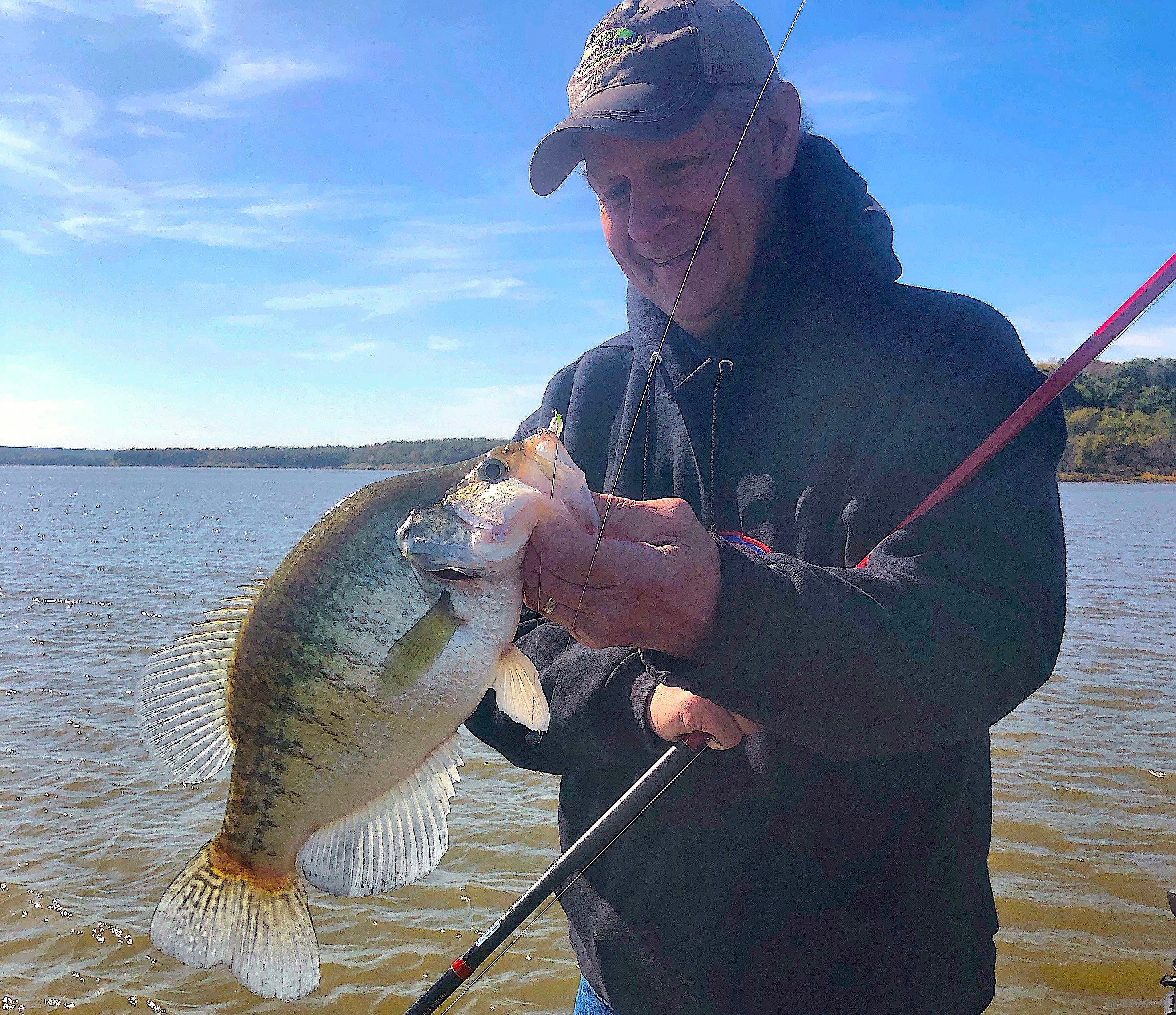 Before moving to Oklahoma 30 years ago, most of my end of year fishing was either on Elephant Butte Lake in New Mexico or Lake Amistad in Texas. Both lakes offered plenty of point options in clear, deep-water settings, and provided interesting lessons along the way. That's where I honed my walk-it-down-the-stairs tactic for fishing points. I later had success with it during a stint living in Eufaula, Alabama, and then refined the technique even more upon relocating to Oklahoma.
Here I found McGee Creek, Tenkiller and Eufaula lakes to have point structures ideal for my stair-stepping approach for catching crappie. My favorite points are long, slow-tapering ones that extend all the way out to creek channels. I like it even better when the points are in creek bends and are somewhat protected from wind, and especially from north winds. These stretches seem to be wintering grounds for shad and therefore also hold gamefish.
As a general rule, I prefer creek channels with depths of at least 30 feet, and I like points that are sparse with cover … that is, until the end of the points. Then I want a vertical break of a few feet, say 5 to 10 feet, with "something" to hold fish. It doesn't need to be much … perhaps just a few stick ups, rocks, or pieces of brush. And I've found this type of drop that occurs at depths of 18 to 25 feet to be particularly productive in these lakes.
Sometimes crappie position themselves either at the top break or suspend off its face, but it's also not uncommon to find them lying flat on the bottom above the break. Many times these fish will show on a sonar screen as a "fuzzy" patch. Catch one or two, and the group might "fire up" to become more visible on sonar.
Using a double-jig rig, I'll have a 3/16-ounce jig tied about 15 inches above my 1/32-ounce head at the end of the line. For the upper bait, I like a 2.25-inch Minnow Mind'R; the lower lure is a 1.25-inch Itty Bit Slab Slay'R. One or the other, sometimes both, will be in my favorite color: Bone White/Chartreuse. I also like Silverfish color in the Minnow Mind'R, and Black/Hot Pink in the little Slab Slay'R.
I'll position on the deep side of the drop and cast the jigs so they fall higher up the point. Then, I'll "walk" them down the break using a "drag and fall" approach until I've "stepped" the tandem rig down the entire face of the break, from top to bottom. The heavier jig leads the way, while the lighter jig enticingly trails behind. If your results are like mine, you'll find a high percentage of bites will come on the smaller lure in this scenario.
Crappie Cold Facts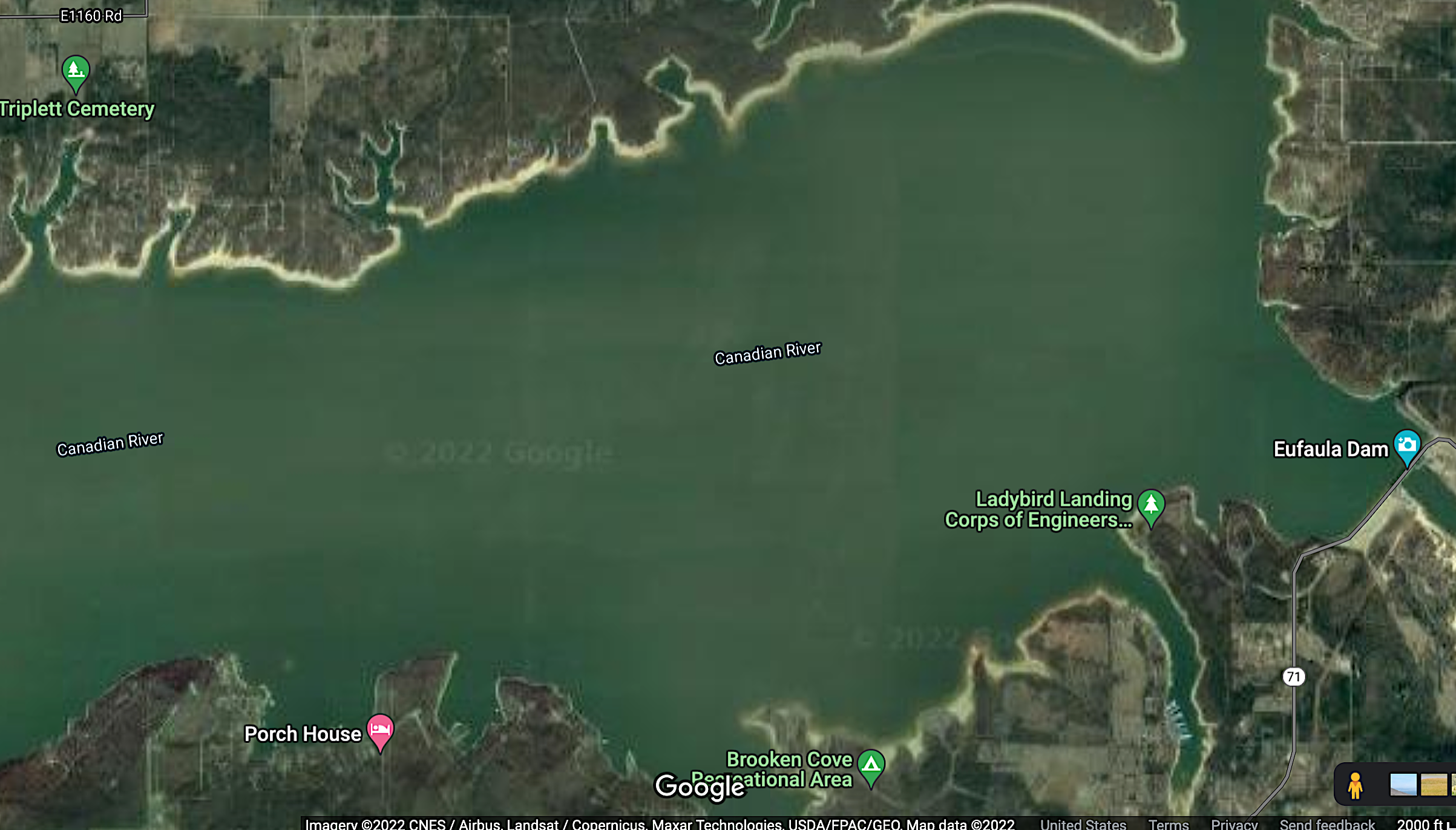 Oklahoma NE Regional Fisheries Supervisor Josh Johnston says at least three factors influence where crappie are positioning during the cold-water months:
1) Typical large southern lakes don't have stratification in winter after the fall turnover has occurred, meaning oxygen is consistent throughout all depths until the time of the spring turnover.
2) Since there is no stratification, fish can literally use all depths. However, spots of "thermal satisfaction" still can exist, such as around natural flowing springs or a particular spot along a bluff wall.
3) All members of the sunfish family, which includes crappie, are predominantly sight feeders. Therefore, their preference is to occupy areas where light penetrates to the bottom.