Learn to find and catch early spring crappie when they begin migrating from winter holes toward spawning areas.
Crappie go on the move when daylight hours lengthen and the water warms in early spring.
The longer daylight hours lead to warmer air, which starts warming the water. The warming water triggers early spring crappie to start moving from their winter haunts, according to Dan Dannenmueller, an Alabama tournament competitor and publisher of CrappieNOW online magazine.
"That water temp is the key," Dannenmueller said. "When the water temp starts getting up to 55 degrees the crappie are going to start to move, and as they approach closer to 57 to 58 you will see the males move up, and then the females right after them."
Whether he is fishing a natural lake in Florida or a highland reservoir in the Midwest, Dannenmueller notices crappie spend their winter in the deepest holes they can find and start moving during the first prolonged warm spell in the early spring.
"If there is a 5-foot hole and that is the deepest water in a creek that is where crappie will be or they will go to somewhat deeper water and sit on the bottom," Dannenmueller said. "They are going to move in to those first ledges that warm first."
When early spring crappie start moving out of winter holes and toward spawning grounds, here are four techniques to intercept them on their migration route.
Long lining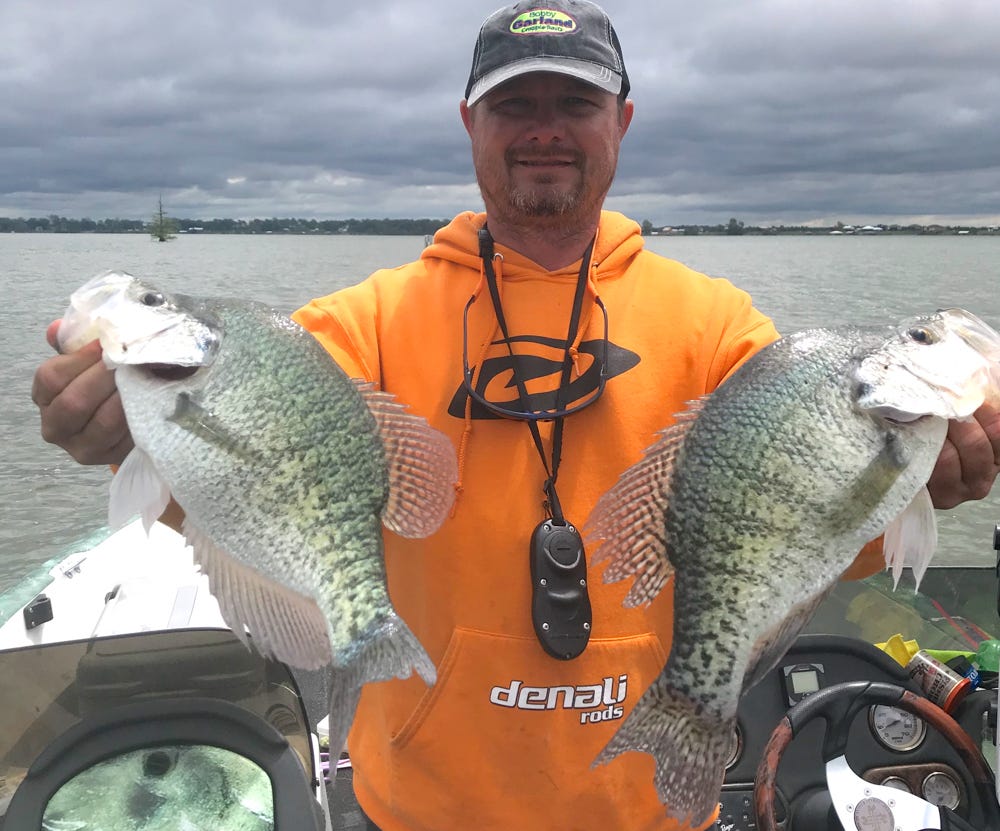 Long lining for crappie is basically trolling lures from the side and back of a slow moving boat. Brad Chappell, widely considered one of the best long liners in the country, rigs his long rods with one or two jigheads varying in weight from 1/32 to 1/4 ounce. The lighter jigheads allow him to troll as shallow as 2 feet while the heavier jigheads can be trolled as deep as 18 feet.
The Mississippi angler's favorite soft plastic bait for this approach is the Bobby Garland Stroll'R. with its unique tail design. "The flat piece on the back side of the tail just makes an undoubtedly good vibration through the water," Chappell said. He also likes the wide range of Stroll'R colors, some of which he helped create. His favorite Stroll'R colors for long lining include Keystone Candy, Glacier, Bluegill/Fire and Purple Passion.
Chappell prefers long lining when crappie are moving in the spring because it allows him to cover a lot of water. "I am going 1.2 miles per hour so on an eight-hour day I am covering probably 9 to 10 miles of water," he said.
Placing four rods rigged with 6-pound high visibility line on each side of his boat, Chappell employs 9-, 12-, 15- and 18-foot poles so he can cover a 40-foot swath while long lining.
Spider rigging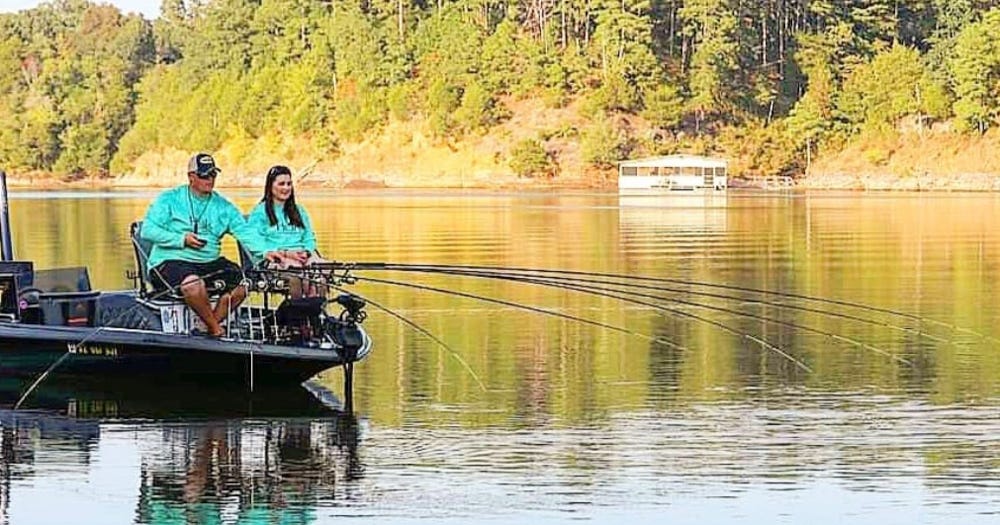 When Beaver Lake guide Payton Usrey finds early spring crappie moving in Beaver's river and creek arms, he pursues the migrating fish with the traditional method of spider rigging eight poles in the front of his boat. "Spider rigging plows right down the middle of the schools, and you can catch more of the crappie than you can with one pole," he said.
His spider rigging setup consists of 16-foot rods rigged with a number 2 crappie hook on top followed by a 1/2-ounce weight and a 1/16-ounce Crappie Pro Mo' Glo Jighead on the end of 8-pound line. Usrey lists the Minnow Mind'R, Baby Shad Swim'R and Stroll'R as his favorite Bobby Garland baits for spring spider rigging. He prefers the Minnow Mind'R because he can tip it with a minnow between the lure's split tail. The Baby Shad Swim'R and Stroll'R are favorites because of the tail action each lure generates while spider rigging.
The gin clear waters of Beaver Lake can turn dirty in a hurry from early spring rains, so lure color selection becomes a key for Usrey's spider rigging tactics. When the water is clear, Usrey likes Monkey Milk and Glacier, but if the water turns murky or muddy he prefers Bone White/Chartreuse and Horsefly.
Strolling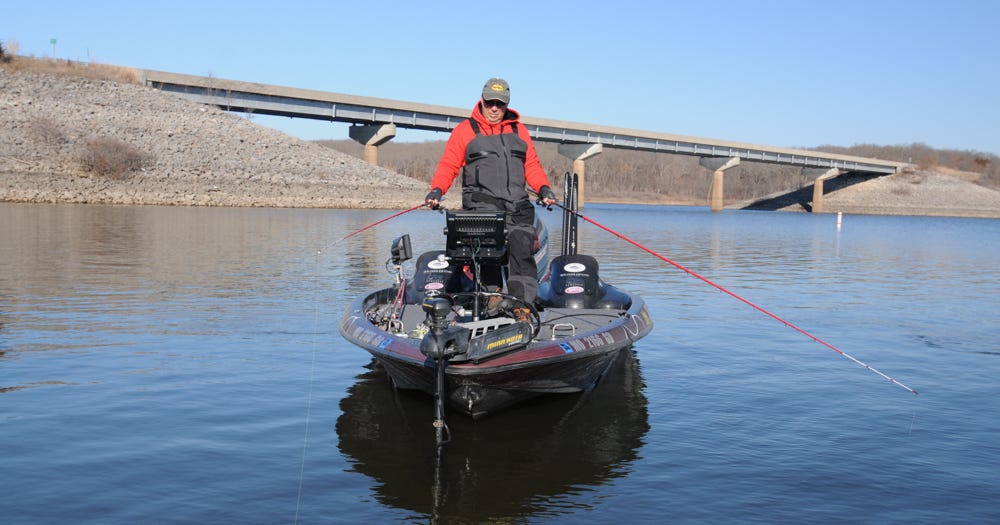 Truman Lake guide Barry Morrow likes controlling baits and feeling bites, and he favors a strolling technique with a rod in each hand for early spring crappie. Standing on the bow of his boat, Morrow holds a 10- or 11-foot rod in each hand and extends the poles on each side of the boat.
"I am fishing one rod deeper than the other, and the key is following the contour break lines," said Morrow, a former Missouri educator and administrator who is known as the "Crappie Coach" for his fishing-applied teaching skills.
"The boat is generally always moving at .5 to 1 miles per hour," said Morrow, who has refined his strolling tactic while guiding on Truman and Oklahoma's Lake Eufaula. While the boat is moving, Morrow slowly lifts his rods from 2 inches to 1 foot so he can vary the depth of his lures.
Morrow rigs his rods with two jigheads (1/16 or 1/8 ounce on top and 3/16 ounce on the bottom) spaced about 14 to 16 inches apart on 12-pound copolymer line. He considers the Baby Shad and Baby Shad Swim'R ideal for strolling because of the minnow profiles and tail action of these lures.
"With the tail on those things, when you just put them in the water they are going to swim," Morrow said. "You have motion on them without doing anything to them." He favors dark colors such as Licorice Chartreuse Pearl or Black/Hot Pink in the morning, but switches to Bluegrass, Monkey Milk, Glitter Critter or Bone White/ Chartreuse when the skies brighten later in the day.
Casting in Open Water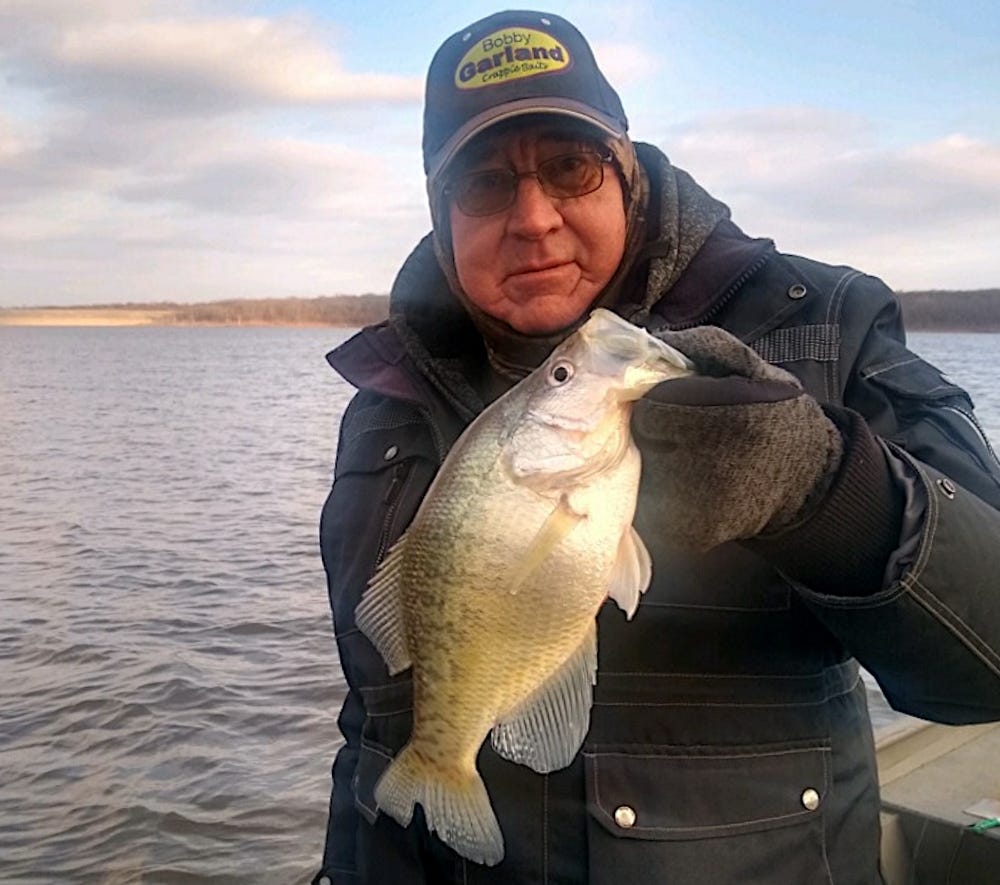 Veteran Oklahoma crappie angler Leon Mears targets crappie following shad in open water and keeps track of them with the Garmin Panoptix LiveScope feature.
Before the advent of LiveScope, Mears would search for brush piles to find crappie. The front-viewing technology of LiveScope taught Mears that schools of crappie leave their winter brush piles and roam in open water during early spring.
Now when he finds a large school of crappie with his electronics, Mears casts his jig on 6- or 8-pound braided line beyond the fish and watches LiveScope to view his jig falling back toward the school.
"I bring the jig to the fish and then get it right above them and make it stay there as long as I can," Mears said. While scanning LiveScope Mears can see how the fish react positively or negatively to his presentation and vary his retrieve if necessary to trigger strikes.
Mears ranks Bobby Garland Slab Slay'Rs and Slab Hunt'Rs as his top "moving" baits for open water crappie. He likes the Slab Hunt'R Minnow because of its swimming tail, which imitates the motion of an injured or dying baitfish. His favorite lure colors are Green Lantern for murky water and Blue Ice for clear water.
Mears fishes plastics on a 3/32-ounce jighead, which he notices falls slowly and stays in the strike zone a long time.
Shortcuts for Finding Roaming Spring Crappie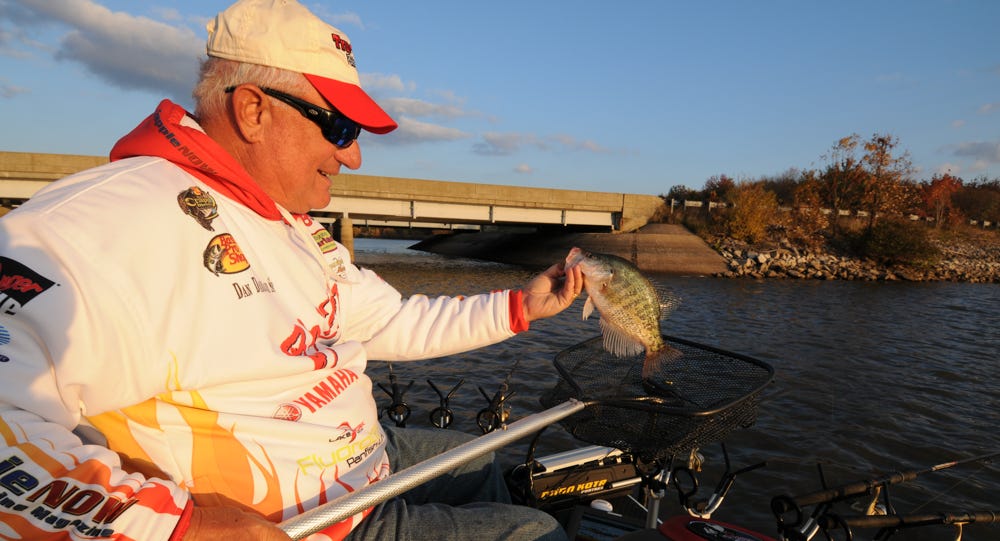 Pinpointing roaming crappie in the early spring can take some time unless you know where to start looking. Our crappie experts suggested the following shortcuts to help you find early spring crappie on the move.
The sun's angle is in the south this time of year, so start your search on northwest banks that receive the most sunshine and therefore warm the quickest.
Good starting points are mouths of creeks, channel bends, edges of flats adjacent to creek channels in reservoirs or close to deep holes or ditches in natural lakes.
The first movement early spring crappie make is vertical, so look for fish suspended over their winter haunts.
Male crappie make the first horizontal moves towards the spawning banks while the females continue to suspend over the deep holes until the water temperature nears 60 degrees.
Scan with your electronics to find tight balls of baitfish, which indicate the forage fish being preyed upon by suspended crappie.
Bonus Video Tip
Brad Chappell describes how to make a turn while long-line trolling, and how to use the turn to help adjust bait presentations to depth and speed based on observations during the turn. For more great crappie fishing content, visit the Crappie Connection YoutTube channel.
Please visit
Lurenet.com
for all your crappie bait needs and to view more how-to content.