Drifting allows you to cover water and find feeding fish and is extremely effective for catching catfish during summer. Learn the approach of a Santee Cooper catfish guide.
"That's the kind we want," Capt. Brett Mitchell said with a confident smile as the stout rod I was holding bent hard and the line peeled off a tight drag. Several minutes later his assertion was affirmed as a fat blue catfish came into sight and eventually got within reach of Mitchell's big net. Putting a 27-pound catfish is a good start to any day.
"Drag a bait around here, and you you're going to catch catfish," said Mitchell, who operates Fishing with Brett on South Carolina's Santee Cooper lakes. Mitchell also guides for bass and stripers and fishes a variety of ways, but his primary summer approach is to drift the open waters of Lake Moultrie – the Lower Lake in the Santee Cooper system – for catfish.
Mitchell catches occasional channel and flathead catfish, but blue cats are the main attraction, and any time a rod bows on the Santee Cooper lakes, the fish at the terminal end might weigh 6 pounds or 60 pounds.
Finding Active Fish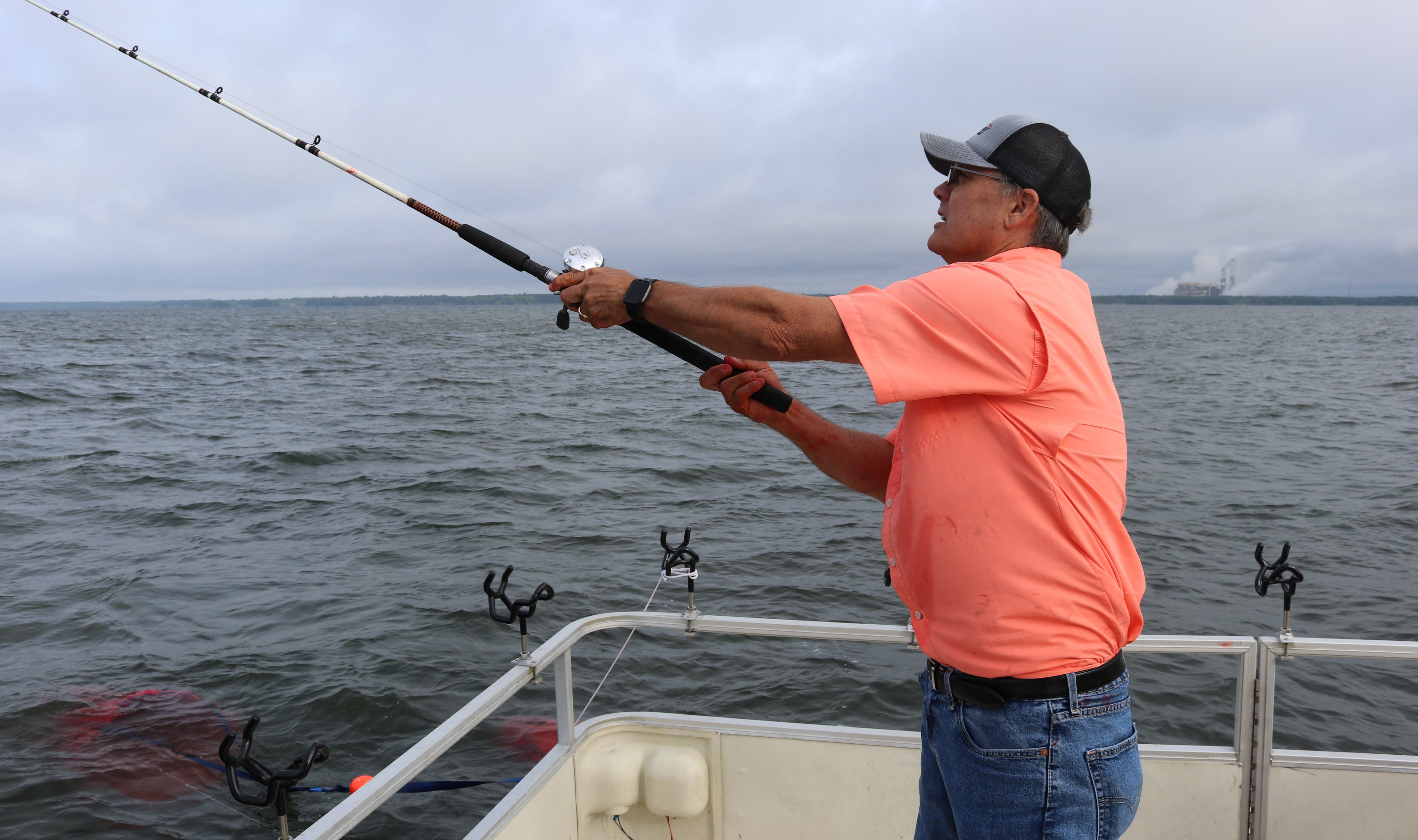 "I don't like anchoring and waiting to see if fish will bite when I can stay on the move and find fish that are feeding," Mitchell said.
Electronics help anglers find fish, but while the positioning of fish seen on a screen can provide clues about the fish's likely activity level, it doesn't really reveal whether fish want to eat. If Mitchell can find a broad area that holds catfish and bait, start upwind of that area, and drift through it, chances are good that he will find the active fish at some point during a drift.
It isn't uncommon to mark fish regularly through a drift but get minimal action for 15 or 20 minutes and suddenly catch several fish in a flurry. Sometimes the spot that produces has a slightly different bottom depth, is the edge of a ditch, or provides some other patterning clue. Often, though, it looks no different than other places where Mitchell marked fish, and he probably would not have found those feeding fish a stationary fishing approach.
Mitchell typically starts a morning with fairly long drifts, watching electronics and rods to learn what fish are doing. As the day progresses, the plan often evolves to shorter, more targeted drifts that repeatedly pull baits through actively feeding fish.
Controlling the Drift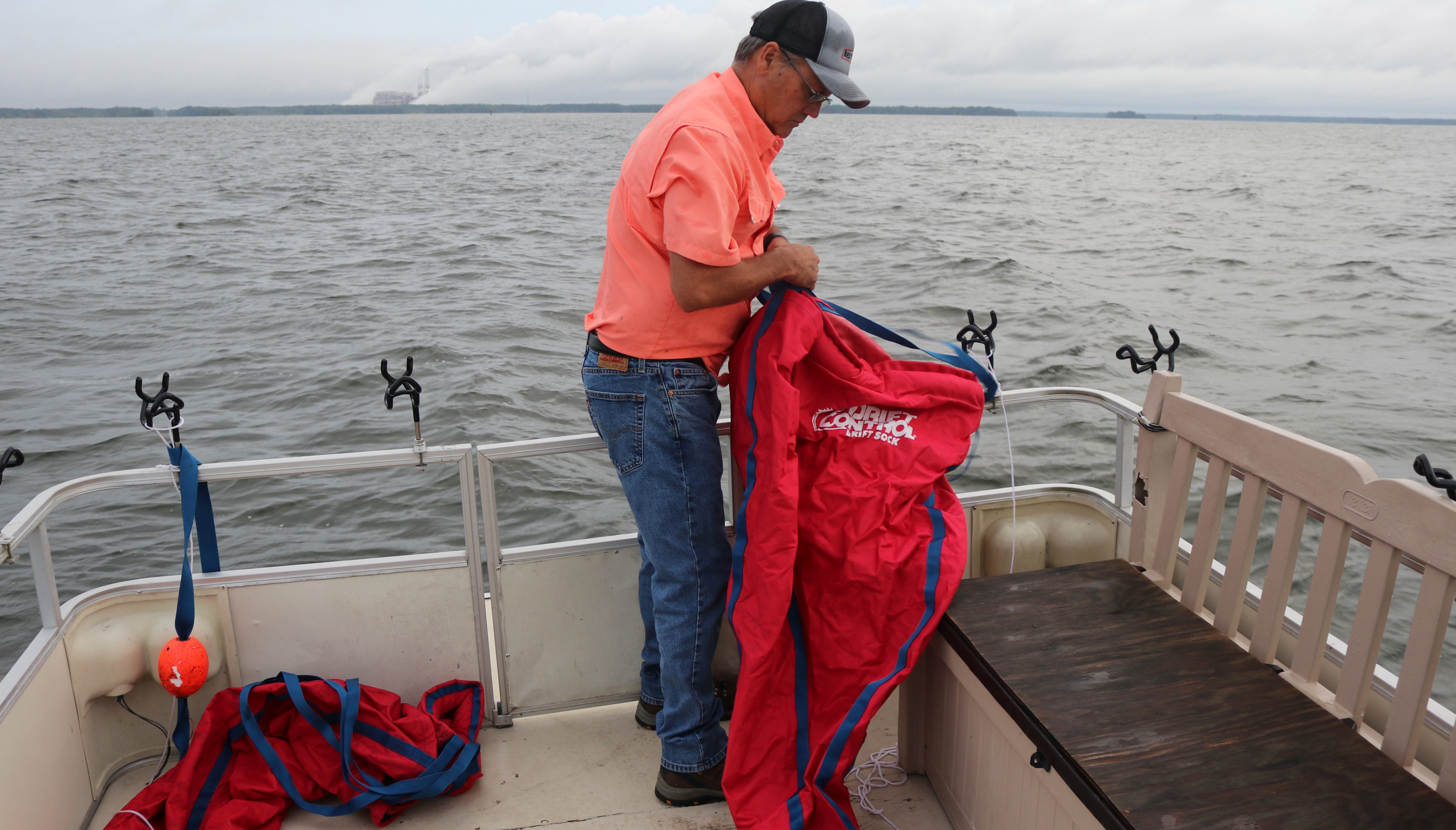 Controlling drift speed and steadying the boat's orientation as it drifts are important for effective drifting. If the boat moves too quickly, the baits race along too quickly, and the fish simply don't bite. If the boat angle changes randomly, there's no way to put out a spread of rods and keep the lines from getting tangled.
Drift socks, sometimes called sea anchors, are the key to controlling drifts. Parachute like, except cone shaped and open in the back, drift socks go out on ropes off the side, front or back of the boat. They fill with water as the boat drifts and simultaneously slow the drift and control its direction.
Mitchell uses either one or two Lindy Drift Control 60-inch Magnum Series Drift Socks. That's a large drift sock and bigger than is needed for many boats. He guides from a pontoon, however, and fishes the open waters of Lake Moultrie, where the wind can get strong. Mitchell likes to drift at a speed of .5 to .75 mph, but up to 1 mph typically works. If boat is moving at close to 1 mph and Mitchell is not getting bites, he'll put out another drift sock.
Mitchell ties his drift stocks off the front of his boat, with one on each corner, so the boat drifts backward, and puts rods out on both sides. That allows him to watch all the rods from the back of the boat and get to one easily when a catfish grabs a bait. His boat naturally angles a bit as it drifts, but the angle is consistent, keeping the lines spaces and orientation controllable.
The Drifting Approach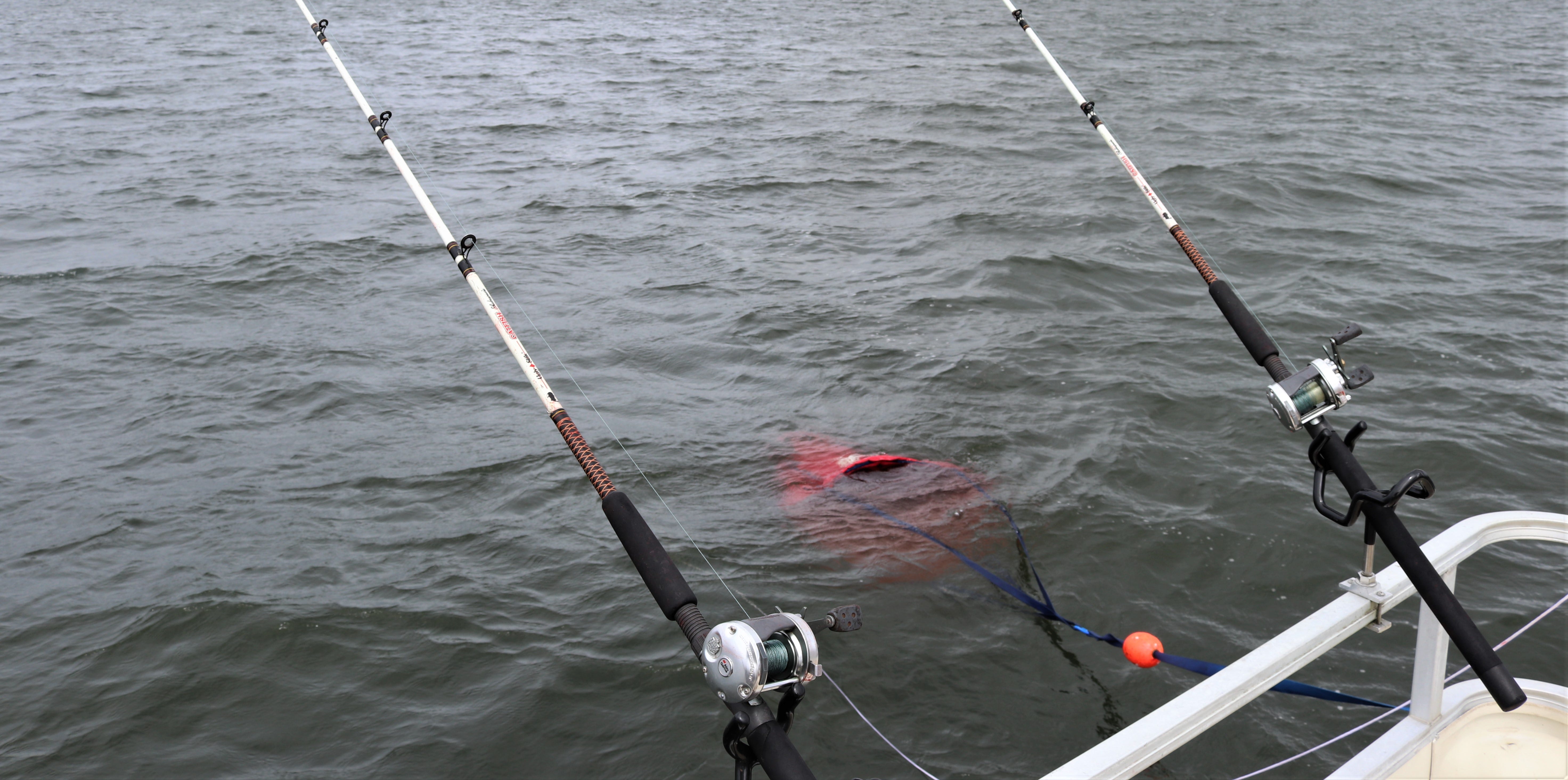 Mitchell typically drifts with 6 to 10 lines out, using fewer when the bite is best because too many lines become nearly impossible to keep up with. He makes a long cast with each and puts the rod in a holder, leaving the reel's bail open initially to allow more line to play out, and doesn't engage the reels until the baits are at least a couple hundred feet back. The rigs drag slowly along the bottom. Mitchell uses 7- to 7 ½ Ugly Stik Catfish Rods and round baitcast reels spooled with 50-pound braid.
The drifting rig includes an elongated drifting weight, which is made of nylon tubing filled with lead shot. It is very effective for dragging bottom without snagging. Mitchell makes his own weights, but the same style of weight is available commercially. The weight slides on the main line above a large swivel, 3 or 4 feet of 30-pound mono leader and a 3/0 saltwater live bait hook. Mitchell also adds a small float (usually a cigar-style foam float) about a foot above the hook. This keeps the bait up off the bottom, which is important for minimizing snags and for keeping the bait in front of the fish.
Hooksets are unnecessary. By the time a catfish buries a rod, and an angler can get the rod out of the holder, the fish is hooked, and the fight is on!
Chicken For Bait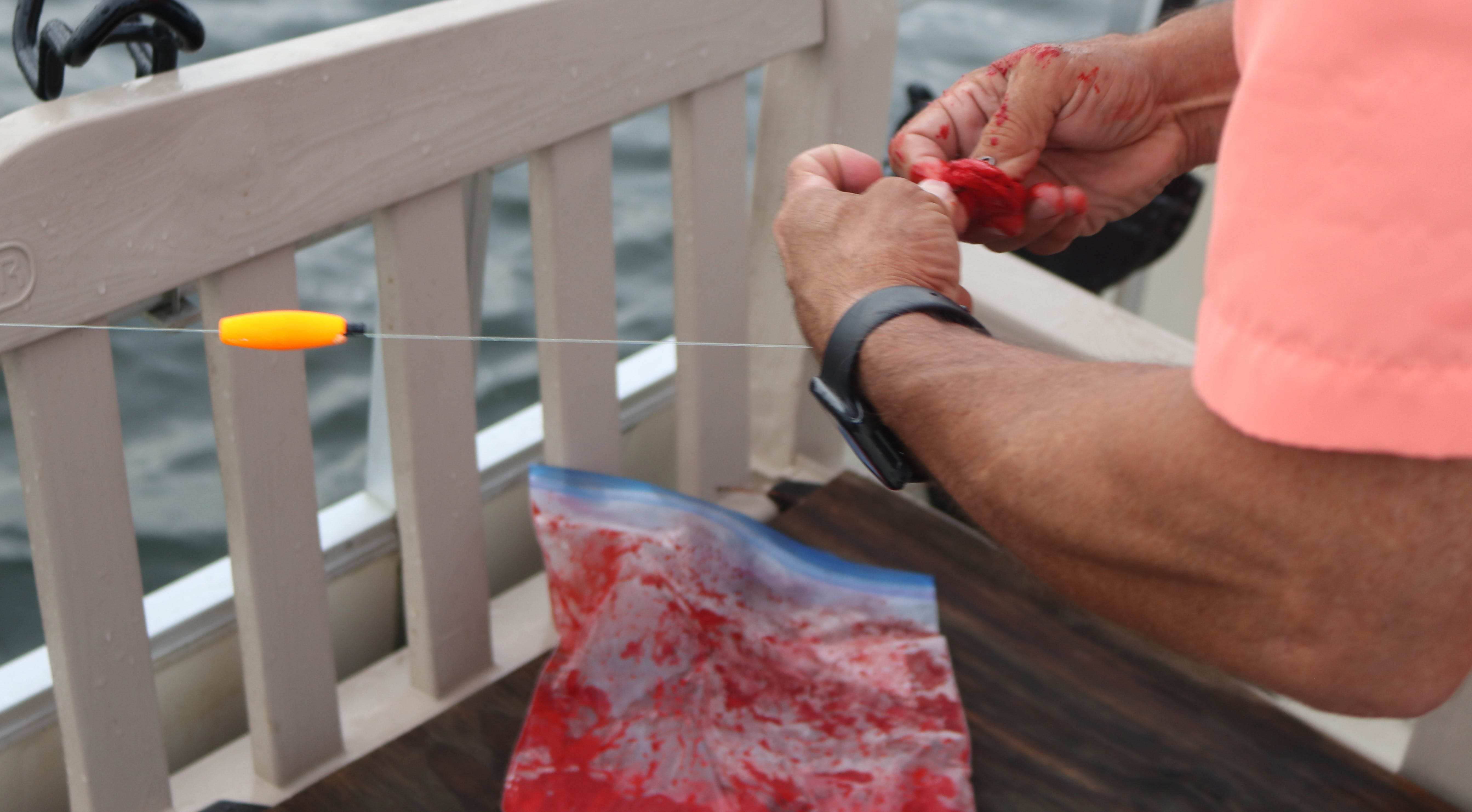 Most drift fishermen who target blue catfish on the Santee Cooper lakes and elsewhere use cut herring or shad of some kind, matching an important forage species for the cats. Mitchell is part of small but growing number of fishermen who favor chicken as catfish bait. He sometimes will carry both, but chicken tends to produce best.
He first tried chicken as an experiment, when baitfish were tough to come by, but he quickly found that it produces better than herring for him, especially with regard to attracting larger catfish. Plus, it stays on the hook very well and stays good for a long time.
Mitchell buys boneless chicken breast from the grocery store, enhances it with a mix of cherry Kool-Aid and garlic, soaks it overnight and then cuts it into cubes. It's messy, and he needs a bucket of water and a towel handy at all times. However, the fish like it, which is what is the most important thing!
Santee Cooper County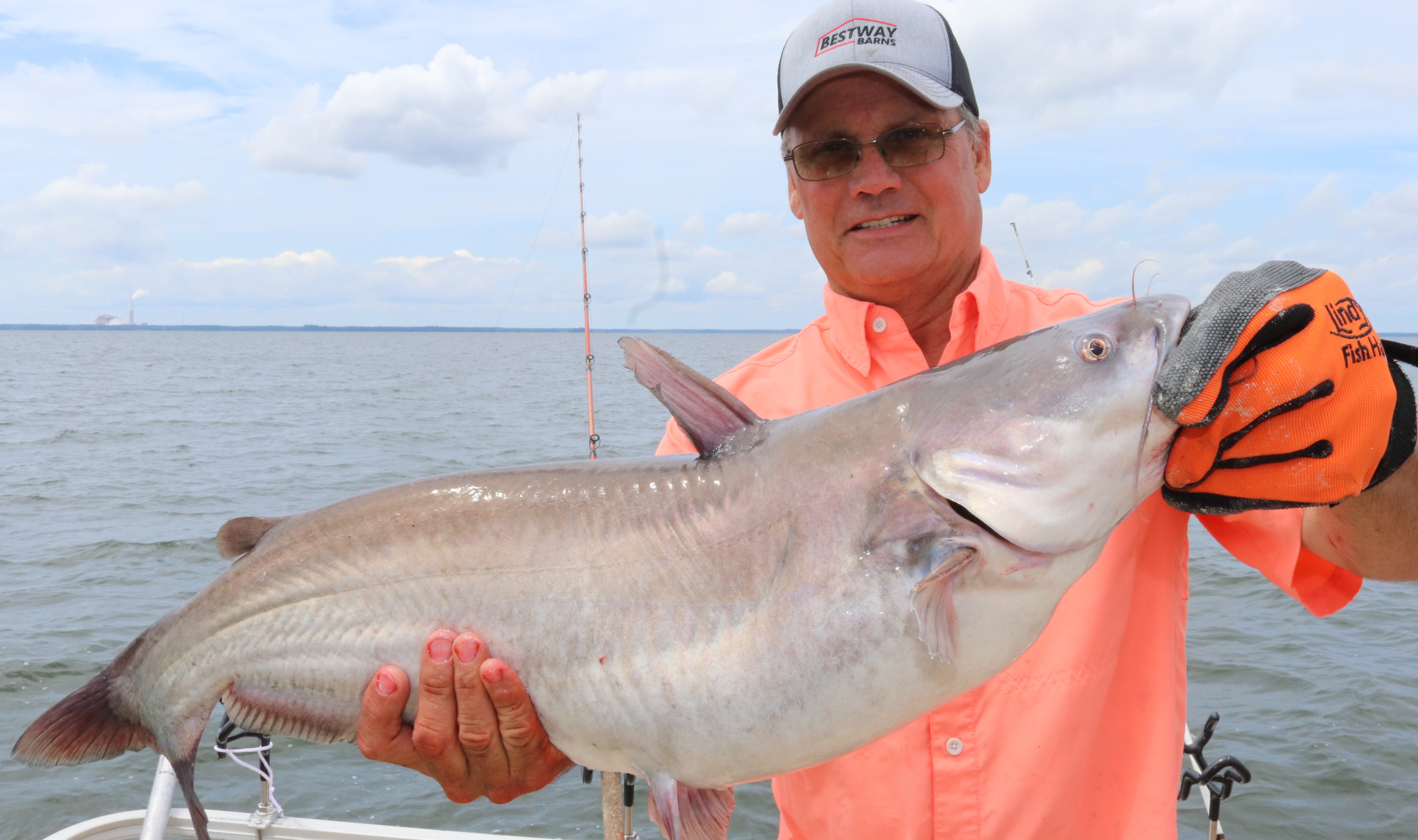 Lakes Marion and Moultrie, known best as Santee Cooper, spread over 170,000 acres. Nationally, folks commonly talk about Lake Santee Cooper, but technically no such a lake exists. Lakes Marion and Moultrie, the rivers and swamps that feed them, and the canals that connect and drain them collectively make up Santee Cooper. The system impounds the Santee and Cooper rivers and is operated by the Santee Cooper power company.
The world record channel catfish, which weighed 58 pounds and was caught in 1964, came from Santee Cooper. However, channel catfish are now only a small part of the sport catfishing picture. Non-native flathead catfish and especially blue catfish grow to large sizes and are the primary catfish that draw anglers from across the country to fish Santee Cooper.
Blacks Camp, which is located on Lake Moultrie beside the canal that connects the two lakes, provides complete offerings to anglers, including lodging, food, launching, bait, tackle and more. Fishing with Brett offers trips for catfish striped bass in season and largemouth bass. For more on the broader area, visit santeecoopercountry.org.
Find more drift socks on the
Lindy
page at Lurenet.com.