Making a great meal from the fish you just caught over a campfire or camp stove is easier than it might seem, and the first step is good preparation. Learn more.
It's a beautiful day, and you've been fishing with a buddy on one of your favorite lakes. After a few hours working jigs around brushpiles, you have several eating-size crappie and bluegills in your cooler. You just beached your boat at a scenic spot beneath some shade trees, and your pal is using a fillet knife to prep some fish for cooking. You're getting the rest of your lunch started.
Hot fried potatoes have just been transferred from a skillet to a plate covered with paper towels. More cooking oil goes in, then, when the thermometer shows the proper temperature, you add some cornmeal-battered fish fillets a few at a time. They sizzle deliciously while cooking, making your mouth water as you think of the scrumptious meal you're about to enjoy.
Catching a trophy fish makes any trip memorable, but that doesn't always happen like we wish. A shore lunch of fresh fish cooked over a campfire beside the lake or stream where it was just caught can also make an outing unforgettable. And with a little planning, you can be certain that's one aspect of your day outdoors that comes off without a hitch.
At-Home Prep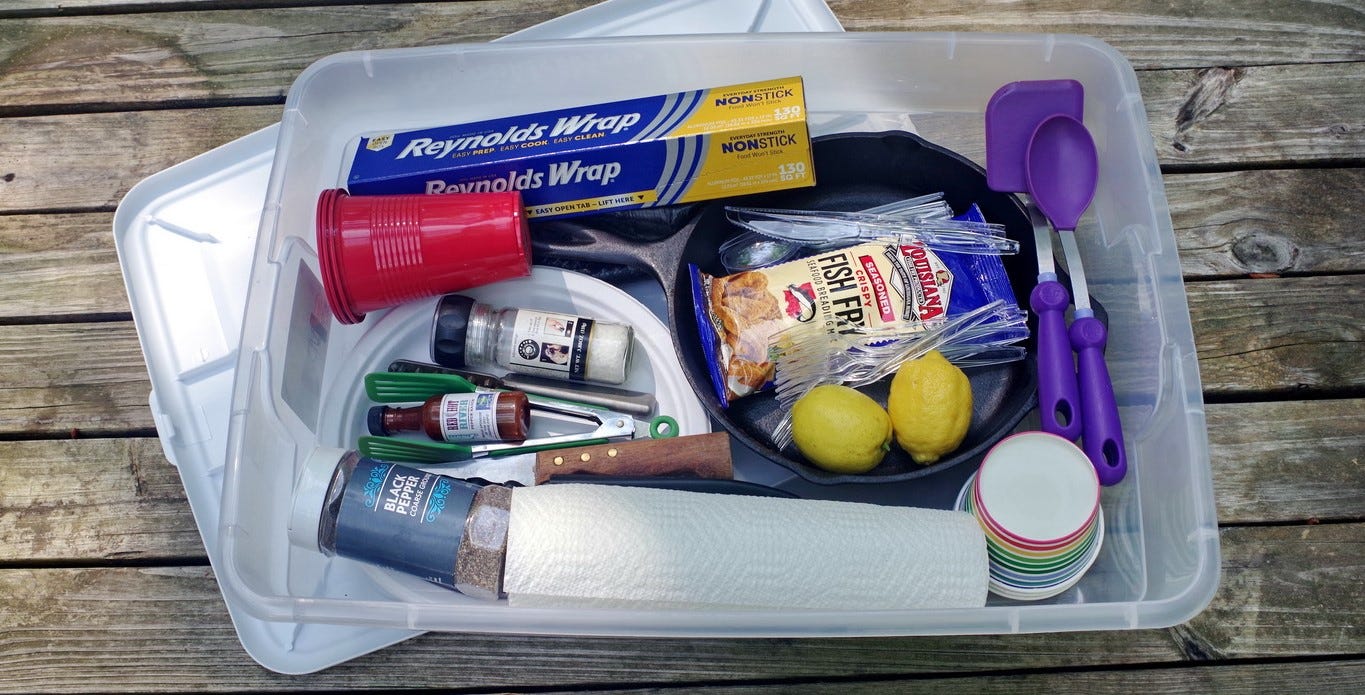 Plan your shore lunch before leaving home, and gather the ingredients and utensils you'll need to prepare it. I've eaten shore lunches that were nothing more than salt-and-peppered fish cooked on a green stick dangled over a campfire, and I've had fancy shore lunches with five courses and a nicely stocked portable bar. You can go as simple or as fancy as you like, depending on how much room (and willingness) you have to carry everything.
A waterproof storage box can be used to hold all your outdoor kitchen essentials. I pack a cast-iron Dutch oven or skillet, a folding camp grill, aluminum foil, eating and cooking utensils (forks, spoons, knives, serving utensils, etc.), cups, plates, paper towels and garbage bags. I also include a fillet knife, fish scaler and a heavy-bladed kitchen knife for cleaning fish. A checklist kept inside the storage box provides a handy way to be sure everything I need is there.
The next step is gathering all the recipe ingredients (everything but the fish you'll catch) and preparing them. I like to cut up fresh veggies and herbs I'll use, mix up the breading, prepare spice mixes and condiments, and then store everything on ice in air-tight containers.
Cooking Surface & Heat Sources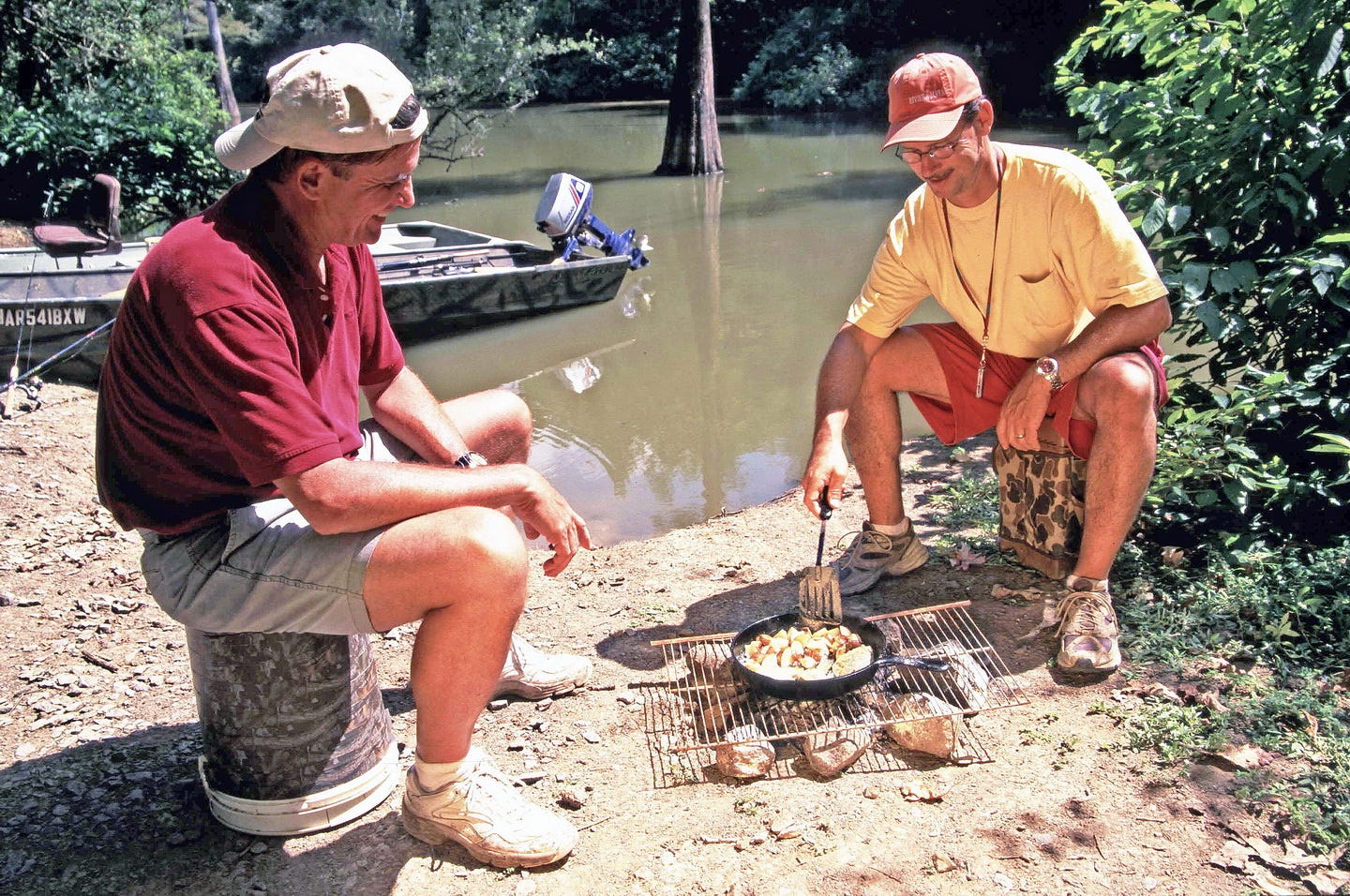 One item I always carry is a good camp grill with folding legs that can be extended to get the grate at a proper level above cooking coals. I usually cook with hardwood coals like oak or hickory, but heat control can be an issue with a hot hardwood fire. It's easier to position your skillet or cooking pot using the grill.
Make your main fire and let it burn down. Then use a folding camp shovel to rake out some coals for cooking, and position the grill above them. You can replenish the coals as they burn down, maintaining an ideal temperature for the items being prepared.
Before you leave home, another thing you should do is check to be sure there are no restrictions on building a campfire for your shore lunch. Unfortunately, wood fires are not allowed on the shores of some of our lakes and streams, and there are times when dry conditions may require limitations on fire building for safety.
This is sad news for camp cooks who like the added flavor of wood smoke with their fish. However, it's a simple matter to carry a small camp stove that will do a superb job cooking your catch using a propane cylinder or other fuel. Using a stove instead of a campfire also speeds the cooking/serving process, allowing you to get back on the water quicker for more fishing.
Cooking Tips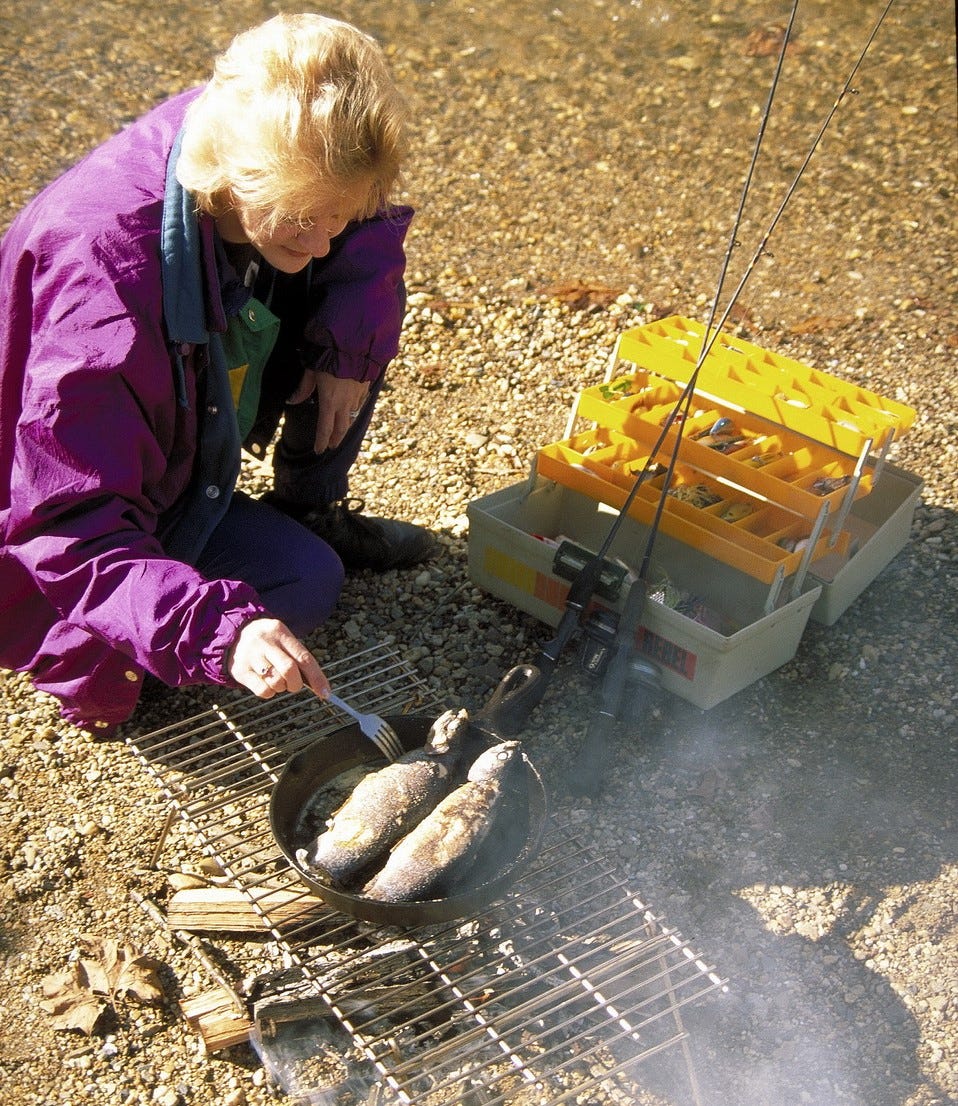 The recipes that follow include all the instructions needed to create a shore lunch your friends and family are sure to love. But be sure to also follow these tips for the best meal possible.
When deep-frying, heat your cooking oil to 365 to 370 degrees—no hotter. The old "throw a match in the oil and wait till it lights" trick rarely results in the proper frying temperature. It's better to carry an inexpensive deep-fry thermometer to get it just right.
The biggest mistake made by many camp chefs is overcooking. Fish is naturally tender and cooks quickly—so quickly it might get overcooked and tough if you don't give it constant attention.
All you need is a fork to test for doneness. Insert the tines into the thickest portion of the fish at a 45-degree angle. Then gently twist the fork and pull up some of the fish. If it flakes easily without resistance, the fish is done and ready to eat.
Undercooked fish resists flaking and is translucent. If your fish is undercooked, continue heating it until it's done. But remember, all fish cooks fast, so be sure to check it often.
Hook 'Em & Eat 'Em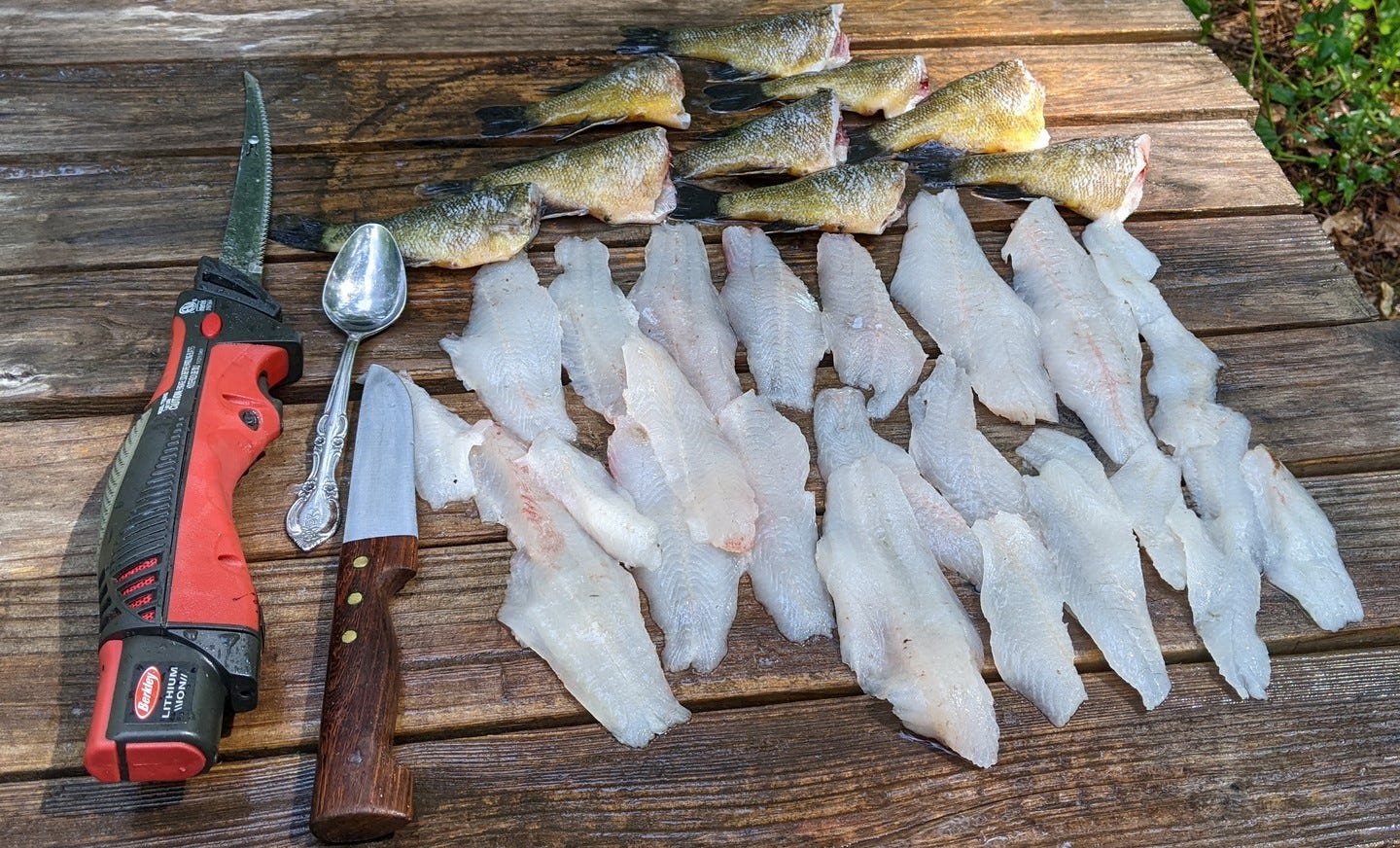 Now, all you need is fresh-caught fish to create a memorable outdoor meal. Almost any fish can be used, from panfish like crappie and bream to larger species like walleyes and catfish.
When you've caught a few keepers, find an open spot with a nice view by the water, start the fire and wait for the coals to turn gray. Or fire up your camp stove and get cooking. Prepare the fish according to the directions in these recipes, allowing two to four fillets or pan-dressed fish per person—more for big eaters in your party.
Remember, too, when lunch is finished, extinguish your fire properly and clean your cook site so it remains nice for people who visit later. Carry out all garbage for proper disposal, including fish scraps and uneaten food. Everything should look as natural when you leave as when you arrived.
Bon appetit!
RECIPES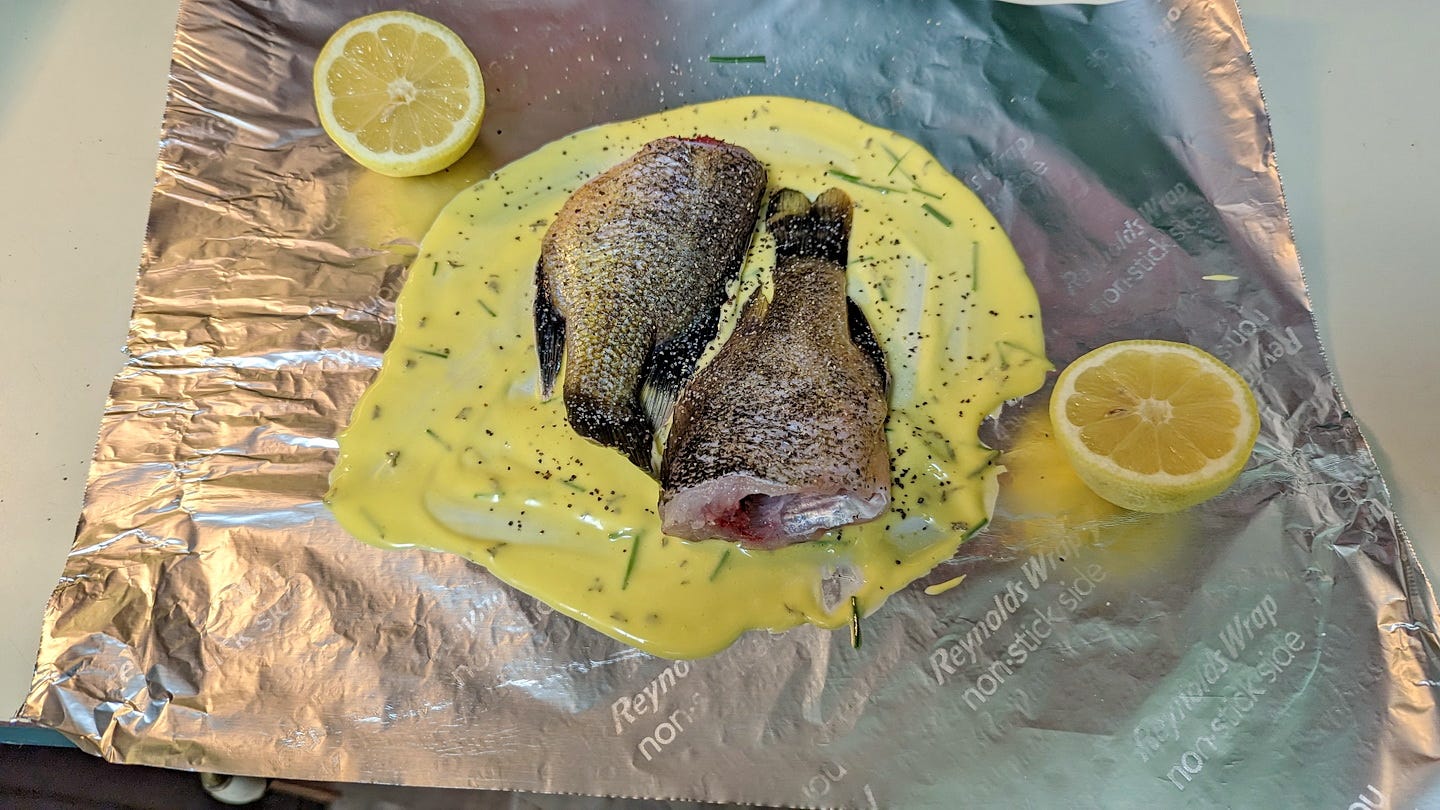 The following tried-and-true recipes provide simple ways to cook a delicious shore lunch.
Pan-fried Fish with Potatoes & Onions
This filling, flavorful meal is simple to prepare and sure to be a welcome belly-filler by everyone in your party.
1 cup cornmeal
1/2 cup all-purpose flour
1 tablespoon salt
1 teaspoon black pepper
1/4 cup cooking oil
6 fish fillets or pan-dressed fish (about 8 oz. each)
3 medium potatoes, cut into bite-size pieces
1 small onion, cut in strips
Before leaving home, place the cornmeal, flour, salt and pepper in a gallon zip-seal bag and shake together.
After preparing your fish, heat the cooking oil in a large iron skillet. Add the potatoes and onion, and cook, stirring and turning often, until the potatoes start to get tender.
Add the fish to the cornmeal mix and shake to coat. Push the potatoes and onions to one side of the skillet, then add as many fish pieces as you can without crowding them. Cook until the fish coating is crispy and golden, adding more oil to the skillet if needed. Cook the remaining fillets, and serve piping hot with potatoes and onions on the side.
Fish in Foil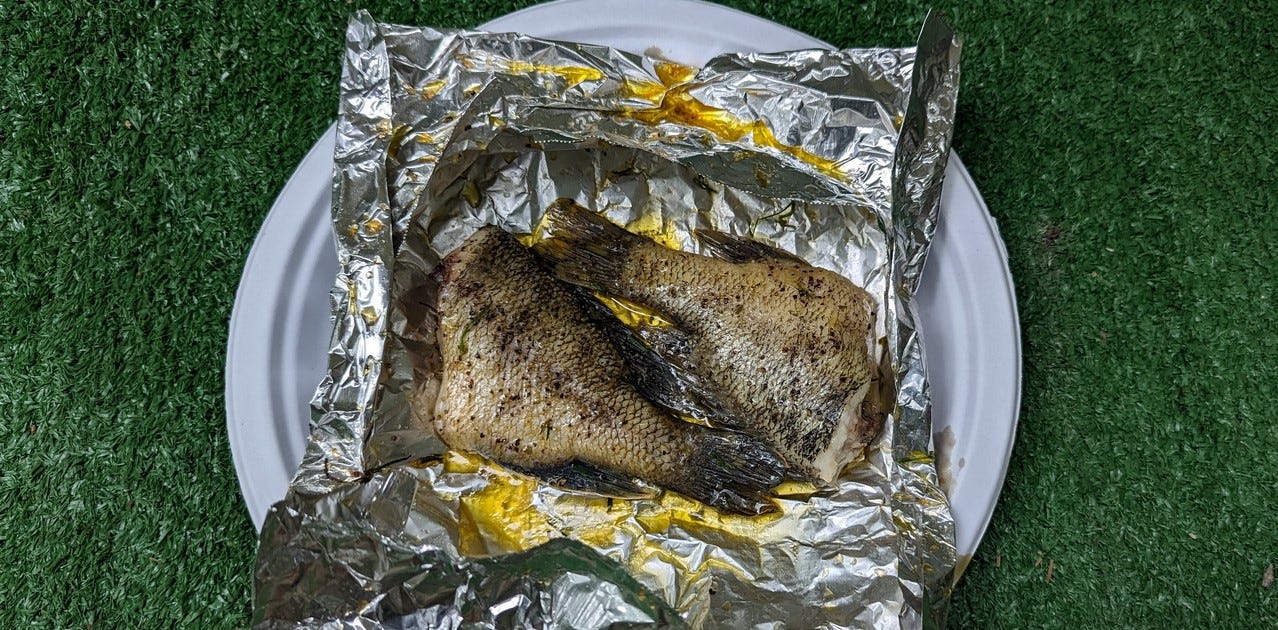 Cooking your meal in a foil packet is a great way to avoid a lot of after-lunch cleanup. Your meal can be cooked and served in the foil, which is then placed in a garbage bag for later disposal. Any type of fish can be cooked this way.
1 cup softened butter
1 tablespoon minced chives
1 tablespoon minced parsley
1 teaspoon oregano
Fish fillets or small pan-dressed fish
Salt, black pepper
1 lemon
Before leaving on your trip, make an herb butter by blending the butter, chives, parsley and oregano. Pack in a small waterproof container and store on ice. Also carry a small roll of heavy-duty aluminum foil.
At meal time, tear off a piece of foil about 18x18 inches, which should hold two fish fillets or small pan-dressed fish. Spread the center of the foil thickly with the herb-butter mixture. Put fish atop the butter, season with salt and pepper, and squeeze on a little lemon juice. Then fold the foil around the fish and double-fold the edges to seal in the juices.
Place a cooking grate 12 inches above campfire coals, and grill the foil-wrapped fish 15 to 20 minutes, turning once. When you think the fish is done, open one packet and test with a fork. If the fish flakes easily, it's ready to serve.
Fish in a Basket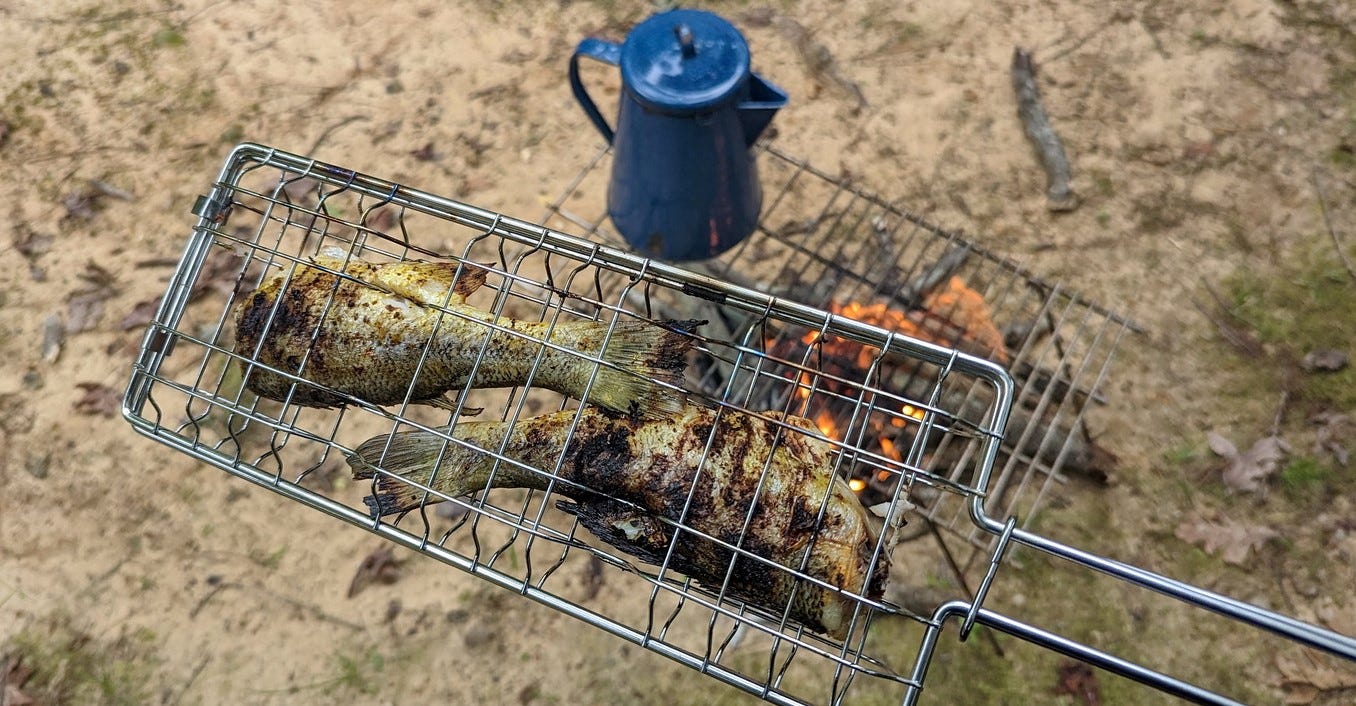 A folding stainless-steel grill basket is a great tool for quickly preparing whole fish or fillets over a campfire without the need for heavy cast-iron cookware. Prepare a side dish or two at home that you can keep in your cooler to serve with the meal.
Fish fillets or pan-dressed fish
Melted butter
Lemon-pepper spice
Dip each piece of fish in butter and season to taste with lemon-pepper. Put the fish inside the grill basket and secure the top half of the basket so it stays closed. Hold the basket a few inches above medium-hot coals and grill the fish a few minutes per side, just until it flakes easily with a fork.