Weakfish have been far more plentiful in New Jersey bays this year than has been the case for several years. Let's look at the best weakfish lures and strategies for catching these popular gamefish.
One speckled saltwater jewel captures the hearts of New Jersey anglers during the summer – weakfish. Remember them? Seems like it's been way too long that we've said the word weakfish much in fishing reports around New Jersey or had reason to discuss how to catch weakfish. Reasons for their lack of presence in recent years has been hotly debated with varying theories, though none scientifically proven.
In the late 1990s I recall heading out for a morning in Barnegat Bay and having no problem tangling with a half dozen 5- to 10-pound tide-runners before sunup on soft baits, then grass shrimping hundreds of weakfish in the 2-to-4-pound range all day long. The mid- to late 2000s saw a marked decline in the fishery. Some springs since, they've sort of shown up, with a dozen here and there. Other years, you wouldn't hear of one being caught.
So far in 2022, a wild rebound has been happening in the backwaters and surf from one tip of the state to the other, with fish from 2 to 12 pounds seemingly haunting the backwaters in solid numbers. So, let's look at how to catch weakfish and where to find them.
Finding Weakfish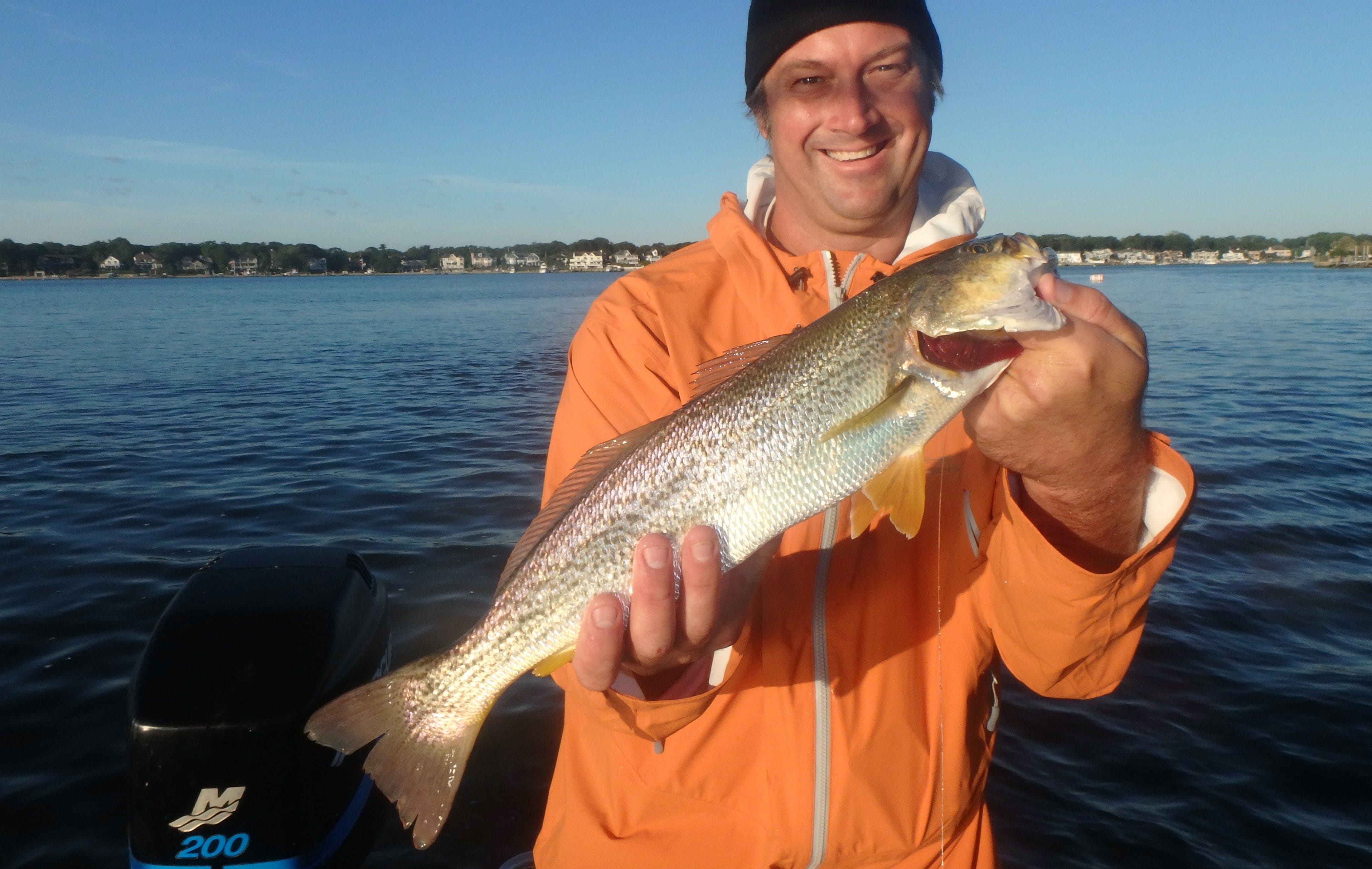 Let's begin by talking about where, when and how to find weakfish. Large "tide runner" weakfish, pushing 10 pounds and sometimes topping that mark, are generally known to be caught in the late spring months and usually under the guise of dark cover of night, or the pre-dawn hours before sunrise.
At that time weakfish primarily hang in the deeper channels of back bays, especially around confluence points, where two channels spill and mix into each other. Sedge points and overhangs are also prime weakfish turf.
Come summertime, smaller spike weakfish of 8 to 12 inches seem to colonize the bay waters as they run with the tides to suck down grass shrimp, baitfish and crustaceans funneling in and out with tidal movement. Back bay docks with light illumination will also hold weakfish during the heat of the summer months. Bridge pilings and abutments offer cover for weakfish to hide and ambush prey as it funnels by, so river systems as well as canal systems can be solid weakfish hangouts.
Although a majority of fish spend most of their time in the backwater systems, the big bays in Delaware Bay and more notably Raritan Bay also harbor large weakfish as they sit tight in the deeper channels of 35 to 70 feet. In fact, the world record weakfish of 19 pounds 12 ounces was caught by Dave Alu with the guide of Rich Swisstack in 2008 in Great Kills Harbor in Raritan Bay on a bunker head that was intended for a bass.
Come fall, weakfish move out from the surf and travel along the coast, feeding on sand eel schools in 25 to 45 feet of water.
Weakfish Lures & Tactics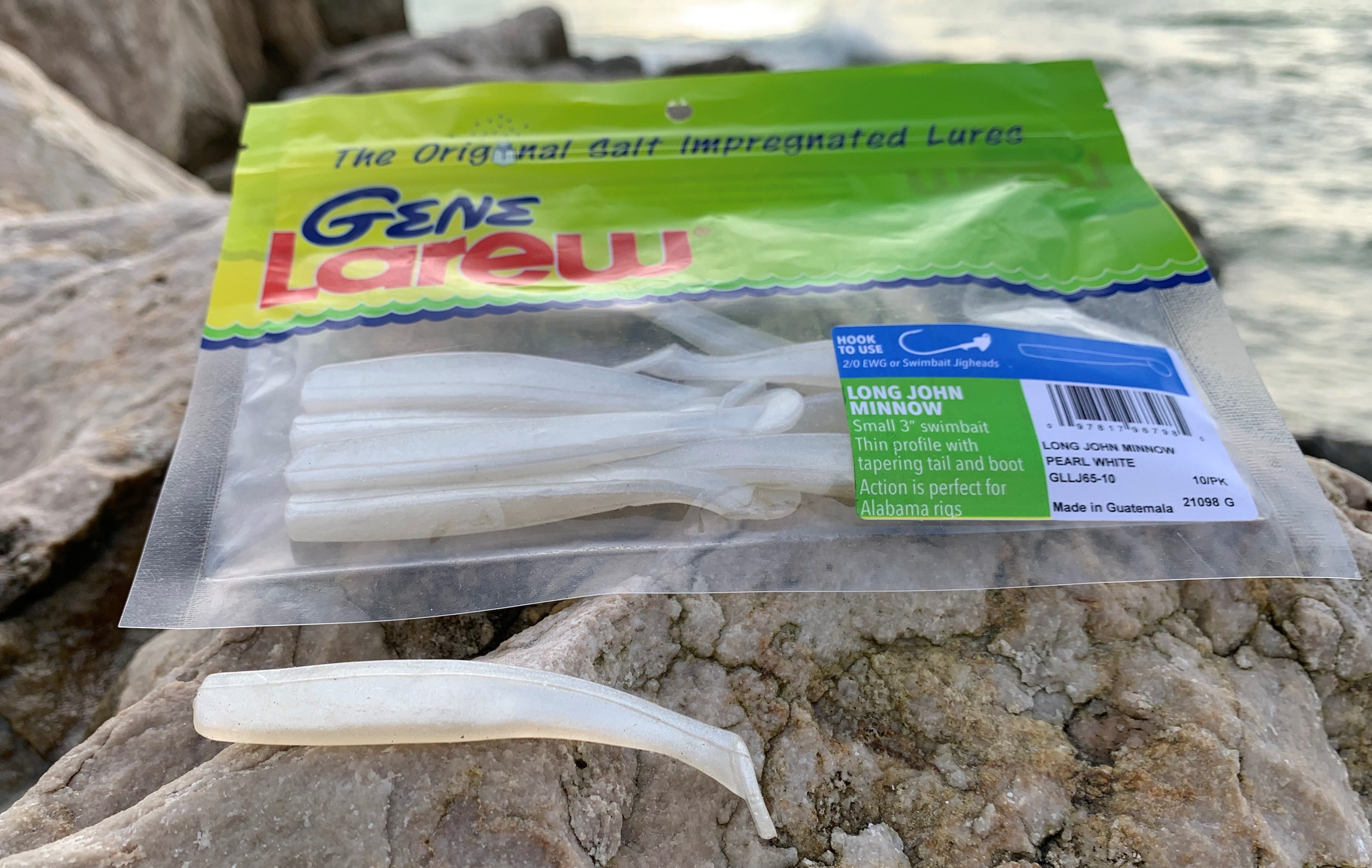 Weakfish key in on assorted baitfish in the backwaters, with important forage including grass shrimp, rainfish, bay anchovies, spearing, peanut bunker, adult bunker, blue claw crabs and juvenile stripers, bluefish and fluke. Soft baits on leadheads or bucktails are golden when it comes to tricking up weakies, as they are only equipped with a single hook and not a messy treble hook system that will rip through the "weak" mouths of the fish.
Weakfish love long and lean baits. Another textbook observation on their feeding habits is they absolutely key in on pink or purplish color patterns.
No other soft bait mimics the spearing, sand eels and juvenile species like the YUM 5-inch Break'N Shad in Bubblegum and the YUM 5-inch Houdini Shad in Pearl White.
When smaller bait such as rainfish or spearing are abundant, two hot items to throw are the YUM Pulse (3.5- to 4.5-inch sizes) in Arkansas Shiner and the Gene Larew 3-inch Long John Minnow in Pearl White or Crystal.
Any soft plastic bait should be threaded onto a 1/4- to 1/2-ounce leadhead. The key to working a lure effectively is to just reel slowly, allowing the bait to move steadily through the water column, without jigging it. It seems counterintuitive, but weakfish like that stationary profile of a bait. That tactic works great on flats and channel edges of the bay, but if you are working deeper holes and cuts, small white or white/pink, white/yellow bucktails tipped with the YUM baits can be sent down and jigged very slowly off the bottom, with just a slight lift of the rod and a drop.
Finesse Fight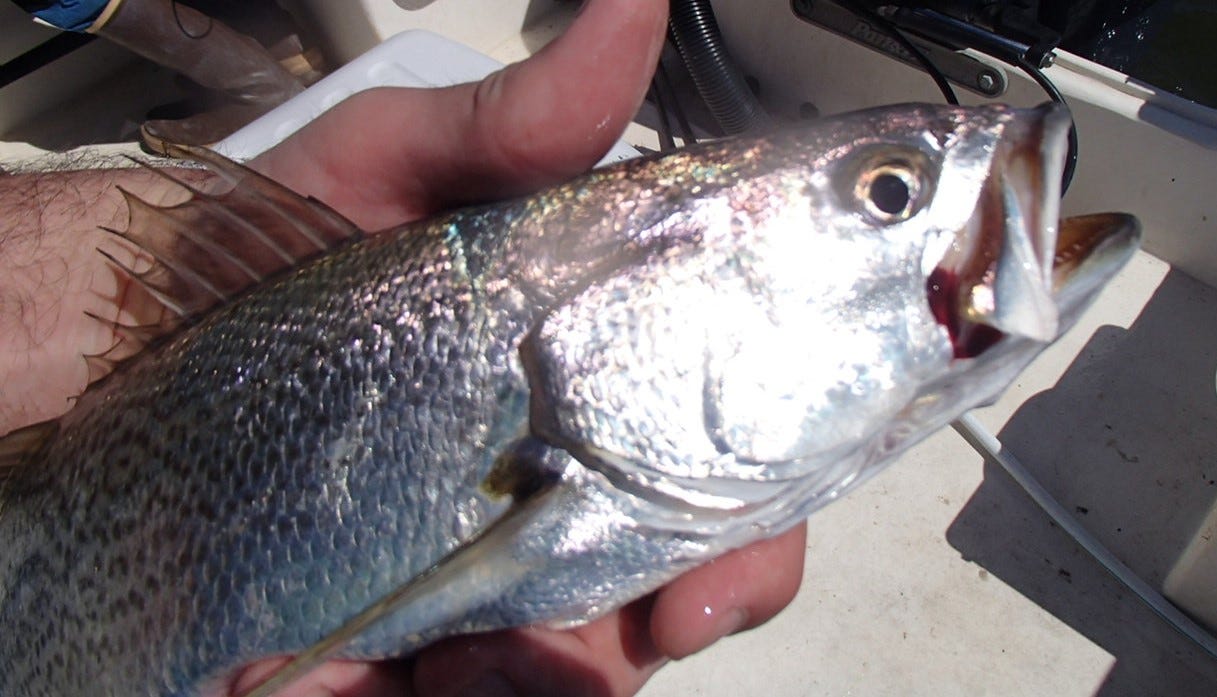 Weakfish are named for mouths rip like paper once hooked. Rods should be generally 6 1/2- to 7-foot spinning rated for 8- to 12-pound line with a medium power and moderate action, matched with a 4000- to 5000-class spinning reel spooled with 12-pound braided line and a 3-foot 12-pound fluorocarbon shock leader to which any lure is tied via loop knot.
Drags must be set loose to allow the fish to run and not be taut as they try to shake a hook out. Take your time and play the fish in, and absolutely do not horse the fish, lest your hook will create a hole in the mouth and separate you from your would-be catch.
Jersey weakfishing is already holding plenty of promise in 2022 with scores of 3 to 8 pounders already reported. Pick the right spot, scale down the gear, and go with the soft baits for success.
Weakfish Hotspots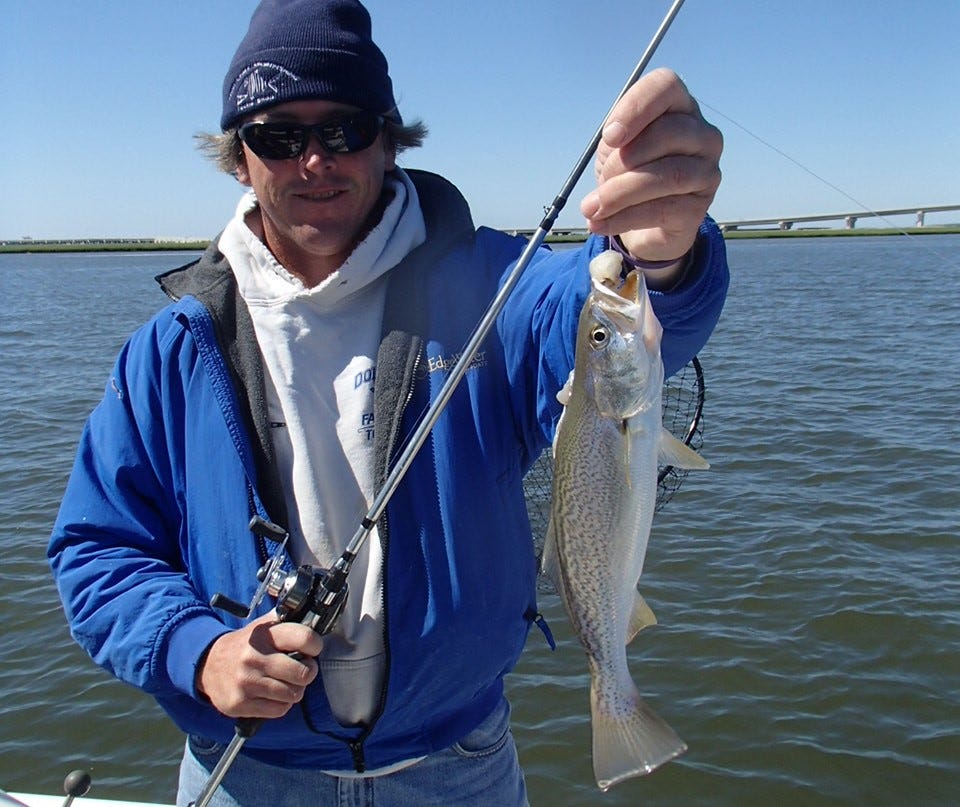 Here are some solid bets to toss soft baits for weakfish success.
Raritan Bay along Great Kills Harbor or inside the Shrewsbury and Navesink river systems around the Highlands Bridge.
The entire Manasquan River system. Focus on mid-tidal hours when flow is running hard.
Barnegat Bay along the flats anywhere between the BB and BI buoys and 40 marker.
Great Bay's entire expanse in the ICW channels, down into Sea Isle City and Ludlam Bay, with a major focus on Townsends and Corsons Inlet areas.
The Cape May Point jetties as well as the Cape May Ferry.