Fall crappie fishing and docks go together. Learn how to fish these structures effectively, whether from a boat or dock itself.
"A fisherman standing on the dock and fishing straight down can keep his lure in these schools easier than we can from our boat," crappie guide Dustin McDaniel told me as he shook more line from his spinning reel with bail open to get his bait deeper. "But the good news is, both foot anglers and boat anglers can really catch 'em on docks right now as our crappie are starting to pour in during this fall time of transition."
Somewhat ironically, there was nobody fishing on any of the several boat docks in view, nor was there another fishing boat anywhere in sight on this beautiful early fall fishing day on Oklahoma's Grand Lake. I thought how all were missing out as I watched the two large schools of crappie, one stacked over the other, on McDaniel's Garmin LiveScope.
We were fishing the clear, deep-water end of Grand, and McDaniel had his boat positioned so he could "shoot" his Garland Itty Bit Slab Hunt'R into the narrow gap between the dock's right inside edge and the boat tethered in the stall. He closed his bail, began to slowly reel and then snapped another hookset. I think it was his fifth fish in a row.
We'd been on the same spot, working the same two schools of fish, for nearly an hour. McDaniel was experimenting with different baits – trying the Baby Shad, Slab Hunt'R, Pile Diver, Minnow Mind'R, and eventually Itty Bit Slab Hunt'R – before determining it was that last tiny bait in Monkey Milk color that they wanted most.
The short story here is that fall is a great time for catching crappie on docks. The lengthier version that follows offers greater insight on how to pull crappie from docks, based on the extensive experiences of McDaniel and two others who know crappie and their fondness for docks extremely well.
Dock Locations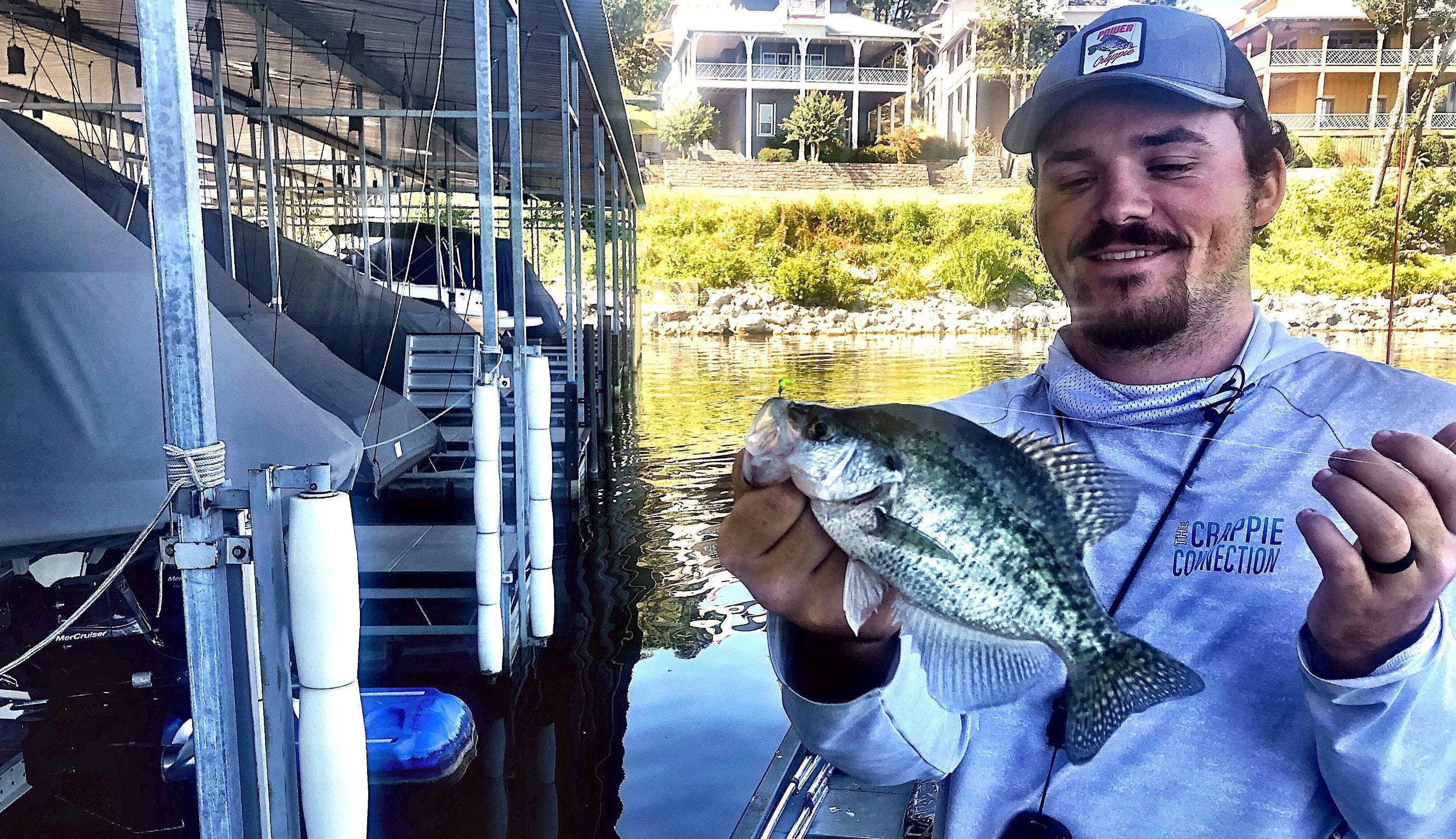 McDaniel spends most of fall seeking docks in Grand's main lake area, sticking close to channels, especially at channel swings, and preferably having depths in the 30- to 70-foot range.
"The channels provide the highway for fish and baitfish, and the depth allows vertical movement up or down as conditions dictate," he explained. "At this time, I find most of the crappie suspended under docks in large schools between 10 and 25 feet deep."
Sun positioning is always top of mind, so McDaniel typically fishes a lake's east side in the morning knowing it will have the shadowed waters longer. Once the sun gets overhead, he'll direct his attention to whichever sides offer the most shade. He's a fan of "community docks," those that have several boat slips in a row, and he'll key on the ones that offer the most of cover. "Think the darkest spots … big boats in the slips, wide walkways, extensive swim platforms, and such," he said.
McDaniel also noted that an area doesn't have to have a lot of baitfish present to be good, but that he's always watching for baitfish depth as a good indicator for how deep crappie could be positioned. The rest, he says, is just finding the right docks. "If you have good electronics, rely on them for locating fish. If not, simply concentrate on getting your lure into the darkest spots."
McDaniel either shoots his lure bow-and-arrow style into such areas or uses a pitching technique. Either way he starts paying out line freely immediately upon the lure hitting the water. "You want your lure to descend straight to the fish and not swing out of the zone. I'll catch a lot on the fall, but I catch more when reeling the lure back up," he said.
Which Docks?
Alabama crappie guide Lee Pitts has a true passion for the dock shooting technique, saying it's fun and also a way to reach crappie that you just can't get to otherwise.
"There's a lot of satisfaction in skipping a Garland Baby Shad into a small opening under a swim platform, but the reward can be more than pride. Such areas usually offer the most shade and therefore hold the most fish. They are also areas that can't be accessed when fishing from atop the docks."
In contrast to McDaniel's home lake, Pitts said his frequented waters of Weiss Lake and Neely Henry don't have the expansive depths, so he's fishing shallower but still keying on channels.
"Crappie come out of the channels to the closest docks first, so I am looking for those whether in main lake or the mouths of major creeks," Pitts said. "October is the key time to shoot docks around here."
The Alabama angler says he's especially drawn to "underutilized" docks. "I like ones with spiderwebs around dock poles, cables and mooring lines, and where boat covers are dusty and boats are not on lifts so that they have algae growing on pontoons or hulls. These things tell me there hasn't been much foot traffic around – not much recent use. Quieter spots can be more cooperative in comparison to where you see rod holders and other signs of frequent activity. He added, "Shade is a big deal, so I'm always taking advantage of that, too."
Pitts' dock-shooting gear consists of a 7-foot light-action spinning rod, ultralight spinning reel, 6-pound-test line, and a 1/24- or 1/32-ounce. Crappie Pro jighead. He usually starts with either a Baby Shad or Garland 2-inch Slab Slay'R, because both "skip really well."
"Go with the lightest jighead you can as a slow fall catches more fish. Both the Baby Shad and Slab Slay'R have good subtle tail actions and that's usually just right to trigger strikes."
Doctoring Docks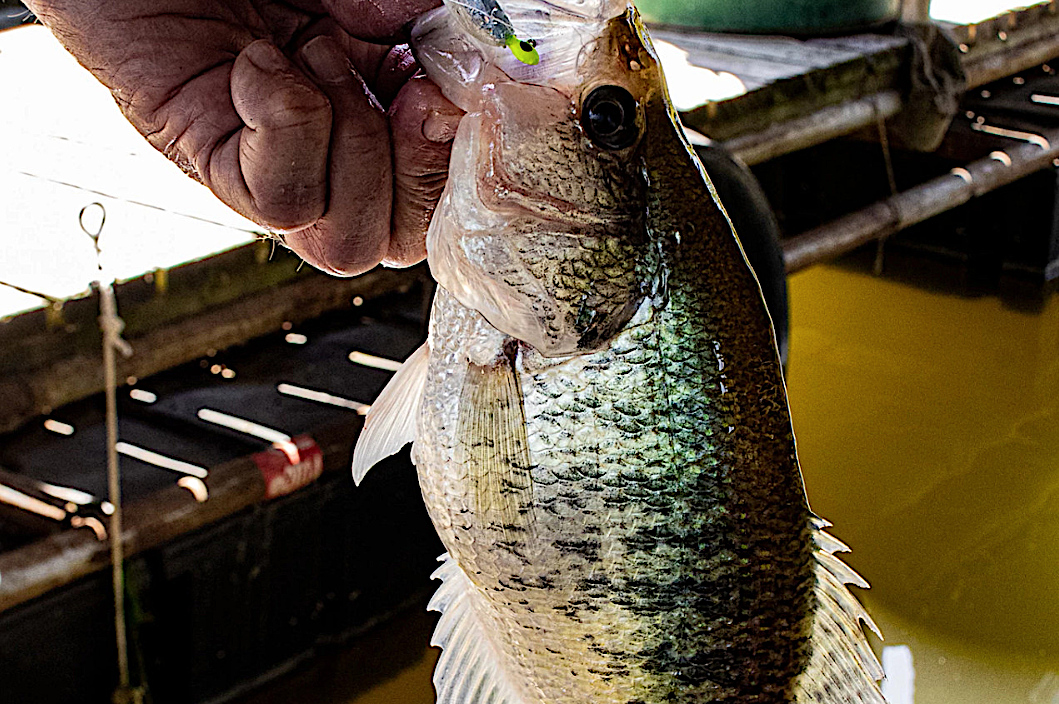 Oklahoma's Robert Ratliff, owner of R&B Crappie Creations, can catch crappie from boats with the best of anglers, but he's also an expert at fishing from docks because of the pure enjoyment of having done so for a long time. In fact, he invests a considerable amount of time helping doctor the fishing docks at nearby Fort Gibson Lake's Cypress Cove Marina, which offers both day-fee and annual membership access to multiple designated fishing slips and the marina's enclosed, heated fishing dock.
"We've spent a lot of time making Cypress Cove Marina something special for dock fishermen, and it's rewarding to see anglers of all ages take advantage of what it offers … and especially during the winter months," Ratliff explained. "The marina's location is in a great cove with varying depths, so the fishing docks offer a wide range of options from shallow to deep."
Ratliff and others strategically hang and maintain cover to maximize fish-holding attraction. He said the structure runs the gamut, from artificial to natural. "Wood is always a good choice, and persimmon, cedar and sycamore tops are especially effective."
"By watching with underwater cameras, we've found crappie, and bass, too, will get on freshly placed wood with green leaves or needles within one day. Likewise, we've observed the fish will vacate the cover once needles and leaves start falling off, but then they'll return again later when the algae starts to grow." He noted that wood cover needs to be changed out every 2 or 3 years for best success.
Ratliff is also a fan of artificial cover, whether purchased or homemade, saying it works well because the structure is less prone to hang-ups and it has a longer underwater life. He did say "roughed up" surfaces are key to algae growth, so that consideration needs to be made, depending on the construction.
Ratliff made two points of emphasis regarding the doctoring of docks for crappie cover. First, is to know for sure if you're allowed to do that on your favorite fishing water. He said sometimes the decision lies with the governing body for the lake, other times it's up to the marina and/or dock owners/renters. In this day and time with Internet and smart phones at your fingertips, it's not difficult to determine what you can and can't do in this regard on fishing waters of interest.
Second, he said to resist the natural temptation to hang the cover in boat slip corners. "When you do that, you've eliminated 3/4ths of the fishing area around the cover because you've put the majority of it under two edges of the dock. Instead, hang it from the edges on both sides of the corner, so you can fish in the corner, as well as around the additional exposed perimeter of the structure."
Ratliff also said it's good practice to hang cover in a boat stall occupied by a boat because having both does add to the desired shading. He pointed out that placing it at least 6 feet deep keeps it from interfering with movement in and out of most boats.
As for fishing the cover, Ratliff is a big proponent of fishing up instead of down. "Most crappie anglers have a tendency to drop a lure down, jig it a few times or swim it around, and then reel it back in and repeat. My experience, whether fishing my crappie spoons or Garland's Itty Bit baits, is to get the baits down first and then slowly reel the lure back up. It works big time for me!"
Top 6 Dock Tips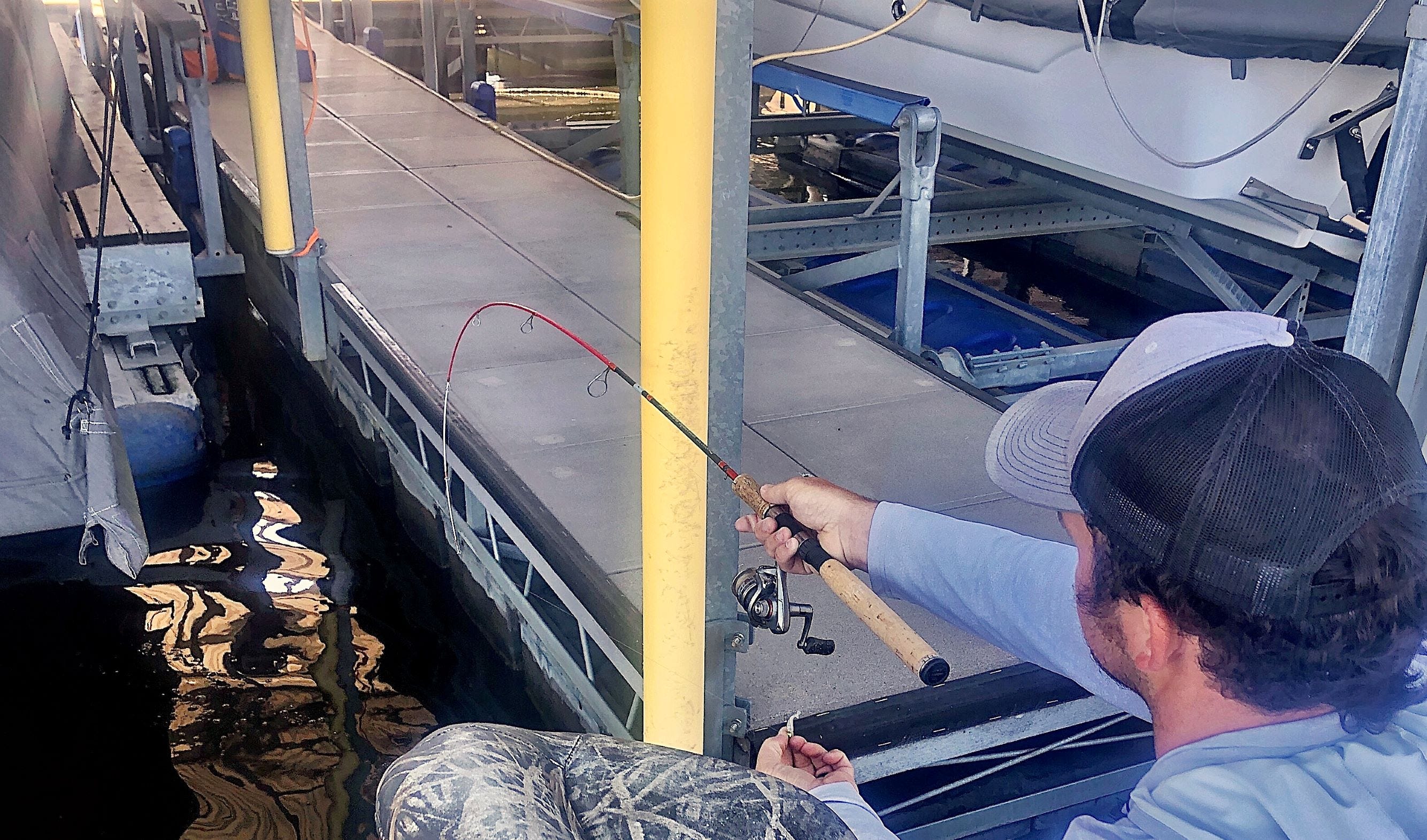 Dustin McDaniel
1) Be patient when fishing a school of dock crappie. If they won't bite or the bite slows, change bait profiles, styles, sizes and/or colors to trigger additional catches. Sometimes the tail action alone can be the deciding factor.
2) Pay attention to which depths are producing desired crappie sizes. It's not uncommon for two different schools to stack on top of each other under docks, with one being larger fish and the other being smaller.
Lee Pitts
3) Look for spider webs. Their presence can indicate limited activity around a dock, and that just might mean a school is anxiously awaiting your bait.
4) Permanent mounted docks like we have on many shallower Alabama waters offer lots of structure to target with your lures: vertical poles, cables and brackets, all of which can hold crappie. Always try different presentation angles at the same targets, as it can make a difference.
Robert Ratliff
5) Placing two smaller pieces of structure, one over the other, can be better at holding crappie than is one big structure, and is also easier to fish. Retrieve your jig coming up along its sides.
6) If placing artificial structure, especially anything plastic, first knock off that shine and/or rough up the surface if it appears slick and reflective to speed up the algae growth process, which is the key for success.