It's no longer the talk of the tackle world, but the umbrella rig remains the hottest rig going for bass during the cold-water months.
Baits and rigs come and go.
A flashy new lure floods the market during the bloom of popularity. A few years later, it suffers the fate of fashion, tucked away in a forgotten bait tray.
Such seems the fate of the umbrella rig to many bass anglers who invested heavily in these odd-looking contraptions during the multi-rig heyday but seldom give them a second thought today.
Not so for Tennessee River guide and bass pro Jimmy Mason, who has never confused fashion with effectiveness.
"I don't live and die by it in winter like I used to, but when that bite is on in the cold weather months, you can't beat it!" Mason said.
Mason's history with multi-rigs predates the national tournament performance of Paul Elias Lake Guntersville in 2011 that set the tackle world on fire and launched a national craze.
"When it first came out, it truly was magical," said Mason, who quickly saw how bass populations can become conditioned to a bait during those early years when angler after angler pummeled the water with the wire Christmas trees. When the easy bite waned, many anglers gave up on the ungainly rig.
'Tis the Season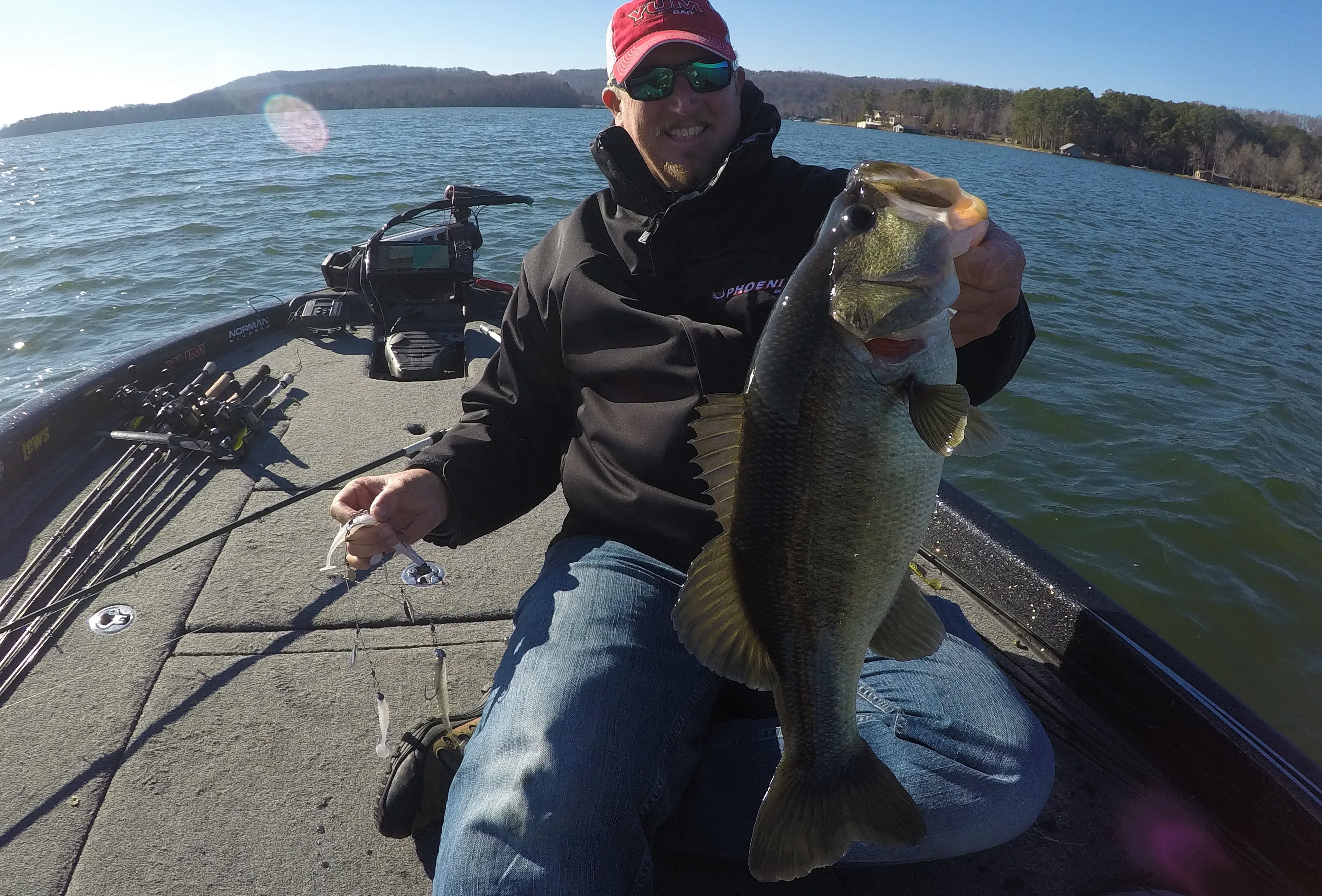 Not so for Mason who has fashioned a science of multi-rig usage around the YUMbrella family of wire baits. And with the chill of late fall upon us, he has a YUM Flash Mob Jr. at the ready whenever he is on the water.
"I call it a 65 to 65 rig," Mason said. "Once the water drops to 65 degrees in the fall, I will be throwing it all winter…until spring water temperatures rise above 65 degrees."
Mason's usage of the rig has evolved over the years. Today he has a nuanced understanding of when, where and how to use multi-rig variants, and has refined his component jig and swimbait preferences.
"The first two or three years, the rigs really showed me a different population of fish," Mason said. "I was targeting those fish suspended in the water column in the colder months. They weren't relating to the bottom. They weren't relating to the surface."
These were tough fish to catch and hard to target. Jerkbaits and single swimbaits would serve the purpose some days, but Mason's efficiency improved dramatically when a countdown presentation with swimbaits on a Flash Mob Jr. came into play.
"It triggered them better than any other bait," Mason said. "And you could cover water better with it. It was eye-opening."
South to North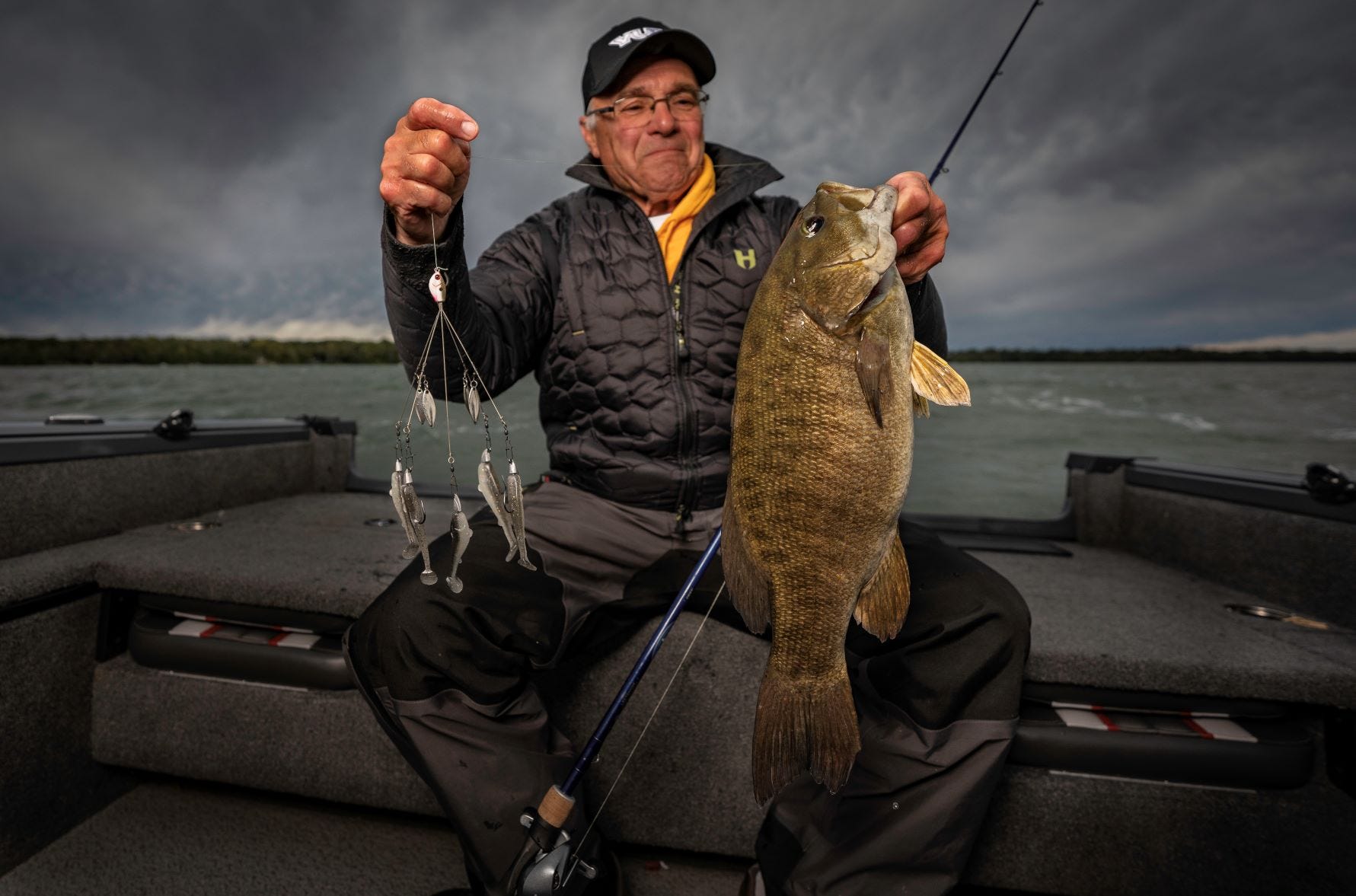 Mason has had success with these elaborate wire rigs on all the Tennessee River impoundments and prominent reservoirs throughout the South.
"I caught big fish on isolated laydowns up in the river channels on Old Hickory and got spotted bass suspended under docks on Smith Lake, too," he said.
But he advises northern anglers not to pass on this deadly rig in their waters this cold weather season.
"I've caught smallmouth on Lake St. Clair and lots of fish on Lake Champlain," he said. "I like ripping the baits off the bottom, giving four to five fast rotations of the reel handle, then letting the rig fall again — as if stroking a jig."
"There's not a better tool for big fish in winter," he said. "It's got me a lot of 30-pound bags, and so many of my clients' best catches have come on it.
Presentations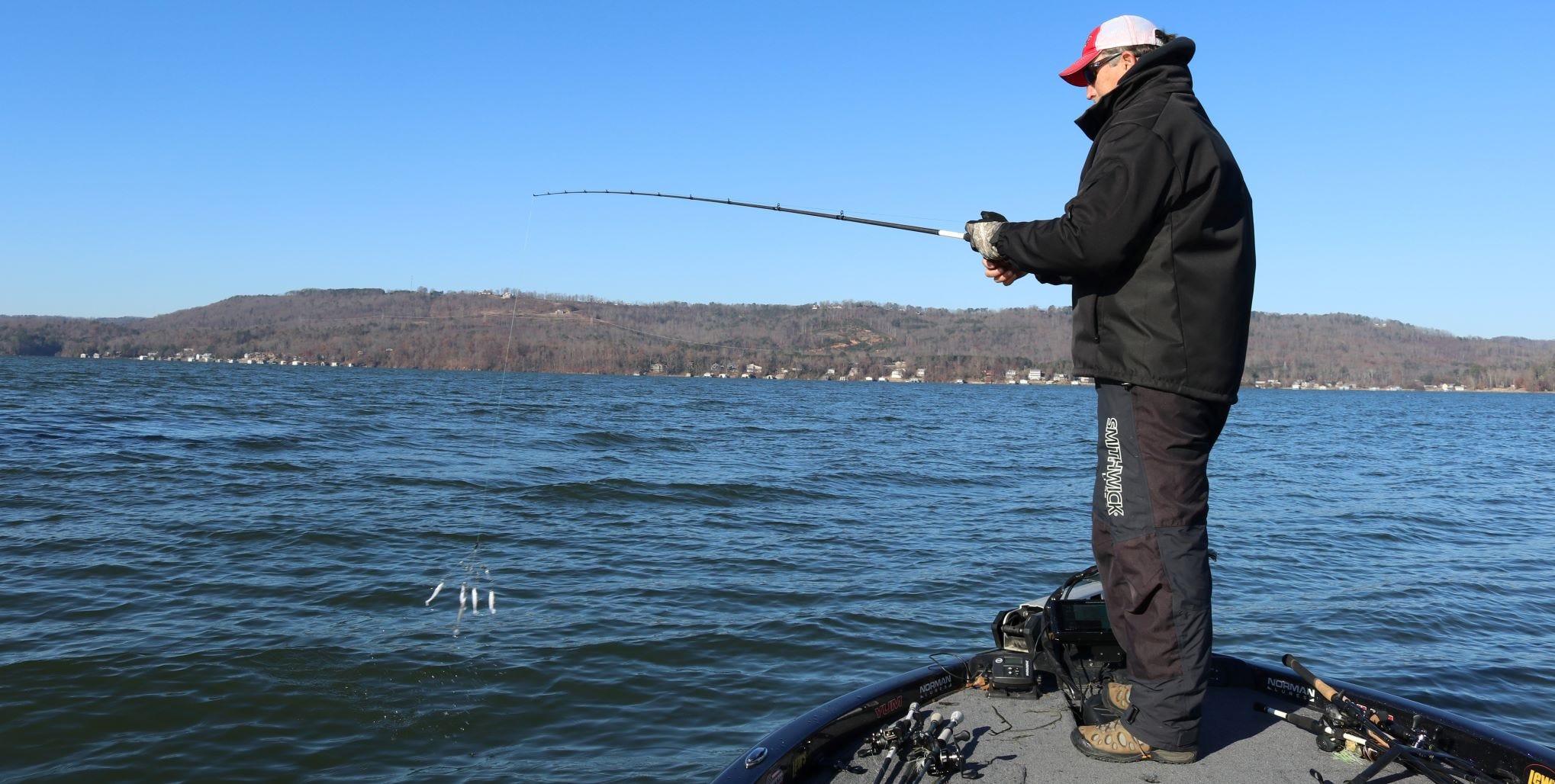 Jimmy Mason lets the fish tell him what presentation they prefer. He varies his retrieve speed until he has dialed in the fish's preference.
He advocates "parachuting" the rig by starting a very slow retrieve as soon as the bait hits the water to get the spinners and tails working correctly. When the rig has reached the depth he wants, he increases the pace to his desired retrieve.
"I also like to add a stutter step, a half-turn stutter of the reel handle," he added. "I picture the fish following the rig. With that half-turn pause, he can either run into it or bite it. That stutter step triggers a lot of bites."
Most anglers are shy about fishing multi-rigs near wood, but Mason often lures big fish from these locations with his mob mix. Around isolated laydowns and bluffs, he shifts to 1/4-ounce Booyah jigs with weedguards, stripped of their skirts, or he rigs his Pulse plastics with weedless hooks.
"I will throw this combination around isolated laydowns, on river channels, on laydowns along bluffs or floating docks over deep water where a lot of those big winter fish suspend," he said. "It's a killer rig, and it often gets the biggest fish of the day."
Different Rigs for Different Gigs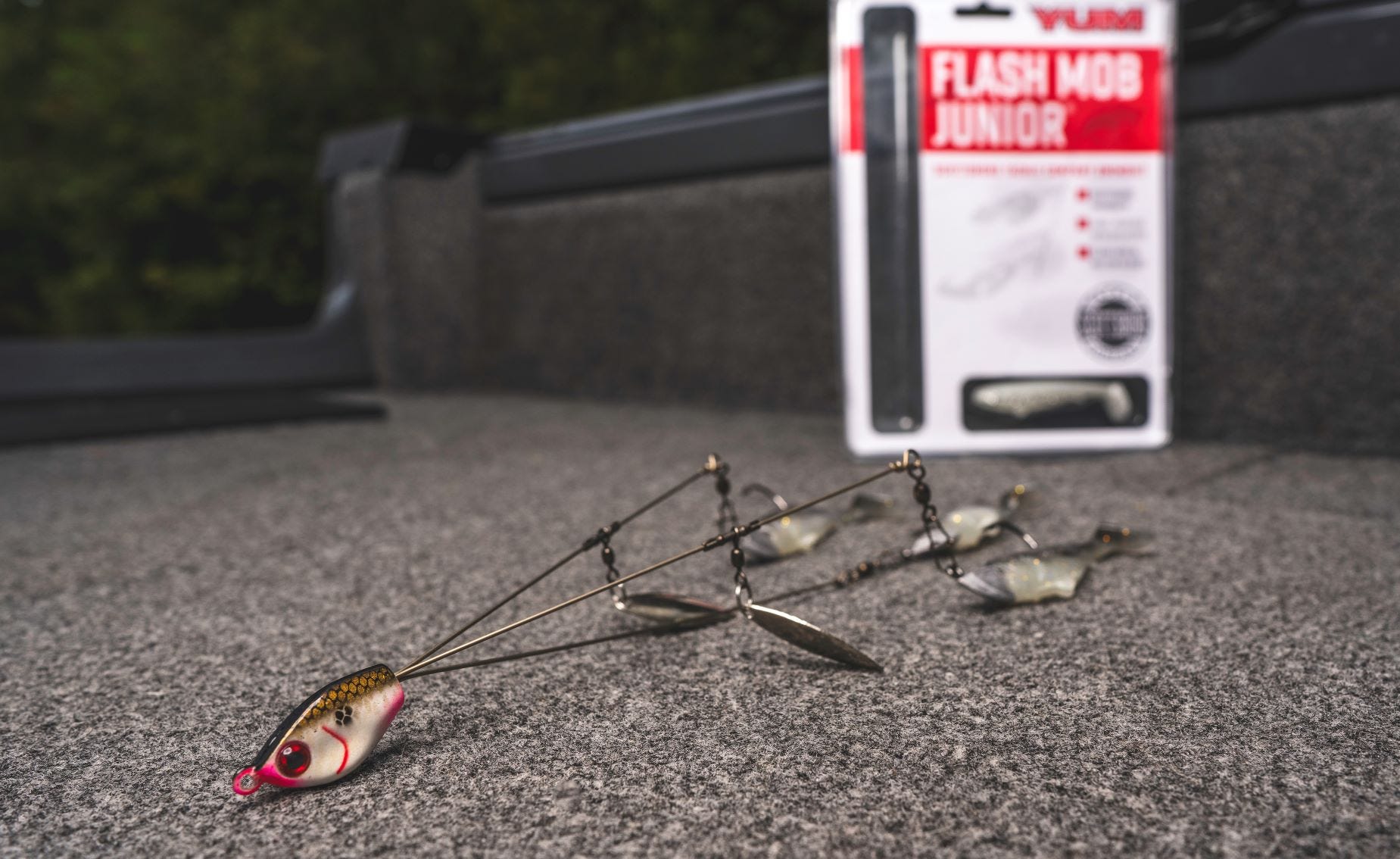 The YUM Flash Mob Jr. with willow blades is Mason's go-to rig, and he uses it roughly 75 percent of the time. It features smaller wire and shorter arms than the larger version. Still, the compact rig earns its "mob" moniker. Four willow blades and five baits give the impression of a nine-fish bait school.
If he feels the bass have seen too much of the willow blade version, he will switch to the Flash Mob Jr. with Colorado blades.
If Mason is not getting an expected share of bites from Junior, he opts for the original YUMbrella Rig, bare-armed rig with five swimbaits.
"It's a 'finesse' presentation of the multi-rig," he said. "I use it a lot when I want to give the fish a different look."
High, murky water calls for more flash. That's when he upsizes to the YUM Flash Mob. The larger version features counter-rotating blades. "I use it after floods and when I feel I need more flash and more vibration," he said.
The Bait Mix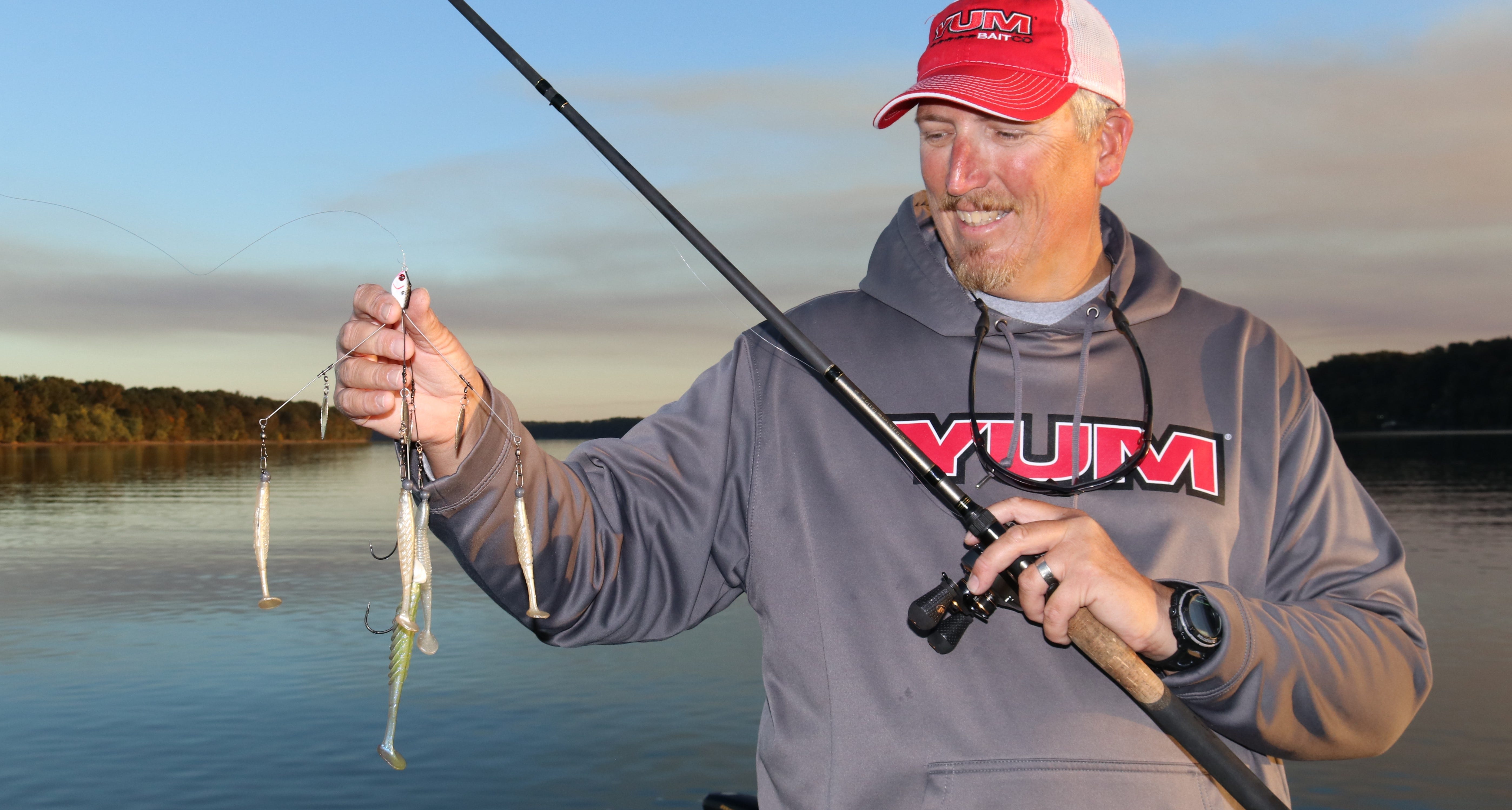 Mason's choice in plastics has evolved, too. Today, his primary rig baits are YUM Pulse 3.5- and 4.5-inch swimbaits. Accentuated ribs push the Pulse down during the retrieve, helping to keep the rig lower in the water column and within the fish's strike zone.
"The Pulse baits are by far my favorites," he says. "The majority of the time I use four smaller Pulse plastics on the outside and the larger Pulse swimbait in the middle."
His "Mob" mix combines two colors, often with a full-size Pulse plastic and two 3.5-inch Pulse baits of the same color across from each other, and two 3. Pulse aits of a different color on the opposite tier. Favorite colors are Pearl White, Blue Pearl, Sinful Shad and other shad colors.
"I feel like I get way more bites with two colors than I do with one," he said. "It breaks up the silhouette; gives the rig a slightly different look."
In cold, dirty water he likes the mix of two Chartreuse Clear Shad and two bright pearl-colored baits. "I've probably caught more big fish on that combination than any other," he said.
In sub-50-degree water, he may replace the Pulse with YUM Grubs on the outer arms.
In clearer water, natural colors rule.
For waters that feature bluegills as the primary bass forage, Mason suggested a mix of green pumpkin orange and green pumpkin chartreuse plastics.
His jig mix typically consists of a 1/2-ounce jig in the center with 1/4-ounce jigs on the outside. When fishing over shallow grass, he downsizes to a 1/4-ounce jig in the center with 1/8-ounce jigs on the outside.
Magic Happens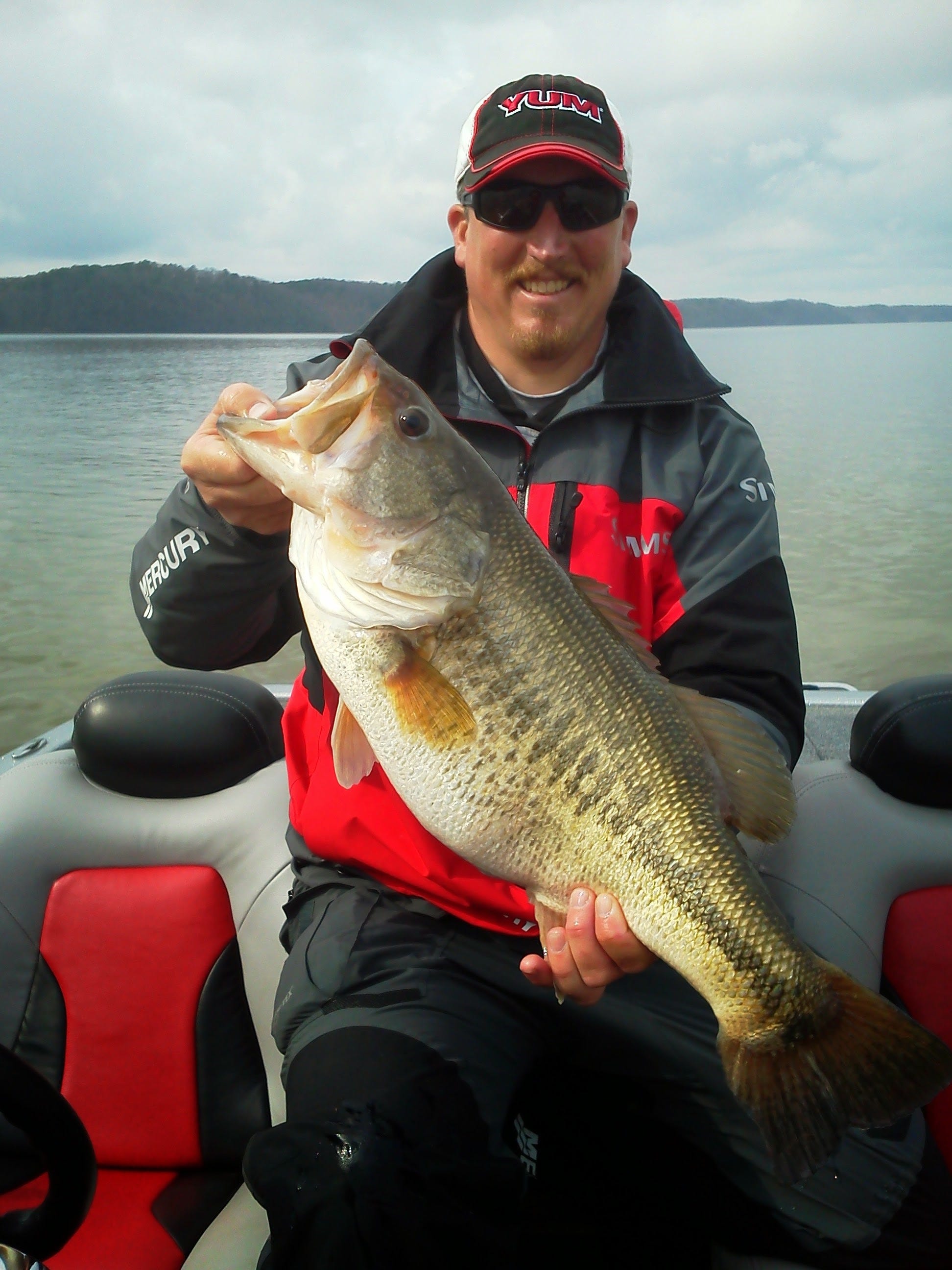 The Flash Mob Jr. produced an 11-pound, 2-ounce largemouth for Mason on Pickwick Lake. One of his team partners employed the same rig to boat a 14.5 pounder.
Numerous 30-pound bags have come to Mason, too, courtesy of the YUMbrella family. One 29-12 tournament total included a 9.5-pound largemouth.
Gearing up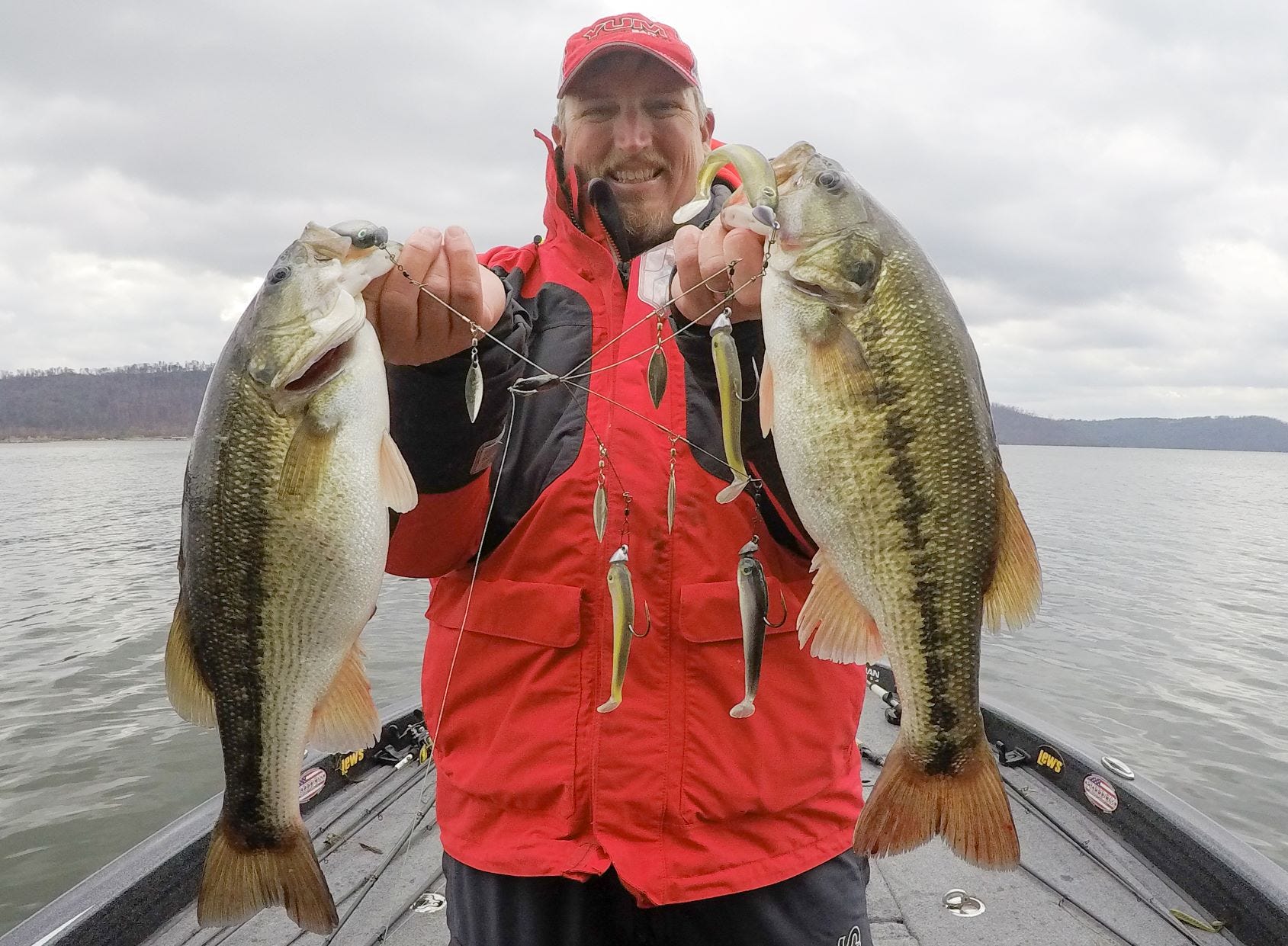 Here is Jimmy Mason's choice of tools, and the tackle logic behind each component.
Rod: Lew's Custom Lite Magnum Jig Rod — 7-3 Heavy power, moderate action
Lew's Magnum Heavy Cover — 7-6 heavy power, moderate action
"The longer rod loads up well in the middle to upper part of the rod for a lob cast.
The little shorter rod gives you more accuracy around laydowns or for any target cast."
Line: Vicious Fluorocarbon, 25-pound test
"I used to throw braid. Now the only time I use it is around heavy hydrilla or eel grass.
Fluorocarbon is quieter. You don't have the sound of braid coming through the guides.
Yet it is still low stretch, and sensitivity is good. I feel I get more bites with fluorocarbon."
Reel: Lew's Super Duty Wide Baitcast Reel (6.4:1)
"It has a wide, deep spool. With that wide diameter line, you need a deep spool."
Note: Although some tournament circuits prohibit its use in competition, most states permit multi-rig rig use in some form. Some states limit the number of "live" hooks that can be used. In such cases, anglers may opt for the YUMbrella 3-Wire Rig and 3-Wire Flash Mob Jr. or add "dummies" or "decoys" (jigs with clipped hooks) to remaining snaps.