Edges provide travel routes for crappie, with food stops along the way. Learn how to locate and catch these fish.
Even if I haven't decided what I want to eat, I typically know the path I'll be taking to find options fitting my likings. At times, it might be an encounter along roads less traveled that triggers a snack stop, such as a flashing "HOT" sign at a donut shop.
Something always has us moving along roads, streets and highways in our daily activities, and often food comes into play along the way. It seems much the same for early fall crappie.
Underwater edges are natural pathways for fish movement. I feel many are the fast-food routes for crappie, while a few choice others house the finest 5-star dining. Those exact thoughts were spinning through my head on a recent early fall crappie outing when the brush piles where I had easily caught crappie just a couple of days before were seemingly part of the Dead Sea.
Then my fishing partner spoke up. "I haven't fished them in years, but there's some edges up river that used to be really good in fall. I'm not saying they'll be there now, but they might."
Leon Adams and I became good friends in short order a few months back upon discovering we had a lot in common, including age, a passion for crappie fishing, and the ways we like to target the species. He grew up in northeastern Oklahoma, so his expertise with the region was more than twice my 30 years of living here. When he made the recommendation on Fort Gibson Lake, I said, "Let's go!"
Edges Defined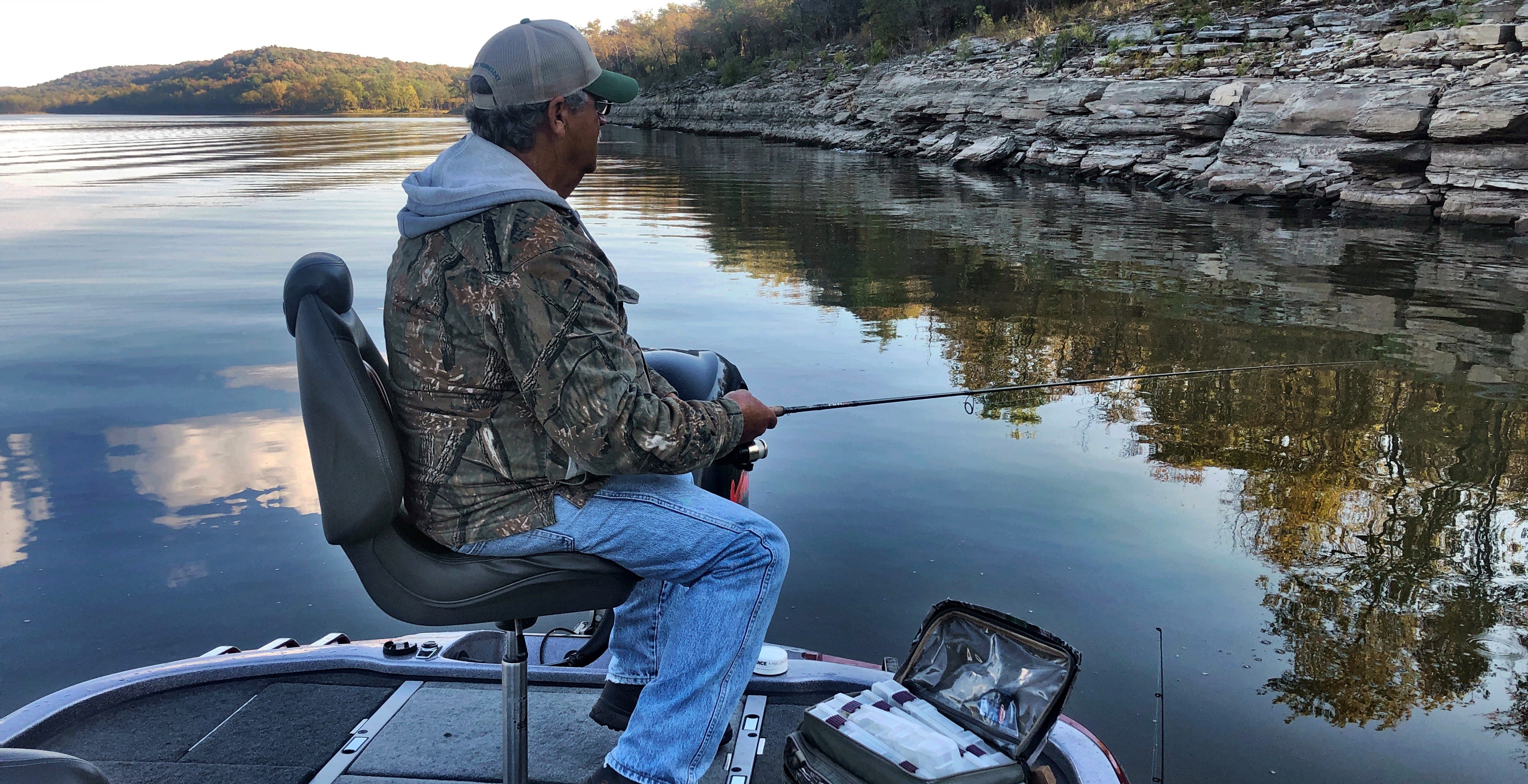 When used in fishing reference, I find this Merriam-Webster definition of edge to be the most fitting: "a line or line segment that is the intersection of two plane faces." To me, that effectively describes the mental picture I hold of a series of horizontally oriented structural changes that occur along a body of water's bottom, which can occur at any depth. Sometimes "breakline" and "contour" are used interchangeably with edge. Regardless of what you call edges, match up the right ones with the right conditions, and you're in for some magical fishing as crappie frequent the pathways for food, comfort and safety.
The beauty of edge fishing is that the structure offers three fish-holding zones that can be covered in a single cast: 1) Top edge; 2) Face;3) Bottom edge.
Whether using a boat's electronics or simply studying the adjacent landscape, first envision exactly what the edge looks like, and then picture how to control your crappie bait to maximize its time in each zone until you determine where they're holding. Edges are a personal favorite structure of mine to fish, and now I know they are for Leon, too.
Old School Learning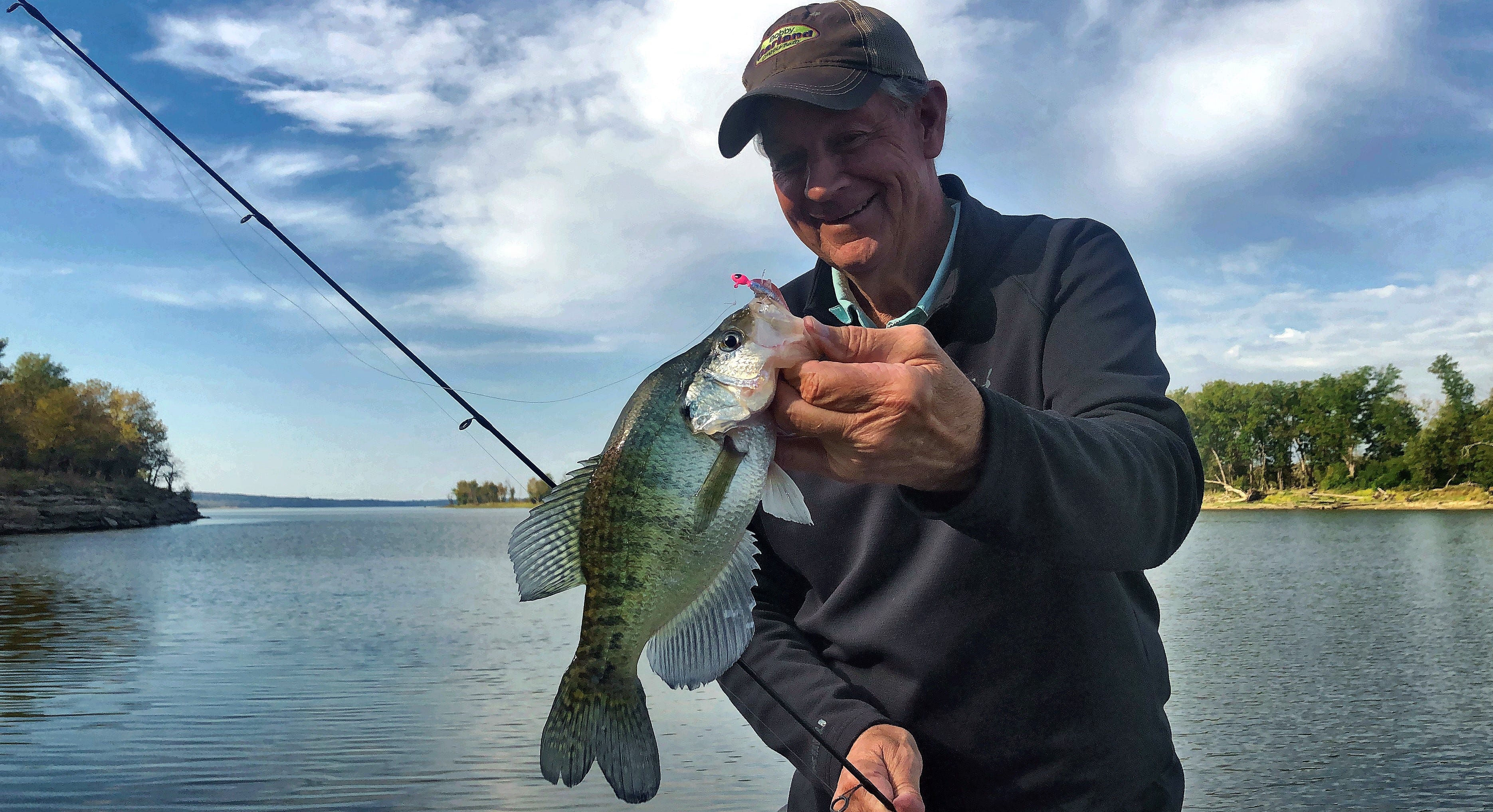 Leon and I have both witnessed the amazing transformation of electronics through our lifetimes of fishing, from early-day flashers to paper graphs to forward-facing sonar, and we're marveled by today's technology.
There's no doubt, quality electronics are an asset for finding structure and fish, but edges seem to be the type of cover in which some old fashioned "slow down and grind it out" fishing can produce quality catches whether you're "seeing" fish on a sonar screen or not.
I attribute my fondness for edges to having fallen in love with jigging spoons while fishing for bass back in the 70s at places like Lake Amistad in Texas and Elephant Butte Lake in New Mexico. I used that chunk of lead on the end of my line to further assess below what my sonar unit was showing. "Feeling" what was down there taught me a lot about structure and ultimately helped me realize the fish-holding power of edges. To this day on several lakes, some of my best crappie spots are edges I've found while jigging a spoon for bass.
Leon was also chasing bass into the 70s and found Oklahoma's offerings to be some of the best in the country. He grew up around Lake Eucha, just south of Grand Lake, and spent lots of time on many waters in the northeastern part of the state, and especially places like Spavinaw, Hudson and Fort Gibson.
His suggestion of "edges up the river" came from the time he'd found and "doctored" such areas with additional cover to spice up the fish-holding attractions even more. From the late 70s on, after turning his focus mostly to crappie and moving closer to Fort Gibson Lake, he'd return often to these spots, whether fishing from a boat or the bank. Like most anglers seasoned by years, Leon recognized spots by means other than GPS waypoints.
River High Spots & Eddies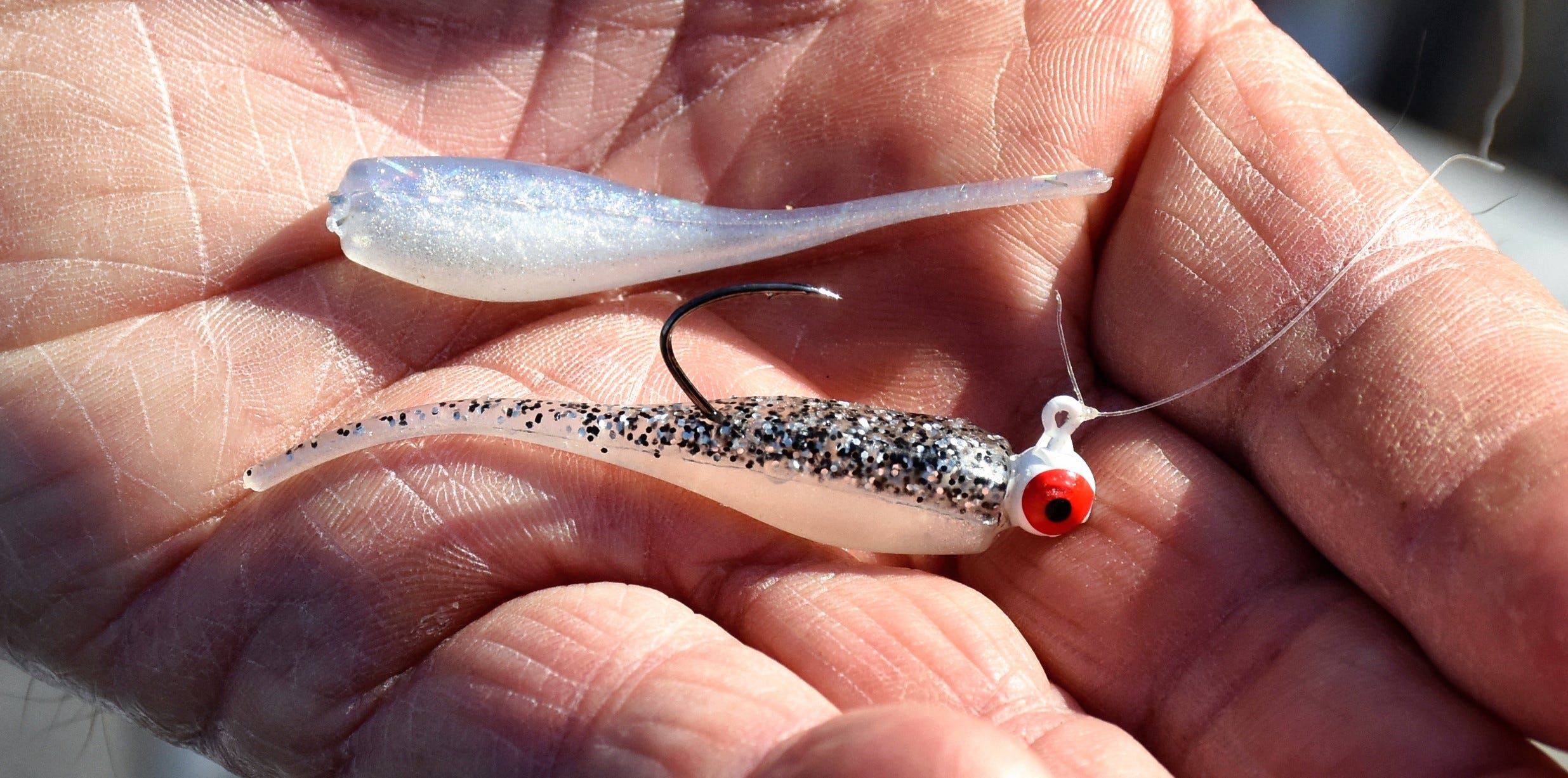 Not long after entering the Grand River section above Fort Gibson Lake, Leon gestured for me to head toward a shoreline with a not-so-tall bluff. "Let's start at the little run-off area there and fish up to that big egg-shaped rock ahead," he said as I slowed to idle speed. Then he added, "You can stop here." I looked at my sonar just in time to see it transition from a depth of about 25 feet to 18. "A short shelf comes off that bluff for maybe 10 feet out, and the crappie usually hold on its edge somewhere between 8 and 12 feet."
I couldn't help but grin thinking about his precise remembrance of this location he "hadn't fished in years." In a matter of minutes, he was the one grinning as he reeled in a nice white crappie. "Guess they still live here! Black crappie do, too," he added. Sure enough, slowly working along the 50-yard stretch a couple of times produced a nice mix of black and white crappie, including some quality keepers.
For much of the time, Leon recalled the details of how he had hung and "cabled" brush cover along this edge. We couldn't help but wonder as we fished if some of the structure we lost snagged jigs to was indeed the remains of his efforts "years ago."
Leon only fishes with a jig and was proud to say he couldn't remember the last time he fished with a minnow. On this day, he alternated between a Bobby Garland Baby Shad in Crystal and Live Minnow colors, rigged on a 1/16-ounce jighead. And Leon is a "caster." He told me he probably casts for crappie 90 percent of the time, and that most of his catches come during his slow-reeling retrieve. I witnessed his success enough to know he had a really sweet touch with the technique.
He went on to describe how "from here on up the river a ways," were countless shelves with similar breaklines and cover. "High-water runoff changes things a lot every spring here, so you just don't know what you've got until you look," he said. "But I've sure caught a lot of crappie in here over the years."
Much farther up the same Grand River, Leon likes to launch and fish below the Grand Lake dam. He explained it's a different style of river fishing than what we were doing. "I like to be down a little ways from the dam, maybe a mile or two, 'cause I like to fish high spots in the stiller water. Might be humps, might be flats, but I have my best luck fishing along edges of the higher spots."
Leon says reading eddies also comes into play when river fishing. "Eddies tell you a lot about where crappie will be holding. I sure like a high spot with a protected-from-current edge on the down-eddy side. That's where crappie will wait for the current to bring them something to eat. If there's more current, I just cast a little farther up so that it's at the right depth by the time it gets to the crappie."
He added that most of his catches come from depths of 6 to 12 feet, and he's using a Baby Shad on a 1/16-ounce jighead.
Humps in Lakes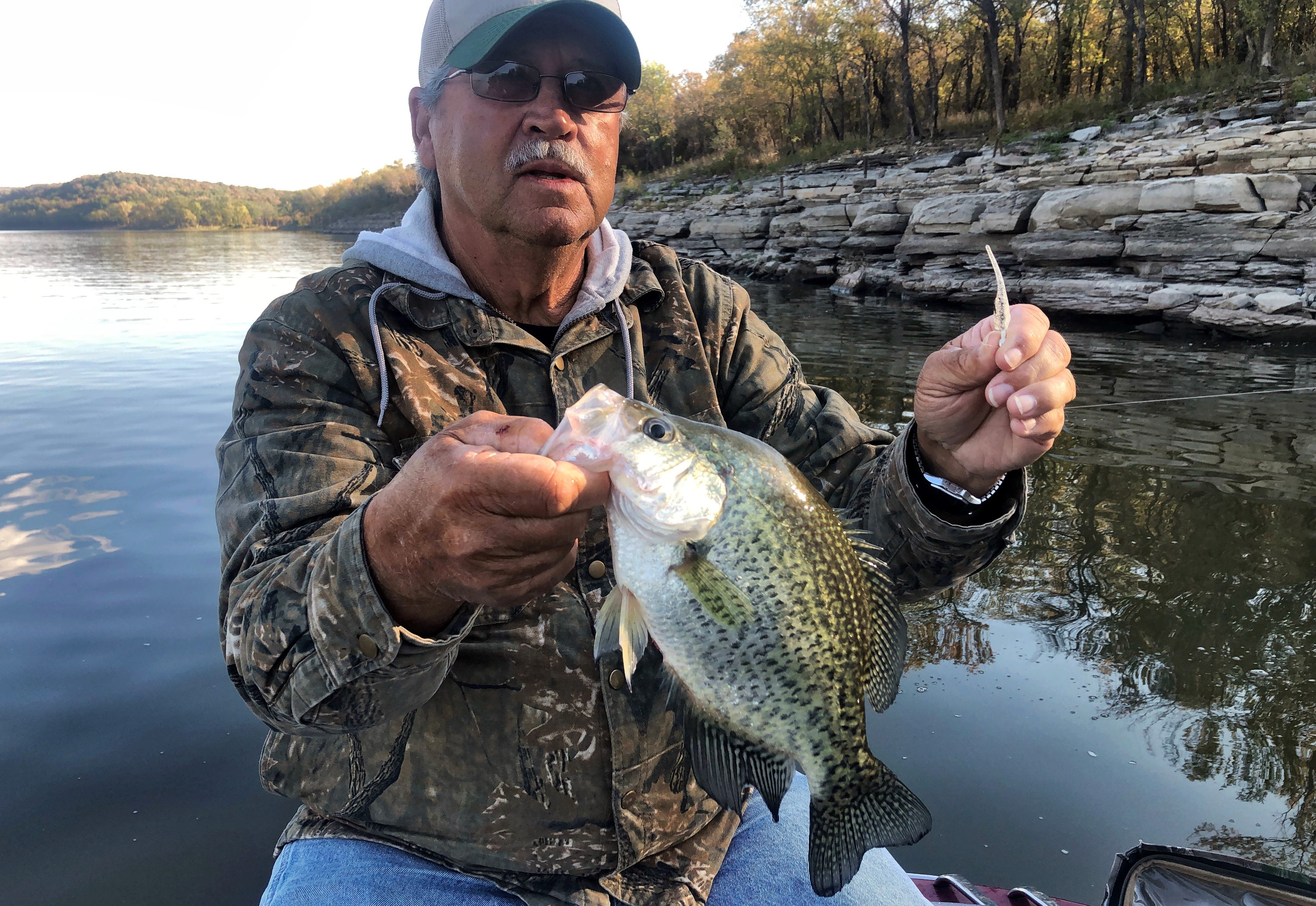 Since retiring in 2009, Leon has made crappie fishing a priority. He typically plans on two trips per week, but "sometimes more, sometime less," he'll tell you with a twinkle in his eyes. One of his favorite crappie lakes is Spavinaw. This nearly 100-year-old lake was the first man-made one in northeastern Oklahoma. It is a sizable body of water at about 1,600 surface acres but is smaller than some of the other lakes nearby. Water color is typically clear, with good depth and varying structures.
"Starting June or July, with the spawn over and being rested back up, crappie move to the humps and will stay there until winter patterns begin… say, the end of November."
Leon seeks the steepest sides on a hump, ideally an edge having a drop of 8 to 14 feet, over about 18 feet of water. And he likes edges best that have "trash," be it rocks, stumps, brush … "simply some type of cover." He explains these are the transition pathways by which crappie move up and down between eating and resting. "They just always seem to be there this time of year."
Again, he's casting for these fish, but has also added a second approach to his arsenal. "I'm still catching lots of fish on my Baby Shad, but I'll also downsize to Bobby Garland Itty Bit baits for a finicky bite … and these crappie can get that way – picky."
For the finesse approach, he likes either the Itty Bit Slab Hunt'R or the Itty Bit Slab Slay'R, and will use the same 1/32-ounce jighead for the smaller baits.