By Mike Pehanich

Mitch Looper is a legend around these parts. People say he thinks like a bass, but he shakes his head at that. He says he just thinks about all of the factors that prompt bass to strike, then times trips to be on the water when the big ones want to feed, throwing what big bass like to eat. Often that means he's on the water when the rest of us are snug in our beds.

His night fishing trips have accounted for six bass over 10 pounds and more than 100 bass over eight pounds from waters within 100 miles of his home in Hackett, Ark.

His biggest night-fishing bass weighed 14.7 pounds, and biologists determined through electrophoresis analysis that it is the heaviest northern strain largemouth ever taken in Arkansas waters.

Looper pursues largemouth, smallmouth and spotted bass alike at night, and unlike most anglers who simply take to the darkness to avoid the mid-summer heat, he works the night bite all year long.

"I like to night-fish during the pre-spawn and spawn as well as the summer," he said. "No one else is out there, and big fish show up in places you won't ever see them in daylight."

One factor in his night-fishing success with giant bass is that he intentionally fishes for big bass.

"I'm willing to fish all day for one big fish, but that is not my goal," he said. "My goal is to find a flurry of big bites, and that will happen if I am in the right place at the right time."

Planning and preparation are critical to getting those bites and getting the giants to boat, as well as avoiding mishaps. Looper streamlines his lure and tackle selection, knowing how darkness can make even small details into big problems.

Looper pre-rigs no more than four rods. Three are rigged with his mainstay Booyah Boo Jigs in sizes ranging from ¼ to 1/2 ounce. His primary trailer is a Yum Money Craw or Christie Craw in a brown hue – a color he regards as particularly effective in spring. He also uses a lot of black and blue jig/trailer combinations, especially in hot weather.

He trims the jig skirt so all of the strands are different lengths – some short, some pretty much left alone. If he's fishing for smallmouth he throws a Pigskin Jig, a football-style jig that he uses almost exclusively on deep hard-bottom points.

On the fourth rod he rigs a Booyah Moontalker or other big spinnerbait, as long as it has a giant thumping Colorado blade, but he only goes to it if the wind picks up.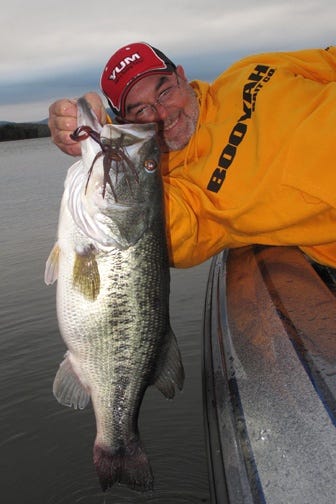 Mitch's Eight Great Night Tips

1) Pick a big-fish lake – Looper targets clear-water lakes with a primary forage base of shad.

"I really don't think that bass get over 10 pounds very often on a bluegill-only diet," he says. "It seems that small lakes with clear water grow the biggest fish. If bass have lived in muddy water a long time, it is so much harder for them to locate and catch enough prey to become great big bass."

2) Pick big-fish locations – Night giants like shallow, hard-bottom feeding areas with quick access to deep water. Looper looks for classic structure linking both.

"Nearly all the big bass I catch at night are relating to a creek channel, ditch or short ledge," he says. "And I like areas where the channel only runs along the bank for a short distance before it turns away."

3) Be a moon watcher – Nearly three-quarters of all world record fish are caught within three days of the full moon. The second best time is the "quarter moon" phase. During these periods, Looper concentrates his fishing around the moonrise and moonset.

"For me, it is more important to fish in the right places during the three-hour period around the moonrise or moonset than to fish for 10 random hours," he says.

4) Light at the ready –Though Looper uses "the smallest amount of light I can get away with for the job," he emphasizes that a good working light is one of the most important elements of night fishing. He has headlamps for both him and his partner. He also paints the lens of his 6-volt lantern red and carries a spotlight just in case. He mounts a flashlight on his net for landing fish.

5) Timing is everything – When planning a night trip, Looper pays special attention to weather conditions, including incoming fronts, as well as moon phases, season, etc. If several positive factors such as an incoming front coincides with a strong moon phase, he knows the fish will be active. If that happens and the moonrise or set also coincides with dawn or dusk, there's nothing stopping him from being on the water.

6) Use a big net – A big net is essential to the health of fish and fisherman alike at night. Mitch takes a tip from the musky fisherman and carries an oversized net that allows him to land the fish quickly and remove hooks over the side of the boat.

7) Line selection and care – Looper opts for 25-lb Silver Thread copolymer almost exclusively for night fishing because it's more manageable, especially in the cold, and its stretch provides insurance against the powerful surge of a giant fish. The bigger diameter protects against the abrasive teeth of a big bass and the nicks and ticks of cover and hard bottom bumping. He uses line conditioner liberally.

8) Keep it slow – Looper says he uses three retrieve speeds at night, slow, slower, and "Hey Mitch, are you asleep?"