The Niagara River offers dazzling variety and opportunities for trophy catches of multiple gamefish species. Learn more about this outstanding fishery.
After setting the hook into what I assumed to be yet another hefty Niagara River smallmouth bass, I realized this one felt different: not quite as fast but even stronger. A few tense minutes later, a 10-pound brown trout came into a sight, and eventually within the range of Capt. Frank Campbell's net.
The bonus brown bit in the middle of a 50-plus smallmouth morning, with most smallies in the 3- to 5-pound range. As if that wasn't enough, before we wrapped up, Campbell ran upriver, and we capped the day with multiple steelhead and a lake trout. It was an amazing morning of fishing, but not at all unusual for the Niagara River, which flows from Lake Erie to Lake Ontario, straddles a section of border between the United States and Canada and is broken by world-famous Niagara Falls.
The Lower Niagara River, between the Niagara Falls and Lake Ontario, offers year-round, legitimate world-class fishing that is highly accessible by boat and even from the shore. Best approaches and the species mix vary by season, but something is always available and biting because every species that lives in Lake Ontario moves into the Niagara River at times, whether to spawn, take advantage of concentrated forage, find thermal refuge, or utilize the river's outstanding and varied fish habitat – and at times they converge in large numbers!
Big Variety & Size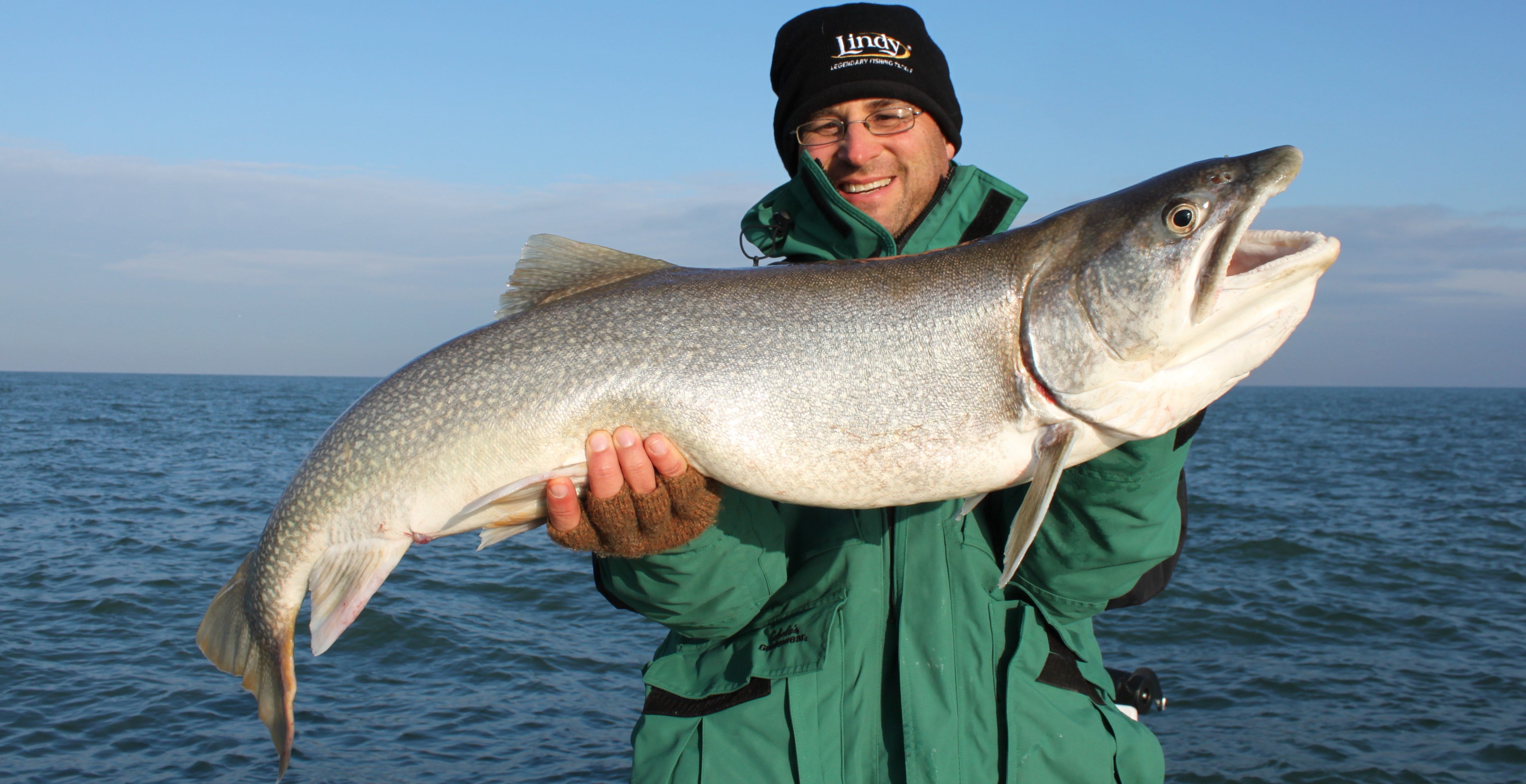 If you could poll anglers who regularly visit the Niagara River about the species they mostly target and the fisheries that draw them to this river, you might be surprised by the variety or responses. Some would note walleyes, smallmouth or muskie as the primary draw, while others would immediately call out cold-water species, including brown trout, steelhead, lake trout, king salmon and coho salmon.
Many Niagara River regulars, of course, would never single out a species or even limit picks to a few, instead pointing toward the species variety and the unique opportunity to catch such variety in a relatively small area as a major draw. Campbell, who along with being a charter caption, heads outdoor promotions for Niagara Falls USA, stands squarely in that camp. He targets every sportfish that swims in the Niagara at times, and usually has at least some degree of a multi-species plan.
I spent a few recent days on Campbell's boat, fishing exclusively on the Lower Niagara River, and we tallied 10 species, including quality fish of several kinds.
The latter part of that report is a big part of what makes the Niagara River stand out from so many other places. It's not just that a lot of species spend time in the river. Fishing the Lower Niagara provides legitimate opportunities for trophy versions of every species noted above and more, and you'll commonly catch multiple species together without changing approaches.
Niagara River Shoreline Fishing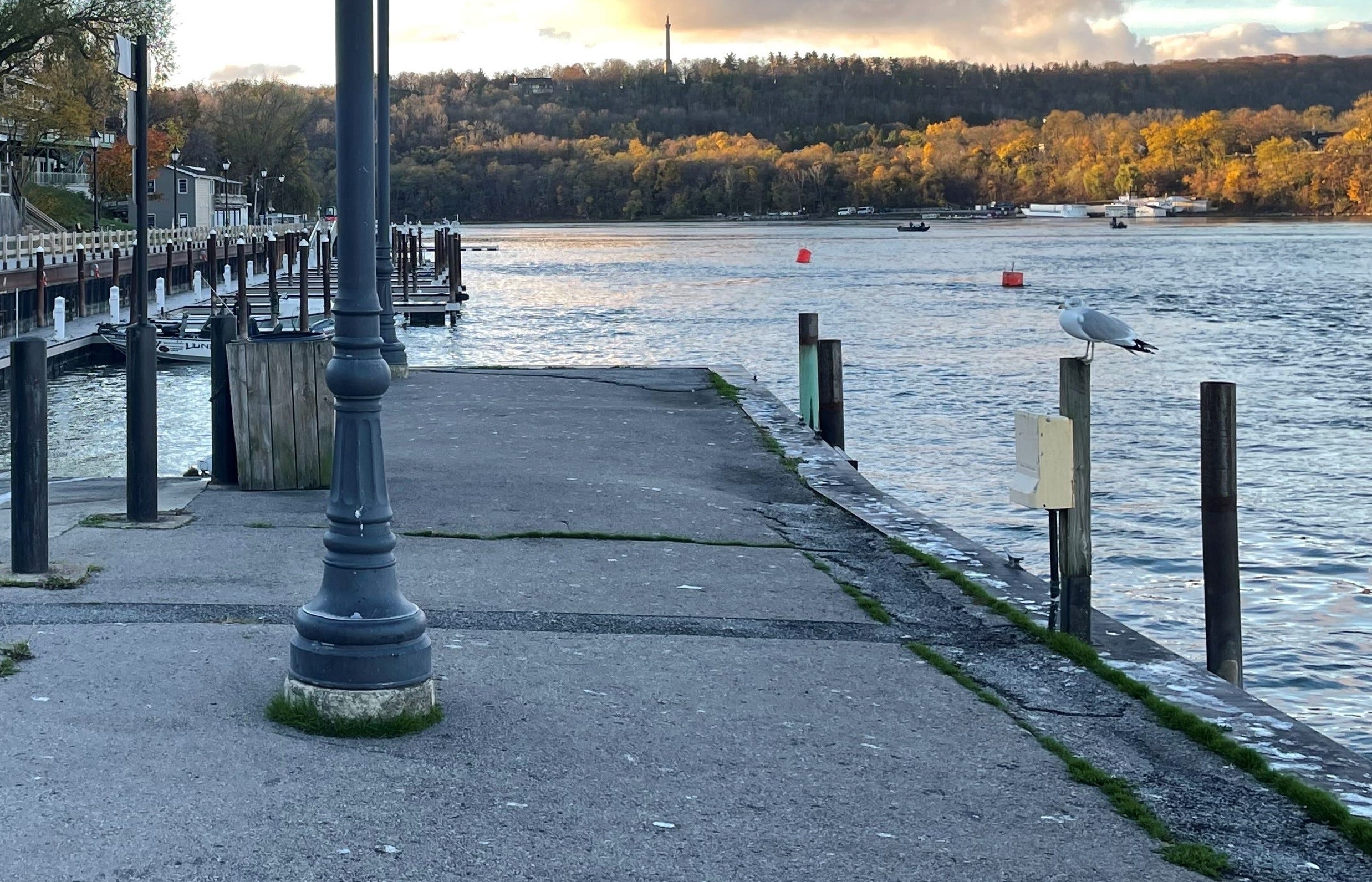 Another noteworthy aspect of the Niagara River is that many miles of river are accessible to shoreline fishing, with very good fish-catching opportunities within easy casting range of the bank. The lower river on the USA side alone has extensive bank access that even includes a couple of piers and fishing platforms and long sections that are paralleled by trails. Shoreline access points are spread from fairly close to Niagara Falls nearly to the mouth of the river.
Good access areas include trails from Whirlpool, Devil's Hole and Artpark state parks, the Lewiston docks and parts of Joseph Davis and Fort Niagara state parks.
Making a good thing even better for bank fishermen, some outstanding fishing areas in Niagara Gorge are upstream of where most boats can reach. These waters, which are especially good for trout and salmon but produce a host of species at times, can only be fished on foot, although reaching some spots calls for substantial walking and decent mountain goat skills!
Several local anglers regularly fish the Lower Niagara exclusively from the bank, and quite a few anglers make annual excursions during their favorite season specifically to fish the Niagara River from the bank.
All-Species Approaches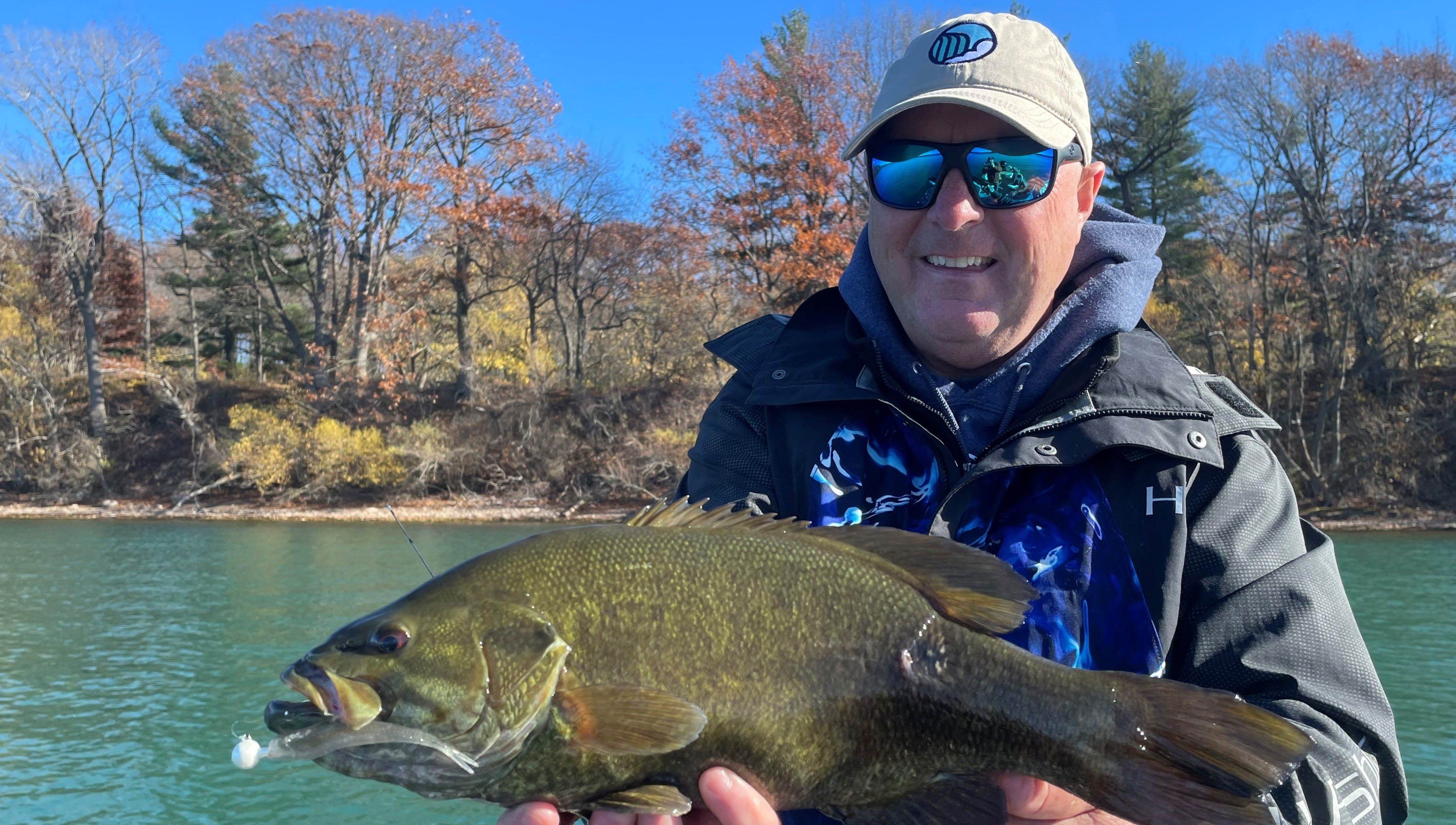 "Everything."
That was Campbell's simple answer when I asked him what species he would mostly use the new YUM FF Sonar Minnow to catch. "It looks just like a smelt, and everything in here eats smelt," he explained.
The fish had already backed that assertion. It was day one of our most recent outing, and Campbell had already landed smallmouths, brown trout and a lake trout on YUM's new 3-inch, sleek-profiled minnow, which was designed for bass fishing and was one two lures Jason Christie used to win the 2022 Bassmaster Classic.
We were drifting, with bottom depths ranging from 20 to 40 feet, and Campbell was dragging the bait on an FF Sonar Jig, hopping it slightly on occasion but keeping regular contact with the bottom. He noted, though, that the same rig could be cast and worked more horizontally to fish shallower, or the bait could be presented effectively on a dropshot rig for extra finesse or matched with a three-way rig to keep it in the zone in more current.
Campbell also pointed toward a Heddon Sonar blade bait as an outstanding lure for appealing to everything from yellow perch to lake trout and an offering that allows you to work in any depth. He mostly fishes a Sonar vertical or close to vertical, sometimes while drifting, jigging the bait close to the bottom. However, a Sonar's heavy weight and compact profile make it easy to cast, and casting retrieves can range from lifting and dropping along the bottom to steadily swimming the bait high in the water column (and everything in between). A natural baitfish profile, tight action, strong vibration and plentiful flash trigger strikes with any presentations.
For casting toward the bank, appealing to suspended fish of several kinds or working from the shore, Campbell pointed toward a suspending jerkbait as being highly effective for a broad range of species, including trout, salmon, walleye, bass and muskie. He likes the Smithwick Perfect 10 Rogue, which is a large jerkbait at 5 1/2 inches and dives a little deeper than most similar lures.
Beyond Fishing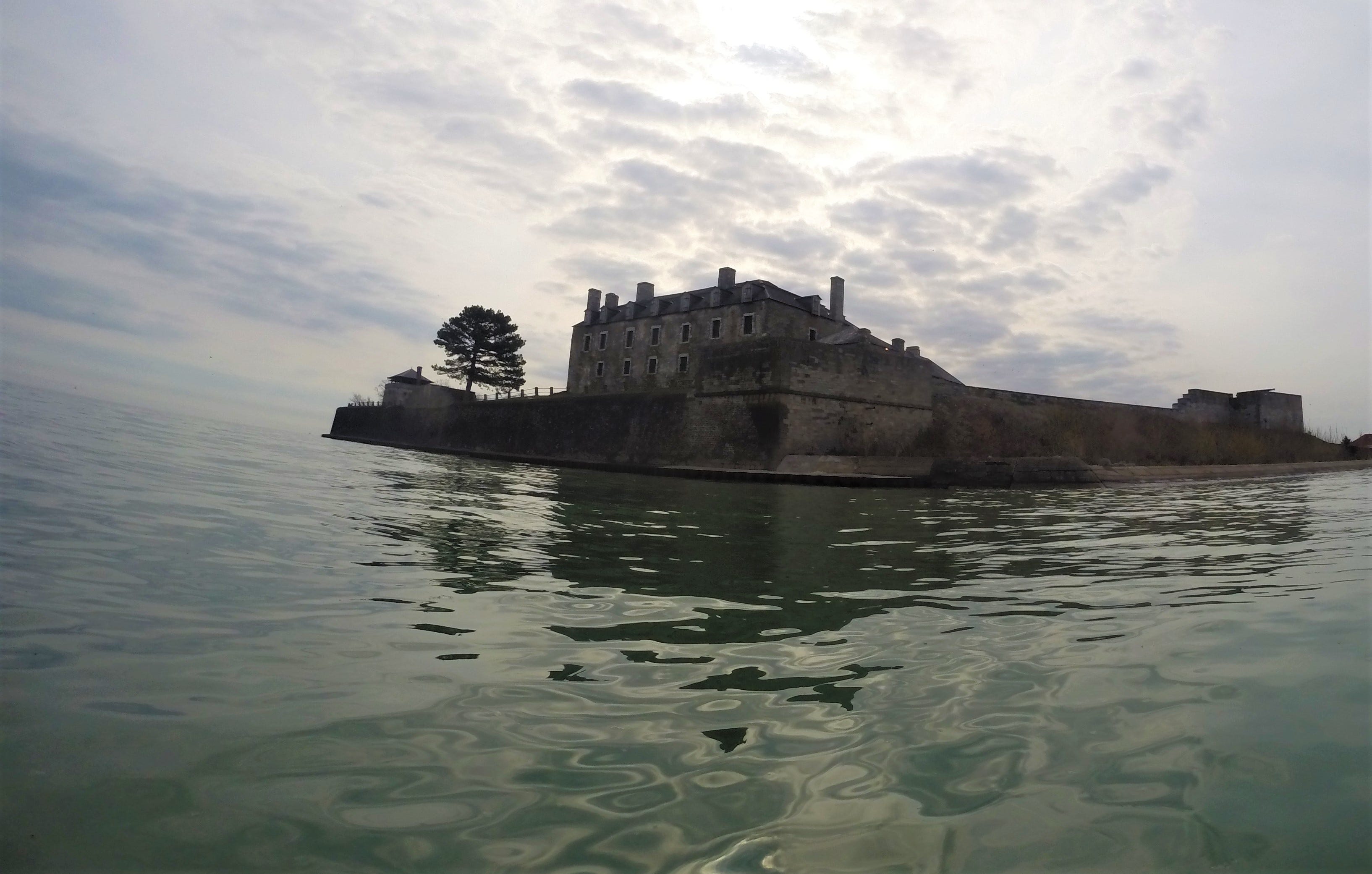 The trail system within Niagara Gorge isn't only useful for reaching remote fishing spots. It provides fabulous hiking opportunities and leads to spectacular views of the whirlpool below the falls and other rugged sections of the river. The region also provides many outstanding opportunities for other outdoor activities including birding, biking and paddling, winter sports like snowshoeing and ice skating, plus a cool slice of history at Fort Niagara.
Of course, were you to run out of activities, just upriver from all the best fishing, there's big waterfall that you might have heard about, and if you never have seen it for yourself, Niagara Falls absolutely warrants a visit!
Adding to the appeal of Lower Niagara River as a fishing vacation destination, the town of Lewiston has a delightful downtown district with several very good restaurants just a few minutes' walk from hotels that overlook the river. Lewiston is the primary boating access point for fishing the river and central to bank access points.
The Niagara's waters are split between the United States and Canada, and a separate license is required to fish across the border. That said, it is a very large river with plenty of outstanding fishing on both sides.