If you ever wonder what color crappie lures to buy or tie on, this guide to top colors and picks from crappie fishing experts will aid future decisions.
Okay, here's the dilemma. A buddy calls unexpectedly and says he's just decided to go crappie fishing. He'll be picking you up in 30 minutes. The problem's not the short time, (most of us probably could be out the door in 15), but rather the fact that he instructed you to bring only one color of crappie fishing lure.
That's it. ONE color! No additional details are given. You don't know if the water is clear or muddy, or something in between. And you can't help but wonder if the destination will have white crappie, black crappie or both.
The scenario is different from a normal outing, where you'd typically have at least your favorite crappie fishing box at your side, and more likely several boxes, loaded with your favorite crappie fishing baits in a host of colors to switch among throughout the day.
So, now, I ask: "Do you have enough confidence in one particular crappie color and bait for this to be an easy decision?"
For me, it would be simple. I'd pack-up an ample supply of Bobby Garland Crappie Baits (2" Slab Slay'Rs, if I had to limit it to one style) in Bone White/Chartreuse and be good to go. It is a confidence thing for sure, and I feel like I can catch crappie with that color and bait everywhere. I pretty much have, from New Mexico to Florida to Minnesota.
My guess is that you'd have a quick answer, but I also think you'd second-guess it several times. Picking colors for crappie fishing can be complex, from the sheer volume of options alone. My effort here is to give you a foundation on where to start with your selections, and a good path to follow when ready to take it farther.
What Colors Do I Need?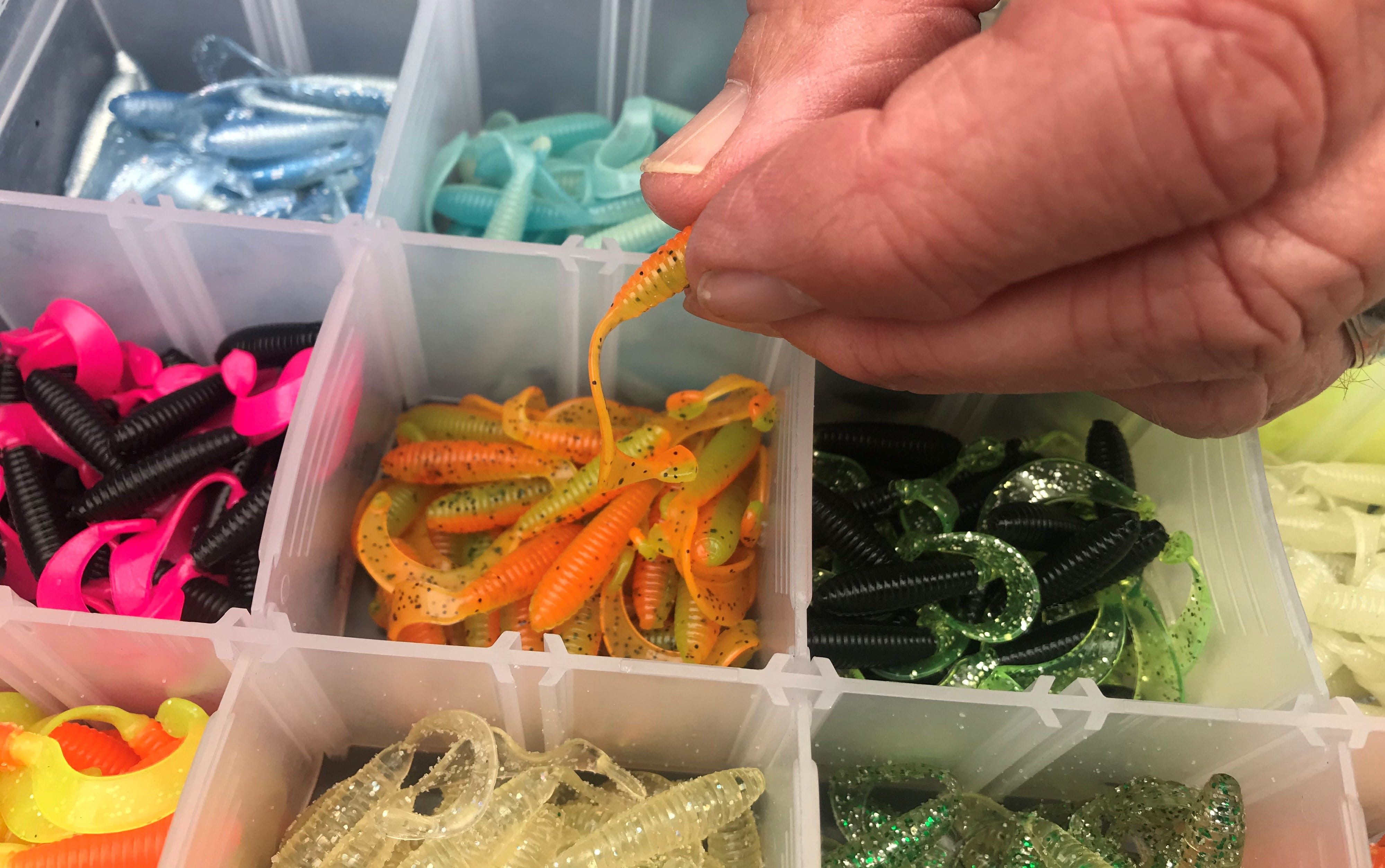 A walk down any tackle store aisle reminds us that colors really are a big part of the crappie world. A seemingly never-ending spread of crappie colors at retail can indeed be an intimidating sight, especially to occasional anglers and beginners who are trying to make selections. That thought came to light again recently as I worked the Bobby Garland booth at a big tackle show. Over and over, the question was asked: "What colors do I need?"
The answers to that question can be as varied as the color options out there. And that surely would be the case if multiple crappie experts were on hand to inject their thoughts. I've witnessed it too many times to think otherwise. After all, in the crappie category's top-selling Bobby Garland Baby Shad series alone, there are nearly seven dozen color options.
Fortunately, there really is no wrong answer to "what color?" Any can work. However, as finicky as crappie can be at times, there is science explaining there are situations when color choices do come into play in triggering more strikes. By soaking up some of that good knowledge, along with paying attention to what other crappie anglers are doing to enjoy success, you can indeed boost the odds in your favor for "more catching" versus "just fishing."
Lurenet's recent reprint of the "Vision" part of the In-Fisherman Panfish Guide article, "Making Sense of Crappie Behavior" from a few years back reveals how important sight is to crappie for finding and catching prey. If you haven't yet read it, do so. It provides a good perspective on the species' detection of colors in their environment.
Also, if you've ever wondered how your color choices match up to those of fellow crappie enthusiasts across the country, you'll likely find the list that follows to be of interest. It's the Top 6 Bobby Garland crappie bait colors, based on 2021 Baby Shad sales history.
At the very least, the list might help you identify some "must have" colors you probably should add if you don't already own them, because the shared information represents a huge cross section of what crappie anglers are buying and using most across the entire United States.
Upon reading the descriptions for each color, you're probably also going to realize that these top hues have something in common – all are versatile at satisfying a diverse range of crappie-catching conditions, from clear water to muddy water.
To me, these colors are the building blocks for constructing a great day of catching, and I think it's a philosophy reinforced by something you'll hear Crappie Connection Host and Bobby Garland Pro Staffer Brad Chappell say often.
"Sure, I have my color preferences I'll start with, and will try to present as many multiple color combinations of them as possible for whatever technique we're using. From then on, I'm letting the crappie tell me what colors they want. I'm always paying attention to the specific colors getting the strikes, and then start fine-tuning from there,"
Chappell's hot color on Ross Barnett right now, Blue Chrome, is a great example of his practicing what he preaches. "We were catching some fish on baits with blue, and some were coming on shiny ones with high silver glitter content. I dialed that in tighter to end up tying on a Baby Shad in Blue Chrome, the perfect combination of blue and heavy silver flake, and it's still catching 'em," he said.
Bobby Garland Baby Shad – Top 6 Crappie Colors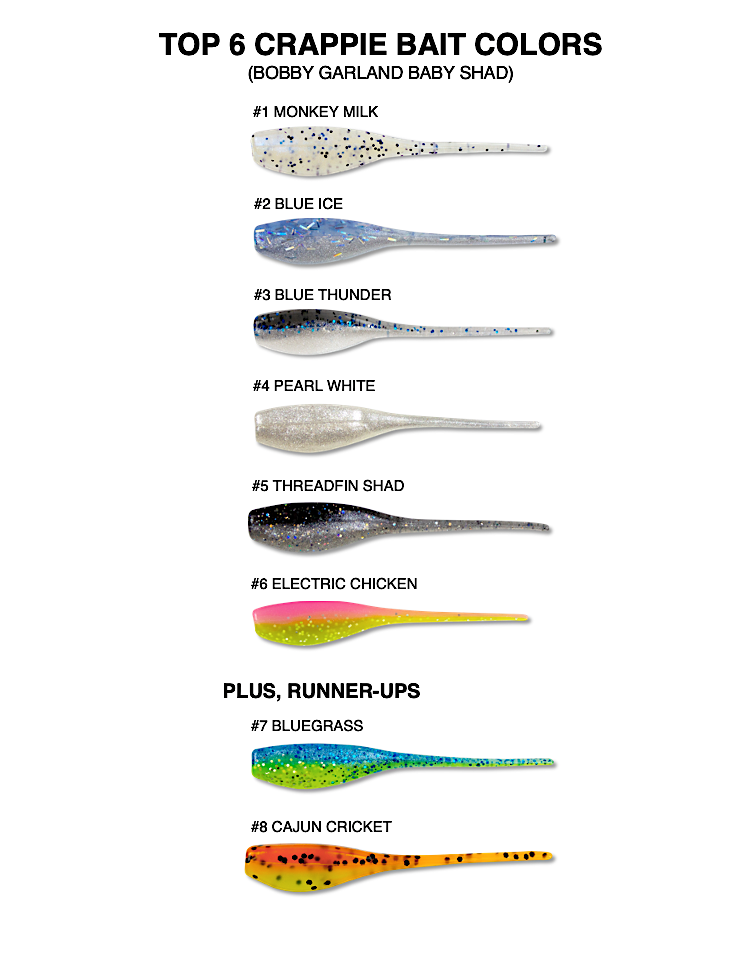 #1 Monkey Milk
Bobby Garland introduced the Monkey Milk color in July 2009. It features a semi-transparent pearlescent body with blue highlights and black flake throughout. Monkey Milk was an immediate hit and climbed the popularity ladder in short order. The color has owned the top spot on the Bobby Garland best-seller's list for at least the last 10 years and seems to be one of those magical colors that works "everywhere."
How did the color get its name? Upon seeing the hue for the first time, now retired employee Diane Thornton commented rather matter-of-factly: "Looks like Monkey Milk to me!" Although neither she nor any of us had any idea of what actual monkey milk looked like, the name stuck. Today, the name and color are among the most copied combinations in all of crappie fishing
#2 Blue Ice
Blue Ice has a long history of being #1 or #2 among Garland's top colors. It features a mostly transparent light sky-blue back with holographic string flake in combination over a mostly opaque pearl white belly. It's a deadly baitfish imitator that first began building its reputation on Missouri's Truman Lake and Lake of the Ozarks.
#3 Blue Thunder
Blue Thunder is one of Bobby Garland's earliest color combinations and has been a proven crappie catcher ever since. It has a mostly opaque smoke back with blue and silver flake, and a mostly opaque super sparkle pearl belly.
#4 Pearl White
Pearl White needs no description. The color is a longtime favorite of anglers fishing for all panfish, including crappie.
#5 Threadfin Shad
Bobby Garland introduced its Threadfin Shad color in July 2010, creating a realistic imitation of what surely is a crappie's "ice cream" forage fish. It has a mostly opaque black back with holographic flake, over a silvery shad-colored belly with holographic flake.
#6 Electric Chicken
Electric Chicken is another color that's been around forever but continues to hold a top spot as one of crappie anglers' all-time favorite colors. Why? Because it marries two proven colors together in a deadly combination: pink and chartreuse. It features a bubblegum back with no flake, over a virtually opaque chartreuse belly with silver flake.
Okay, sorry, but I couldn't stop at six, because two more were right there with them and they are dandies:
#7 Bluegrass
Bobby Garland's Bluegrass color is another of the brand's introductions that has taken on a life of its own. It features an opaque light blue back with blue flake, and a mostly opaque chartreuse belly with silver flake.
#8 Cajun Cricket
Louisiana's Armstrong Cricket Farm gets full credit for this bait's color and name, as its tackle division served up the idea to Garland and we created it nearly 15 years ago. The color features a semi-transparent orange back with black flake, and a semi-transparent chartreuse belly with black flake.
Crappie Colors the Experts Use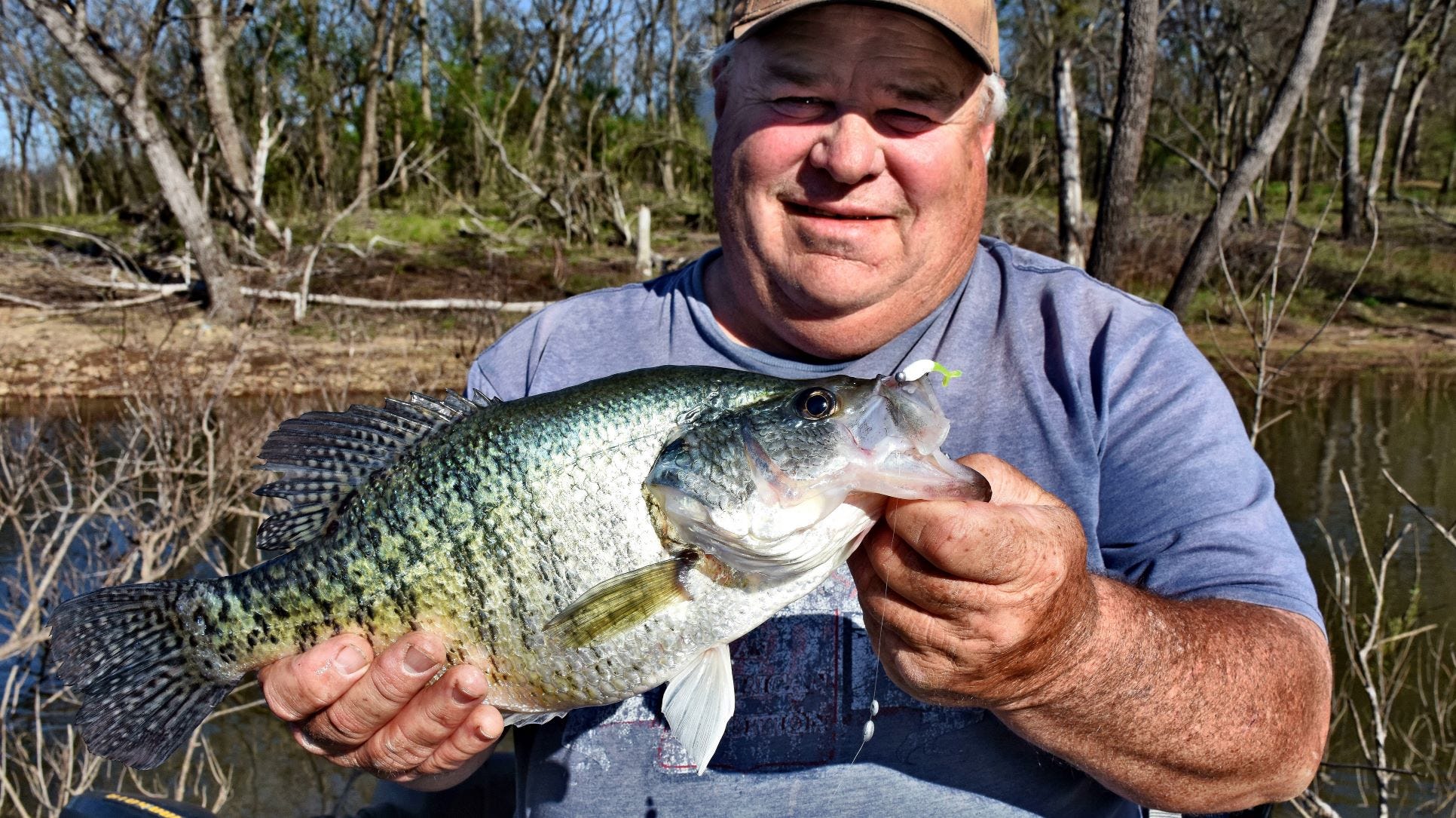 Of course, as mentioned in the beginning, most crappie anglers have a personal favorite crappie bait color and body style, and often their preferences are based on success on home waters.
Here is such a list composed from guys who chase crappie a lot and I'm confident you'll find their information helpful whether visiting these specific waters or places like them. Let us know your results, even if you had to fine-tune to something different a la Brad Chappell to come up with your hottest fish-catching color.
Alabama
Alabama River: Monkey Milk (Baby Shad), Dan Dannenmueller
Weiss Lake and Neely Henry Lake: Cajun Cricket (Baby Shad), Lee Pitts
Arkansas
Illinois
Indiana
Monroe, Geist and Morse Reservoirs: Goldmember (Slab Slay'R), Doug Sikora
Louisiana
Lake Verret: Blue Ice (Baby Shad), Tim Hebert
Mississippi
Ross Barnett Reservoir: Blue Chrome (Stroll'R and Baby Shad), Brad Chappell
Grenada Lake: Monkey Milk (Baby Shad), John Harrison
Missouri
Truman Lake: Junebug /Pearl Chartreuse (Slab Slay'R), Barry Morrow
Mark Twain: Black/Hot Pink (Slab Slay'R), Jim Dant
Lake of the Ozarks: Purple Monkey (Baby Shad Swim'R), Terry Blankenship
North Carolina
Jordan Lake: Lights Out (Slab Slay'R), Freddie Sinclair
High Rock Lake: Mayfly (Baby Shad), Jordan Newsome
Lake Norman: Electric Chicken (Baby Shad), Jeff Lowdermilk
Oklahoma
Grand Lake: Bleeding Shad (Baby Shad), Dustin McDaniel
Gibson Lake: Bone White/Chartreuse (Itty Bit Slab Hunt'R), Gary Rowe
Lake Eufaula: Monkey Milk (Baby Shad), Mike Taylor
Keystone Lake: Green Hornet (Baby Shad), Leon Mears
Kaw Lake: Bright White (Slab Hunt'R), Kevin DeLong
Tennessee
Reelfoot Lake: Lights Out (Minnow Mind'R), Jim Dant
Texas
Lake Fork: Mo' Glo Green Lantern (Baby Shad), Jeff Schwieterman