As winter progresses, sound plays an increasingly important role in calling walleyes close and prompting strikes.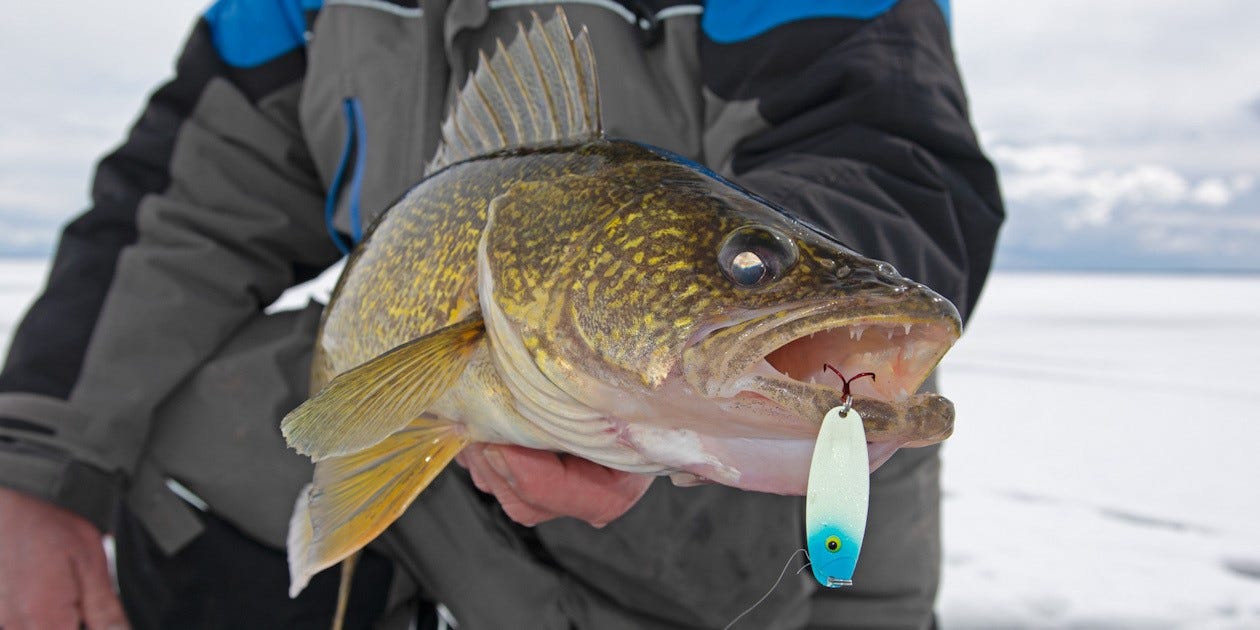 If you've spent any time ice fishing, you know that last week's hotspot might be void of cooperative fish this week. Things change, often much more so than is obvious from atop the ice, so you must adapt to continue catching fish.
Changing locations is sometimes an obvious need. You cannot catch walleyes if you are fishing in an area where there are none. It goes beyond that, though. As the ice season progresses, it's important to alter strategies to fit conditions and the fish's behavior.
For mid-winter walleye fishing, that often means adding an element of sound to your presentations. We'll look at why rattling baits become extra important through the middle of winter and how to effectively incorporate rattles and other sounds in your walleye fishing approach.
Winter Progression & Ice Fishing Transitions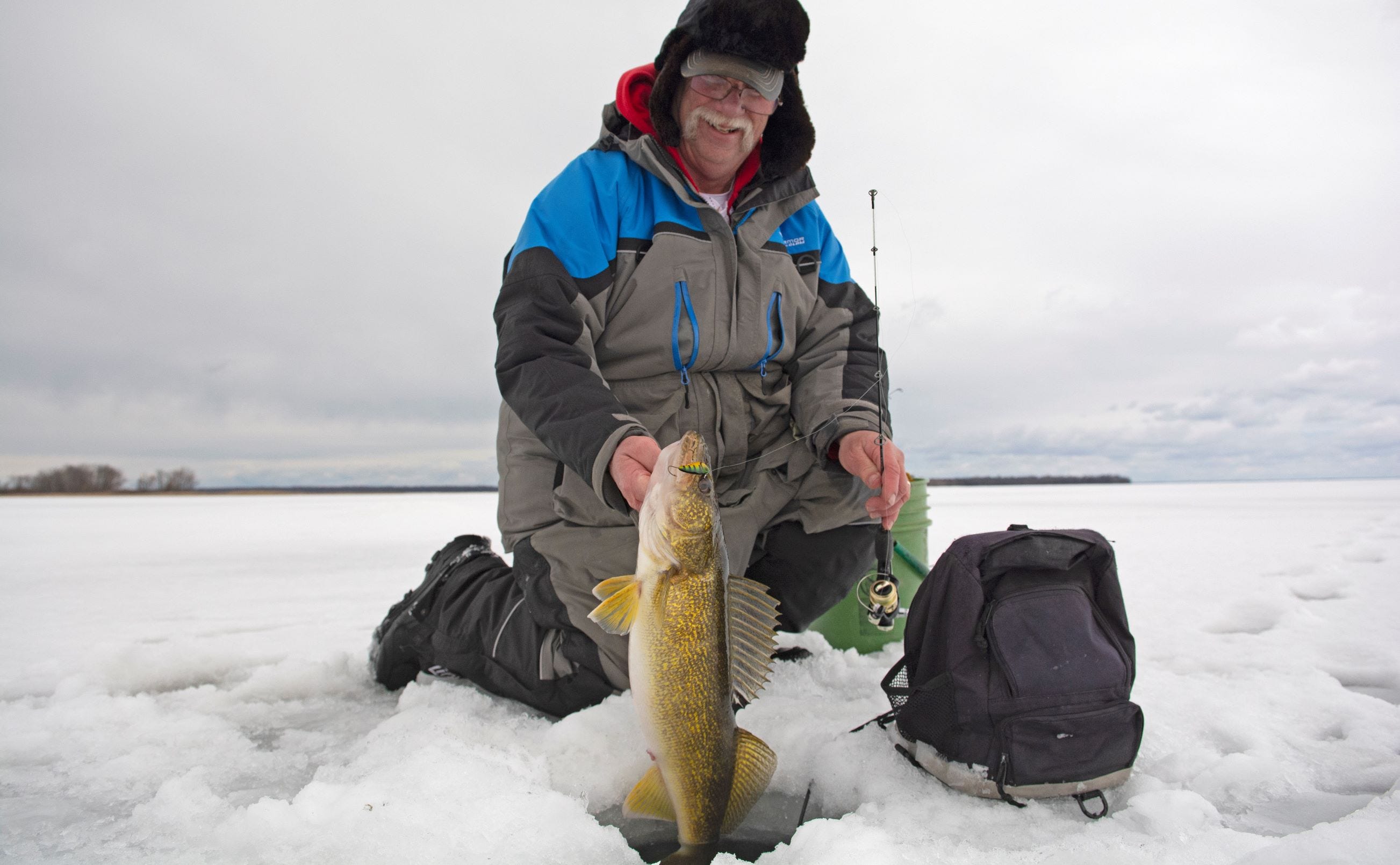 Except in areas that only get an abbreviated ice season, early ice and the sometimes-easy fishing that comes with it are gone or have begun to flee. Fish schools that had been untouched while fishable ice was forming and were easy early-ice targets have gotten much more pressured by now. At the same time, conditions beneath the ice are changing.
Extra activity atop the ice – first from feet, then snowmobiles and eventually trucks – tends to push walleyes out of popular early-season shallow area, often to the first or second break and from bays toward main basins.
At the same time, the ice thickens and the snowpack builds. Reduced light beneath the ice kills remnant vegetation in shallow areas and reduces dissolved oxygen, often too dramatically for fish to be able use those areas, so walleyes and forage fish move deeper. The deeper water naturally gets less light penetration, and that effect is multiplied because of the snowpack.
A combined effect of all those factors that fish become substantially more dependent on sound and vibration for finding food, making heavier use of their lateral lines. Walleyes have large eyes and can see well in the dark, so a bait's appearance and action remain important when the fish get close. Sound is often needed to draw them near, though, and can play a bigger part in triggering strikes.
Finding the Right Sound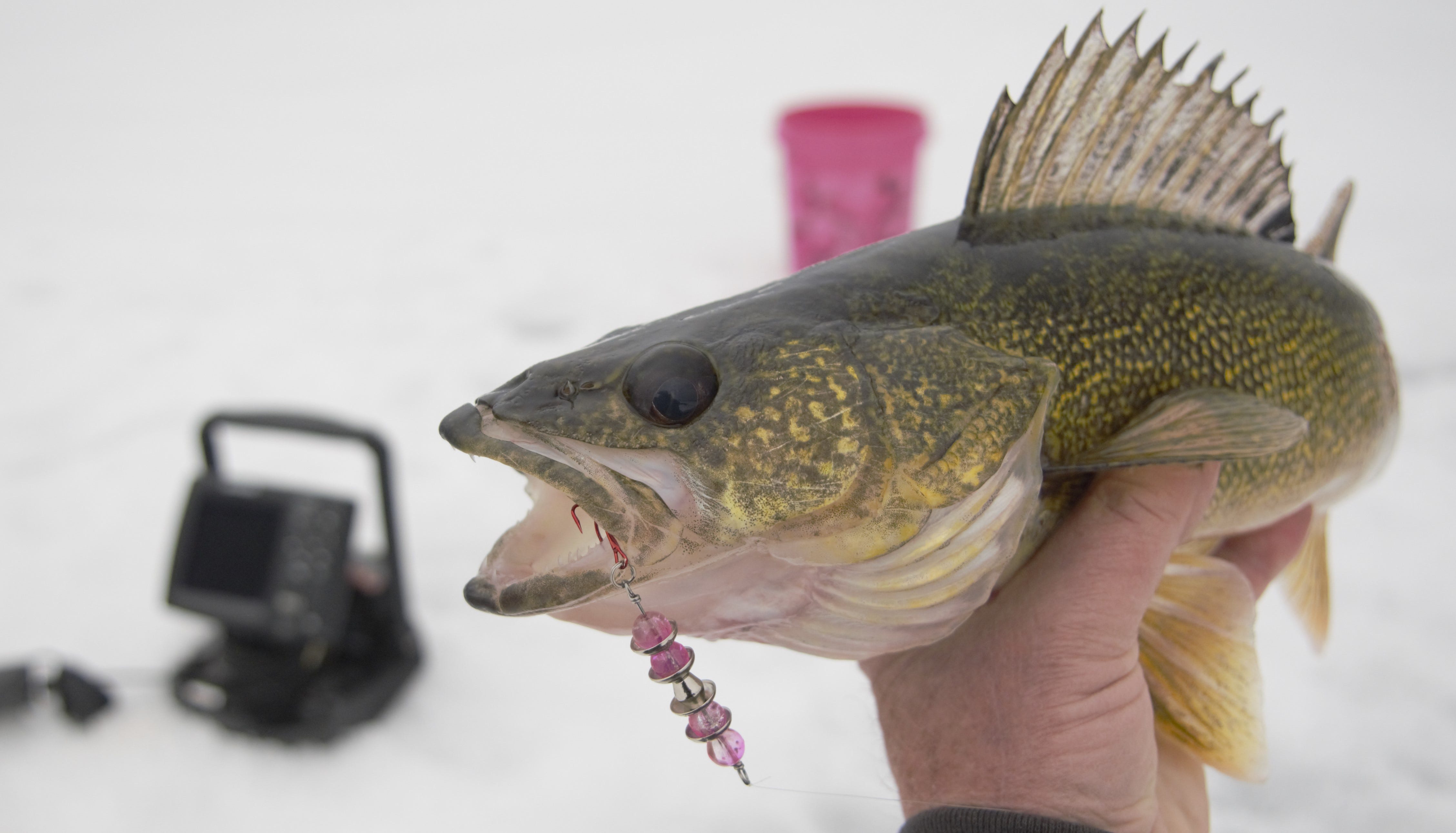 Several spoons and various other lures are designed to attract fish with sound, and different lures make different sounds. If you pick up multiple rattling lures and shake them, you'll notice significant differences in pitch and volume based on the size, number and makeup of the rattles, the size of the chamber, and the material the lure is made from. Some are loud, with a high pitch. Others make more of a dull thud.
The right sound for a day will vary, just like the best color or presentation. The rattle that triggers the most strikes one day will tend to spook fish another day, so it's important to experiment, not only with lures that make different sounds but with the sharpness of snaps and shakes, which impacts volume.
It isn't totally random. Deeper water, thicker snow and darker water generally call for louder rattles and extra vibration, and hard cold fronts or heavy fishing pressure often suggest more subtle sound-making. Those types of factors provide a starting point, but if you pay attention to what prompt strikes and to what causes fish to investigate (or flee) you can usually figure out the right sound – or combination of sounds – for the day.
Sound Presentations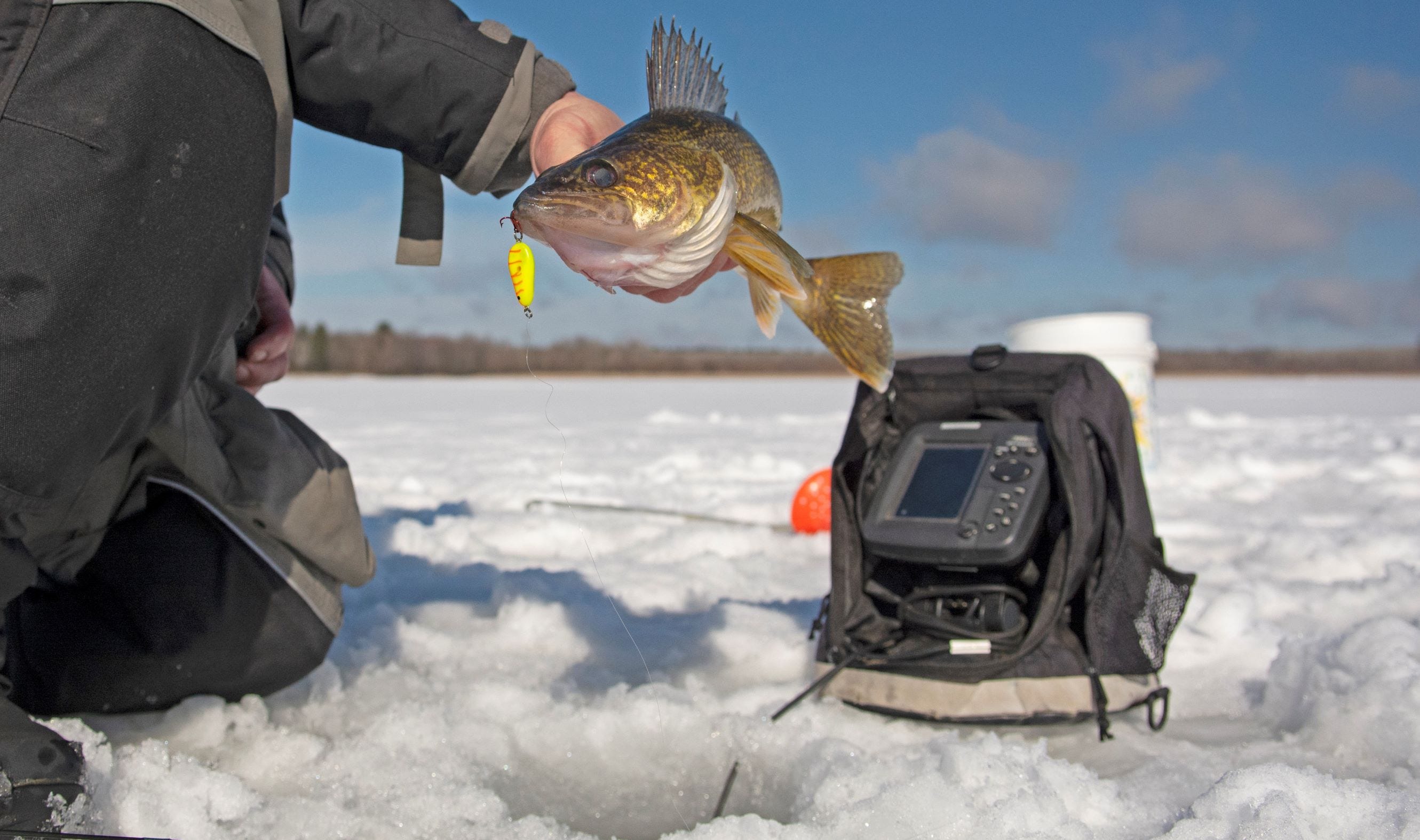 Shaking a rattling lure, whether constantly or in series of shakes broken by pauses, keeps the rattles engaged and maximizes noise beneath the water.
Jiggling, from a functional standpoint, is just soft shaking with short movements. Both sound and movement are far reduced, though, and this appeals to far less aggressive fish.
Snapping a rattling lure upward creates one hard knock of the rattle with the lift and then reengages the rattles with a softer tone as the bait flutters back down.
Pounding can be accomplished without a rattling bait. In fact, it's often a good ice jig strategy. You simply need a lure that drops quickly so you can lift it off the bottom and drop it back down to pound the bottom. With a good hard bottom, this makes a sound that calls fish closer to investigate.
Adding Rattles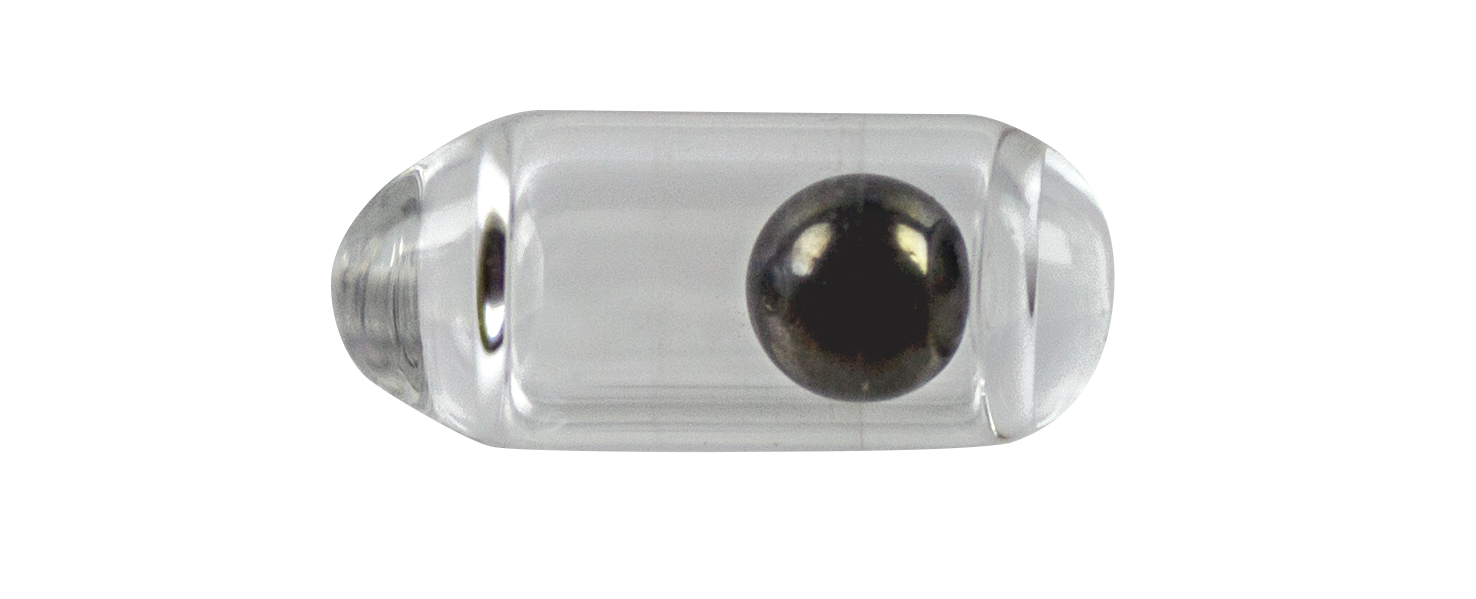 It's worth noting that a rattling approach is not limited to fishing with spoons or other hard baits that have rattle chambers built into them.
"Worm rattles," to use an open water bass anglers' term, are rattle chambers that are designed to be inserted into soft plastic lures to add fish-calling sound to these offerings. Good examples are Gene Larew Glass Rattles and smaller Bobby Garland Crappie Rattles. Both are glass tubes that are filled with tiny metal balls and pointed at the end so they can be buried in soft-plastic lures.
This type of rattle allow you to offer the fluid action and natural profile of a soft plastic lure but still enjoy the benefits of rattles for calling fish from farther away and prompting strikes.
Other rattles have an eye at one end and can simply be slid onto the line and will rest above a jig or other ice fishing offering that has no rattling system of its own.
5 Fabulous Fish Calling Ice Lures
Rattl'n Flyer Spoon – An established favorite that comes in four sizes, a Rattl'n Flyer Spoon blends flash, a hard wobbling action, a baitfish profile, and loud rattles to call in fish and prompt strikes.
Rattl'n Quiver Spoon – Masterfully blending the subtlety of a slow fall with the boldness of a sound that calls fish from afar, the Rattl'n Quiver Spoon provides a solution for many situations.
Glow Spoon – Inserted Glow Sticks make this spoon light up from the inside, adding attraction, but Tungsten rattles are an important part of this spoon's immense draw.
Glow Streak – The Glow Streak uses the same lighting and rattling system as the Glow Spoon, but with a horizontal baitfish profile and an erratic and swimming/darting action.
Wally Talker – Instead of internal rattles, the Wally Talker uses beads and discs, which crash together, to call fish close, and is typically baited with a minnow to seal the deal.