By Darl Black

You've been waiting all winter for nice weather. You know that warm sunlight, increasing water temperatures, longer days and calm breezes push bass into the shallows, and it's the best season of the year to get after them.

There's nothing like late spring fishing to energize the soul, but heavy rains, frequent cold fronts and advancing pressure systems that bring strong winds will throw a monkey wrench in your weekend fishing plans.

"Over the years, I've had to learn to deal with less-than-ideal conditions," said Alabama pro and guide Jimmy Mason. "Here's my approach to dealing with springtime's 'Terrible Three' of high water, cold fronts and strong winds."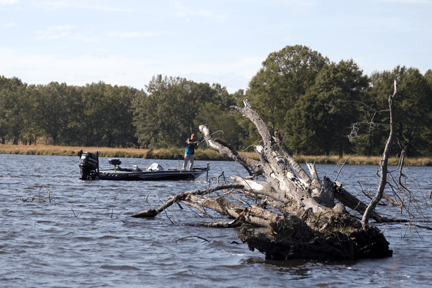 HIGH, MUDDY WATER
"This is the time of the year when most bass are in the shallows regardless of conditions," explains Mason. "If lots of rain results in the water flooding shorelines, I know that bass automatically follow the advancing water line. On flat shoreline stretches or in flat pockets, the water is going to push way back into the trees and brush, and at times you can't even reach them with a cast. I look to sharper shoreline contours and steeper-sided pockets – places where water will climb the bank while engulfing limited cover rather than spread out on a flat area. The newly flooded cover is right on the bank within reach of your cast."

Mason employs two key baits in a high, muddy water situation. First is a ½-ounce Booyah Tux & Tails Spinnerbait in copper-colored Colorado blades with black skirt. According to Mason, the copper blades provide excellent flash in dirty water and the black skirt offers the best contrast.

"It's critical that bass see your lure, so I use black skirt during the day to create the strongest silhouette."

The second lure on his list is a ½-ounce Booyah Jig in black & blue with a black/blue Yum Craw Chunk. The dark-color visibility factor holds true for a jig as well as a spinnerbait.

"That trailer provides a great kick and moves a lot of water -- just what you need in dirty water."

POST-FRONT BLUEBIRD DAYS
"When those clear blue skies shut down the bite, more than likely I'll be turning to a finesse presentation. For me that means breaking out a 7-foot spinning rod and a 1/8-ounce shaky head jig with Yum Warning Shot," said Mason.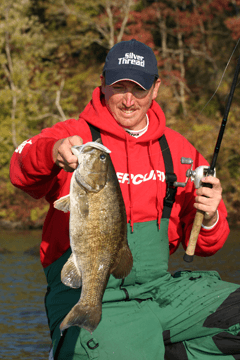 He may fish the short worm as a shaky head, but if he gets the bass pinned down and knows right where they're positioning, he often switches to the same worm on a drop shot rig. His key secret to both of these tactics is light line.

"I start out with 8-lb test, but if I feel that I'm not getting enough bites, I will switch to 6-lb."

Mason fishes the same areas he was catching fish prior to the cold front, explaining that bass are not likely to move very far. Instead, they will simply tuck further back under a dock, snuggle tighter to a grass line, rub against a log or hug a rock.

"Cold fronts mean you must slow down, fish smaller baits, and keep it in the zone longer to draw the strike," explains Mason. "I'll skip my bait further back under each dock or fish it deeper on the rip-rap."

HIGH WIND
While many anglers look to sheltered areas to fish during strong winds, Mason says he follows the wind to find feeding bass in the churning waves. Baitfish schools are likely being pushed about and disoriented in strong winds, so Mason takes advantage of that.

"When it's blowing hard, this automatically becomes a moving bait scenario for me," he said. "I throw crankbaits because I can keep constant line tension and feel what's happening even though the boat is rocking and it's harder to keep positioning with the trolling motor. Depending on the depth of the water and cover, I may go with a lipless crankbait, square bill or a lipped diver.

"However, you must select crankbaits that are on the heavy side for better cast control," continues Mason. "For example, a Bandit 200 is a great late spring crankbait and very popular with many anglers. I catch a lot of fish on that bait, but if it's really windy I go to a heavier, more-compact bait. Long, accurate casts are important in strong winds."

His top high-wind cranks are the XCalibur Xr50, Xcs100 Square Lip and the classic Bomber Fat Free Shad. These baits are heavy and aerodynamic, making getting the bait to the fish easier.

Mason offers one final tip when fishing in the wind.

"If you can find a distinct mud line, be sure to fish it. Many times bass will set up on that water-color change, thereby giving them a better opportunity to ambush baitfish."

Don't let the worst fishing conditions throw a monkey wrench into your plans. Fish like Jimmy Mason and meet head on what Mother Nature throws at you.