The spring "crappie run" pushes large numbers of fish within easy casting distance of shore, creating outstanding opportunities to catch plenty of crappie without launching a boat.
No fishing report was ever needed. Multiple cars parked roadside near the bridge during spring told me everything I needed to know. The next day I'd pack an ultralight and box of crappie jigs and floats when I left for work, and on the way home, I'd add my car to those parked roadside. And for the next couple of months, as often as my afternoon schedule would allow, I'd stop, walk down the riprap by the bridge, and catch some crappie.
I no longer have a daily commute that takes me across a spring crappie spot, but there are plenty of places nearby where I can (and do) go find spring action when the time is right. Bank fishing for spring crappie provides fun, simple and dependable action that is convenient to millions of anglers across the nation.
Bridge crossings, road rights-of-way, boat ramps and parks offer easy access to spring crappie when they move shallow during spring, and you need neither fancy equipment nor advanced knowledge to get in on the action. Making things extra fun, the crappie congregate this time of year, so when you catch one fish, you're usually on the verge of catching several more.
Spring Crappie Behavior The spring "crappie run," as it's often known, isn't a true run up main rivers, like with salmon, stripers and various other species. Instead, it's a broad-scale movement out of deeper main bodies of water into coves, backwaters and creek arms and toward shallow margins of those areas. It happens gradually and often is spread through coves all around a waterway.
The movement into shallow backwaters is all about spawning, and crappie spawn around cover, so the fish move close to riprap, brushpiles, stumps, dock supports, weedbeds and more. Pretty much any shallow cover you can identify warrants at least a few casts this time of year.
Being cover-oriented anyway, crappie commonly move to shallow cover before they begin spawning, and they'll stay in shallow areas well after the spawn to feed on plentiful minnows. Even after crappie move off the shallowest brush, they'll continue to congregate around stumps, trees and bridge or dock supports that are deeper but still within easy casting range of the bank.
Although it certainly has its peak weeks, good fishing from the shore lasts two or three months in many areas because not all fish in any given lake spawn at the same time and because of fish staying in some areas well after the spawn.
Bank-Fishing Locations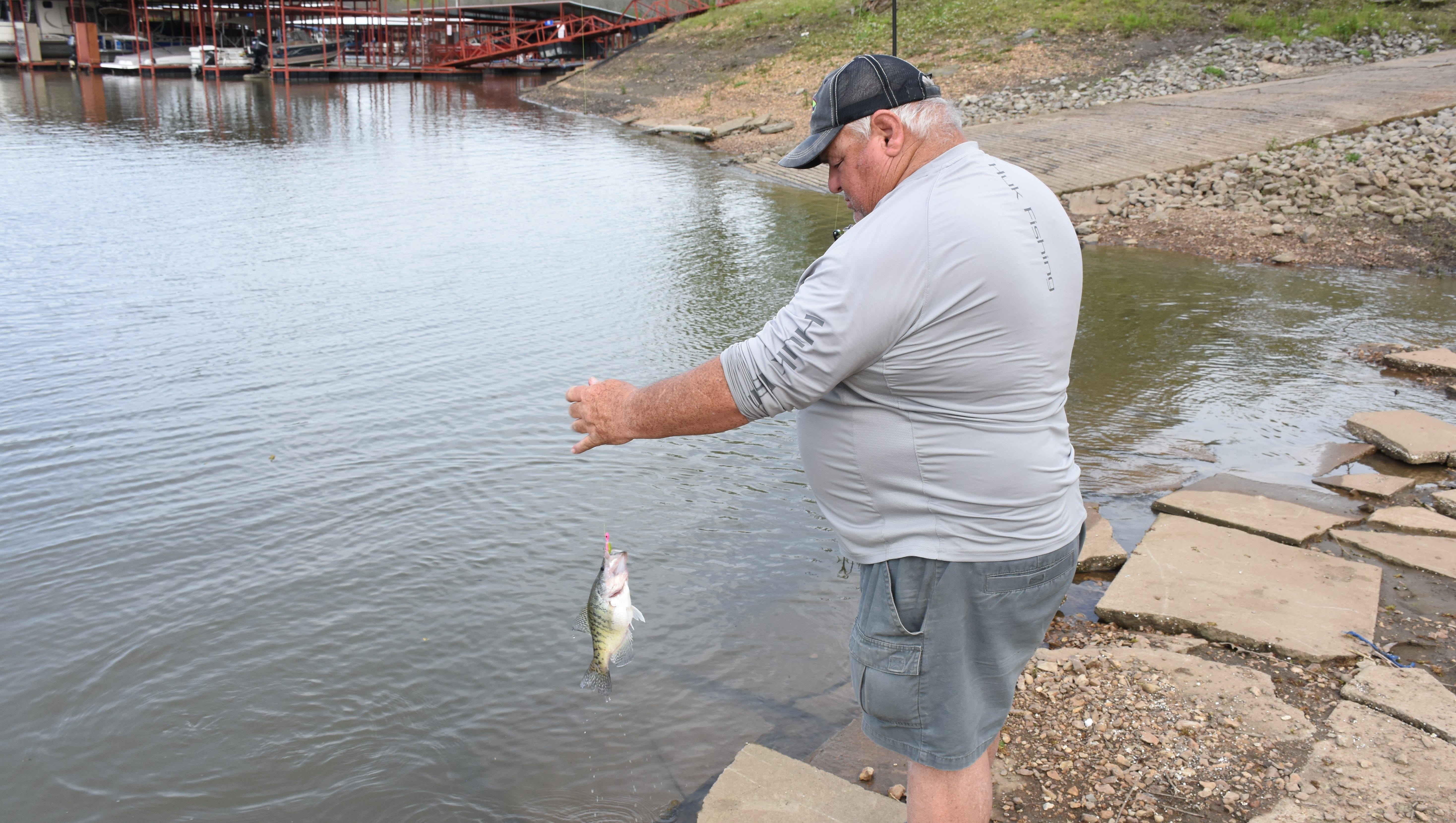 The good news, if you don't have a boat or you simply enjoy easy-access fishing from the shore, is that many of the best spring crappie areas are in easy reach of the bank. In fact, some very productive areas are more easily worked from the shore than from a boat, and some are only reachable by shoreline fishermen.
A good starting point is simply to identify parks, boat ramps, bridge rights-of-way and recreation areas near you that offer shoreline fishing access. Take extra note of bridges. They provide funnels for the fish and outstanding cover with their pilings and the riprap that normally borders both sides, and bank access is often quite good.
Look at these areas on a map and identify the ones that are located along creek arms of reservoirs, toward the backs of bays on natural lakes and on backwaters of rivers. While you can catch spring crappie on main waterways, your best chances are typically out of the river flow or away from the main basin. If time and geography will allow you to try multiple areas, try to identify at least one area toward the lower end or mid-point of a creek arm and another that's way back in the same creek.
Look at the areas on Google Earth or click on the satellite view on a maps app to see how much open bank access there is, what type of cover is obvious and where any channels run. Some of the best areas are shallow near the edges but have deeper water nearby.
When you get to an area, realize that not all specific spots are created equal, and sometimes the features that set apart one spot from the rest are subtle. It could be where the creek channel swings a bit closer, where a culvert adds warm water from a backwater or where the cover doesn't quite reach the surface and therefore gets less attention. It might also be the spot that takes a little more walking to reach. You can trust that the closest laydown to parking area gets fished a lot!
Sometimes you can identify what sets apart a hotspot and go straight there. Other times, you find it by working your way along a bank and seeing where the fish bite.
Shoreline Strategies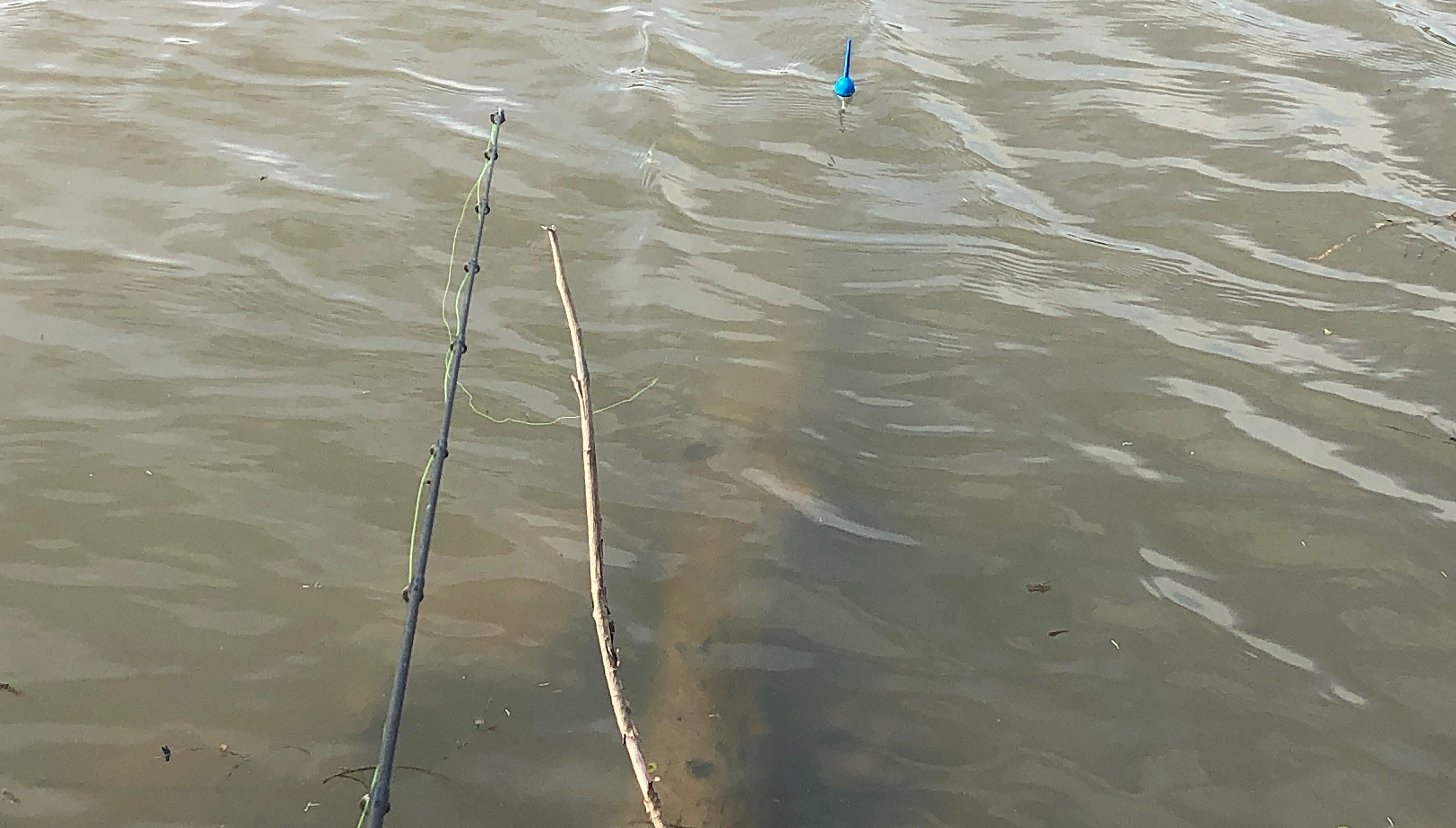 One of the best ways to find and catch spring crappie from the bank is simply to cast a crappie jig, allow it to sink to the depth you want to work and swim it back slowly. This allows you to cover a lot of water to find fish, and it is effective, whether you want to work a foot deep or 8 feet down. Casting and reeling also allows you to work a variety of zones and to swim a bait past cover to prompt ambush strikes. Crappie baits with active tails, such as a Bobby Garland Stroll'R or Hyper Grub, work great for swimming presentations.
A similar approach that sometimes works better for trigging strikes is to cast out, let the bait sink, and then work it back with lifts and pauses so it rises and fall. A Slab Slay'R, which glides and darts on the drop, is an excellent choice for this presentation.
When the fish are tight to shallow cover, often you need to slow the presentation but keep your bait in the zone by adding a small float a 1 to 3 feet up your line. With a float, the best presentation usually is to cast close to cover or just past it and work the rig very slowly with series of very gentle twitches. Ideally, you want to just rock the float in place when you are close to the cover. Just enough to make your bait dance. Often the float will dart out of sight when it has been paused and the bait is just hanging tantalizingly in the fish's face.
The float fishing approach lends itself to a subtle bait with a natural profile, and for this, it's tough to top an Original Baby Shad. A live minnow hooked through the lips on a Lindy Live Bait Jig and presented under a float also works very well for keeping a bait close to cover, along with providing a good second-rod option if you want to cast one rod and work a lure and let another work on its own. Just make sure the minnow rod is secured when you're using this approach from the bank!
A final approach that works extremely well when fish are close to the bank is to use a long rod and "dip" the baits, fishing them straight down from the tip of the rod. This allows for very careful control of location and depth and lets you move the bait vertically or horizontally. Dipping also lets you keep an offering very still or keep it moving, either by sweeping the rod or walking. Dipping works really well for working riprap banks, and for presenting baits tight to any specific structures that are within reach of the rod.
Whatever presentation you choose, now is the time to hit the banks and catch crappie!
5 Tips for Shoreline Success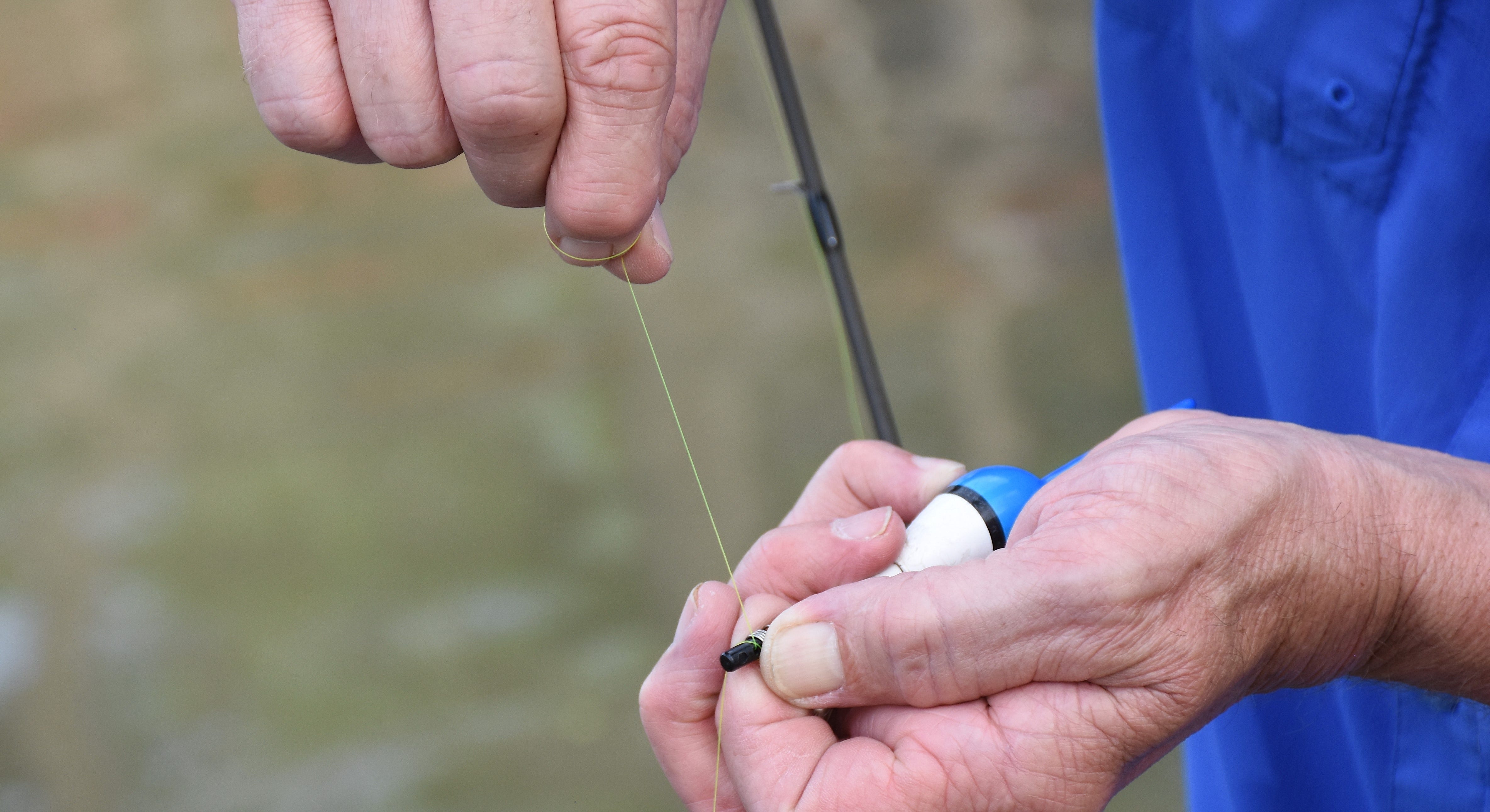 Stay Mobile – The stereotype is for bank-fishermen to tote a lot of gear to a spot and set up camp. That's fine if it's a great spot, but if you're willing to travel light and do some walking, your chances of finding the most active fish increase substantially.
Repeat Performances – When you catch a crappie, repeat that presentation exactly two or three times before doing anything else. Crappie are where they are for a reason, and often several will hang out together and behave the same way.
Learn from the Fish – Closely related, pay attention to every detail when you get hit: Anything different about the bank slope? Was the fish on visible cover? How were you moving the bait? How deep were you fishing? Ask yourself questions and think about the answers.
Don't Cast Past 'Em – Remember where you'd probably be trying to cast from a boat. Often the best spots are close to the bank. Work the edges from up the bank before approaching.
Two are Better than One – Tandem rigs (if legal in your state) provide extra casting weight, double your offerings and allow you to pattern more efficiently as you can fish two different colors or body styles at once. For vertical presentations, working tandem also allows you to test two levels of the water column.
How to Cook Crappie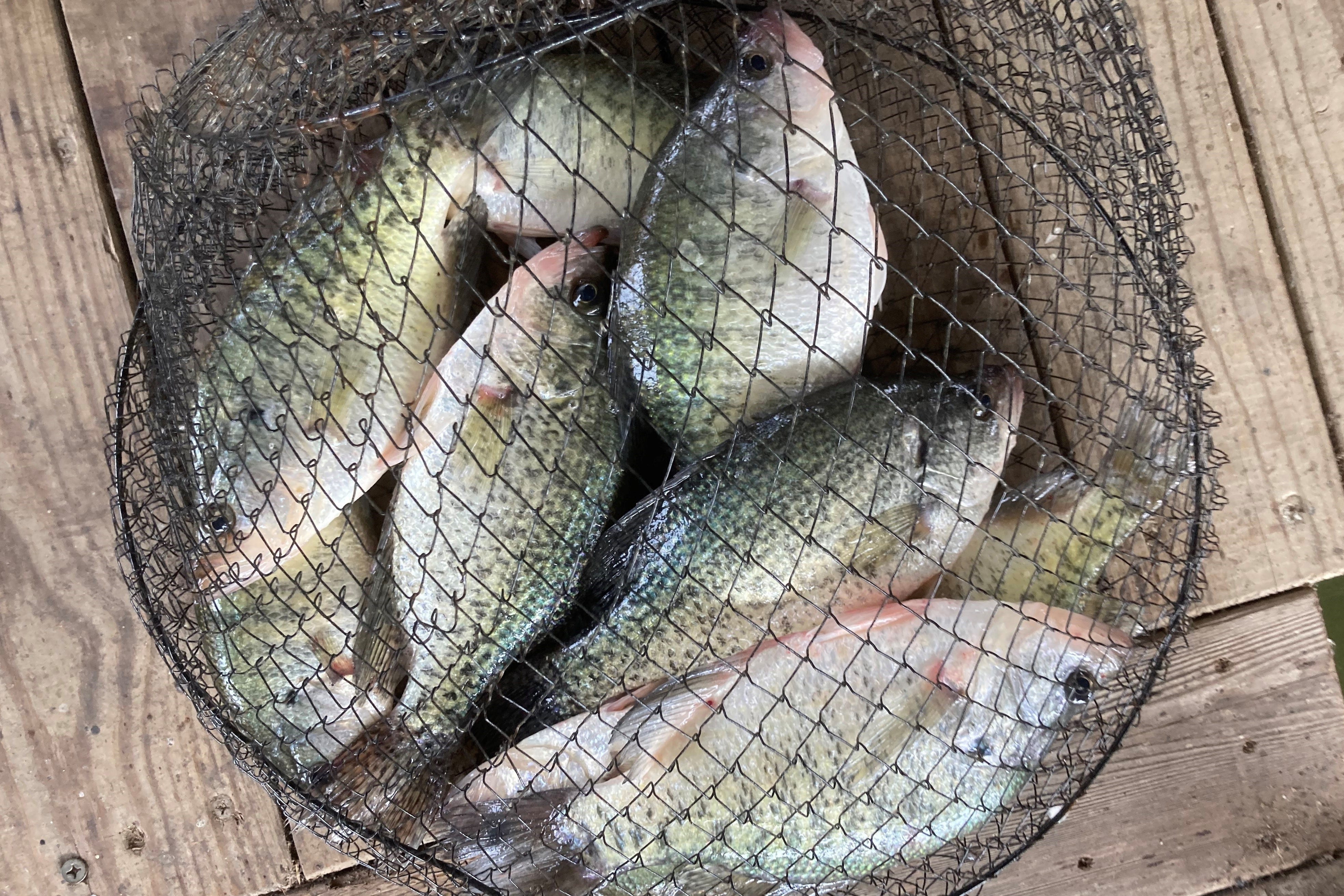 As an excellent alternative to frying fish, try JULIE'S BAKED CRAPPIE, Courtesy Julie Meyer, Lake Eufaula, Okla.
-Prepare long grain and wild rice according to package directions (requires about 45 minutes).
-Preheat oven to 410 degrees. Drizzle olive oil to thinly coat the bottom of a glass bakeware. A 9 x 13 baking dish will hold eight to 12 crappie fillets.
-Sprinkle your favorite seasonings over the pan: seafood, Cajun, herb and garlic, salt and pepper work well (nothing with MSG).
-Arrange the fillets in the pan, then drizzle a bit more olive oil over each. Lightly sprinkle seasonings on fillets.
-Bake for five minutes. While the fish is cooking, mix ¼ cup white wine with ¼ cup lemon juice.
-After five minutes, pour liquid mix over fillets. Cook five more minutes. Remove from heat.
-Serve fish over the rice and pour pan juices over both.
-Enjoy!
Visit Lurenet com for crappie fishing supplies and for more great content.