Bank fishing is one of the best American pastimes, but how do you get started and become successful with it?
It can be daunting finding quality spots and ever more difficult to arrange the best equipment for your fishing spots. Today I'm going to give three tips to amplify the decision-making process behind bank fishing to help you become more successful! These tips are choosing the right location, picking the right equipment to get the job done, and finally how to perfect the right presentation from the bank to be as stealthy as possible.
Choosing the right location
This is by far the most critical point to bank angling because the location determines if you will actually catch fish! The great thing about bank fishing is you can access lots of little hidden areas that anglers in boats simply can't such as farm ponds, creeks, and remote stretches of lakes and rivers. The bad part of this is you can often get caught up in some gnarly hikes to reach places, so always be sure you have some good shoes and the right clothes when setting out for a trip.
Finding the best location can be daunting but happens naturally. I like to identify good locations as I'm driving to work or when I go on a trip out of town with my family. There are untold amounts of spots just off the road that could have fish that haven't seen a lure in years, these are the golden spots! Once you have found some places that seem promising you can begin to scout. If they are behind a gate or on private property you will need to see about asking the owners permission, but otherwise if its public they are fair game. Check out the areas for good cover like grass, rock, stumps or anything like that and also identify water clarity so you can isolate some lure choices.
Choosing the right equipment
Equipment of course plays a key role with any type of fishing, but especially for bank fishing because you are limited with what you can carry. The best tip I can give is to invest in a small backpack that can hold some extra lures and perhaps another pole strapped to it.
As far as rods and reels go, I always choose to bring along two options for bass fishing, if I'm fishing for panfish I typically just bring one ultralight set up. But, for bass I like to bring a quality spinning and casting set up to cover my bases. I like a 7-foot medium spinning rod that can handle most types of light plastic offerings, and typically a 7-foot medium heavy casting rod with a fast tip that can double as a reaction bait rod or a slow jig dragger. These two options will provide you with the widest array of technique opportunities.
For lures the right choices are numerous, but I always refer back to my scouting to determine the water clarity and cover. For typical farm ponds that have light cover and stained water I choose a few different categories like small crankbaits such as the Norman Deep Baby N, small spinnerbaits like the War Eagle Finesse, BOOYAH Pad Crashers if grass is present, a few topwaters like the Heddon Super Spook Jr and Rebel Pop-R and most importantly a heavy dose of plastics like the YUM Dinger, Christie Craw, and Pulse swimbaits. Plastics are typically the best choice for ponds because they tend to be the first thing to fool most bass in them quickly. For ponds or other areas with rock and other hard cover such as stumps the Deep Baby N and War Eagle Spinnerbaits tend to bring in the best hauls – as well as topwater's if the season is appropriate.
Ethans top choices for ponds in his area of the midwest tended to be very similar but he suggested throwing in a few jerkbaits such as the Smithwick Suspending Rogue in a bream imitating pattern.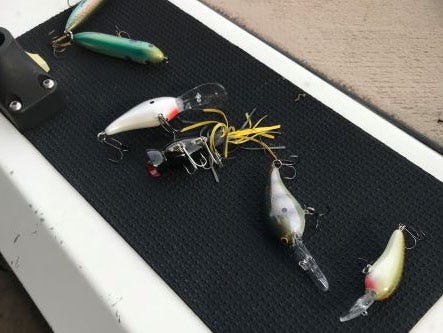 Being stealthy
The final tip I can provide to aid in bank angling is to be as stealthy as you possibly can. This is to ensure you don't spook any fish as you are wandering around on the bank, because often times a good population of fish can be found pretty shallow.
Always walk carefully along the bank and try to maintain your shadows. This means to never cast a large shadow across the water to alert fish. I tend to stay at an angle, so my presence stays hidden to the bass up shallow.
Try to make as precise casts as possible with limited splash. Placing your lure with precision is undoubtably key because shallow water bass spook easily and you need to present your lure in as best manner as you can.
Other keys for this step are to wear clothes that match your surroundings like camo or dark clothing because loud obtrusive clothes can be a dead giveaway as something unnatural to bass or whatever species is lurking near the bank.
These tips can give you some help for establishing a good bank fishing routine and develop quality patterns.
As always you can find all the lures listed in todays blog at Lurenet.com!