Learn about excusive color options for YUM Flash Mob Jr/YUM Scottsboro swimbait kits.
December is upon us. For many bass fishermen, that means one thing: It's time to break out those castable umbrella rigs and to keep at least one tied on all the times for a season.
Anglers who have followed the umbrella rig story know that that a Flash Mob Jr is one of the best and most popular rigs on the market. Many also know that options for these rigs got even better last year with the unified effort between YUM Bait Co. and Scottsboro Tackle Co. to create the YUM/Scottsboro swimbait and offer Flash Mob Jr. kits featuring these baits.
The good news just got even better. Lurenet has released three new Flash Mob Jr/YUM Scottsboro kits with exclusive YUM Scottsboro colors and Flash Mob Jr heads and blades colored to match the bodies. The heads are painted to fully match each new body color, and the blades feature glitter that matches the glitter in each color.
Two the new colors, Sub Zero and Sweet 16, were specifically created to match appearance of cold-water baitfish. Cash Flow is a highly natural color that fills a niche among YUM Scottsboro colors. All provide unparalleled continuity to match a suggest a baitfish school because of the matching Flash Mob Jr and bait swimbait color patterns.
Cold Water Specialists
While some anglers effectively use YUMbrella rigs of various sorts throughout the year, few anglers would argue that winter is prime time. That's when baitfish congregate and suspend, and the bass suspend among them and become harder to catch with traditional approaches. A Flash Mob Jr. suggests a school of baitfish and can be swam at the same level of the water column as the fish are suspending.
Sub Zero and Sweet 16 were created specifically for mid-winter fishing. Both feature pink to match winter-chilled forage.
"Threadfin shad or gizzard shad always get a pink hue when the water turns cold in the middle of winter," said Chad Warner, Product Director for YUM Bait Co. "These colors match that look."
Sub Zero is a light grey with a sandy back but has pink flake throughout that gives it a subtle pink hue and matching pink flake on the blades. Sweet 16 is more pronounced in its winter coloration, with a pink back and pearl undersides. Cash Flow has a smoke back and pearl underside, with flashy gold sparkles and a subtle chartreuse band for a very natural appearance.
The three new colors are available exclusively on Lurenet and only in the Flash Mob Jr/YUM Scottsboro kits in 3- and 3 1/2-inch sizes.
Flash Mob Jr Kits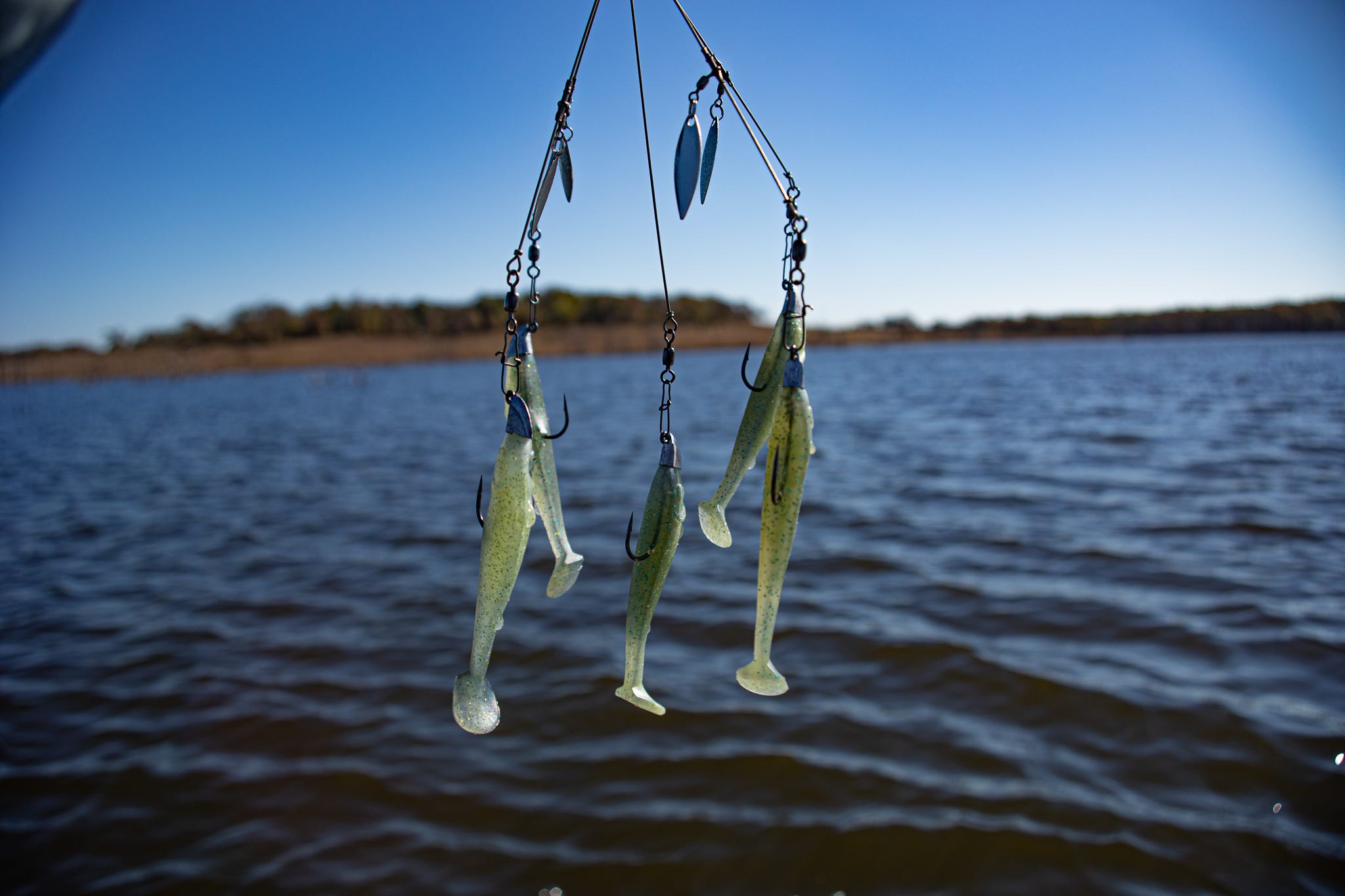 YUM Flash Mob Jr kits include the all the pieces needed to rig and fish, sparing you extra searching and ensuring elements that match up properly.
YUM Scottsboro Swimbaits are the result of a joint effort between YUM and Scottsboro and are injected molded baits of the exact shapes as Scottsboro Tackle Company's hand-poured swimbaits. This allows for much broader distribution of one of the most sought-after swimbait bodies and allows for a lower purchase price.
The Flash Mob Jr offers the same top-quality wire and components as every other YUMbrella rig. It's a bit smaller than the original rig, though, and blades on each arm add flash. In the minds of many avid anglers it is the perfect umbrella rig for bass fishing.